With the goal of making the dressing process as simple as possible, skinning deer, elk or any wild hunt requires the use of a well-chosen skinning knife.
The last thing you want is your knife getting in the way of quickly cleaning an animal.
Knives used for skinning have a very specific function and frequently require particular qualities to perform that function effectively. A good skinning knife should be lightweight, have a thin, razor-sharp blade, a gripping handle, and be extremely agile and manoeuvrable.
But let's face it, you are seeking game meat, a treasure provided by nature. Success in hunting and harvesting is the result of a lot of planning and effort.
Your work is not done if you are talented or skilled enough to coordinate all of those factors just in time to drop an animal.
To return that game animal to the freezer, you still have to complete a number of additional processes. Field dressing and skinning the animal is the next awful task. And for that, you have to carry quality knives that make the process quick and easy.
This buying guide will help you find the best skinning knives available, why we choose them, and how they're best utilized. So let the hunt begin!
What to Look for in an Excellent Skinning Knife
A good skinning blade has a scalpel-like sharp curve, is thin, light, and attached to the handle.
The blade-
Must be really sharp and either be reasonable to re-sharpen or have replaceable blades.
Must be strong and long-lasting.
Must be reasonably nimble (i.e., not heavy and bulky).
Must have a steel blade that is not serrated.
You can cut beneath the animal's hide with the use of a tiny blade. A thinner blade makes it simple for you to cut along the carcass's skin without ripping the hide, increasing its value to people who buy animal skins. The test for a master skinner is also an intact hide.
Additionally, you should pick a fixed blade over a foldable one. Knives with fixed blades are more durable and sophisticated.
Our Top Pick Skinning Knives In 2022
Best Knife For The Money

Copied

Buck Ranger

The Buck Ranger is a 3.125″ 420HC blade, which is sturdy and developed for skinning games and has the edge retention and corrosion resistance it needs to perform.

Sharpest Skinning Knife

Copied

Havalon Piranta-Z

The Havalon Piranta-Edge handle is built from a lightweight, strong ABS plastic and has two rubberized grip pads to keep your hands from sliding when it becomes too bloody.

Best Replaceable Blade Knife

Copied

Outdoor Edge RazorLite
1. Buck Ranger- Best Knife For The Money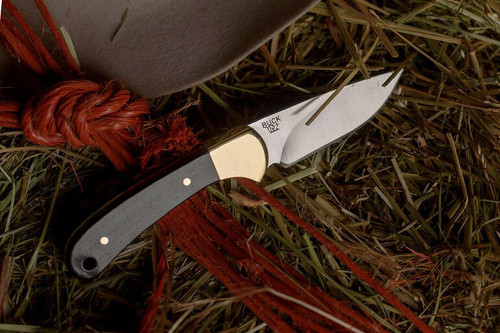 The time-tested Buck Knife brand must be included on our best deer Skinning knives list. This means that it is the same skinning knife that your grandfather used on elk and deer.
Its unwavering quality is the reason it has stood the test of time. I endorse this item for a number of reasons.
The Buck 113 Ranger Skinner fixed blade is a knife for the ages with its impeccable lines, conventional ebony handle and brass bolster, and a no-nonsense drop point blade.
It looks elegant and at home in both traditional and contemporary settings because of its stylish design. But the 113's 3.125″ 420HC blade, which is sturdy and developed for skinning games (thus its name), has the edge retention and corrosion resistance it needs to perform.
When you're ready to pack up, a lanyard hole and supplied leather sheath address your EDC needs. The ergonomic ebony grips match the blade's full tang flawlessly.
One of the nicest aspects of the Buck 113 is the handle. A top-notch fixed blade knife and a smooth, modern walnut grip made of dymondwood are the perfect combinations from Buck.
Full tang knives have a single piece of steel running from tip to tip of the blade. Although it is more durable because it is part of the blade, I still do not suggest using it to baton wood.
The knife also has a curved brass bolster that is made to accommodate your hand, which I think is a terrific feature.
Pros
Classical style.
Top-notch materials.
Nicely constructed.
Famously resilient.
Excellent customer service and a "Forever Warranty."
Cons
A bit heavy to carry in your pocket.
There are steels with more glitz.
2. Havalon Piranta-Z- Sharpest Skinning Knife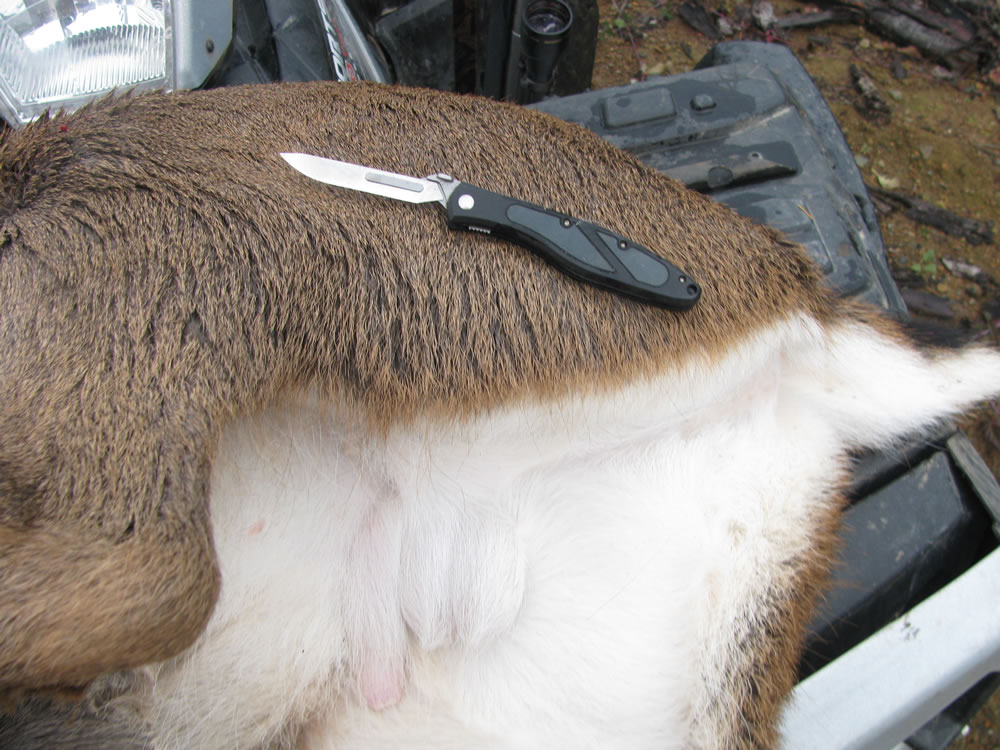 Having interchangeable blades sets the Havalon Piranta-Z apart from the other items on our list. Twelve 60A steel blades are included and easily clip into the modern black polymer grip.
The ambidextrous thumb stubs on the knife allow for a one-handed opening, which is convenient. It has a changeable, thin, folding blade made of surgical steel.
However, the blade is not suitable for other game-dressing tasks, such as slicing through an elk hide. This knife is a fantastic option if you intend to skin multiple animals in 2022. This kind of knife falls short when it comes to all-purpose dressing needs.
The stainless steel 2.75-inch blade of the Havalon Piranta-Edge maintains a razor-sharp edge despite frequent use.
You want a small, nimble blade, perfect for small games or for instances where you need to be extremely precise with your cuts.
Although it will require a couple of extra strokes to accomplish the same amount of work, the narrower and shorter blade enables more accurate strokes to avoid meat-wasting cuts and nicks to a valued hide.
Since the blades are tiny, you might not want to use this knife for heavy-duty prying, but even if one snaps, the Havalon Piranta-Edge comes with 12 additional blades.
This knife comes with a blade-changing tool, and it's surprisingly easy to use it.
The Havalon Piranta-Edge handle is built from a lightweight, strong ABS plastic and has two rubberized grip pads to keep your hands from sliding when it becomes too bloody.
It is easy to grasp even with larger hands thanks to the 4.5-inch-long handle, which also adds to the overall pleasing balance.
Pros
Razor-sharp, Replaceable blades.
Lightweight.
Handle that resists stains.
Affordably priced.
Cons
Narrower blade (requires more strokes)
If you are tugging at joints, thin blades could snap.
3. Outdoor Edge RazorLite- Best Replaceable Blade Knife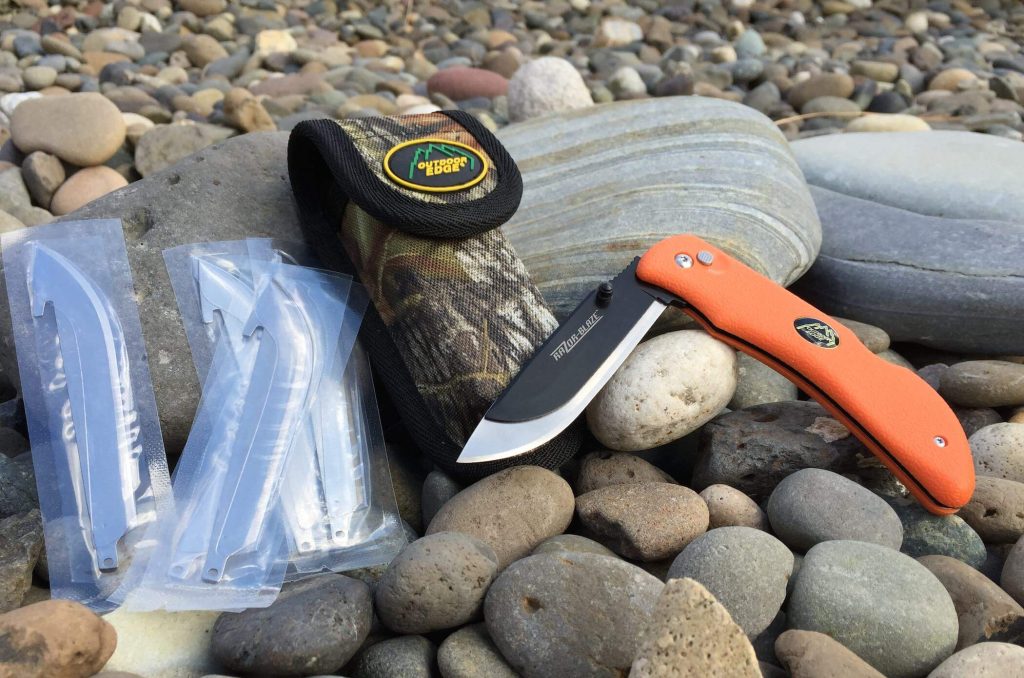 The RazorLite has been the #1 pick for hunters when it comes to skinning blades. This skinning knife combines the greatest aspects of both worlds, demonstrating that they have been paying attention to their clients. It is small, lightweight, made of surgical-grade steel, and has a detachable blade.
This particular model's blade was recently broadened, making it a better all-around skinning knife. It can penetrate thick hides and deliver laser-like accuracy in confined spaces.
The Razor-Lite features a set of razor-sharp replacement blades in the shape of a conventional 3.5-inch knife blade together with the traditional lock-back folding knife style. You may quickly and easily replace your dull blade with a brand-new one.
This replaceable blade skinning knife is great since you won't ever have to worry about sharpening your blade in the field.
Two parts make up the blade: a razor blade and a black frame. The razor blade fits snugly inside the black frame after being slid into it. The razor blade's handle end has a hole that locks the blade into place at the knife handle.
Six blades are included with each knife and are kept in tiny plastic guards that fit below the blade in the provided Razor-Lite knife case. Replacement blades are also available for a fair price.
Pros
Excellent edge retention makes skinning and processing easy.
TPR hand grips with texturing.
Replaceable, simple-to-change blades.
Cons
Cleaning folding knives can be more difficult.
More moving parts increase the possibility of malfunction.
4. Morakniv Basic-Best Budget Skinning Knife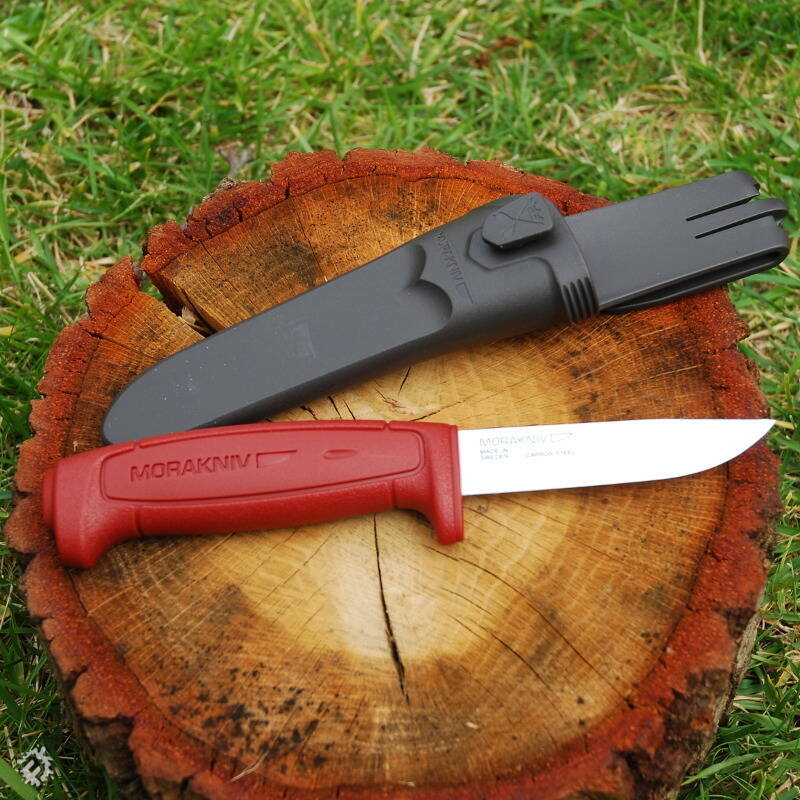 This inexpensive knife for skinning, which costs only $13, is tough and suitable for even big-game hunting.
On our test, the reliable companion knife for outdoor activities has been a Mora, which has a stainless steel blade and a bright blue plastic grip that is simple to spot when dropped.
The Mora knives differ from other inexpensive fixed blades in that their edge profile is not hollow ground.
A hollow grind, which is frequently found on other alternatives, is not as strong of an edge or as appropriate for outdoor use as a Scandinavian grind or Full Flat grind because they may be quickly sharpened without specific tools and bite through rope and wood.
I was able to test its performance in a deer skinning situation, and I have to say that I was not let down.
The deer's belly was cut open like a laser by the knife's razor edge, making it simple for me to proceed with gutting the entire carcass.
Pros
The blade is corrosion-resistant and razor-sharp.
Quite light.
Rubber TPE handle
Cleaning is made simpler by the fixed blade.
Cons
Narrow tang.
Comes with a poor-quality sheath.
5. CRKT Cinco- Best Folding Skinning Knife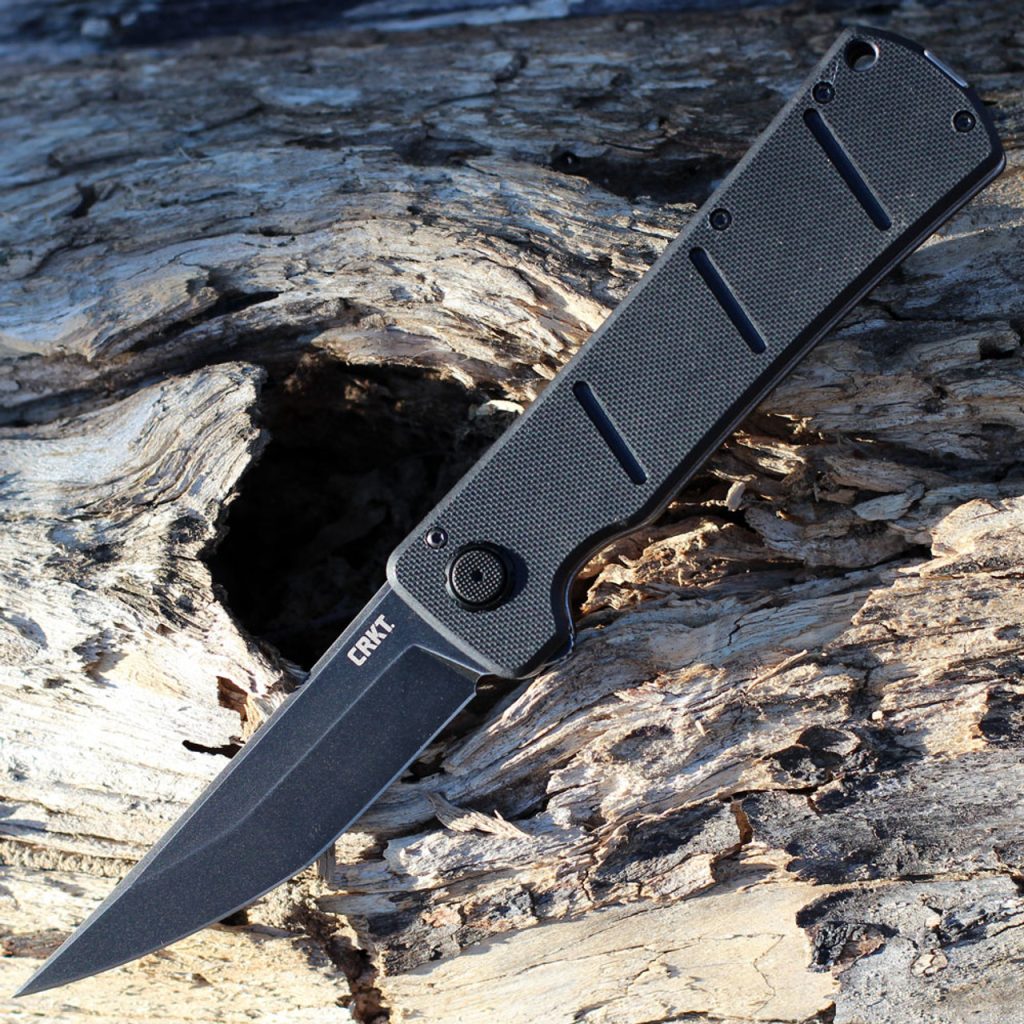 It would help if you carried it with you so you'll always have something to cut with. This knife is useful in certain situations, such as when you're trying to skin an elk.
Although the Cinco isn't specifically advertised as a skinning knife, it excels at many other chores as well.
With a flipper that speeds up the opening and G10 synthetic handle scales that retain plenty of grips even when wet, it's one of the easiest knives to use with only one hand.
The small drop-point blade is suitable for more difficult tasks like separating joints and cutting tendons, but it also works well for field dressing and skinning.
For the price, this knife is excellent as hunting gear. It maintains an edge pretty well, making it ideal for skinning deer.
I don't have to worry about the locking mechanism collapsing on me after heavy use because it is sturdy and reliable.
I am a hunter myself; therefore, I can assure you this knife possesses all the attributes of a quality skinning knife. Although it makes a good hunting knife, I would not suggest using it as a utility knife.
Pros
Superb spring assistance.
Beautiful blade form.
Carrying comfortable.
Well priced.
Cons
Some difficulty using thumb stud opener.
6. JERO Butcher Series Deer Skinner- Best Caping Knife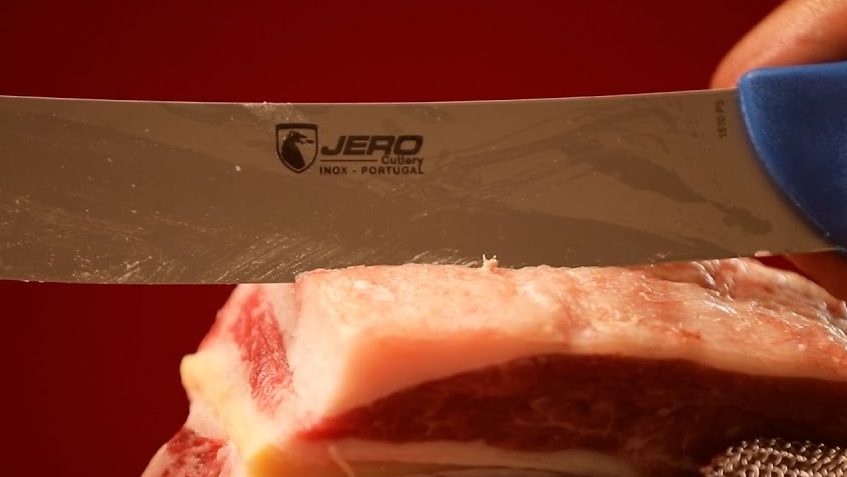 If you're a professional animal skinner seeking a quick and effective caping and skinning knife, this knife is for you.
This knife is excellent if you want to skin and cape many animals. It's a staple of a professional's hunting gear. What therefore makes the best capping knife?
Use the JERO Butcher Series Deer Skinner for all your capping requirements. It's, without a doubt, our best affordable option for high-production environments.
Or, to put it another way, the full tang long blade will significantly reduce the time required to remove thick hides.
Even with blood on it, the high-grade composite handle is comfortable to hold and prevents slippage.
Overall, this is a tough blade for usage in high-production environments that is yet adaptable enough to serve as a practical all-purpose camp knife.
Pros
The edge is hand honed at an angle of 8–12°.
Drag and friction are reduced by the Granton edge.
Low maintenance and easy to clean.
For long-term endurance, be tolerant of both extremely cold and hot conditions.
Cons
The camouflaged handle and onyx blade might not be to everyone's taste.
Expensive.
7. Kershaw Blur Black- Best Deer, Elk & Big Game Hunting Knives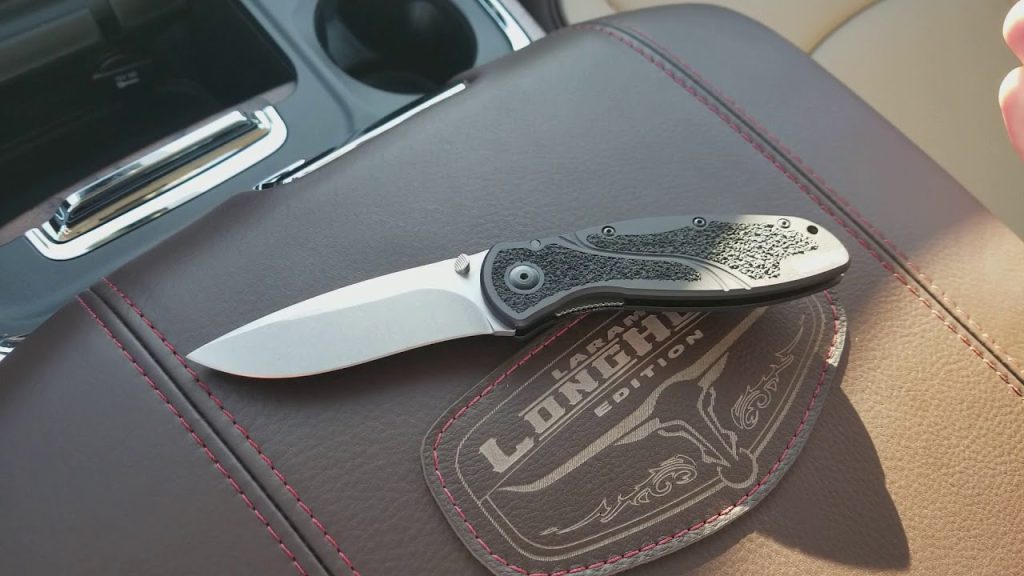 The ability to skin your deer or elk is not always all that you require from your hunting knife. This is particularly true when dressing for big games on the field.
A more resilient knife can sometimes be handy in many cases, such as slicing through tough hide and cartilage.
For people searching for their skinning/hunting knife to serve multiple purposes, we have included this Kershaw Blur Back in our list.
It nearly comes as a shock when you first pick up the Kershaw Blur because of how lovely it feels. A $60 knife is expected to feel somewhat inferior. The Kershaw Blur, though, feels incredible.
The Trac-Tec inserts are almost like a non-abrasive/rubbery sandpaper, and the aluminium handles add to the luxury feel. The grip is terrific.
Many professional hunters I know of this knife as their go-to tool. It's the knife I always keep in my pocket.
This is the only knife that has broken on me this year, though I can probably blame my foolishness more than poor construction.
I snapped the connecting connection to the handle while using it to pry open some tractor equipment. This has an extremely high-quality, smooth, and thinner blade, so don't let that deceive you.
With this knife, I can easily enter tight spaces and cut through an elk hide. This knife is excellent all-around and simple for novices, but it excels in skinning.
Pros
Razor Sharp blade.
Speedsafe opening is excellent.
Good value for money.
Cons
Questionable locking mechanism.
Awkward thumb stud.
Over tight pocket clip.
8. Winkler Knives Blue Ridge Hunter- Top-Notch Skinning Knife For Deer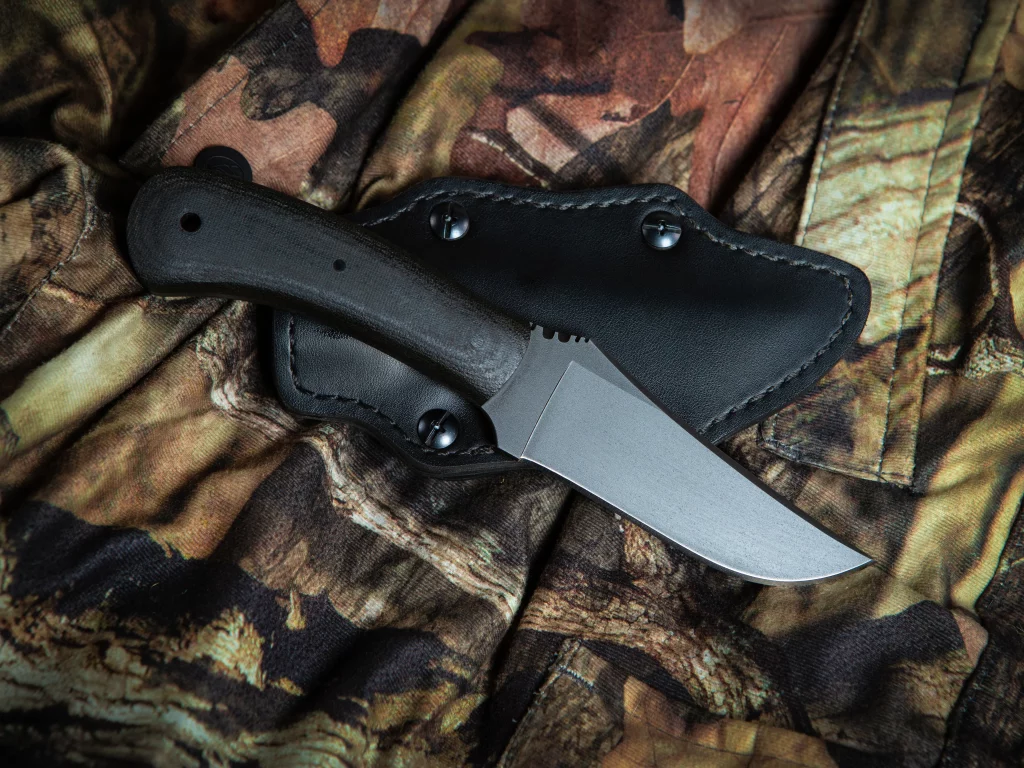 Pick the Winkler Knives Blue Ridge Hunter if you're in the mood to "reward yourself." The four-inch blade is made of 80CrV2 carbon steel, known as the "workhorse of steel," and has a black oxide coating to help prevent rust.
The Blue Ridge Hunter uses a skeletonized tang, which spans the entire length of the handle and offers the robust support of a full-tang knife while reducing overall weight.
The tang is encased in a stunning maple handle (also four inches). You'll want to take extra care with this knife, so keep it lubricated, clean, and nearby.
Pros
Reduced weight by skeletonizing the tang.
Robust steel.
Premium maple handle.
Looks awesome.
Cons
Higher price for higher quality.
9. Gerber Myth Field Dress Kit- Best Skinning Knife With Gut Hook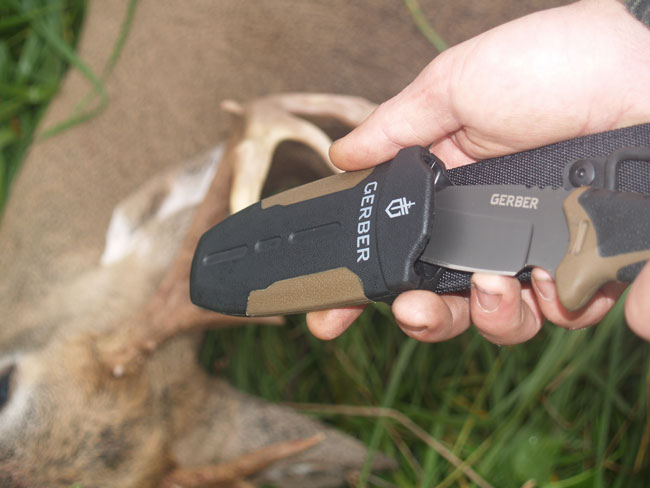 Those looking for a skinning knife set with a gut hook will love this portable field dressing solution. Since many years ago, the Gerber name has been associated with high quality, and this knife is no exception.
Did I mention that you received TWO knives here instead of just one? They also come with a little skinning knife in addition to the main blade for those awkward angles and difficult-to-reach places.
You won't need anything else for intricate skinning an animal or dressing a big game.
This portable dual knife kit comes with everything you need for field dressing- Fixed Blade Pro with Gut Hook knife and the Myth Compact Fixed Blade knife, all neatly packaged in a small, impenetrable sheath.
An integrated carbide sharpener is provided to keep you mobile and prepared at all times.
Pros
Lightweight.
Durable blade and handle.
Multiple options.
Affordable price.
Cons
Lack of rigidity on folding models.
10. Outdoor Edge SwingBlaze- Best Deer Hunting Knife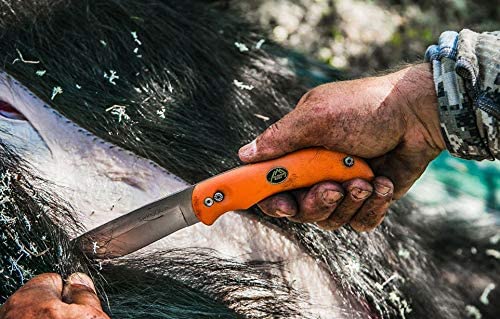 This sturdy two-blade combination will perform flawlessly when skinning or gutting larger game animals like deer.
It keeps an edge well enough to slaughter numerous deer without needing to be sharpened, as it features Quality AUS-8 Stainless Steel.
The SwingBlade is easy to use and feels great in hand. Having both necessary blades in one handle also makes for a very effective operating knife, which is vital to me.
The Swingblade is around $100, which is a price I'm comfortable paying for a knife that I intend to use extensively in all types of weather.
All the criteria for a good knife for deer are met: it is long-lasting, versatile, well-balanced, sharp, and strong.
The gutting blade is significantly simpler to use than the gut hook, which is more common.
The Swingblade features a 3.2-inch blade that is slightly curved and has a blunt bulb at the end.
This bulb is crucial to operating speed since it lowers the risk of puncturing the gut bag and enables you to work more rapidly.
Cons
Prone to rusting much more than other stainless steel.
Things To Keep In Mind Before Buying the Best Skinning Knives
Blade style
Whether choosing a fixed blade or a folder knife, style comes first. A tiny folder is the best option for you if you plan to occasionally peel and slice. Both mobility and versatility are advantages.
However, if you plan to skin or slaughter several animals, a fixed-blade sheath knife would be preferable because it's simpler to clean, generally easier to sharpen, and the blade itself tends to be longer and better suited to making numerous cuts.
Steel Composition
The second factor is the steel composition, which affects both the knife's ability to maintain its edge and how simple it is to resharpen.
High-carbon steel typically starts quite sharp and retains its edge longer than softer steel. However, high-carbon blades' strong steel can be more difficult to sharpen.
However, replaceable blade knives like the Havalon or Outdoor Edge are a great option if you don't like to keep your blades sharp.
Blade Grind
When a blade is manufactured, the belly of the blade receives a particular grind that gives it a skinner's razor-sharp edge. The sharpest and most useful grind for cutting meats is a hollow grind, which is why I use it. When skinning an animal, it also makes for a lovely slicing action.
Handle material
A skinning knife will inevitably get bloody or covered in the fluid membranes that separate an animal's skin from its flesh if you use it for the task for which it is named.
The last thing you want to happen is for your slick knife to escape your grasp. Think about handles that have some texture. Bone and wood handles also have natural gripping properties, although some synthetic materials with lots of texture are an excellent alternative.
Whatever you choose, be sure the handle is comfortable for your hand. Skinning and cutting tasks will become more taxing than they need to be if the handle is either too tiny or too large for your hand.
How We Test The Knives
Asking the hunters—who would know best—was one of the first things I did when I started compiling this guide for best skinning knives.
I, myself am a hunter and know a lot of hunters because I spent most of my life in a very rural area of hardwood forests of the East and Midwest, and they are all willing to express their opinions about the gear they like and don't like.
To compile this list of top suggestions, I used these first-hand accounts along with numerous other web reviews of skinning knives and my personal first-hand experience.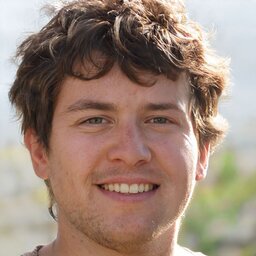 Hi, my name is Taras Kulakov and I'm a knife enthusiast. I have been collecting knives for over 30 years and I've owned literally thousands of different models over that time. My goal with this site is to share some of what I've learned about knives. You can find more info about Taras Kulakov here.