Are you on a mission to master your cutting skills and thinking about getting yourself a high-quality best kitchen knife for the perfect slice, dice, and julienne? Well, then you have come across these two names- Victorinox and Wusthof! These knives have what it takes to equip chefs and professional line cooks with a high-quality blade that has the durability to endure a rough life in the kitchen.
Both of the brands are very well known in the knife industry for their elegant designs and incredibly sharp knives.
In this comparison of Wusthof and Victorinox kitchen knives, you will find out the size, length, material, and, most significantly, the maker – all key things to consider.
So Let's dive in!
The Difference Between Victorinox Vs Wusthof Chef Knife
The hand-to-hand comparison comes down to the basics- the overall length of the Wusthof Classic Ikon is 13 inches and weighs 9 oz, with 8 inches blade length which is made of x50CrMov 15 German steel, and Victorinox Fibrox 8 is 18.9 inches and weight 6.1 oz with 7.9 inches blade length made of 420 HC blade steel and the blade style is clip point as well.
Victorinox vs Wusthof Chef Knife History
Abraham Wusthof began the Wusthof family business in Solingen, Germany, in 1814. They have a solid reputation for producing high-quality kitchen and professional knives and are one of the most well-known and respected brands.
Victorinox was founded by Karl Elsener in 1884. Since then they became quite popular for their Swiss army knives, mostly popular among gangsters and assassins. With time customers' needs changed and they expanded their line and manufactured chef's knife, utility knife, and watches. You will be able to see the reflection and practicality of a swiss knife to many Victorinox Knife.
Victorinox vs Wusthof Chef Knife – Comaprison
Both are European-style knives, so they have quite a few similarities and quite a few differences. Off the bat, the metal they use is pretty similar. The Wusthof and Victorinox both use a proprietary metal of their own design. The Wusthof has about 58HRC and the Victorinox is about 55 HRC. The cutting angles are relatively similar. The Victorinox knives have a cutting angle of 15 degrees while Wusthof is a little bit sharper at 14 degrees.
The differences come in terms of construction. The Victorinox blades are stamped in machine-made while the wüsthof classic knives are handmade and forged so this is going to be a little bit more resilient of a blade but one of the things they do want to mention is this is a very traditionally made knife. It has a full bolster all the way down which means the end of the blade is not sharp and it does have a tendency to get in the way.
The Victorinox on the other hand is sharp from end to end which I really like. Nothing gets in the way while you're cutting. Victorinox doesn't have a full tang. The tang end about right in the middle of the handle. As long as you are not abusing your knife, I don't think that's going to be too much of a concern. The wüsthof classic has a very nice and very thick tang and is a little bit heavier.
The handles of both of these knives are similar and then again too different if that makes any sense. They are both made of plastic, they have a similar shape. The difference is the wüsthof handle is two sets of scales that again are triple-riveted onto that tang while the Victorinox is a fibrox handle which is where it gets its name. And it's essentially a highly textured nylon glass-reinforced polymer which is very comfortable and gives you a lot of grips.
They both come with a lifetime warranty and at the end of the day it comes down to a personal preference but the Victorinox is about a third or a fourth the price of the Wushtoff and has a very similar sort of performance.
Some of the best Victorinox knives are -Fibrox, Swiss Modern, Swiss Classic, Grand Maitre, Victorinox Rosewood.
There are two types of Wusthof knives: forged knives and laser-cut stamped knives. Some of the best Wusthof knives are Wusthof Epicure, Wusthof Ikon, Wusthof Classic Ikon, Wusthof Classic, Wusthof Gourmet, Wusthof Crafter.
Wüsthof vs Victorinox – Comparison Table
For each brand, I've created a summary comparison table. The Wüsthof Classic and the Victorinox Fibrox Pro Chef's Knife are two of their most popular knives.
Check out the remainder of the post for a more in-depth look at each area.
| | | |
| --- | --- | --- |
| Features | Wusthof | Victorinox |
| Origin | German | Switzerland |
| Blade Steel | X50CrMov15 | X50CrMov15 |
| Factory Edge | 14 degrees | 15 degrees |
| Handle | POM | TPM |
| HRC | HRC 58 | HRC 56 |
| Type | Premium design, high quality | Comfortable design, durable |
What These Knives Have in Common?
Handle Ergonomics
With each of their collections, Wusthof and Victorinox both do a fantastic job of providing a diverse selection of forged and stamped knives and handle styles. If you prefer a conventional chef's knife, you can acquire one with a plastic, metal, or wooden handle from either firm, and many of these models come in a variety of blade lengths.
The ergonomic handles and blades provide a pleasing weight to correctly balance the knife without generating undue hand strain or wrist pain.
Both Victorinox and Wusthof blades have dishwasher-safe models, depending on the handle material used. Although the weight of each knife type varies slightly between brands.
Instructions for Use and Care
Victorinox and Wusthof knives have fairly similar maintenance guidelines and should be washed with warm water and mild soap as soon as you finish using them. Do not submerge your knife in water or immerse it in any liquid over an extended period of time.
Any cleaners containing chlorine or bleach should be avoided since they might discolor various components and cause pit stains on the blades. It's also advisable to avoid soaking your knife in a stainless steel high-carbon steel sink or in water with aluminum cookware, as this might result in galvanic damage, which occurs when electrons migrate from one metal to another.
Wusthof Vs Victorinox: What are the Differences?
Origins
While Wüsthof offers a larger number of current knife collections to pick from, as well as a bigger range of handle types and materials, their products are manufactured in German.
Victorinox items are manufactured in Switzerland, which has a better reputation among consumers; however, there is less diversity in terms of collections, knife styles, handle kids, and blade shapes.
Price
The pricing is the biggest distinction between Wüsthof and Victorinox knives. Wüsthof knives are often more expensive than Victorinox knives. Wüsthof's Standard and Premium knife lines, on the other hand, are of higher quality, justifying the price difference.
The Wusthof Classic Ikon 8-inch Chef Knife – Detailed Review


The Wusthof classic chefs knife is known as the workhorse of the kitchen. This german knife is a great beginner chef's knife. Wusthof knife has a classic look with a brushed finish. Most german knives are back heavy and this Wusthof stays with the tradition of being handled heavy. Which helps with a rock chopping motion.
The first thing you will notice when you hold this knife is it got some weight to it which is a good thing that means the knife will do more of the work for you. The handle and the blade are pretty evenly balanced. Which allows for more control in making your cuts.
This knife has a full bolster and a finger guard to prevent you from cutting yourself because it is a very sharp knife straight out of the box. It is well crafted from one single piece of steel. The profile is something you'd expect from a traditional chef's knife. The blade width is 4.7 centimeters with a 2.5 centimeters knuckle clearance. The cutting length is 20 centimeters which is ideal for home cooks.
The handle feels durable and comfortable in your hands. However, it depends on your gripping style. Pinch gripping or using a thumb grip on the handle will make the curved handle feel very comfortable in your palm. But if you use a pinch grip at the blad, you won't be benefited from the curved design. The Wusthof Ikon is a fully full tang forged knife. It is robust enough to process a large number of vegetables, breaking through chicken bones, this knife will do all of that with ease.
The face of the blade is broad which encourages proper cutting techniques against knuckles and the forged bolster allows for a comfortable grip when you need to choke up for a pinch grip. The handle material is Polyoxymethylene material. It's very easy to clean and doesn't hold food fibers. The material is also quite thick and will hold dimension over time.
After years of use in washing in hot water, your blade and handles will still have a smooth transition and there won't be any misalignment. The blade is made of x50CrMov 15 german steel. It contains a carbon content of 0.5%. It's easy to resharpen. This steel type is a worry-free steel type. This knife is the best all-purpose knife, we can recommend.
Victorinox Fibrox 8-Inch Chef's knife – Detailed Review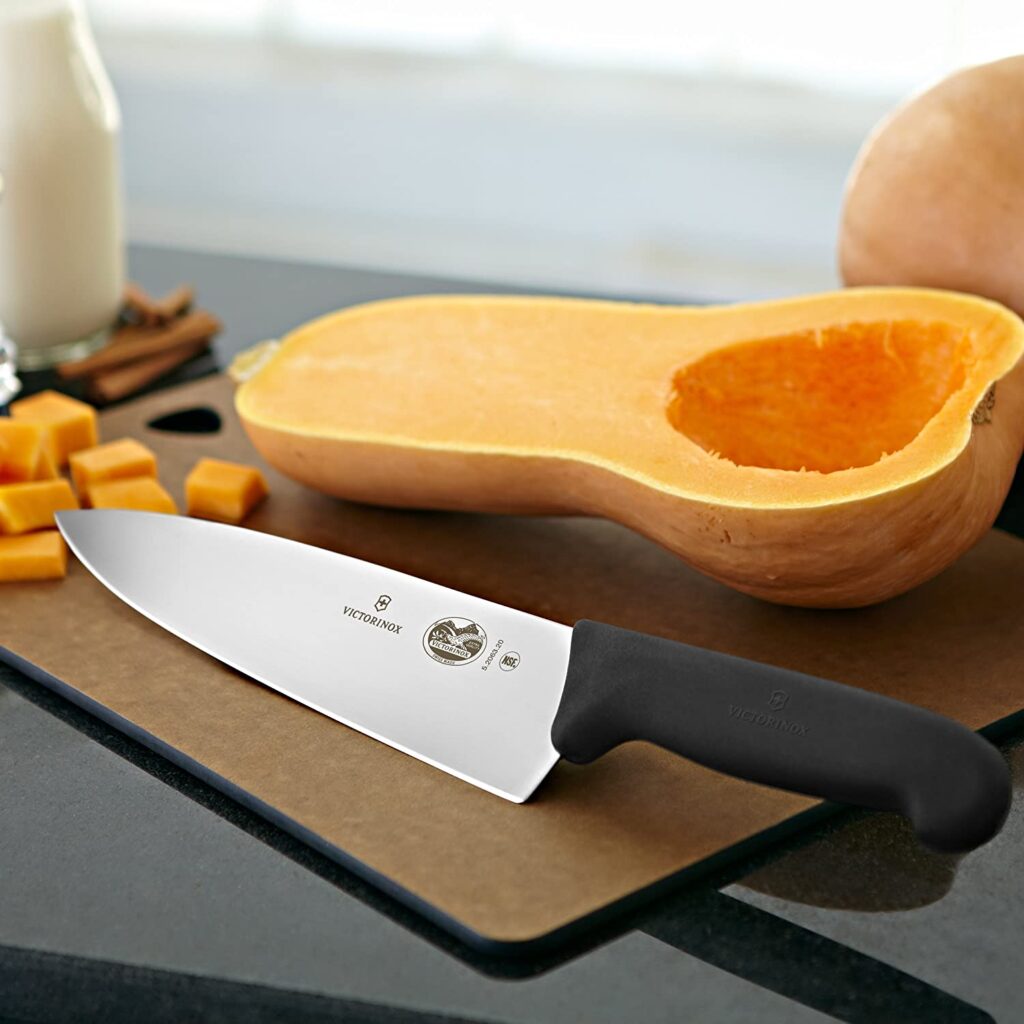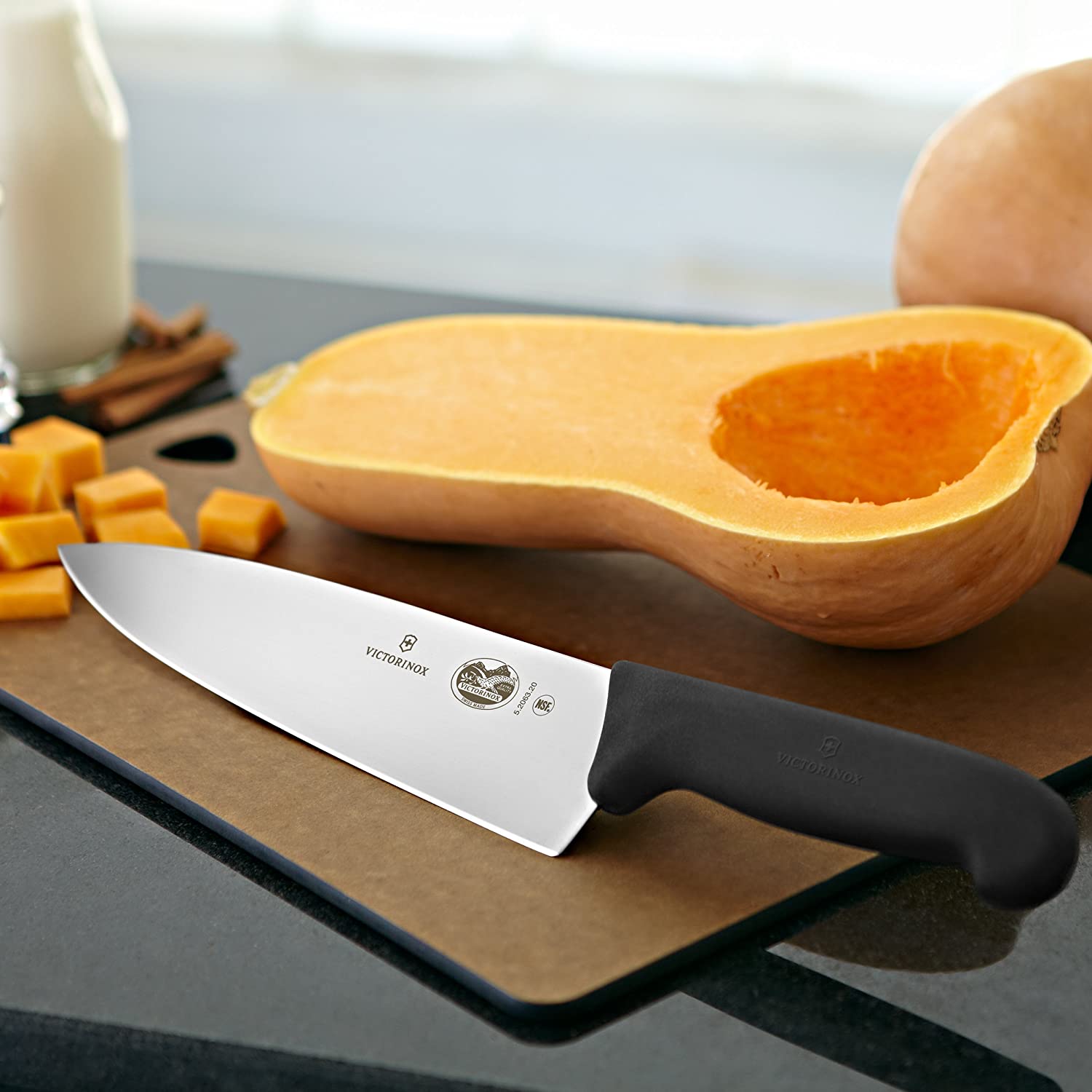 This Victorinox knife is made in Switzerland. It's got an 8-inch blade made of stainless steel, very low maintenance and it is NSF certified which means this knife is safe and approved for professional kitchen use. The first thing you'd notice is the handle shape and that is where the word Fibrox comes into play.
The handle is a combination of ergonomic design as well as the textured plastic that is supposed to add a non-slip grip to the handle. It is super utilitarian and holds a beefier grip in hand. This knife isn't forged. it is stamped which is the process by which they take a cold-rolled sheet of steel stamp out the shape grind it temper it and sharpen it.
This takes way fewer steps than actually forging a knife which isn't only reflected in the price but it results in a way thinner and lighter knife which may not be your preference if you like more weight in your knife. The steel of the knife has a plasticky metal feel.
Speaking of being a ground blade on this knife, the edge is designed to be resistant to fantastic chipping. That is what makes it a great knife to use instead of your main chef's knife where the project is very heavy-duty work. The breakpoint of this knife is wider and beefier on this knife so it's way less likely to chip.
How much do Victorinox and Wusthof Knives Cost?
Both of these brands provide a variety of knives at various pricing levels. I've categorized three of their primary ranges that represent their top and lowest cost knives to enable a more fair comparison.
| | | |
| --- | --- | --- |
| Variety Of Brands | Wusthof | Victorinox |
| Premium | Ikon Series $170-190 | Inapplicable |
| Standard | Classic Series: $150-$160 | Professional Knives: $110-$130 |
| Value | Gourmet Series: $60-$90 | Fibrox Pro Series: $50-$60 |
Knives from Victorinox are substantially less expensive. The Fibrox Proline is their most popular, and it is still very affordable compared to the Wüsthof Gourmet line.
Wüsthof knives are of higher quality, with forged steel and more durable handles in both the Standard and Premium categories.
Still Can't Decide? Here's an Alternative – The Mercer Renaissance M23510 Chef Knife – Detailed Knife Review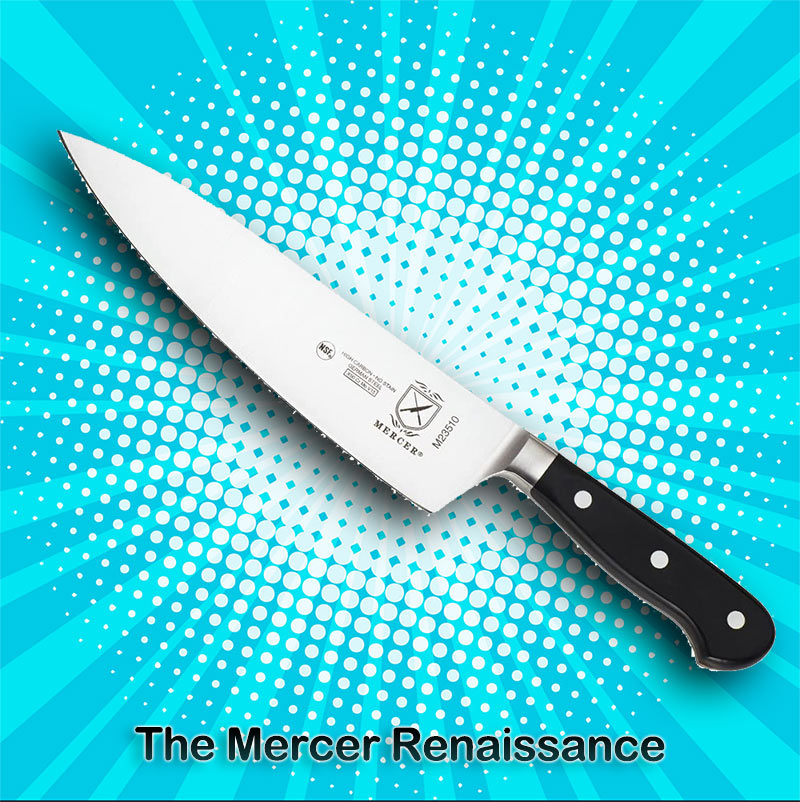 This is the kind of knife you want to consider if you are into European knives and you are shopping for a new knife. Mercer knife is one of those knives you really can't go wrong with. It has surprised me in terms of how well it performs.
First off, the steel, this knife uses a high carbon german X50CrMov15 steel. It is an 8-inch chef's knife with a pretty classic western-style handle made from Delrin which was made by the DuPont company as a metal substitute so it's very sanitary, gets that NSF stamp of approval is also water-resistant and heat resistant.
The rivets attach the handle to the full tang as well. The edge stays tapered round which on paper sounds super fancy. But you might be disappointed after you re-sharpen it as the edge will feel a lot different. Unless you have the same machine as they are using to get this tapered round edge on the blade, it's going to feel different after you sharpen it for the first time.
The edge of the knife goes all the way down to the length of the heel so there's none of that edgeless heel garbage so you can sharpen the entire length of this blade. The shape of the knife is quite typical. If I compare it to Victorinox maybe just a few millimeters wider.
The handle doesn't come all the way up onto the knife as well. As for the artistic details on this knife, it got the honing rod logo with its branding on it. It has a very generous radius from tip to heel and has no hard stops anywhere while performing. Which is nice for chefs who like rocking on their knives.
Sometimes a knife that has a flat spot in the back will have an abrupt stop when you are coming down from the belly of the knife, this knife doesn't have any of that. It is extremely smooth. You can finely chop mushrooms, cilantro, onions with this knife very comfortably.
This is a utilitarian knife. This is often frequently found in culinary school students. For the price point, this is the best budget kitchen knife you can get your hands on.
Our Recommendation
The most important consideration in deciding which of these brands to buy is your budget.
I strongly recommend a knife from the Classic Wüsthof line over the Victorinox Professional range. Within the $100 – $200 price range, I believe Wüsthof produces the greatest western-style Chef's knives.
Victorinox is worth considering for the top brand under $50 if you're on a limited budget.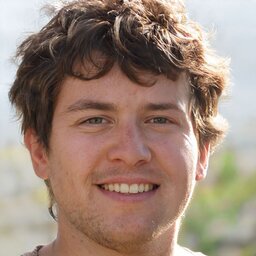 Hi, my name is Taras Kulakov and I'm a knife enthusiast. I have been collecting knives for over 30 years and I've owned literally thousands of different models over that time. My goal with this site is to share some of what I've learned about knives. You can find more info about Taras Kulakov here.