Just the name chef knife brings to mind an extravagant kitchen setup. It's easy to imagine how a knife could be the most essential and used tool you have in your house, whether you are slicing tomatoes, peeling vegetables, dicing onions, or deboning an entire chicken the first tool you would think to accomplish this task is a knife. There are many reasons why you should purchase the best chef's knife.
When you have the right knives in your kitchen cutting and slicing ingredients become swift with less mess and you save enough cooking time. Investing in high-end kitchen knives is worthwhile.
There's a wide range of good kitchen knives, available in the market right now that you must need in your kitchen to prepare different delicious meals in a single pack rather Having the right knife in your kitchen will make you cook like a pro and help you get your job done in time with less effort.
After hours of research and taking advice from our experts, we have listed some best kitchen knives to help you choose the one that suits you perfectly.
Whether you are looking for a fancy-looking kitchen knife to give as a gift or get yourself a heavy-duty machete for your yard work here we have it all.
Here's the list of  the 10 Best Chef's Knives
1. Mercer Culinary Genesis 5-inch Utility Knife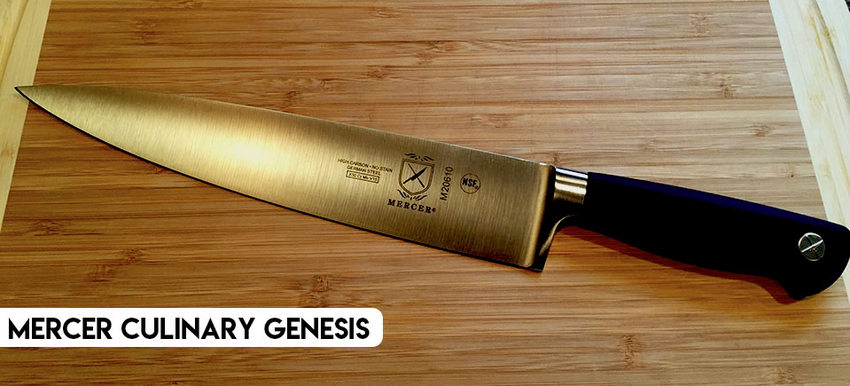 Mercer culinary's genesis line has precision forced construction. for better strength and durability.  Made of x50 crmov15 steel the blade is perfect for cutting, slicing, chopping, deboning fruits meats and vegetable.
The ergonomic Santoprene handle offers superior comfort and non-slip grip even with a wet hand. The high carbon, no-stain german cutlery steel resists rust corrosion and discoloration.
The shortened bolster exposes a full blade edge allowing for easier sharpening. The bolster strengthens the knife's add durability and provides excellent balance for better handling when cutting food.
Key Features:
Full tang construction
5-inch carbon steel Blade.
Razor Sharp is cutting edge.
Ergonomic Santoprene Handle
2. Wusthof 8-inch Classic Cook's Knife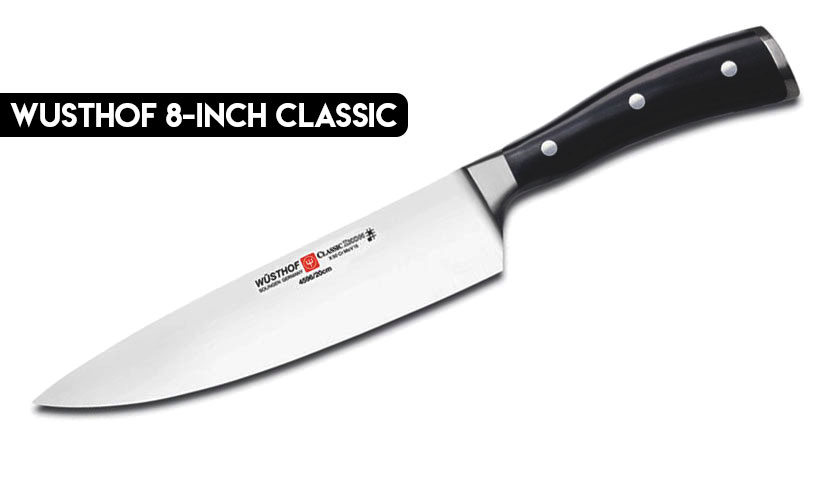 Essential for any cooking needs, this all-purpose cutlery knife can be used for chopping, mincing, slicing, and dicing. It features an 8-inch long blade with a full bolster and finger guard.
This knife comes with a full tang, the triple-riveted handle of the classic line that offers the broadest range of cutlery that can satisfy every home cook or professional chef.
It is forged from a single block of high carbon stainless steel and tempered to 58 degrees HRC. The knife's precision edge technology yields a20 sharper blade with twice the edge retention than other chef knives.
Its hollow edge is crafted with evenly spaced vertical indentations creating small air pockets between the blade and the food. Further these tiny air pockets gently push food off the blade and reduce friction and drag.
Key Features
High-quality stainless steel blade
8-inch long blade length
Hollow edge blade with vertical indentation
Contoured handle for optimal grip
3. Imarku Stainless Steel Chef Knife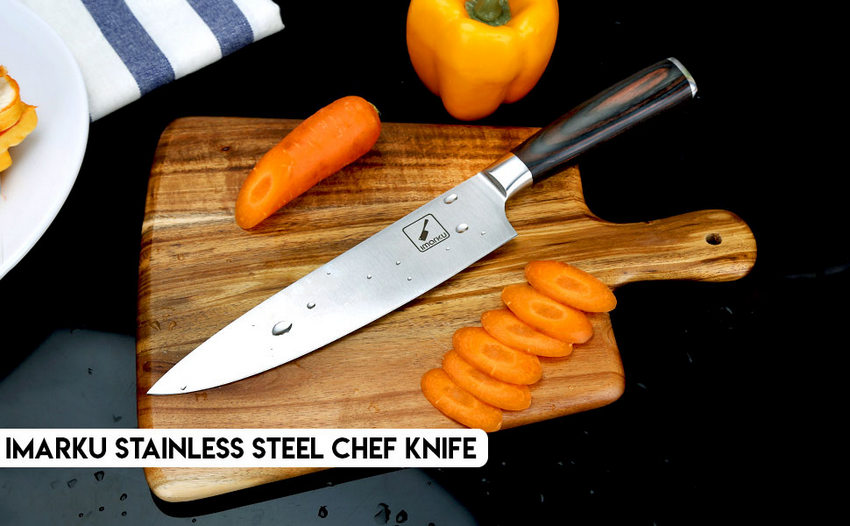 This chef knife is classified and designed to be multipurpose for professional applications. This Imarku stainless steel chef knife is manufactured from high-quality 7cr17 move german stainless steel.
The steel has great wear resistance, rust, and is stain-resistant. This knife has an 8-inch blade length and 0.5-inch blade thickness. The width of this blade is 1.7 inches.
It comes with 56 to 58 HRC Rockwell hardness. It has an ultra-sharp cutting edge and is perfect for cutting, slicing, and chopping effortlessly while maintaining precision. It also cuts meat off the bone.
The handle of this carbon steel knife is made of durable pakkawood. It has a 5-inch handle length and 13-inch overall length. The handle is originated in Africa. It is known for its comfort Strength and stability.
Key features
7cr17mov high-quality stainless steel
Razor-sharp cutting edge.
Luxury packaged handle.
13-inch overall length
4. Cutlux German Steel Chef Knife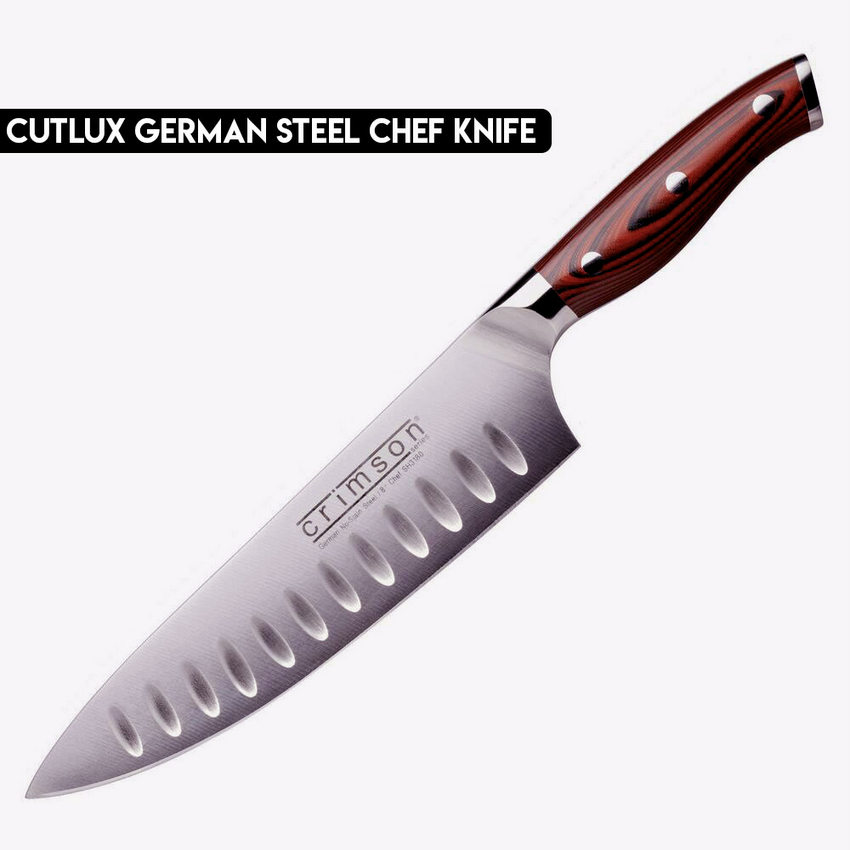 No knife set is complete without a chef's knife. But an ordinary knife isn't going to cut it for Cutlux. This company developed a flawlessly balanced knife that combines the industry's best steel with the most durable handle.
The knife is full tang construction. The blade of this knife is made of high-carbon stainless steel. It comes with 56 plus Rockwell hardness. It provides long-lasting performance, great rust, and stain resistance. It features an 8-inch long blade.
The blade is a razor-sharp hard-sharpened edge. It has a 14-16 dgrees anfle per side. The blade has maximum sharpness and edge retention and ensures precision slicing every time. The handle is made of luxury pakkawood. It has a triple-riveted design for a secure grip and absolute stability.
It ensures comfort and maneuverability. This Cutluxe chef knife is perfect for effortless slicing, dicing, and mincing of fruits, vegetables, meat, and more.
Key Feature
Full tang construction
8-inch carbon steel Blade.
Razor Sharp is cutting edge.
Luxury Pakkawood handle.
5. Aroma House Professional Chef Knife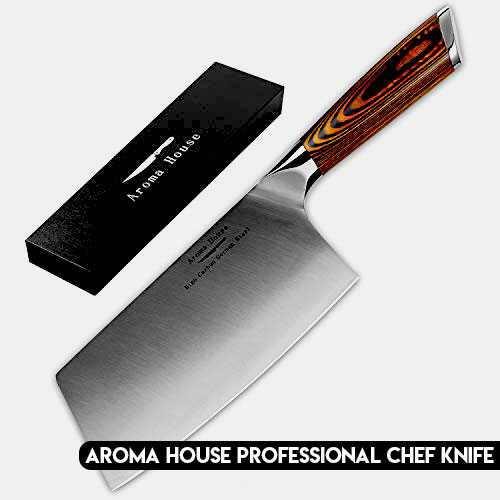 The Aroma House Professional Chef Knife is made of high-quality carbon 50crmov15 stainless steel. It comes with a 58 to 60 HRC hardness. Ii features an 8.3-inch blade with a 15-degree angle edge per side.
It hand-made grooves to prevent greens and meat residues ensuring ultra-thin slicing and dicing with minimal effort. This knife of the wide blad keeps the cook's fingers away from the cutting surface.
This knife has an ergonomic design full tang handle. Made of pakkawood the handle is 5.1 inches long. It can prevent the blade of the chef cleaver from falling easily.
It also helps you get a good hold feeling and a non-slip effect. This knife is a great beauty with impeccable performance and cutlery. It has a strong design with good strength and durability. This chef's knife is perfect for cutting, slicing, deboning, cleaning light bone, vegetables, and even coconut. It is easy to resharpen, clean, and maintain.
Key Features
Full Tang Construction
8.3 inches stainless steel
15-degree angled edge
5.1 inch pakkawood handle
6. FindKing an 8-inch Chef Knife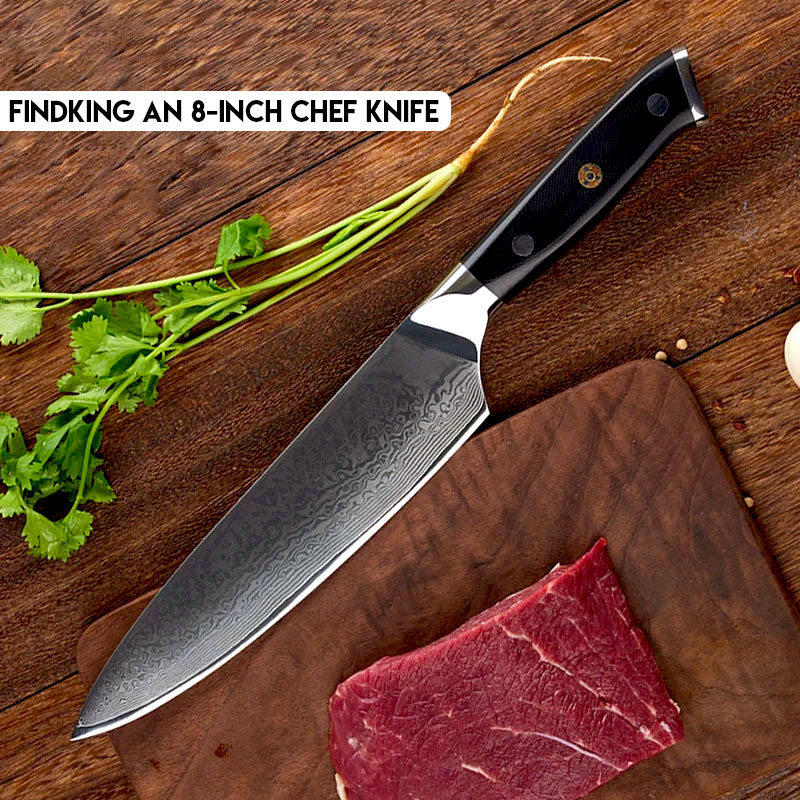 Find king 8-inch chef knife is designed to show the beauty of eastern chef knives. It is a great idea of everyday use of any chef. This knife is made of 3 layers of 9cr18mov clad steel.
The steel comes in a 60 plus HRC hardness. It has 21 centimeters of blade length and 5 centimeters in width. The blade is 2.5 millimeters thick. It has clad dimple which allows for easy food release for slicing and dicing.
This fish can work great with vegetables, fruits, fish, and meat. This knife features a 15.5 centimeters dynasty series handle. The handle is crafted from African rosewood.
It is 2.7 centimeters in width. The overall length of this knife is 36.5 centimeters. It is a great complement to the beauty and comfort of the knife user. The stability of the handle allows the user full manipulation of the blade.
Key Features
9cr18Mov high-quality steel
21- centimeters blade length
African rosewood handle
36.5 centimeters overall length
7. Chicago Cutlery Fusion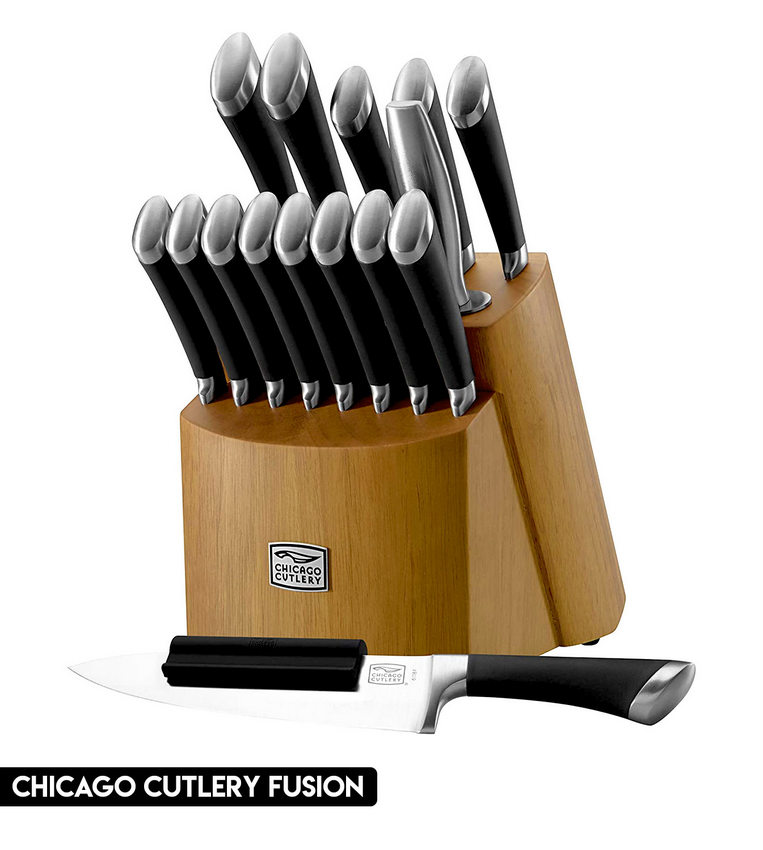 If you are attracted to a good price as much as great quality this knife set is going to give you the best of both worlds. This set of knives is within the affordable side of the knife market and it will surprise you cause of the amazing value that it offers.
You will get a full 17 pieces of a package in one purchase. It can be a one-stop for everything you need. The 17 Piece set includes a 7-3/4″ inches Chef Knife, 7-3/4″ Serrated bread knife, 7″ Santoku knife, 5″ Santoku knife, 5″ Utility knife, 3-1/4″ Paring knife, 4. 5″ Steak (8) knives, sharpening steel.
Fusion knives are relatively known to be sharper than their counterparts. Made of high carbon non-stainless steel blade, these knives features forced blade with 26-degree finely honed edges that are key to delicate, light, and precise cuts.
Razor-sharp, strong and durable blades are made to minimize possible chirping, rust, and smudges. This knife set features an Asian-inspired paddle handle. It might be a fresh experience but it helps greatly with non-slip grip thus needed safety while performing any task.
You will have a stable yet comfortable hold on the knife even when the handle is soaked. It provides full control over the speed and manipulation of the knife movement as well as reduced any risk of hand fatigue.
These are extremely sharp even when they are no longer, so you can always resharpen with provided sharpen steel. There is also a chop assist to give you better support when performing your task. It also comes with a Chestnut-stain wood block that will help you to store the knives easily.
8. Muller Austria Chef Knife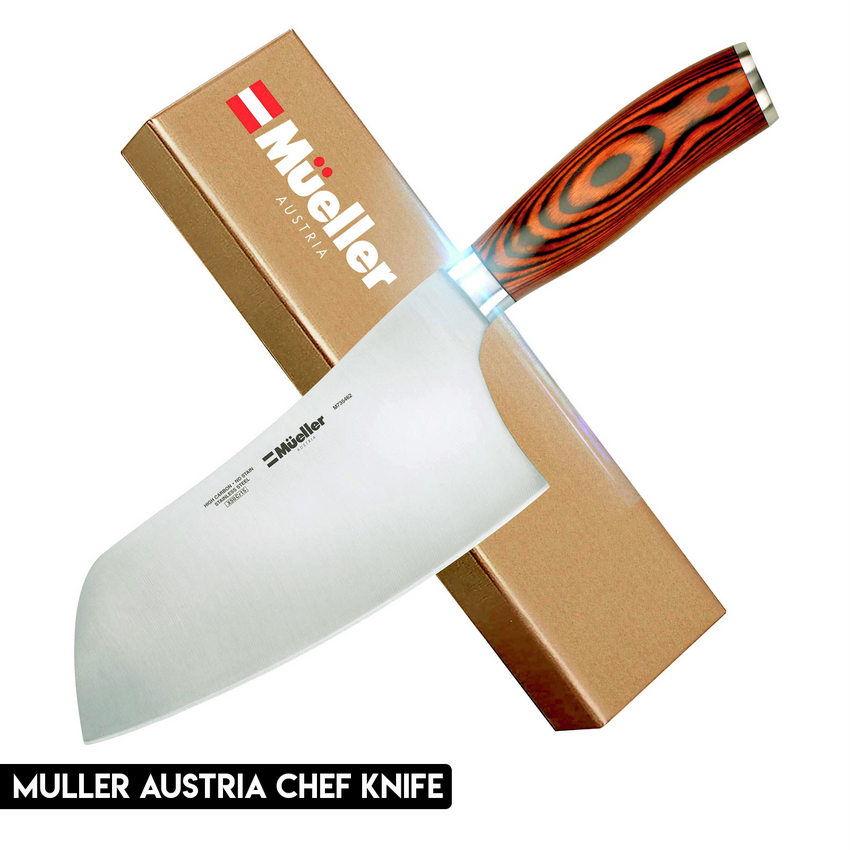 This Muller Austria Chef Knife is designed to be a multi-purpose knife for professional applications. It can be used for your daily kitchen tasks.
This muller Austria chef knife is made of high-quality German stainless steel. It resists rust, corrosion, and discoloration. It is quickly resharpened and easy to clean and maintain.
The blade has double side sharp edge. It also has an 18-degree cutting angle. It provides a high cutting performance. This durable razor-sharp and razor-tested blade effortlessly chops, minces, slices, and dices.
It is suitable for both home and restaurant kitchens. This knife comes with an ergonomic wooden handle. The handle is made of Pakkawwood. The layers of wood are stacked together for a perfect radiance from the wood grain.
It is dense and compact, deterring any water damages while avoiding splitting. The handle provides you with a secure comfortable grip. It's not easy to slip, sturdy, and labor-saving.
Key Feature
High-Quality German Steel
Double-side sharp edge
18-degree cutting angle
Luxurious Pakkawood handle
9. Ytuomzi Chef Knife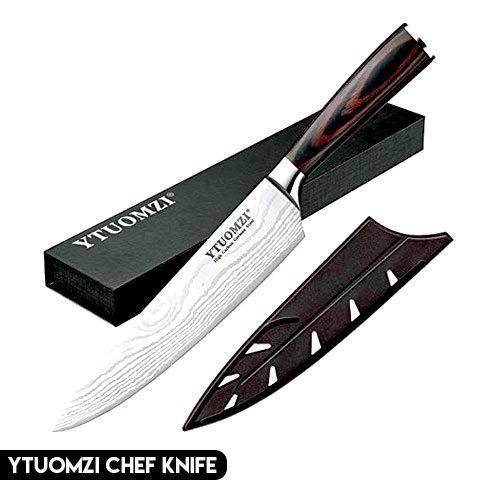 Ytuomzi pro Chef Knife has been the top choice of both home chef's and professionals alike. It can solve the problem of kitchen size and is very popular, suitable for all kinds of cooks to use. The blade of this knife is crafted with stainless steel with high carbon.
The professional chef's knife blade is eight-inch in length. It has two millimeters blade thickness. The steel contains 0.6 percent to 0.75 percent carbon. It has a razor-sharp cutting edge that provides a high cutting edge.
This knife comes with an ergonomic handle. It has a 5-inch handle length and 13-inch overall length. It provides a non-slip and comfortable grip.
The handle has an excellent anti-corrosive performance. It is durable and easy to clean. The chef knife is perfect for cutting and chopping. This kitchen knife is for duck, chicken, fish, and meat. It is easy to resharpen, clean, and maintain.
Key Features:
8- inch stainless steel blade
2 millimeters blade thickness
5-inch handle length
13-inch overall length
10. Cuisinart C55-12PCKSAM 12 Piece Color Knife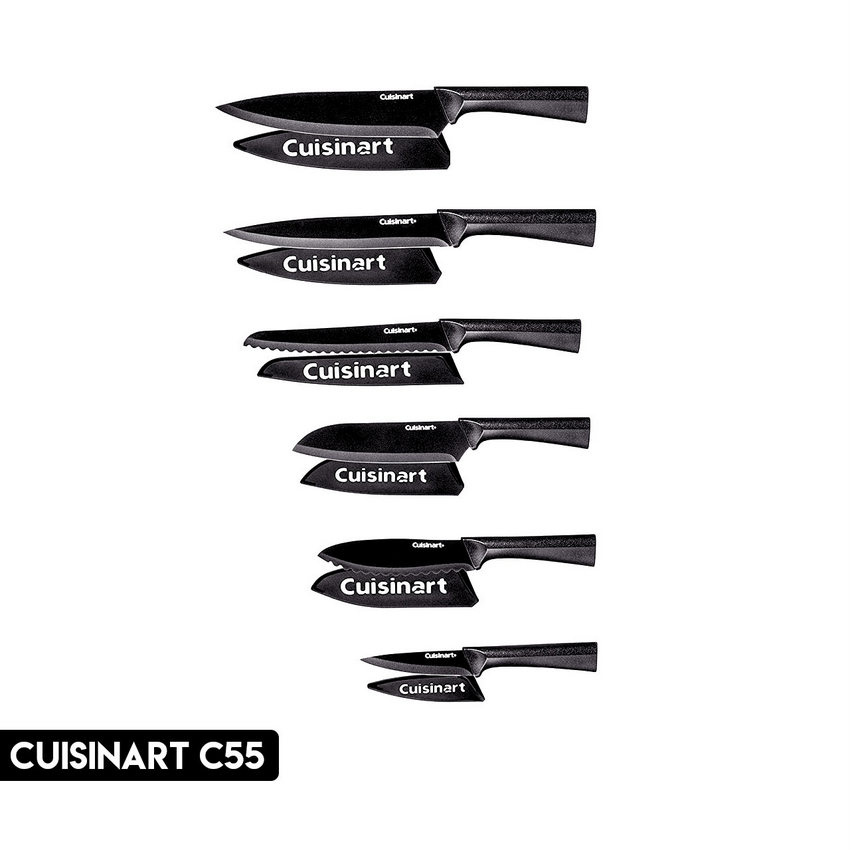 This classic forged triple rivet cutlery possesses a superior high carbon stainless steel blade for precision and accuracy. Comes with 6 pieces of colorful knives and open stock, these extraordinary knives have tapered ground blades that narrow gradually to an extremely sharp fine edge.
Further constructed for perfect stability and control the knives are designed with an extra-wide for safety and bolster and stainless steel rivets securing the blades to a comfortable handle.
Additionally, this set includes an 8-inch chef knife, 3.5-inch paring knife, 8-inch slicing knife, 4.5-inch utility knife, 8-inch serrated bread knife, all-purpose household shears, and a steak knife. Other than functionality, the colors of these knives are eyecatching.
It will enhance the beauty of your kitchen and will look good on your magnetic knife strips. These knives come with protective colorful sheaths making them easy for storing.
What to look for before buying?
While all knives are similar in some ways, they're also different in others, and each has its characteristics and advantages. There are many kinds of knives out there, and you'll want to choose the right knife for your needs.
You have the option to choose from many types of kitchen knives. Knowing the most important criteria, that you want to look for in your kitchen knife, will help you find the perfect knife for your needs.
Blade
If you're shopping for a new knife, look for the number one on the blade rating. Cause they are usually sharp, retain their edge well, and are easy to care for. It's a good idea to keep the top-rated knives at home so you can easily grab one when you need to chop something.
Handle
For your kitchen knives, the ideal American-made knife should have a comfortable handle, be sturdy enough for heavy-duty chopping, and last a long time.
There are different types of handles. You can choose from either plain or decorative styles.
If you choose a good quality knife set, the handles come in many different varieties, including natural wood, rubber, plastic, stainless steel, and more. Aluminum handles are not very popular because professional chefs don't use them in their commercial kitchens.
Blade Shape
As you know already, kitchen knives come in many varieties to enable them to carry out different jobs perfectly. Consider using a knife for slicing when you need a cleaner cut and another chopping knife. This way you'll achieve a much smoother result.
Know the different types of knives, and the types you want. You'll be able to choose the best for your needs. If you have a kitchen, you'll need to invest in a complete knife set. They're not as costly as other tools, but they're much more expensive than buying separate pieces.
What is a chef's knife used for?
It's easy to imagine how a knife could be the most essential and used tool you have in your house.
There are a lot of knives to choose from in the kitchen, so choosing the best knife to use for cooking is crucial.
It's an extremely versatile food processor that can handle slicing, dicing, and chopping fruits and vegetables, as well as preparing meat. It makes a very versatile knife for all the things you might need it to do, such as slicing, carving and cutting.
There are more knives that come in handy as your knife collection grows. A chef's knife is one of the most important knives in a kitchen because it's the one the cook reaches for.
How to resharpen your kitchen knife?
To sharpen a knife there are a number of tools that can be used, including electric sharpeners, pull-through manual sharpeners and whetstones.
Electric sharpeners are the easiest to use, and they're often packaged with a guide to help prevent you from accidentally grinding the knife at the wrong angle. With the electric sharpeners, the downside is that they can be too aggressive in sharpening.
The most important factor in knife sharpening is the correct use of the correct sharpening methods for the right type of knife. The downside is that it takes a lot of practice and practice to get really good at it. Whether you sharpen by hand or use a sharpening stone, it's important to have honing steel available to ensure the knife remains in top shape.
Santoku vs Chef Knife, which one is the best?
Both the Santoku and chef knife are good knives. But the real question is which one is better for you. The santoku is an adaption of the western chef's knife but then catered to the Japanese cutting style.
You will discover a lot of similarities between these 2. The differences are- the chef knife has a sharper point but the santoku is more rounder at the spine. Therefore a chef knife is a better solution if you pierce through food like lobsters which have a hard shell. When it comes to the spine the chef's knife has a thicker spine than the santoku.
The best of the bunch for cutting, dicing, slicing, and chopping is the 12-inch Wustof, while the 8-inch Wustof makes a great all-purpose chef's knife. It doesn't matter which type of chef's knives you use; however, if you have small hands, the santoku knives are more comfortable for you to use.
They're also great for taking over the tasks of a utility knife. Having an extra knife in the kitchen isn't just handy when you have kids around; it can also save you money.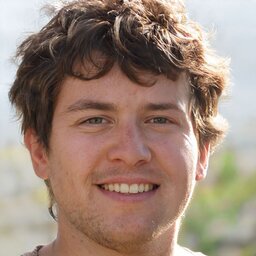 Hi, my name is Taras Kulakov and I'm a knife enthusiast. I have been collecting knives for over 30 years and I've owned literally thousands of different models over that time. My goal with this site is to share some of what I've learned about knives. You can find more info about Taras Kulakov here.