In any house party, birthday party, or at Christmas, if you don't prepare your food at the right time, this will be going to be a nightmare for you. But if you have the right tools, preparing your food will get more comfortable, faster, and safer.
Typically people have 3 or 5 different kitchen knives but how many of these knives are really helpful in the kitchen? We bring together a complete guide to learn about the different types of kitchen knives and how to use them in the way they are intended for. There are many styles of kitchen knives and also in different sizes for each one. It's hard to figure out which ones to buy.
Types of Kitchen Knives:
How many kitchen knives are there? How many kitchen knives do you really need for cooking? What are the different types of kitchen knives used for? So here we breakdown 11 types of kitchen knives, that will guide you which one is the best for what, what each one is for, and most importantly, do you really need it.
1. Chef's Knife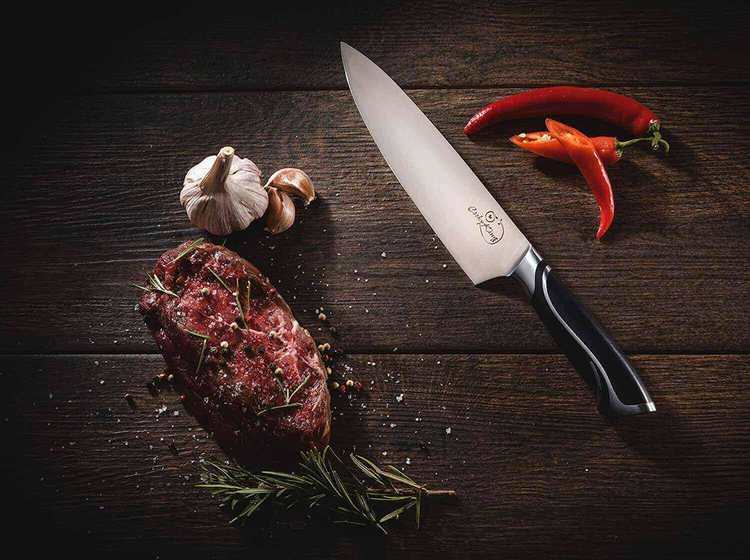 In the kitchen, if there is one knife, a chef's knife is one of them. Chef's knife is the most multi factional knife that is perfect for chopping, slicing, dicing, and mincing with comfort. It has a long, broad blade with a straight blade.
The chef's knife typically allows it to rock back and forwards on a chopping board for fast mincing. This ensures better durability and strength. They are available in lengths from 6 and 12 inches long. 6-inch is ideal for smaller ingredients like cutting meat, dicing vegetables, disjointing some cuts, slicing herbs, and chopping nuts.
If you don't have any use of it every day, a 12-inch blade is what you want for slicing roasts and carving a turkey. The chef's knife is the best type of knife that can be used for about every cutting task in the kitchen.
Our Recommended Chef's Knife:
2. Santoku Knife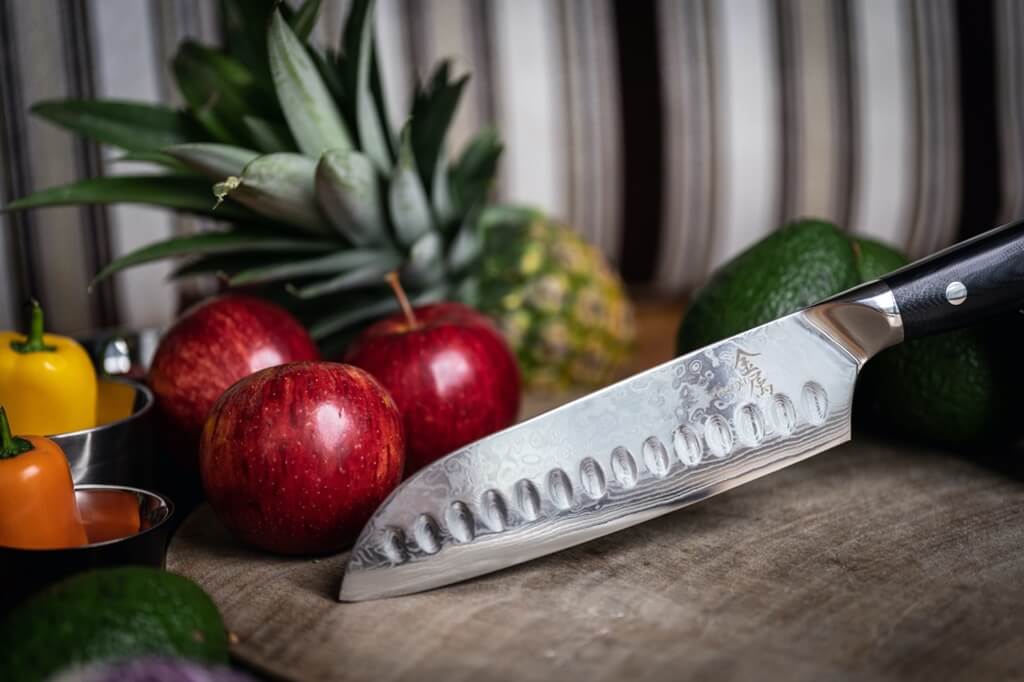 Santoku knife is a Japanese multi-purpose and the meaning of Santoku is "three virtues", which are slicing, mincing, and dicing. It's a very versatile knife. The knife can do multi-task that actually can do almost everything a chef's `knife can do. It is available in 5 to 8 inches. If you use or get an 8- inch santoku, chopping vegetables, slicing cooked meats, even taking apart a chicken will be easy for you.
So you are going to use it for 90% of what you do in the kitchen. For those who prefer a smaller, lighter blade its a perfect for tender hands (a great choice for cooks with small hands) and has a thinner edge than a chef's knife, and allows for more accuracy in work.
Santoku is sometimes made with a hollow or curved edge, which provides them to cut through meat and other sticky stuff faster, with more precision. This knife has dimples that along with the blade allow it to cut through meat, fish, and other soft and tough materials without the food sticking to it reducing the cutting speed and the accuracy of the cut.
Because of its flat blade, it doesn't move on the cutting board. When you want to mince herbs, that's not a perfect knife but a better one for thin slices of veggies.
Santoku and chef's knife seem similar but the difference between a santoku knife and a chef's knife is that with a chef's knife you can naturally rock the blade forward to cut the ingredients with the help of the blade tip. A santoku knife is sharper than the chef's knife that means it can slice a single downward cut with better precision cutting when you need a really thin cut. Professional chefs rely on the rocking method but the santoku knife is faster and efficient and mainly used in Asian restaurants.
3. Paring Knife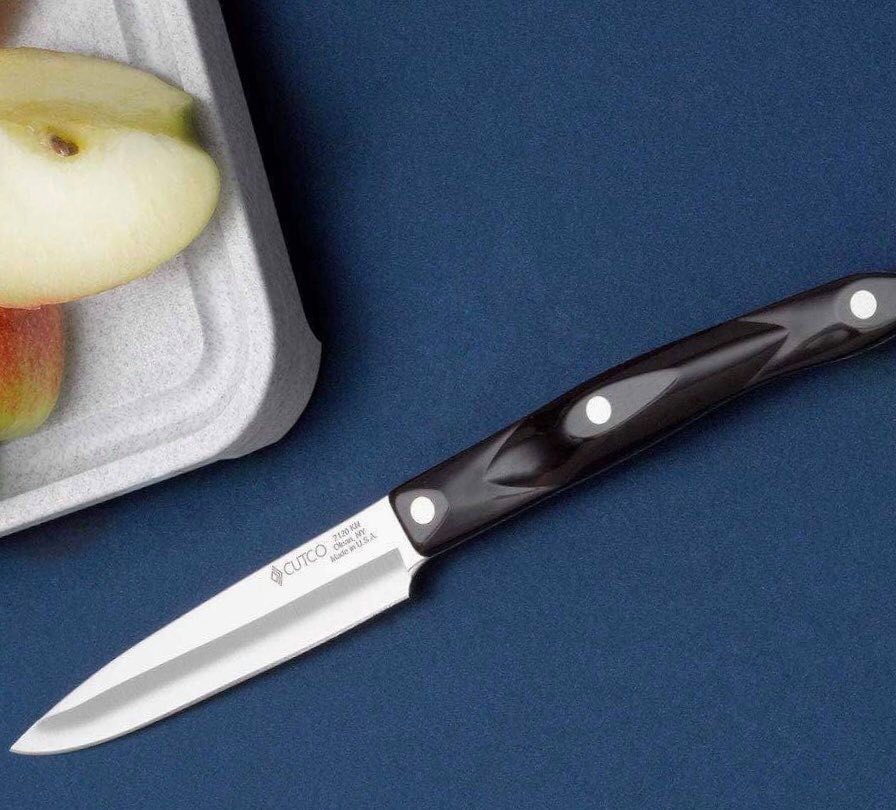 The paring knife is a small handy knife that proves that never judge a knife by its size. This inexpensive knife is used for cutting, peeling, mincing, and dicing fruits and veggies, trimming excess fat, and removing seeds from fruit and veg with great accuracy. A paring knife comes with a thin 3 – 4 inch blade.
A paring knife has short, slim, and has an even-sized blade with a pointed tip ( known as the spear point, sheep's foot, and bird's beak, named after the shape of the tip). The paring knife gets its name from the role it plays. Paring means to cut away the outside surface or to separate the ends from a fruit or vegetable.
A paring knife is used for peeling onions, devein shrimp, coring tomatoes, sliced cheese or sausages, trimming vegetables, scrape out seeds, mincing shallots, or segment citrus. Mainly it's a short version of a chef's knife if you feel the chef's knife is big for your task that you want to do quickly then reach for your paring knife to finish your cooking process easily and quickly.
Though you can't cut large meat or large produce with it, you can use it for everything. you'll find yourself giving it chance for doing all the small cutting processes in the kitchen.
4. Utility Knife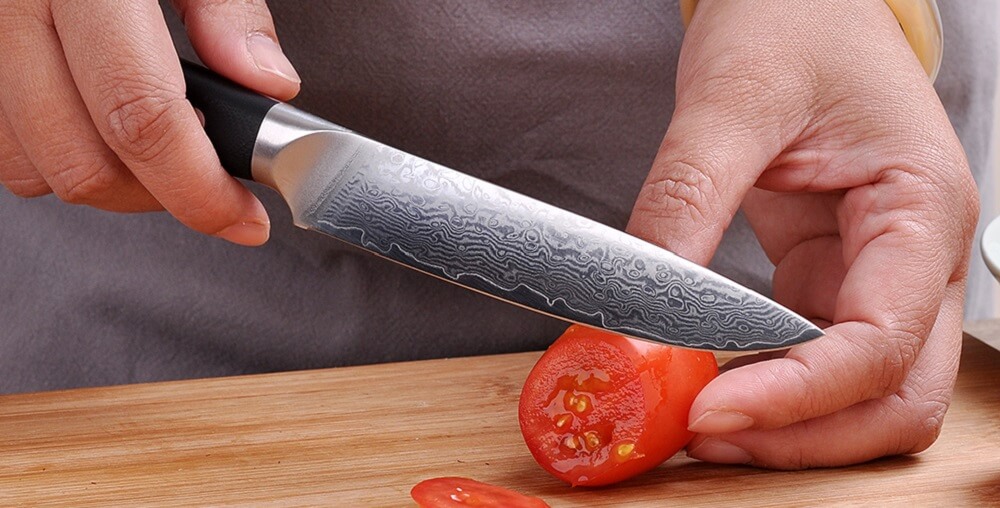 A utility knife is between the paring knife and the chef's knife in size and features scalloped edges and blades that are somewhat longer than paring knives. This Knife is ideal for cutting through mid-sized fruits and veggies, very efficient for slicing meats and cheeses.
Utility knives are between 4 and 7 inches in length the slightly longer blade is very useful when you don't want to use a chef's knife but a paring knife which is too small to be suitable. For occasions where you have more than one chopper in your kitchen, you'll want to reach for a utility knife instead.
A straight-blade utility knife is necessary when peeling fruit or veggies, slicing tomatoes, as well as sandwiches, bagels, and other bread items. It is also a good candidate if you want to prepare lettuces, cabbage, and sandwich meat and sometimes that's better left to paring knives.
5. Boning Knife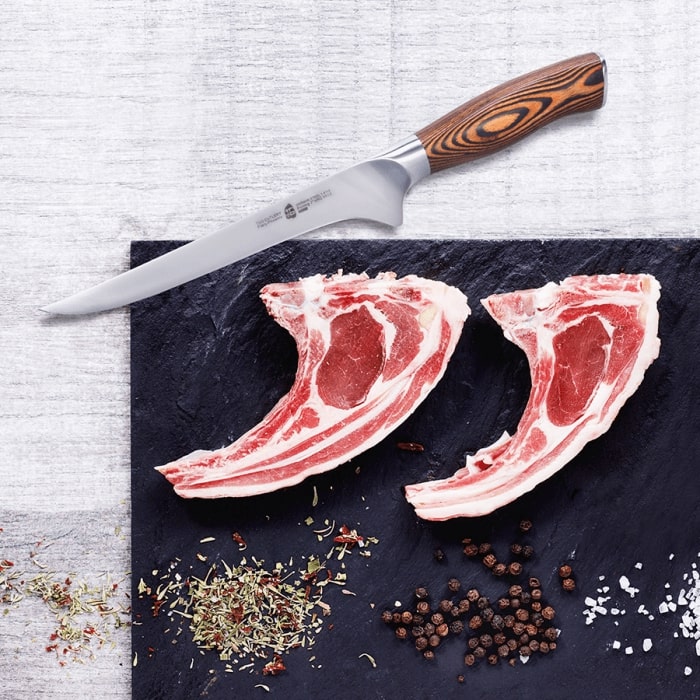 If you are a meat- lover then a boning knife is a must-have in your knife collection. It is a slim blade with a very sharp edge used for separating meat from the bone, cutting up meat, and remove the skin from fish as it helps to easily separate the flesh. It reduces waste when you debone because this knife can cut through connective tissue and joint which is very difficult for other knives.
Boning knives are about 3 to 8 inches in length, with the pointed tip and slim blade make them comfortable and easy to use. The blades can be flexible, semi-flexible, or solid, with strong blades that enhanced the precision of the cut. Expert bakers prefer using a boning knife to core cupcakes, carve cakes, and cut cookie dough into shapes. A boning knife is not absolutely essential in a home kitchen unless you're cutting a lot of poultry or meat.
6. Bread Knife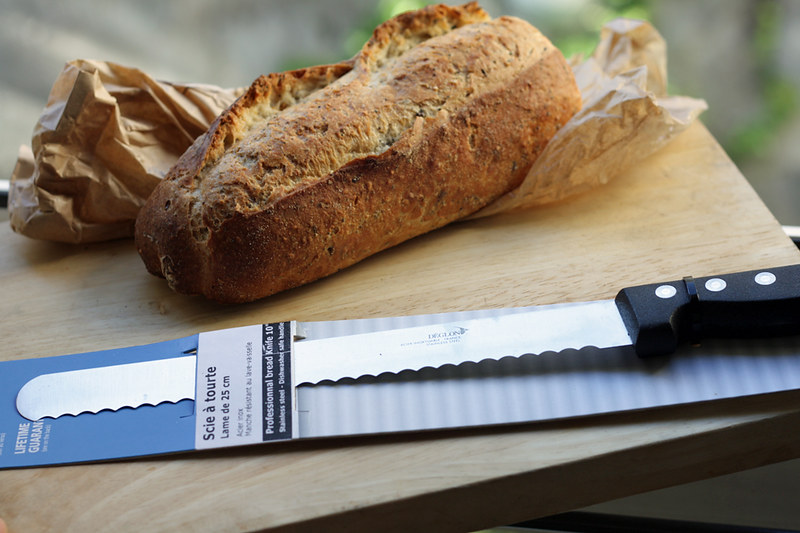 A bread knife has a long, 7, and 14 inches long, with a sharp serrated edge, with big "teeth" along with it. The long blade and sharp serrated make it a perfect knife for cut through all kinds of different types of bread, including crusty bread, baguettes, bagels, and bread rolls without applying more pressure, allow you can cut even slices because of the long length blade. Sharpening a bread knife needs a specific sharpening stone like the DMT Diafold Serrated Knife Sharpener.
It can do some multi-task in the kitchen. Like, slicing holiday roasts, carving a turkey, and can also be used for cutting fruits and vegetables like lemons, limes, and tomatoes, or sometimes cheese, meat, poultry, and seafood.  Bread knives are very productive and comfortable. When it comes to baking, that knife becomes handy for leveling and splitting a cake.
You can slice through an entire layer of the cake in just one pass by its long blade. Also, tough skins like tomatoes can easily be slicing without demolishing them.
7. Cleaver Knife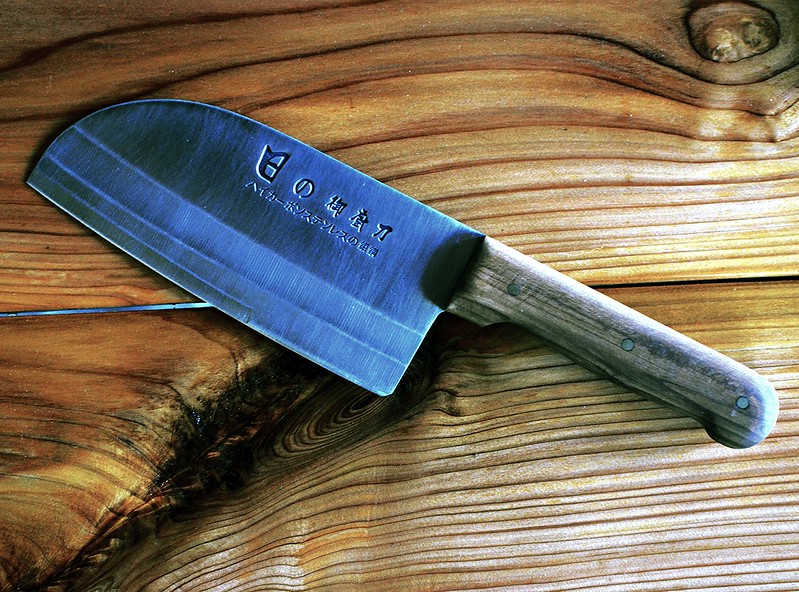 A cleaver has a very wide blade with little or no belly that makes it the bulkiest knife in the kitchen. Also Known as a butcher knife. They come in different sizes and weights, so you can purchase a size that feels comfortable to you. Full tang, a thick spine design allows it to cut through bones, chop up raw meat, making it one of the best knives for raw meat.
Although their size, cleavers feature thin and lightweight blades that can be used for a number of tasks. The broad, flat, heavy surface of cleavers can be used to crush garlic to remove its peel before mincing. Its large weight helps supply the huge force required to chop through chicken bones and other heavy-duty tasks. The big blade can be a little dangerous if you don't use it properly.
8. Fillet Knife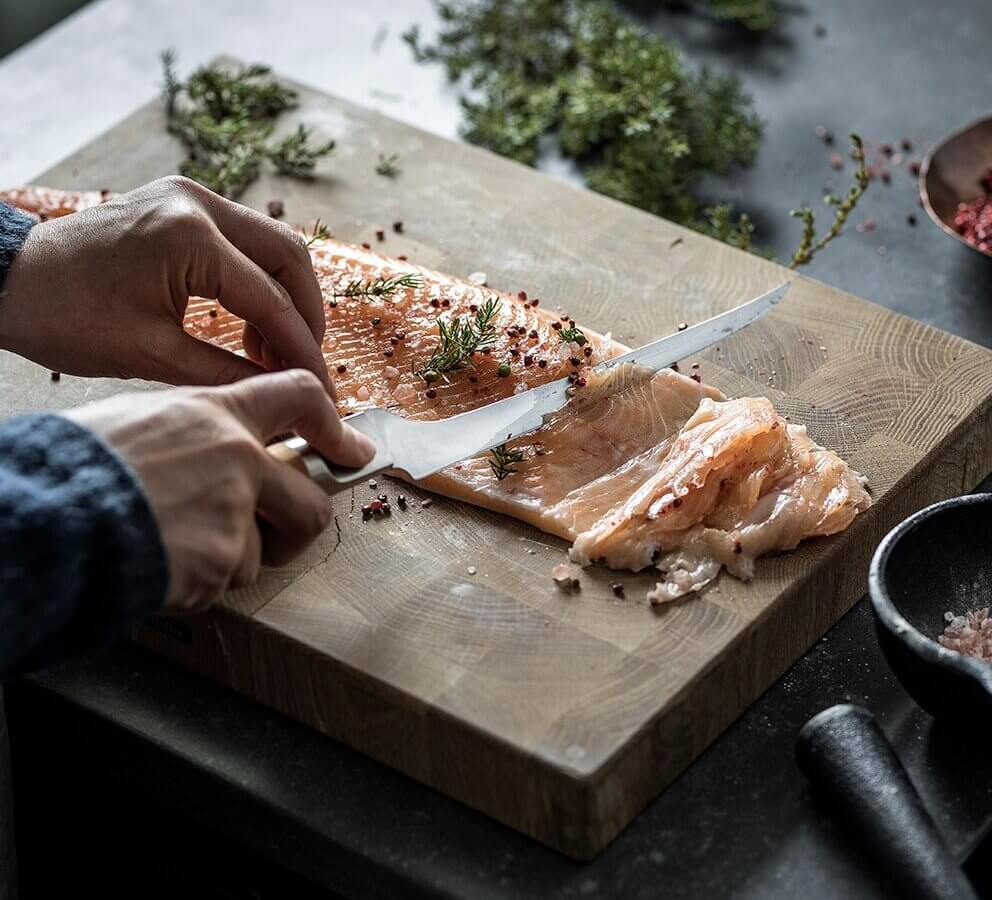 The filleting knife looks very similar to the boning knife but it's more slim and long with a very flexible and thinner blade. The fillet knife is made to cut thin fish slices and so it is typically thinner, longer, and more flexible. They are different from other knives. For target panfish ( perch, crappie, and bluegills) a 6-inch blade would be a great choice.
For small trout or for bass 7.5-inch blad is suitable, the 9-inch blade is perfect for pike, salmon, and larger fish. They are used to cut through food horizontally, rather than vertically. Chefs cut around the backbone of whole fish to create perfect fillets. If you are a sushi and sashimi professional or a chicken boning professional, then you know the differences.
9. Steak Knife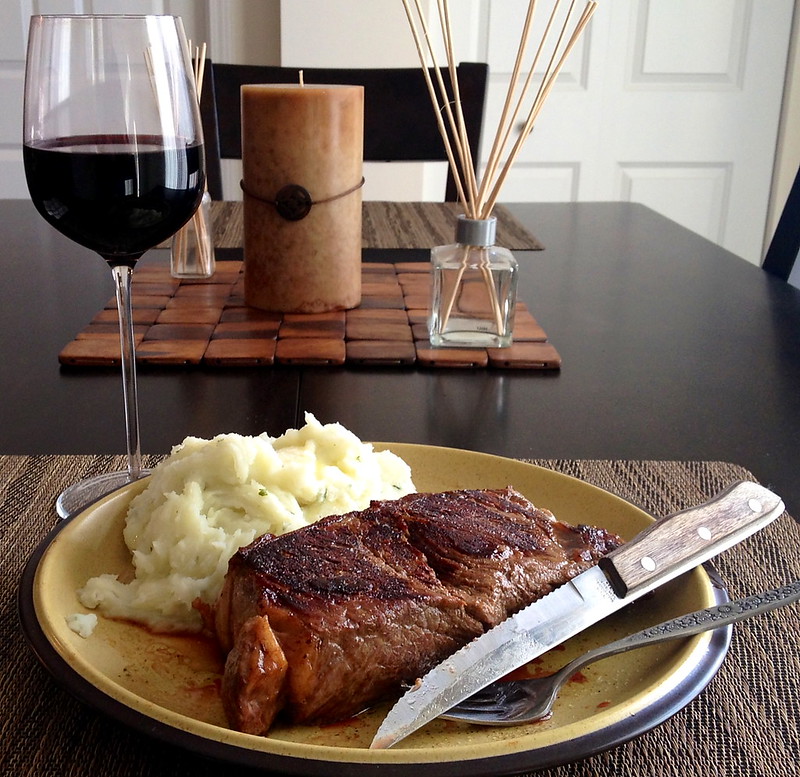 Steak knives are used for cooked food on the table and less for cooking food. They are more often comes in sets, wooden handles with a serrated edge or straight. This knife stays sharp for a long period of time without sharpening. Those are great for steak, chicken, and fish also cutting salads, other cooked foods, and spreading butter.
10. Peeling knife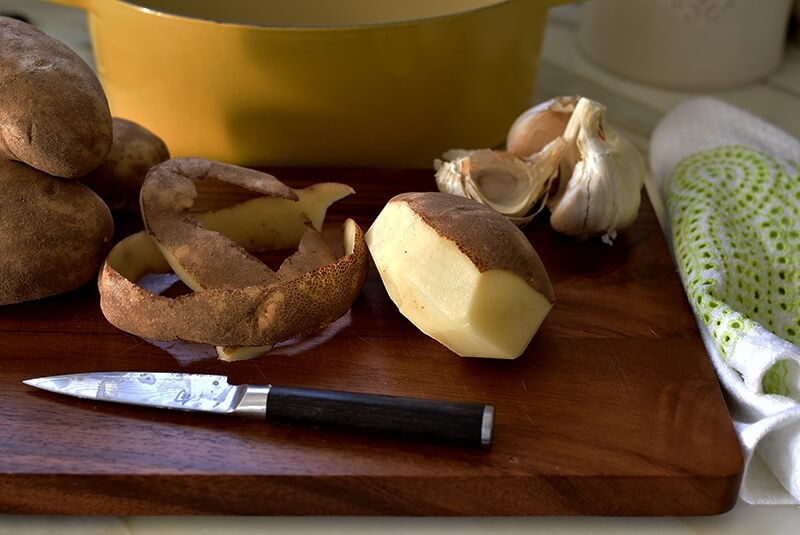 A peeling knife has a slightly curved blade also known as a Japanese carving knife that is used to peel vegetables, potatoes, and fruit easily. It's very helpful for removing the skin from onions and ginger root. The design of the blade curves downward that mimicking the shape of a bird's beak. Peeling knife helps to avoid the knife from slipping during peeling work which makes it safe to use.
11. Kitchen Shears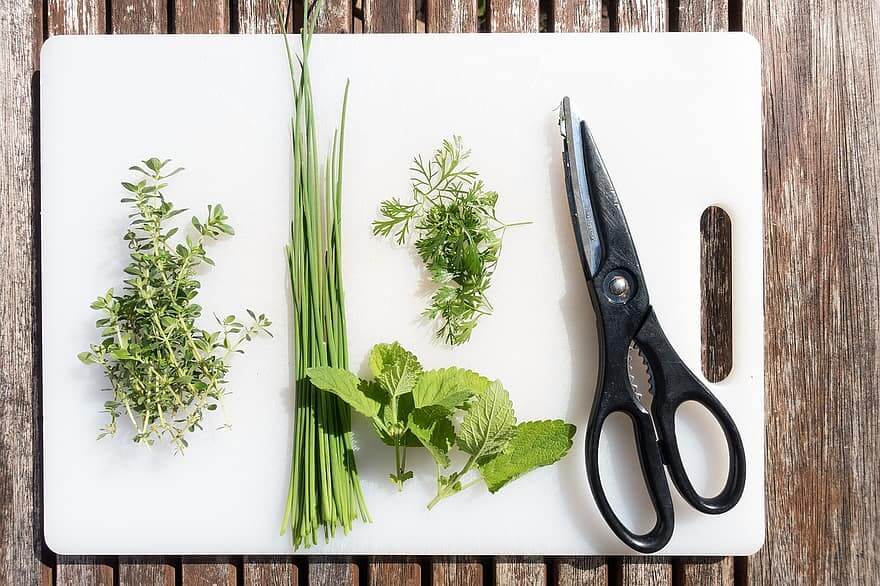 Shears are not a type of knife it's scissors that used to cut green onion and other herbs, chop salad greens, and used to open the packet on processed foods. The blades of shears are normally thinner, weaker. For anytime pizza party, they are amazing for slicing pizza.
They are also helpful for sectioning chicken, dressing shrimp, octopus, and many other works. Some shears have metal teeth on the sides of the shear's handles that are used for cracking large nuts or opening bottle caps. Shears are very comfortable and easy to use.
Kitchen Knife Care Tips
Sharpen:
Your sharp Kitchen knife is one of the main tools for cooking more faster, easier but if a knife goes dull then this most important knife turned into the most dangerous and unfit tool in the kitchen. So to necessary to keep the knife sharp. A dull knife can't cut through any ingredients like onion skin (tough or slippery) and eventually, you will cut fingers rather than your food.
You have to sharpen your knife every 4 or 5 months on average. There are some different options for sharpening your kitchen knives. First of all, you have to buy quality knives that are mainly used by professionals. An electric sharpener will be great to sharpen your knife blade evenly and it also does polish the surface of the knife.
Clean:
Maybe You think is it necessary to maintain the clean or wah the knife properly? The answer is yes. hand wash is the best way to clean the knives. You cant left soap on your knives while washing them because it will give the knife a negative lasting effect. Avoid harsh sponges while washing your knives that may be left with scratches or a damaged blade overall.
Never use a dishwasher for your kitchen knife because it's a harsh place. The knife blade becomes weak, dull, and destroy because of the high temperatures that increase the chances of rust. After the wash dry them with a soft cloth.
Store:
This is so important to keep your knife store properly as well. Keep them in a dry place to avoid rust and also they won't scrape other tools. Use a knife block that will be safe for storing them. You can mount them on a wall with a magnetic strip, under a cabinet if space is really tight, or in a drawer dock, or store them on the counter in a block or dock.
There are also some other types of kitchen knives that are not so popular and commonly used. The main 3 types of knives people use in the kitchen are a chef's knife, a serrated knife, and a paring knife. Let us know in the comment which one you like most.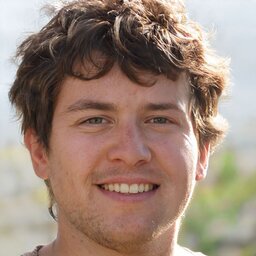 Hi, my name is Taras Kulakov and I'm a knife enthusiast. I have been collecting knives for over 30 years and I've owned literally thousands of different models over that time. My goal with this site is to share some of what I've learned about knives. You can find more info about Taras Kulakov here.
Last update on 2023-03-13 / Affiliate links / Images from Amazon Product Advertising API