Kitchen Knives Storage Ideas
Looking for a solid solution to store your knives? Storing knives in the right way can keep them sharper and looking shinier for longer. When it comes to knife storage, I personally prefer some options from magnetic rocks to good old-fashioned blocks.
Knife experts say that knives should be clean and dry before you store them. It's sacrilege to throw them in a drawer along with other kitchen utensils as it's a bit dangerous to fingertips.
There are some specific ways to store your knife to help prevent rust, staining, and corrosion—yes, even on stainless knives. Certain storage methods can dull and damage fine edges. For instance, a knife definitely doesn't belong in a dishwasher. If you put your knife in a dishwasher it will damage the blade and the handle as well.
An artisan knifemaker Bob Kramer told me: "If you take care of them, the knives will do what they're supposed to do, and that is cut." So, read on to see my personal favorite knife storage ideas to keep the edges keen and crisp and also help your kitchen look sharper (always a bonus right?).
1. A Magnetic Knife Holder – the easiest way to store knives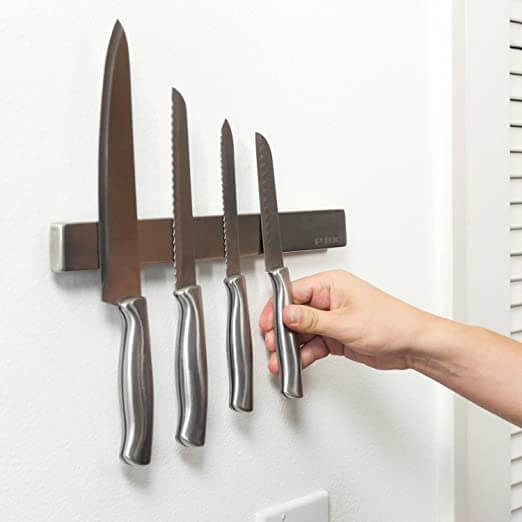 A magnetic knife strip /holder is a space-efficient option that provides a beautiful display for your knives. It can be conveniently installed near your prep area. These come in a range of lengths, get the one that will hold the right number of knives for you. I got myself a long one where I can load up all my knives and a short one too for my most used knives.
There are lots of choices when it comes to magnetic strips—stainless steel, wood, a combination of the two. I like the Norpro 12-Inch Magnetic Knife Tool Bar that I have. It is wood-coated and thus makes a nice display for my kitchen and also it reduces the chance of scratches.
Another one I own is the Peg and Awl Shou Sugi Ban Knife Grabber one. It is absolutely gorgeous. It is crafted from reclaimed wood. And finished using the Japanese technique shou sugi ban (A technique where wood is charred to give a fine charred finish). You have more of an artisan choice you definitely should go for this magnetic knife strip
You might worry that the strips that leave the magnetic rails exposed can ding your knife blade and leave a scratch. So my tip, to avoid scratches when using a magnetic rack, attach your knife spine first, then rotate it 90°, in this way the blade will meet the magnetic rack rather gently. And reverse to detach it.
Another tip, put some thoughts on where you install the magnetic knife storage. Don't install it in a place where you might bump on the knife handles. The magnets are strong on knife strips but not so strong that you can accidentally knock a knife off and have it stab your foot. Be careful about that.
2. Countertop Knife Block
KITCHENDAO XL Bamboo Universal Knife Block Holder with Slots for Scissors and Sharpening Rod, Safe, Space Saver Knives Storage Stand Display without Knives, Unique Slot Design to Protect Blade
✔ 【 Suitable for All Kinds of Knives 】 Our universal knife block for kitchen counter which is made of natural bamboo can store any knife up to 8.6 inch with any blade shapes. No need to find the specific slot any more. Includes slots for sharpening rod and kitchen shears
✔ 【 Patented Double-deck System & Parallel Slots 】 Double deck holds your knives securely. Parallel slots separate the knife edges so that the knives won't touch each other. No potential risk of damaging the knife edges in the block
✔ 【 Drain Holes & Anti-slip Feet 】 The drain holes in the bottom dry your knives to keep your health. Anti-slip feet enhance the stability when you get out the knives
✔ 【 Space Saver & Large Volume 】 This large knives holder can hold up to 16 knives ( Depends on the size of the knives), 1 kitchen scissors and 1 sharpening rod
✔ 【90-day Guarantee】 Please be noticed that we provide 90-day guarantee on all of our products. Within 90 days after items received, if there is any problem with the items (quality, function, etc.), please contact us. We're confident with the quality and function. If you're not happy with it, just send it back
Countertop Knife Block is the most common type of knife storage that you will find in the spare counter space of most of the kitchen. If you want to keep your knives within easy reach of your work surface, a countertop classic knife block is the best option for you. It will protect the blades of your knives so that they do not get dull. If you buy your knives as a set then you can find a knife block that is perfectly designed for the shape of your blades. As they come in different sizes, colors, and materials. You can easily choose the one that meets your need and match your kitchen decor. But if are someone like me, and been building your own diverse collection of kitchen knifes, you will want a countertop without pre-sized blocks in it so that different knife sizes can be stored. Knife blocks are a popular countertop storage option.
If you don't have a knife block, you can DIY one. Find some sort of storage that will protect your blades, But never place your knives in a jar or other container. Some homeowners like the look of knives stored freely in clear jars. I find it rather dangerous and also will shorten the life of your knives. this is a very dangerous situation and will shorten the life of your knives.
3. Under Cabinet:
Under Cabinet Knife Storage
Large 22 x 9 (I.D.)/ 23.5 x 10.5 (O.D.) -- Small 18 x 9 (I.D.)/19.5 x 10.5 (O.D.)
Clears Counter Clutter -- Perfect To Hide Knives From Children & Everyone Else
Won't Dull Knifes Like Traditional Knife Blocks -- Clears Counter Clutter
Heavy Duty Hinges That Will Stand Up To Everyday Use
OWNED AND OPERATED BY WOMEN IN THE USA!!
Under Cabinet is a dream knife storage solution for the tiniest of kitchens. It's a great option to keep your knives safely without taking up an entire drawer space or countertop space of your kitchen. An under-cabinet is usually attached to the bottom of your hanging cabinet and you have to pull down the storage when you want to access your knives. Great way to keep your knives close to hand but still out of the way so that kids accidentally can not grab them. Under cabinets are made of incredibly durable materials with reliable hinges. Although they cost a little more than other types of knife storage, it's perfect if you have a small kitchen and you don't want a lot of visual clutter.
4. Pop-up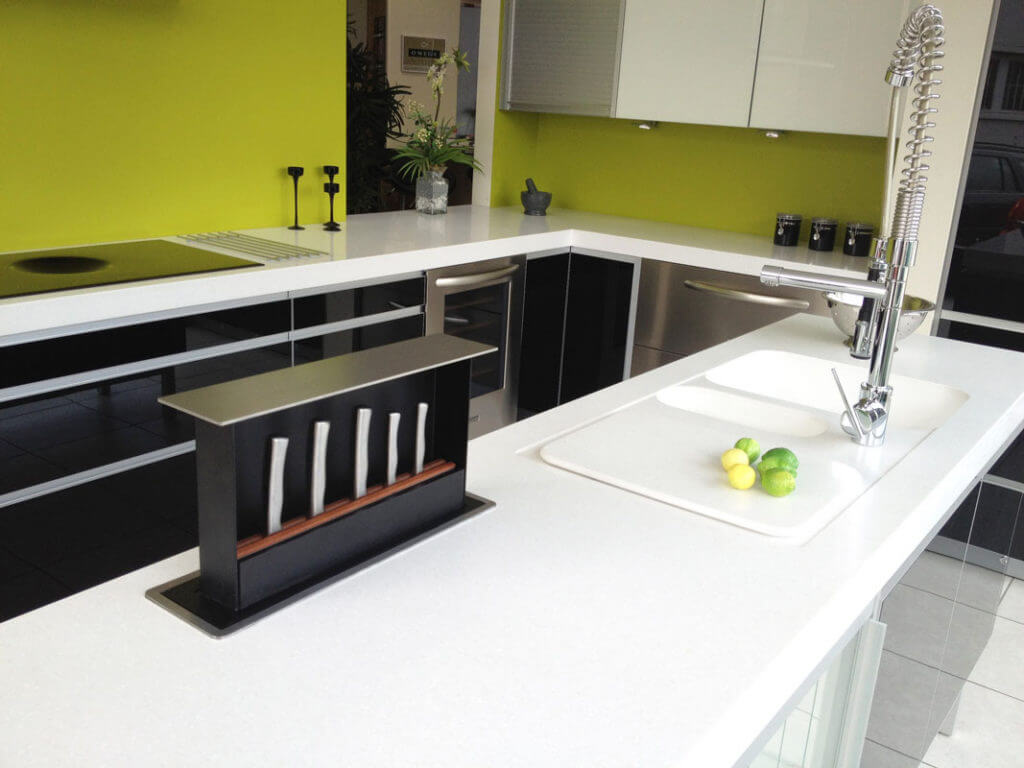 Source: Pop up kitchen knife storage
Pop-up knife storage is becoming popular in modern and sleek kitchens. This kitchen knife storage is typically built into the countertop kitchen. And the storage system drops down into the countertop.  You can open and close it by pushing the top of the knife storage. By pressing the top, the whole system slides up gently out of the counter, you can use the knife that you need, and then if you push it back down into the countertop your knives are hidden completely from the view. It's a great knife storage option to save a lot of space and decrease clutter on your countertops. One thing to keep in mind, you need to know basic woodworking to install the unit properly as it can't be simply put on the kitchen counter or places in a drawer.
5. Wall Storage

Vpang Plastic Kitchen Knife Storage Block Wall Mounted Knife Holder Storage Rack Shelf 4 Slot
Material: It is made of food grade ABS, eco-friendly, tasteless, solid and durable.
Convenient to Use: It is very easy for you to detach it, so you can wash it regularly.
Recommended Use: It can be installed on the inside wall of the cupboard, thus preventing children from the potential danger.
Installation: The wall mounted style can save much space; you can use double sides adhesive tape or screws to install it and both ways are all very easy.
Feature: It is smooth on the surface with several air holes design, so it can effectively prevent the inside from damp and also it can ensure there is no dirty water in it.
Wall storage is becoming popular among homeowners who have less storage space in the kitchen. You can get smaller or larger storage options depending on your needs. Larger storage options are more like giant knife blocks. This storage system is firmly attached to the wall and can store your collection of knives all at once. The sharp edge of the blades is encased in the wall mount, which elements the possibility of someone grabbing them off of the wall and becoming injured.
6. Bag
Leather Knife Roll Storage Bag, Elastic and Expandable 10 Pockets, Adjustable/Detachable Shoulder Strap, Travel-Friendly Chef Knife Case (Peanut, Canvas)
Stitched by world-class craftsmen, the Aaron Leather Knife Roll is handcrafted with premium quality Buff Calf Leather.
There are 2 classy vintage buckles that form a tight roll, with stretchable knife pockets and 1 durable zipper pouch to keep the knives secure while you are on the go.
It can be used as a knife storage case - storing 10 kitchen knives and other accessories. It can be used as an utensil holder as well. It can hold knives of up to 18" length.
Total size : 29.5" (Height)x 19.7" (Breadth), Zipper Pouch : 17.7"(Height) x 5.12" (Breadth)
It is a perfect, classy and thoughtful gift for culinary students, aspiring chefs/professional chefs and tool-users.
Do you travel with your knives for say camping or picnic? Then you definitely should get knife bags. You need to make sure that you have proper knife storage for them while you are on the road, cause of course you don't want to damage your luggage. These knife bags are very popular among professional chefs. These bags have plenty of space to carry a selection of knives. They are often rolled or zipped up into a compact bag to carry with you. While shopping for a knife bag, make sure that the pre-sized slots are perfect for your choice of knives that you want to take with you.
7. Hardwood knife block
Sale
If you have a limited kitchen knife collection, this wooden block is exactly what you are looking for. Try this ready-to-go slots, knife organizer from Henckels International. The top slot is wide enough to fit eat clever, steak knives and the tiny slots are perfect for your kitchen shears or your paring knife. Henckels has the option from 10-19 slots to store a different range of knife sizes.
8. Drawer Knife Block
One of my personal favorite knife storage methods is a drawer knife organizer. I have little kids at home so they want to play with the shiny sharp objects hanging on the kitchen wall space (I am talking about knife magnetic strip). That's why I prefer in-drawer storage for knives. Cause out of sight, out of danger that's what I believe. But again you don't want sharp knives to rattle around in your knife drawer, right? To protect your fingers and the sharp blades of your knife, get this in-drawer knife holder. It comes with slots that can fit a range of knife sizes. Some in-drawer storage units come with specifically-shaped slots. You can also find some knife docks for specific brands or types of knives. But I won't suggest it if you have a diverse collection from a variety of knife makers.
9. Glass Block
Mercer Culinary M23500 Renaissance 6-Piece Forged Knife Block Set, Tempered Glass Block
QUALITY CONSTRUCTION: Knives are precision-forged with high-carbon German cutlery steel for incredible long-lasting sharpness
SUPERIOR DESIGN: Triple riveted, ergonomic handle is tough, lightweight and resistant to excessive physical wear, and rounded spine offers a comfort grip
KITCHEN KNIFE SET INCLUDES: 3 1/2" Paring Knife, 5" Utility Knife, 6" Flexible Boning Knife, 8" Wavy Edge Bread Knife, 8" Chef's Knife, Stainless Steel & Tempered Glass Knife Block
EASY CARE: To maximize the performance and longevity of your Mercer knives, carefully wash cutlery by hand after each use with warm water and mild soap; rinse and dry completely with a soft towel. Do not place in dishwasher or submerge for long periods of time
MERCER CULINARY RENAISSANCE SERIES: Our take on a classic with a combination of extraordinary fit, form and function; this Renaissance knife set offers the key knives needed in every kitchen all together in one sleek storage solution, perfect for professional use or the home cooking enthusiast
If you are looking for a very aesthetically pleasing knife storage idea, you might want to check out this sleek and stylish glass knife block. It is simple and neat; perfect for showcasing your pared-down knife collection. The transparency of this block also aids accessibility along with the attractive display. You can see exactly which knife you are grabbing at a glance.
Summary
All these cabinet storage, drawer holders, block of wood, magnetic knife block are smartly designed keeping the user's comfort and safety in mind. Most of them can accommodate long blades ad larger knives but not cleavers. These also keep the edge of your knife sharp and crisp. Even if you buy knives with quality material, it's very much important that you can take care of them. Cause dull blades? We hate it.
So these are my favorite knife storage method. Hope this blog post was helpful for you. Comment below to let me know your favorite among these and if you have any other alternative knife storage ideas.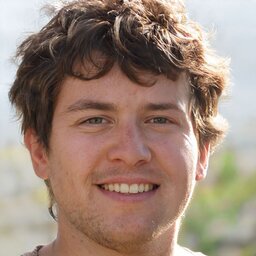 Hi, my name is Taras Kulakov and I'm a knife enthusiast. I have been collecting knives for over 30 years and I've owned literally thousands of different models over that time. My goal with this site is to share some of what I've learned about knives. You can find more info about Taras Kulakov here.
Last update on 2023-03-13 / Affiliate links / Images from Amazon Product Advertising API