You can take a knife with you into the outlands since it is a practical and versatile tool.
Camp knives can be used by campers in so many ways, from meal preparation to repairing your gear; they can also be used when starting a fire by collecting tinder, bushwhacking through rugged terrain, and so much more.
Some of the best camping knives come in a fixed-blade variety, while others are folding knives. All have certain qualities, but they do come in different shapes and sizes.
With the right knife, you can even protect yourself from a dangerous predator. If you're looking for a camping knife, there have never been better times to shop since there are literally dozens to choose from, many of them coming in a variety of sizes and with some surprising features.
These best camping knives are based on our sifting through the very best camp knives currently available, pinpointing those that are most worthwhile for your time and money. These are our picks for the best camping knives of 2023.
How to Pick The Best Camping Knife
At first glance, knives seem like relatively simple gear because these tools have been around throughout history in a wide range of styles.
When picking out the right knife, you need to take into consideration a surprising number of factors. Making a decision which knife is best for you usually comes down to your taste.
For example, when choosing between a fixed blade knife and a folding knife, one of your first choices will be what blade type I will use. With fixed blade knives, it's easier to cut through more rigid materials, and the blade is more stable. Additionally, they provide more options for blade widths and lengths.
A folding knife, on the other hand, is easier to carry and more compact. By folding out of the way, the blade provides additional security and convenience. Since folding knives are most commonly carried in daily life, they fall into the EDC category.
When it comes to deciding which knife is right for you, you will need to consider the size. One of the reasons many buyers choose an overly large blade is because they look impressive.
In reality, most people don't need exceptionally large blades, which tend to be bulky and cumbersome. As a result, they may also be more challenging to use than more compact, easier to manage options.
But it would be best if you also considered choosing a knife with a blade that can cut through thick materials, like cloth, wood, or vines. You will have to decide your overall choice after determining what you find most appropriate for your personal use, but we have found that 4-7 inch blades in length are the most valuable and efficient.
Handle and Blade
When buying a knife, it is also important to know what material the blade is made from. Obviously, you want a reliable and durable knife, but it can also make a difference in terms of how well the knife performs.
An example is a carbon steel blade. Carbon steel blades are lightweight, strong, and remain sharp even after extended use. But with such blades comes a higher risk of rust, which means blades must pay more attention to their maintenance.
However, stainless steel is harder to sharpen and has a higher chance of oxidation than carbon steel. Our recommendation is only to buy a model that is made from 440 stainless steel or better.
Often we focus on the blade of a knife, but whether it is a blade or a hilt, the handles are just as important. It should be comfortably gripped for extended periods of time and have a long enough handle to hold firmly in your hand.
A durable material that is both beautiful and strong should also be used in its construction. A high-grade plastic handle or rubber handle works especially well in wet environments and is a worthwhile option.
Try to stay away from knives with ornately carved handles. These models may look attractive but offer little new functionality in the field and can hurt the knife's grip.
The final consideration includes examining any extra features or accessories that may include with the knife. A case is generally included with most fixed blade models and many folding knives, but you might have to buy one separately if not.
Others may come with a fire starter to help you ignite a fire at your campsite. Some blades may come with a serrated edge for cutting through thicker materials. And while some of these extra features may seem a bit like an extra in the beginning, they have proven to be extremely useful in the backcountry.
Easy To Carry
Having a pocketable or long EDC knife can be pretty helpful as well as convenient.
The length of the blade should be between 4 to 7 inches, while the overall length should be between 10 to 12 inches, depending on what you are comfortable with.
If you're using anything less than this, you're not going to be able to pry hard things or chop wood effectively. The same can also be said for anything bigger, as it may become hard to wield and pose a danger to you.
The Garber Pocket Knife is a good everyday carry knife with a blade length ranging between 2 and 3 inches. Although this enhances its portability, it will not give you sufficient spine when working on tasks such as those mentioned above.
Choose The Right Lock Mechanism
You can get your survival knife with various kinds of lock mechanisms. Check this before you buy to ensure the locking system suits your preferences. You may take some time to warm up to a lock that's different from your natural lock mechanism, and that may put you in danger.
1. Lockback Knife Systems
Classic American folding knives often feature Lockback mechanisms. By adding a spring to the spine/bar of your foldable blade, this system extends the life of your blade by years.
Once it is opened, the bar clasps along with a notch on the tang of the blade. Once you have it, you can do whatever you want to with it.
2. Liner Lock Knives​
Liner locking systems are the most common kind of locking mechanism available on pocket knives. The liner bars of this lock create a spring effect by creating a spring.
When the spring bar makes contact with the blade tang (butt), it slices a piece off and bends it toward the blade.
A line separates the blade from the handle, "circularizing" the handle material. On your blade's path, it resides to the side. Most recent models have a detent ball and a stop pin to bolster safety and improve alignment.
You can feel the tension in your survival knife's handle when you close it. By pulling it open, that inner liner gets locked against the blade's tang. This then aligns the blade properly with the stoppin at the scales. After removing them, you have an extremely rigid knife ready to use.
3. Axis Lock System by Benchmade
As you will see on the Benchmade Freek 560-1, Axis Lock is a locking mechanism patented by the Benchmade Knives Company. Ever since its first appearance in 1998, it has become one of the stars of its pocket knives. This knife has gained popularity among EDC users for its simplicity and practicality.
The handle is connected to a track cut into the side of the liners with a spring-tension bar so it can move back and forth. Throughout the bar, two springs of equal length are placed on either side of the rod to produce equal tension.
The tang of every blade has a notch that, when pulled open, combines with the spring bar so that the blade stays locked in place. To push the bar towards the bottom edge of your blade, you need to push with only the springs.
With the axis lock system, you can also improve your survival knife's reliability by using a stop clip.
4. Frame Lock Knives​
A famous lock system on survival knives with mid-range and high-end prices is the frame lock, also known as the R. I.L (Reeves integral lock).
This is because the EDC pocket knives have a mechanism that makes it easy for users to use them with their right hand while giving them the stability they need to pierce, cut, and handle heavy-duty tasks.
In reality, the Frame Lock is more of an enhanced version of the Liner Lock. The Liner is an integral part of the handle, not a separate piece, which is why the bar can be forced to hook onto the blade when forced open.
There is a thickness and strength advantage to the frame lock version versus the liner lock. While both share the same closing and opening effect, they have different tension effects. You simply engage and close your knife by pressing down on the spring bar.
The Top Best Camping Knives of 2023
Having been introduced to camping as a child, I have been an avid camper ever since. I have become quite familiar with the features that make for a great camping knife in my adult years. I have compiled a list of the twenty best camping knives in the world.
1. Morakniv Companion Spark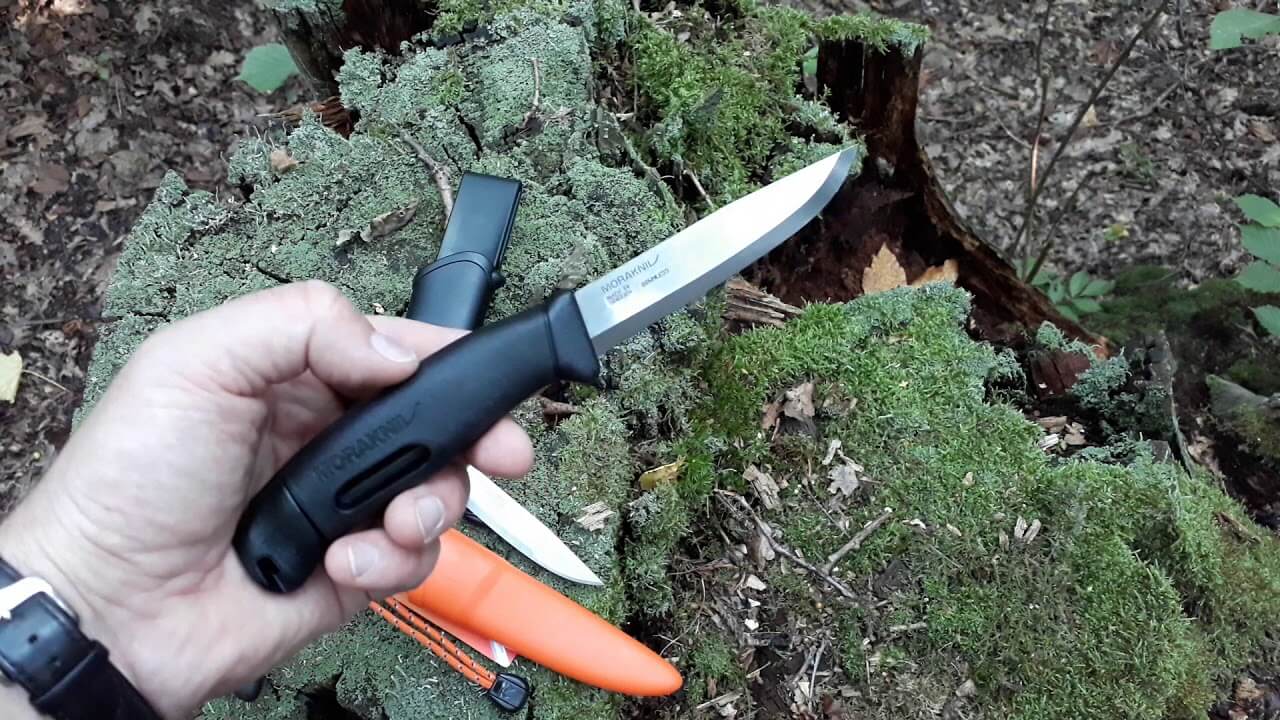 For outdoors enthusiasts of all skill levels, the Morakniv Companion Spark is an excellent option that is lightweight, well-balanced, and exceptionally well-crafted.
It's easy to carry thanks to its compact design, while the 4″ blade ensures precise cutting compared to bigger models. Although the blade of stainless steel holds an edge quite nicely, be aware that some Companions can become very sharp.
Using it to prepare meals while camping or chop small kindling to start a fire is perfect, but it is extremely sharp, so be careful not to get cut.
The Companion's rubberized handle makes it easy to tote and comfortable to use.
Firestarter and a matching sheath come with it so you can carry it while on a trail or in wet conditions and spark ablaze like a pro after a long day.
A knife such as this one is hard to recommend, particularly for those on a limited budget. It offers features, quality, and price, all at an affordable price.
Key Features:
Handle integrated with Ferro rod.
With a flat spine for igniting sparks, a Scandinavian grind blade may be used.
Reflective lanyard and sheath included.
2. Morakniv Garberg Full Tang Fixed Blade Knife with Carbon Steel Blade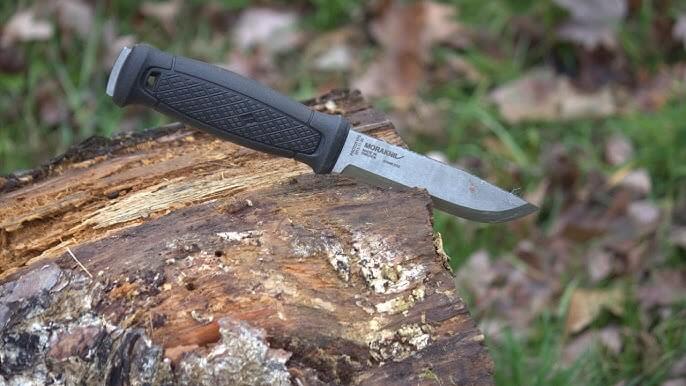 A survival knife gets categorized in the same category as a camping knife. That is a notion that I reject for the most part.
Therefore, it may seem a little odd that at the top of this list of what are supposed to be the best camping knives, I would include a survival knife. Outdoor enthusiasts know that it is sometimes necessary to make exceptions.
With a carbon steel blade 1/8th inch thick and an anti-corrosive coating, this fixed blade knife is sure to withstand hardships. This knife is made by Morakniv, a manufacturer of high-quality knives that have been in the business since 1891.
The blade is made from carbon steel that is exceptionally sharp, durable, and has a Scandi grind that prevents it from slipping. The knife has excellent strength and flexibility for many different activities. It is best suited for batoning and carving.
Key Features:
The blade thickness is 1/8th inch.
The blade length is 4.3 inches.
A total length of 9.0."
It weighs 9.6oz (154g).
Blade Type: Fixed Blade
Carbon steel blade with anti-corrosive coating
Striking with a spine blade on fire steel is possible.
3. Benchmade Freek 560-1 Knife

Made in the USA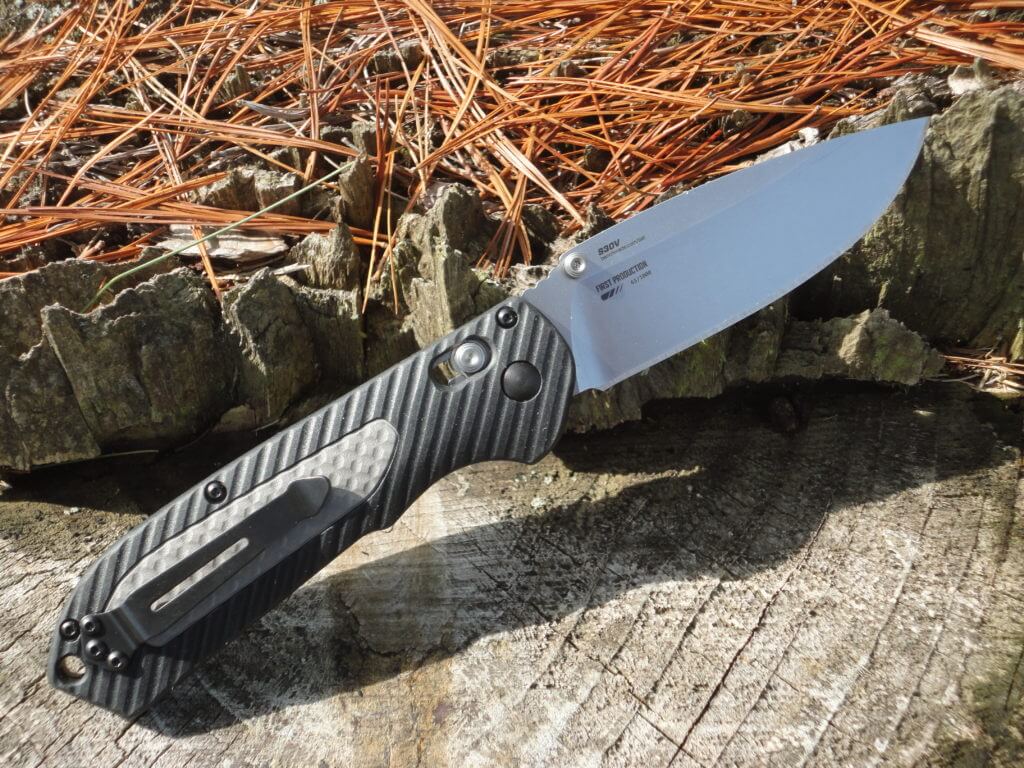 Freek 560-1 is an excellent model of the Freek line under Benchmade's folding knife category. It measures 8.46 inches overall with a handle of 4.46 inches and a blade of 4 inches.
Using a blade of this length can be used for various kinds of everyday tasks, like chopping through the wood.
Benchmade has chosen a superior carbon option for the blade's steel type, fitting this blade with 2.9mm thick CPM-M4 steel. A survival blade such as this would be tough and wide enough to withstand severe abuse like batoning. While the material is resistant to rust, it is more corrosion resistant than most carbon steel.
With its G-10 handle material, the Freek 560-1 can withstand many harsh environments. In addition, fiberglass composites soaked in resin are durable and resistant to moisture. When you have this, you can brave the wild without worrying about the weather.
This pocket knife uses Benchmade's signature locking system. With the axis locking system, you get great stability, strength, and security for many surviving and everyday tasks.
Clearly, the blade profile is of the drop point edge type. Consequently, your knife will be easier to control and harder to break. The Benchmade knife has been equipped with a serrated part of the blade while its flat and razor-sharp point makes piercing and cutting fast and easy.
Another feature of the blade is a reversible tip-up pocket clip with a diamond-like carbon-coated lock stud, all on a tiny 4.3 oz that people will love for EDC.
Key Features:
This item's weight is 6.56 ounces.
The blade will have a drop point
The blade is locked with a liner lock.
High-quality materials
Excellent for everyday use and survival
Locks work great
4. CRKT – Overland Knife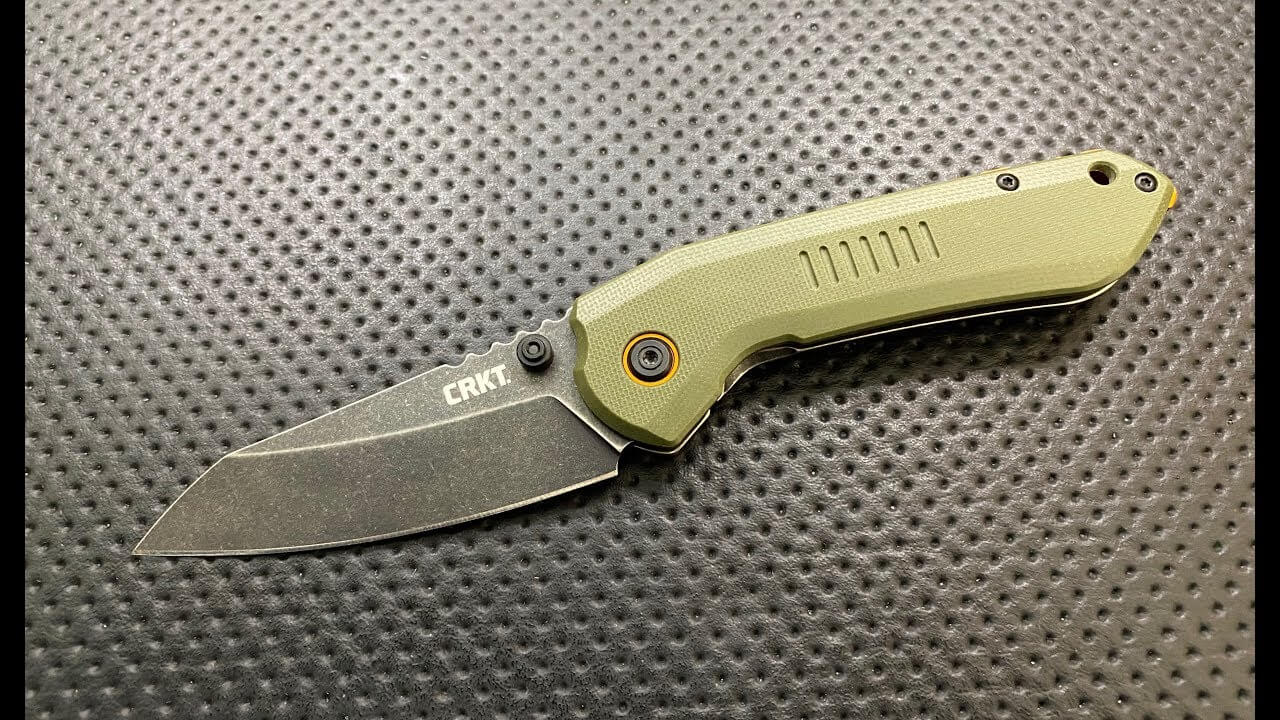 The Columbia River Knife & Tool Company has developed a reputation of being one of the most reliable producers of high-quality blades for a range of applications.
This includes a series of knives designed especially for camping, including the Overland, which is perfect for all your outdoor adventures. The CRKT Overland features high-carbon stainless steel blades, as the Morakniv reviewed above.
What this product differs from the Morakniv is that it has a stonewashed finish for corrosion resistance. Due to the folding design, the 3-inch blade is limited in some larger tasks around the campfire but is still more than capable of handling most tasks.
This knife's elevated handle position is suitable for flat surface cutting due to its proximity to the blade.
Key Features:
 The blade measures 0.12′′ in thickness.
The blade length is 3 inches.
Total Length: 7.38′′.
It weighs 3.6 oz.
The knife has a folding blade.
5. Gerber Bear Grylls Ultimate Survival Knife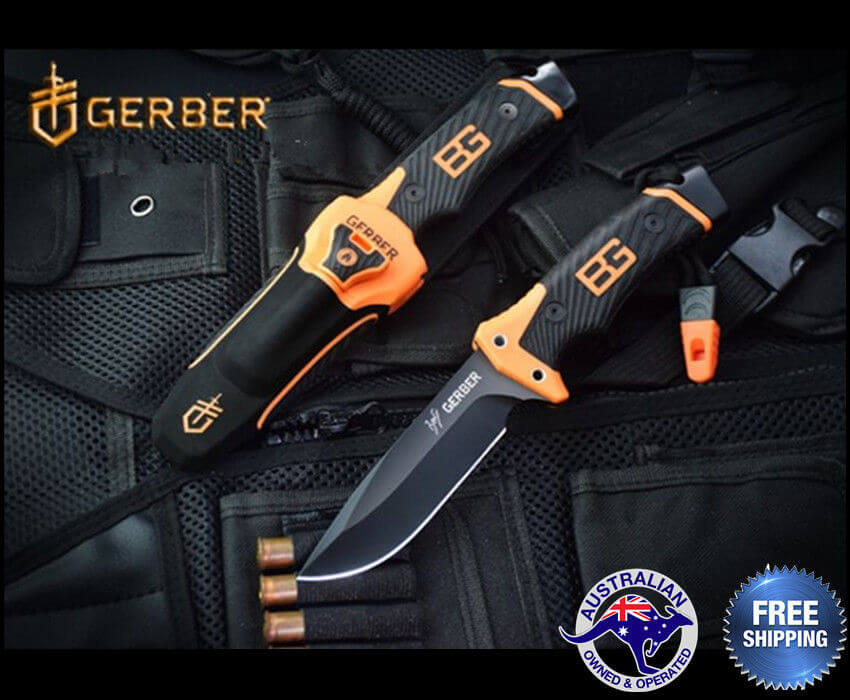 A celebrity's endorsement often causes consumers to purchase a disappointing outdoor item. Gerber, a company, producing high-quality outdoor knives for years, comes up short of that standard with a Bear Grylls Ultimate Survival Knife from the company.
Every feature on this model is made to feel good, from the textured and ergonomic rubber grip to the tough high-carbon stainless steel blade. This knife is extremely flexible in the field thanks to its serrated edge and fine edge, so it finds use on day hikes, camping weekends, or multi-day backpacking excursions.
Other fine features of the blade include:
An integrated sheath.
A stainless blade that sharpens easily.
A fire starter that comes with it.
However, the best thing about the Ultimate Survival Knife is that it is so comfortable in your hands. The level of comfort this knife offers will be impossible to find in any other knife, which is why it is one of Gerber's best-sellers over the years.
Key Features:
Measures 8.50″ in length.
The blade length is 3.60″.
The edge type is serrated.
The handle length is 4.90″.
Material of the handle: Polymer.
Color: Gray and orange.
Item Weight: 4.30 oz.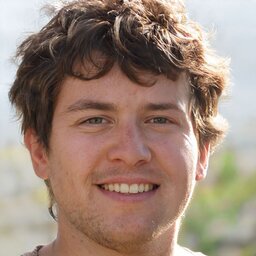 Hi, my name is Taras Kulakov and I'm a knife enthusiast. I have been collecting knives for over 30 years and I've owned literally thousands of different models over that time. My goal with this site is to share some of what I've learned about knives. You can find more info about Taras Kulakov here.