What is an Ulu Knife?
The term "ulu knife" can refer to a number of different styles of traditional blades originating from the Inuit peoples, who have inhabited Greenland, Alaska, and Canada for hundreds of years.
However, these knives are known for their incredible versatility and durability. In fact, ulu knives have been used by Alaska natives since before the Inuit learned to forge metal. Ulu knives have a distinctive, curved blade and a wooden handle.
The Ulu knife is one of the oldest knives that date back to 2500 BC. It is usually known for its simplicity and versatility, making it suitable to handle various kitchen cutting operations. All you need to do is rock the ulu knife over the vegetable, pizza, fish, or meat, and the knife will slice it effortlessly.
We have an in-dept article about History of Ulu knife.
The Alaskan ulu knife has been designed so that the center part carries additional force, which allows it to slip effortlessly into hard foods. It simply pins down the item to be trimmed using its rocking motion, making food preparation faster and enjoyable.
The very best ulu knives are made of hardwood material, while the grips were made of iron, copper, or slate years ago. These days, Alaskan ulu knives have been manufactured strictly of plastic and steel or wooden grips. A number of the ideal ulu knives that we reviewed previously include the cutting board.
The curve of this ulu knife provides it a constant rocking motion. This makes ulu knives the ideal choice for slicing and cutting in one motion. The ulu knife has been designed like the handler's weight is on the grip, which can be moved directly to the blade. This permits the effortless cutting of strong and hard objects like bones.
Additionally, the best ulu knives are of different shapes and sizes. The most frequently encountered ulu knife includes a six-inch blade, which can be widely utilized. There's also a small size that accompanies a 2 inches blade. It is used for making a pattern from animal skin.
Types of Ulu Knives
There are four distinct types of Ulu knives, each named based on their region of origination. This section will shed light on the various types available:
1. Alaskan Ulu Knife
This is also known as the Inuit ulu knife. It comes with a rounded blade an edge on both sides. It has a handle that is typically between six and eight inches long. The handle is typically made of wood or bone but may also be made of antler or synthetic materials. The blade is typically between four and seven inches
2. Canadian Ulu Knife
Native to the Canadian, it is characterized by a thin stem that joins the handle. They can be made from many different materials, including stone, steel, bone, and wood. It comes in two variants.
The Eastern Canadian ulu knife uses the one with a pointed blade.
The Western Canadian ulu knife comes with a triangular blade.
3. West Greenlandic
This Ulu knife comes with an oval knife that is linked to the handle with a thin stem. West Greenlandic Ulu knives are versatile tools used to cut vegetable to skinning animals and other tasks. The handle is small and compact, which is attached to the pointed blade.
4. East Greenlandic
This ulu knife features a big and rectangular shaped blade that is related to a small and curved handle.
Top 10 Best Ulu Knives to Buy in 2022
1. Handmade Demascus Ulu kitchen Knife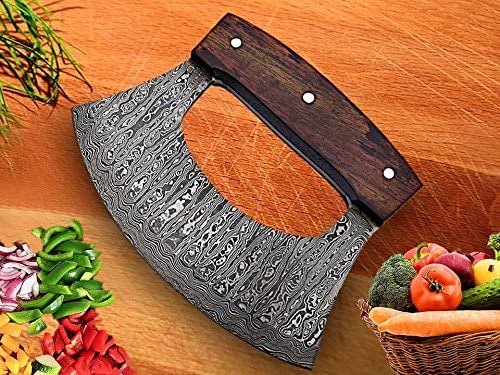 The first product on our list is the Poshland Handmade Demascus Collector's Ulu Knife, and it uses a forged Demascus steel blade, available in high carbon or stainless steel.
The handle is made from Rose Wood with a brass Pin. The blade is made from a proprietary blend of high carbon and stainless steel. This knife is extremely sharp!
I have found the Demascus Ulu Knife absolutely amazing. The knife was sharp out of the box. I have opened packages with this knife without damaging the contents or the knife. It is a very good quality knife. I have used it for cutting up meat, vegetables, and fruit.
This knife is very easy to sharpen. This knife is worth every penny. I have found the Demascus Ulu Knife very useful.
Key Features:
Handmade Gorgeous Demascus ULU Knife

Great Gift Idea

Multi Purpose Knife Comes With Leather Pouch

Ideal for Chopping Herbs or Pizza Cutter

Sharp Edge Blade with Perfect Grip- Rose Wood Handle
2. LAMSON – Ulu Knife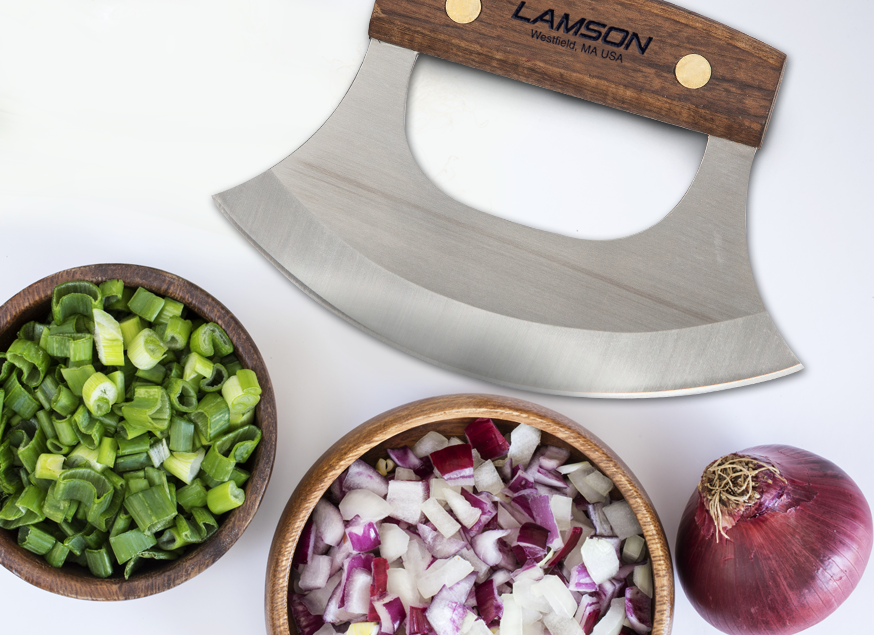 The LAMSON Ulu is a pliable blade that slices, chops, and dices. The Ulu is also known as a woman's knife due to the oval shape of its handle. The Ulu is a great multi-function knife that can be used for cutting, slicing, and dicing.
The LAMSON Ulu is also known as a woman's knife due to its oval shape handle, which is much more comfortable for smaller hands. Wooden Handle Made of high carbon stainless steel
Their most popular ulu, the LAMSON 34270 Ulu has been designed to perform the same tasks as the traditional stone knife. It is the perfect shape for cutting, slicing, and mincing. LAMSON Ulu is handcrafted of high carbon stainless steel and can be used for a wide variety of tasks.
The blade and handle are attached with a rawhide thong that can be easily replaced when it wears out. As with most of our products, we have modified the design to improve the strength and longevity of the Ulu Knife. Handcrafted of laminated stainless steel. Overall length is 8-1/4″. Blade length is 4-1/4″. Made in USA. Lifetime Guarantee.
Key Features:
The Lamson Ulu Knife is a versatile kitchen tool that is great for cutting all sorts of meats, vegetables, cheeses, fish, and seafood and can also function as a mini pizza rocker!

Features hardened and tempered high-carbon 420HC stainless steel blade, walnut handles that are hard and durable (natural color may vary), and half-tang construction secured with brass rivets.

The Ulu Knife dates back to 2500 BC and is said to contain ancestral secrets and is often passed down from generation to generation. Known for its versatility and simplicity, the Ulu will be a valuable addition for the expert chef and home culinary enthusiasts alike.

Hand washes only and when the Walnut handle appears dry, treat with mineral oil.

Proudly manufactured in the USA.
3. Alaskan Ulu, Knife of The Arctic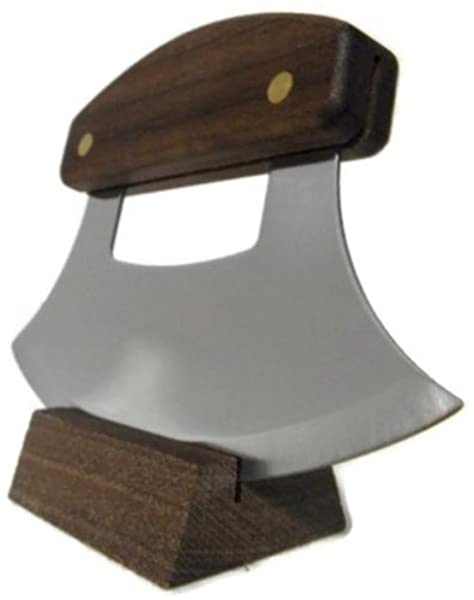 Alaskan Ulu Legendary Knife of the Arctic, an elegant blade that's proudly Manufactured in Alaska. It's the best-selling thing from The ULU Factory, a company which's been making similar goods for more than 25 decades.
What makes this cutting tool unique? Being a real rocker knife, you can just tilt it back and forth to 'em anything within seconds –⁠ meaning there is no need to move the product up and down, as you would with horizontal blades.
It also includes a large handle, so you won't have any trouble using it for any kitchen job. Even people who can only use one hand are able to cut precision using this rocker knife!
The other standout quality of this item is its durability. With frequent use, expect it to hold up for about a decade. The blade is also easy-to-clean, so maintenance is kept at a minimum. Remember, however, the ulu knife's wooden handle might not hold up as long, so be cautious when gripping it.
Alaskan Ulu Legendary Knife of the Arctic is a traditional knife that the Eskimos and the Alaskan Natives traditionally used. The Ulu is used for a variety of purposes, including but not limited to: cutting, scraping, chopping, and prying.
Key Features:
This product has a sharp, stainless steel blade that can cut even through leather.
It comes with a walnut stand, making the knife an attractive countertop decoration.
The knife measures 8.27 x 5.98 x 0.94 inches, so it might be too small if you have large hands.
4. Wusthof 2-Piece Mincing Knife and Cutting Board Set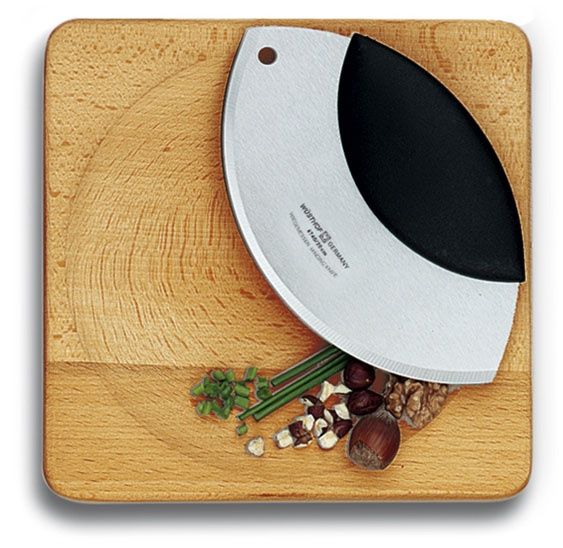 When we thought that food prep could not get any simpler, then this Wusthof ulu knife was set using a chopping board. It includes a cutting block that lets you mince components without worrying about any pieces falling off the floor.
The wooden cutting bowl can also be great for preventing meat juices from creating a mess. If you would rather have a flat surface, simply turn it over, and it becomes a flexible cutting board.
One of this ulu knife's strongest qualities is its stainless steel blade. It is sharp enough to cut through anything from walnuts.
The stainless steel blade is also quite simple to hone using a diamond stone. Be sure that you sharpen just the side with a bevel.
The set comes with a single blade mezzaluna and cutting bowl designed to fit the blade. Instead of storing the ulu in the drawers, you can simply place it where you can grab it for regular use. Be aware that this product comes with a little handle and blade. In case you have large hands, expect to get a tricky time managing it.
Key Features:
This mezzaluna knife has a fine blade that measures 9 x 2 x 9 inches.
The beautiful cutting board is made from Wood and Plastic. This creates a unique two-tone design with contrasting shades.
2.1 Pounds
5. ULU Factory Ulu Bowl Set Birch Handle AK Cutlery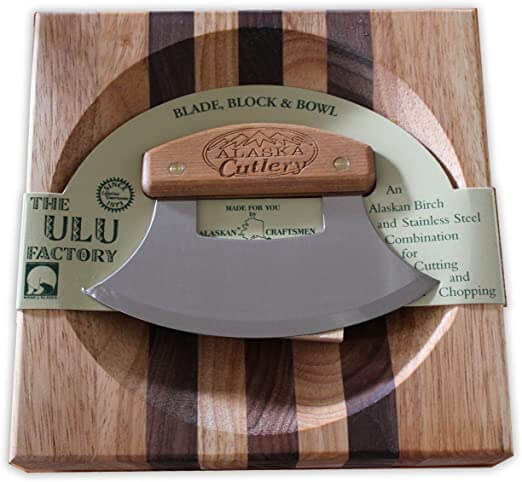 If you're more interested in heavy-duty cutting edge, then that Ulu Knife and Cutting Bowl Set ought to be one of the first choices. It has a wooden handle that's clearly larger than other goods in the exact same manufacturer. It's the better choice if you find that similar goods are too small for you to grip easily.
Just like the Alaskan Ulu Knife collection we mentioned earlier, this item includes a two-tone walnut and walnut cutting bowl. Simply put any ingredient on the bowl, and then you are able to throw it up without worrying about a bit flying out of place.
One thing to note, though: you have to be careful when using the cutting board. The chopping block may divide if not handled with care.
The same holds for the pine tackle. Be careful when handling it because it could crack if you grasp too tightly. On the plus side, the blade holds up great and stays sharp for years.
Key Features:
This sharp knife measures 7.99 x 7.91 x 1.5 inches.
The half-moon stainless steel blade stays sharp even after more than a year of constant use.
The wooden handle is engraved with the Alaska Cutlery logo.
6. Alaska Ulu Knife Natural Exotic Wood Stand Etched Blade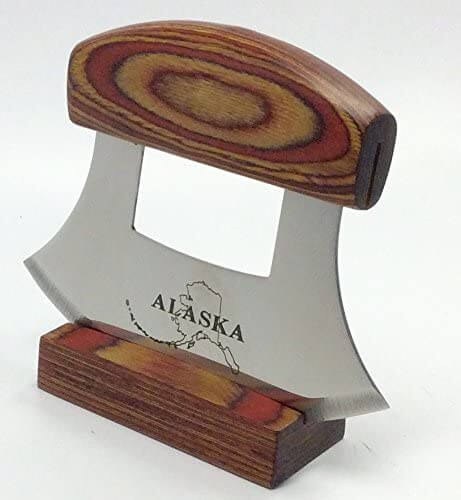 This small cutting tool from Arctic Circle is a great solution for those who want their tool to be both practical and aesthetically pleasing. Its wooden handle and knife rack come in eye-catching all-natural earth tone and red colors, turning the whole set into a stunning decoration when not being used.
However, the attractive color combination isn't the only thing this knife has got going for it; the stainless steel blade will also impress you! It does its job very well, whether you're chopping meat or mincing veggies.
For its outstanding quality and look, you'll be surprised that this item is among the least expensive ulu knives to be found on the market. It is a reasonable option for those who want to experience the difference this type of cutting tool provides. You may also need to note that while the product is advertised as native, it's actually imported from China.
Key Features:
Rust-proof and stain-resistant, this ulu knife is perfect for long-term use.
The 440-grade steel blade is easy to clean and sharpen.
The matching exotic designs of the handle and knife stand add color to any kitchen.
7. Gil Hibben Legacy Ulu Knife and Leather Sheath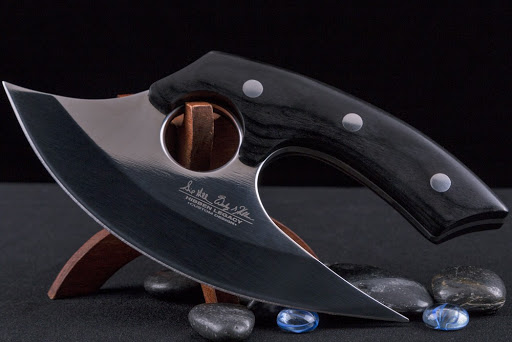 If you are a Gil Hibben knife enthusiast, then you might want to add yourself to your group. The famed master custom blade manufacturer re-imagined the traditional Alaskan ulu to improve its performance and visual appeal.
There's more to the contemporary ulu knife than being a display piece. Built for high performance and endurance, this cutting tool has a wide and hefty blade that is finely sharpened for almost any clipping or chopping task.
This item also has a special and operational handle designed for ease and efficiency. It is a fantastic ulu knife with a sheath that you can use in your kitchen or in the excellent outdoors.
Key Features:
The mirror-polished finish of its 6.5-inch 5Cr15 stainless steel blade gives this ulu knife a sleek and elegant quality.
The black pakkawood handle and finger hole's innovative design allows for a secure grip, regardless of your hand's size.
The black leather belt sheath stands out with its embossed Hibben logo. It's made with a snap closure to keep the knife secured while you're hunting outdoors.
8. Alaskan Made Ulu with Cultured Moose Antler Handle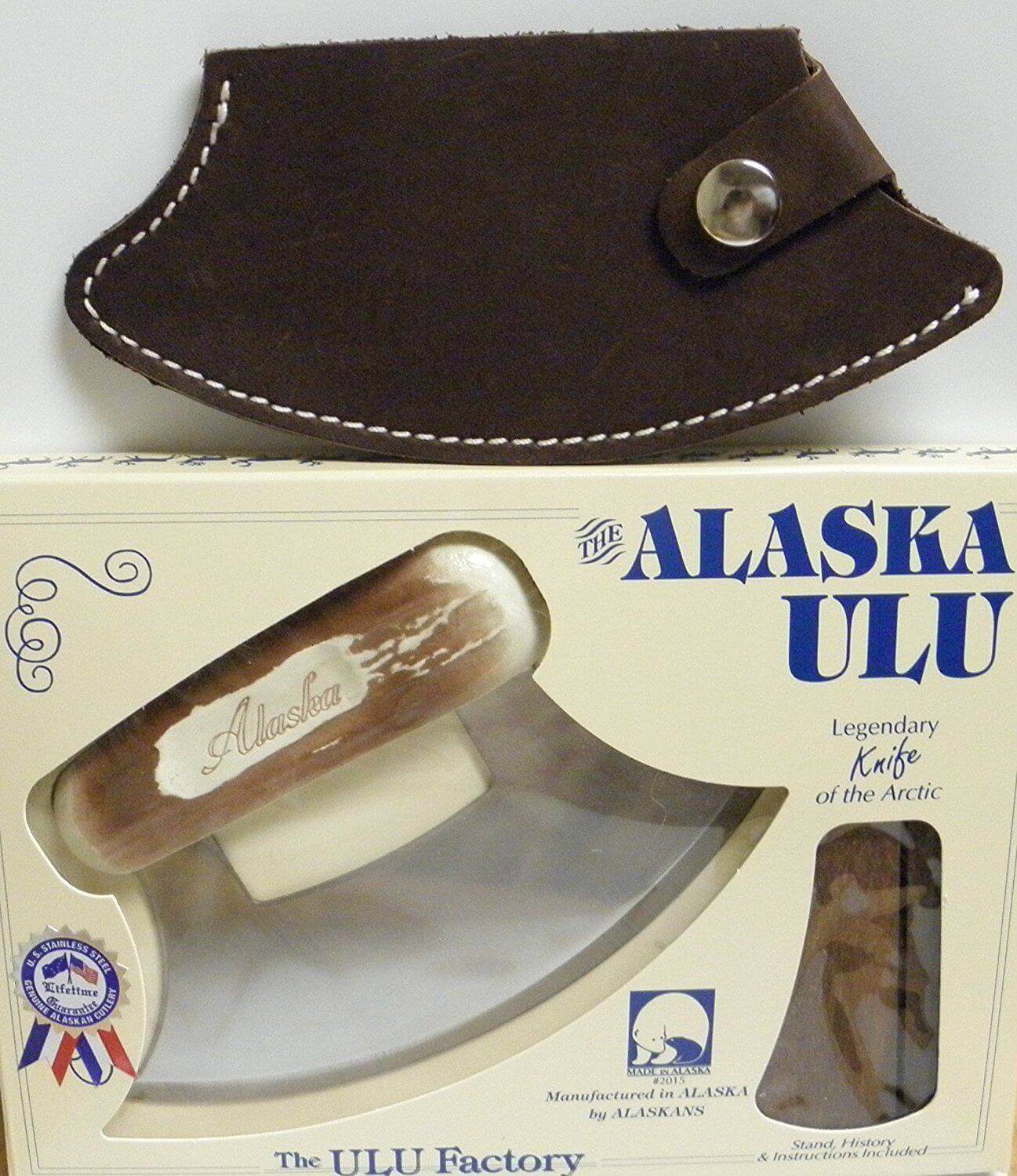 Alaska ulu knife with 6.25″ blade made from 440 US stainless steel is produced by The ULU Factory. The cultured moose antler handle is made of high strength resin for a lasting knife and is backed by the manufacturer's warranty (enclosed).
In addition, it comes with a walnut stand in addition to use and care instructions. It's made from the Inupiat style, a tribe of the far north of Alaska. Proudly produced in Alaska by Alaskans. Stainless Steel blade is honed to a fine end using just one beveled blade for cutting efficacy. The antler design was taken from the actual antler.
Includes stand, instruction booklet, and is the new inbox. The ulu is a special knife in that the handle is more than the blade allowing for more cutting power, accuracy, and a smooth rocking motion. This knife is great for anyone with problem hands and may use a bit of help. It was invented thousands of years ago by the Alaskan indigenous peoples.
Key Features:
Includes stand and instruction booklet.
Made in Alaska, by Alaskans
Mold for antler made from real moose antler
6.25″ blade made of 440 US stainless steel
Limited lifetime manufacturer's warranty
Great for those with problem hands
Allows for more cutting power and accuracy
Inupiat style
9. Alaska Ulu Knife With Chopping Bowl Set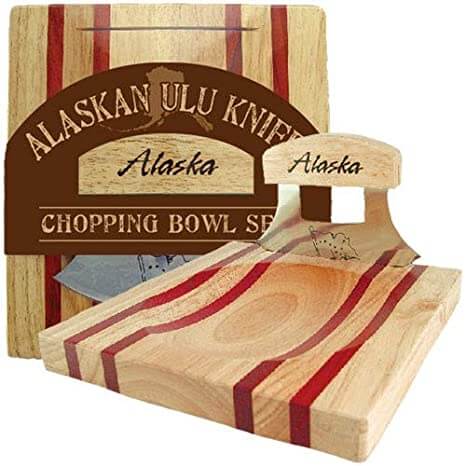 This is the best gift set for those who like to slice, dice, and mince in the kitchen. Made by Arctic Circle, it includes an ulu and also an 8″ x 8.25″ cutting cube that doubles as a knife stand.
The 6-inches inset bowl makes chopping herbs and veggies more convenient. It is concave sufficient to fit the edge of the blade along with the sliced food. If you enjoy preparing small meals or late-night snacks, you might also use this clipping block as a serving tray.
As with the majority of ulu knives, stainless steel blade doesn't stain easily. But be sure to wipe it dry after use to prevent rusting. You can use this cutting edge tool for years. All you have to do is hone the blade once it becomes dull.
The purchase price point may be a bit high for many folks, but the complete knife set is worth every penny. It's the best present you can give to relatives or friends who enjoy spending time preparing food in the kitchen.
Key Features
The whole ulu knife set is compact and not as heavy as it looks.
The light wood color and distinctive red lines add to the board's pleasing aesthetics.
The large wooden ulu knife handle allows for an easy, no-slip grip.
10. Inupiat Alaskan Cutlery Ulu Knife Exotic Colored Wood w/Etched Map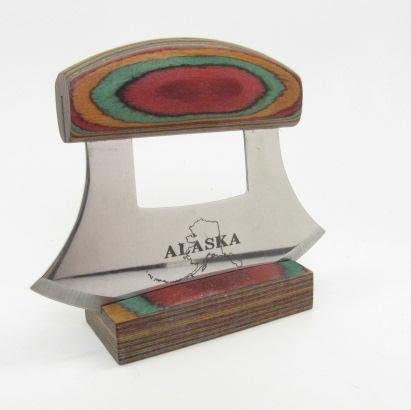 Crafted from the knife-making style of the Inupiat tribe of northern Alaska, this cutting edge tool is designed and honed for improved efficiency. The high quality, durable, sharp blade and easy-to-grip wooden handle can help you cut and dice anything quickly and simple.
This ulu knife can be reasonably priced, considering its quality and complete. One significant thing of note, though. The blade can get dull after a few uses, although you can easily sharpen it again with a trusty honer.
Additionally, the knife handle isn't varnished. It is a fantastic idea to employ a butcher conditioner on the surface to keep the coating and stop it from drying or cracking.
Key Features:
This knife has a large handle and opening that make cutting and slicing chores easy for users with bigger hands.
The ulu knife box features the ulu's short history, in addition to usage and care instructions.
The exotic colors of the handle and knife stand add to the tribal feel of the ulu.
Buying Factors to Consider For the Best Ulu Knife
It is a fact that no two ulu knives are indistinguishable. There is always something special that separates one ulu knife from the other. To determine which ulu knife is ideal for you, it's essential to understand which one has the desirable features that could meet your requirements affordably.
Locating them out brings the ideal ulu knife in your eyesight from among the diverse assortment. To do so, you want to learn how you will evaluate the different promising ulu knives. Because of this, you need to know about your requirements and factors (features) to compare. Let's check them out!
Your Purpose or Usage The first thing to learn is how to use an ulu knife. Ulu knives, no matter their design, size, and model, are helpful for a number of purposes or several daily demands.
Today, they're used in kitchens for slicing, mincing, dicing, chopping, and cutting edge things with one hand and even in adverse scenarios for self-defense. So, do you need a knife for all or the majority of these jobs? If so, then an ulu knife is a perfect alternative for you.
This answers why you need to invest in an ulu knife. Just because your friend or a neighbor has brought it, it does not mean that you, too, should purchase it. Despite a weapon-like look, the curvy knife has been widely seen in pizza restaurants.
Consequently, if you're going to make pizzas quite frequently, it is sensible to search for an ulu knife. Logically, it all depends on your needs.
The Size usually, how big an ulu knife tends to affect its usefulness and use. To put it differently, the dimensions reflect the usage of an ulu knife. For example, an ulu knife whose blade is little, such as only two inches long, is ideal for cutting edge sinew that connects muscle to bone.
Similarly, for overall chores, a 6-inch model was considered ideal. Even today, this size is considered the normal one for most models. However, it's common to discover versions of around 12 inches.
For many buyers, the best ulu knife is perhaps the one that performs all basic jobs, including those from the kitchen.
Types While researching online, you will realize that the most popular model is your Alaska ulu knife. However, it is not the only type to see and research. In general, there are four kinds of ulus, every termed because of its native area in which it originated. They are as follows:
Inupiat or Alaskan: Includes a part that is taken away in the blade whose both ends go within the handle.
East Greenlandic: includes a small, curved handle and a big rectangular blade.
West Greenlandic: Has a slender and small handle that connects to an oval-shaped blade using a stem.
It is offered in two forms, namely, using a more pointed knife found from the eastern area of the Canadian Arctic and a triangular blade found from the western region.
However, now, the blade of several Alaskan versions is made with stainless steel, while the handle is created with hardwood or caribou antler.
All are durable materials. However, if you're against animal cruelty, avoid caribou antler or bone since the build substance.
Maintenance An ulu knife is quite simple to maintain. Occasional honing is vital to ensure the advantage is cutting edge fine. When it comes to sharpening, do it using a steel or tough rock on the right hand side.
How to Use and Sharpen an Ulu
Final Thoughts
The ulu knife is the perfect kitchen tool for almost any cutting chores. However, with all the available brands on the market, it is often quite hard to decide on the very best ulu that will agree with your cutlery demands.
For your money, the Ulu, Knife Of The Arctic is the top option; it's priced extremely readily for a superior product. We also recommend the Alaska Ulu Knife Set; the exceptionally effective cutting and blade bowl are enormous upsides, and we believe it our second-best pick.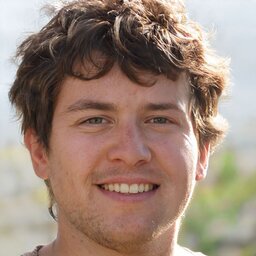 Hi, my name is Taras Kulakov and I'm a knife enthusiast. I have been collecting knives for over 30 years and I've owned literally thousands of different models over that time. My goal with this site is to share some of what I've learned about knives. You can find more info about Taras Kulakov here.