What Is 65mn Steel?
A Chinese steel that has good wear resistance, hardness, and toughness, 65Mn is a readily available steel produced to provide edge-holding. This is because the addition of silicon to 1060 steel makes it approximately comparable. This high-carbon steel is primarily used to manufacture various small-section flat springs, round springs, clockwork, etc. Other applications of this metal include spring rings, valve springs, shock absorbers, clutch reeds, and brake springs.
65 MN steel composition
The 65 Mn steel we are looking at is made up of a combination of Carbon, Chromium, and Manganese, which is why spring alloys are made of it.
65 Mn Steel Properties
The 65 MN Steel can be classified based on its chemical composition and hardness (HRC) as follows:
65 MN Edge Retention: Its maximum hardness is 34HRC, making it hard, therefore providing good edge retention.
65 MN Corrosion Resistance: Corrosion resistance is not very good with only 0.2% chromium.
65 MN Wear Resistance: Wear resistance is good with this steel since it contains 0.65% carbon.
65 MN Sharpness: Sharpening steel harder than 65MN is more difficult as the rule goes. It is harder steel that would take more effort to sharpen.
65 MN Toughness: The toughness of the alloy is due to the combination of carbon, chromium, and manganese.
Is 65mn Steel Good For Knives?
The answer is Yes, It is made from Chinese spring steel, which is resistant to wear and tough. A comparison with 1065 would be appropriate. Manganese is present at a high level of 0.90-1.20 percent, and a medium amount of carbon is present at 0.62-0.70%.
The steel is tougher, resilient, and has better hot-working properties because of these properties, making it a good choice for sword blades. It also has a minute amount of silicon (0.17% to 0.37%).
If you're looking to baton,EDC, or use in a harsh environment like a wet environment, 65 MN steel would give the best results, but it would not work as well for weld, because of its low corrosion resistance.
Therefore, if you're hunting, fishing, or cooking, I don't recommend 65Mn steel knives.
How Hard Is 65 Mn Steel? – 65mn Steel Hrc
It can be used for making knives, machetes, small-section flat springs, rounds springs, clockwork, etc. It is a low alloy carbon steel. Because it is carbon steel, it is hard, but its corrosion resistance level is lower. It has a hardening capacity between 28 and 34 HRC, making 65 Mn a hard steel.
65 MN Steel Equivalent
65Mn steel is considered to be equivalent to AISI SAE 1065, and some people also compare 65Mn with AISI/SAE 1075, 1095, 5160; JIS SK5 (SK85) and Chinese 8Cr13Mov, so the table below lists the difference of chemical composition for your reference.
65Mn vs 1065, 1075, 1095, 5160, SK5 and 8Cr13Mov in chemical composition
Chemical Composition %
Grade
C
Si
Mn
P (≤)
S (≤)
Cr
Ni (≤)
Cu (≤)
Mo
V
65Mn
0.62-0.70
0.17-0.37
0.90-1.20
0.030
0.030
≤ 0.25
0.35
0.25
–
–
1065
0.60-0.70
0.60-0.90
0.040
0.050
–
–
(0.20)
–
–
1075
0.70-0.80
0.40-0.70
0.040
0.050
–
–
(0.20)
–
–
1095
0.90-1.03
0.30-0.50
0.040
0.050
–
–
(0.20)
–
–
5160
0.56-0.61
0.15-0.35
0.75-1.00
0.035
0.040
0.70-0.90
–
(0.30)
–
–
SK5
0.80-0.90
0.10-0.35
0.10-0.50
0.030
0.030
0.30
0.25
0.25
–
–
8Cr13Mov
0.70-0.80
1.00
1.00
0.040
0.030
13.00-14.50
0.60
0.10-0.30
0.10-0.25
65mn Steel vs 1095
| | 65Mn | 1095 |
| --- | --- | --- |
| EDGE RETENTION | 2/10 | 3/10 |
| EASE OF SHARPNESS | 9/10 | 7/10 |
| CORROSION RESISTANCE | 3/10 | 3/10 |
| TOUGHNESS | 8/10 | 8/10 |
There are a lot of common items manufactured with 65Mn carbon steel and 1095 spring steel. A decision on the material to use for manufacturing will be based on your manufacturing process and the specific properties of the finished product. Both 65Mn and 1095 have applications in the manufacture of knives, antennas, spring clamps, spring rings, shock absorbers, clock hands, and vehicle coil springs.
Best 65 MN Knives –

Kershaw Camp 10 – Tan Machete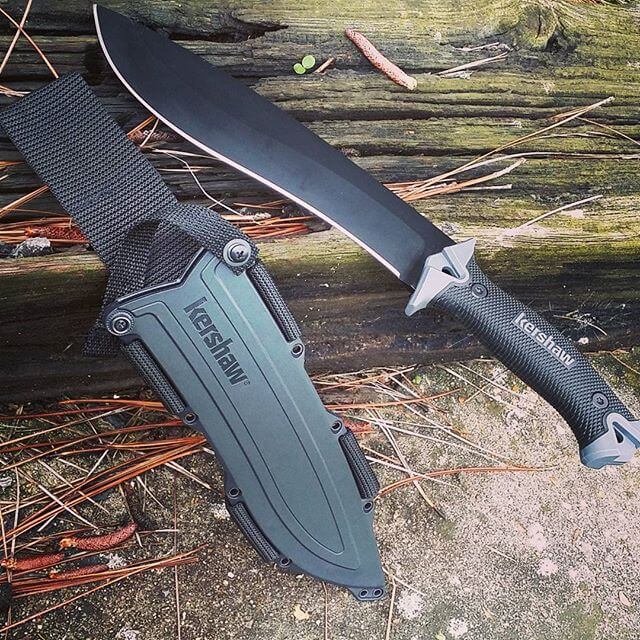 Knife fans will find plenty of utility in the Kershaw Camp 10 Tan. It's extremely affordable and well-made. This versatile survival knife is ideal for those who spend time roughing it.
The zombie apocalypse and camping share one thing in common. The Kershaw Camp 10 will prove invaluable in either situation. Why? Because the blade is so powerful and heavy, you'll be able to clear brush, make kindling, and possibly even split undead heads.
Obviously, this camping knife is better suited to trail use than post-apocalyptic wasteland, but it's nice to know that it has so many uses.
There is a palm swell in the middle of the hard, ABS handle of the Kershaw Camp 10 Tan. It is surrounded by an overmolded rubber surface with a checker surface that provides good grip for sweaty hands. You can also use it when you have to hack through dense forest. In conclusion, the Camp 10 is comfortable to hold, even with gloves, since the relatively narrow handle conforms to the shape of your hand.
Kershaw Camp 10 Tan Machete Features
Full-tang construction
Textured, rubberized grip
Includes glass-filled nylon sheath with belt loop
Dual lanyard holes
Kershaw Camp 10 Tan Machete Specs
Model Number: Kershaw 1077TAN
Steel: 65Mn, powder coat
Handle: Rubber overmold
Blade Length: 10 in. (25.4 cm)
Overall Length: 16 in. (40.6 cm)
Weight: 1 lb. 2.3 oz. (521 g)
Weight with Sheath: 1 lb. 8 oz. (681 g)
Final Word
This steel is made with a combination of special carbon and manganese, so it is hard and resistant to corrosion. If you have a big knife, you can be sure that you can use it in a wet condition, but big knives are just as effective as small ones. For its low corrosion resistance, I'd recommend this steel if you can maintain the knife after every use by keeping it dry and clean.
FAQ:
What are the features of 65 MN Steel?
According to the chemical composition and the HRC of the steel, the 65 MN Steel has the following features: 65 MN Edge Retention: With a maximum hardness of 34HRC, the steel can offer a good hardness, therefore good edge retention.
What are the benefits of using carbon, chromium and manganese?
As you can see, the 65 Mn steel has a mixture of Carbon, Chromium, and Manganese, which makes it a spring alloy.
Would I use GB 65MN steel for knives?
The answer is Yes, the 65MN steel would be great for knives, a 65Mn knife is a hard and tough knife, would be a great choice for batoning, EDC, but it would be a bad choice if you attend to use in a wet environment, due to its low corrosion resistance.
What is the difference between 65Mn and 1095?
Both high carbon spring steel , 1095 is a bit higher in carbon , not too much difference but it also would depend on your application if it would matter.
What is 1095 Steel?
1095 Steel is a basic form of carbon steel and is most commonly used in the construction of various kinds of knives.
What is Austenitic Stainless Steel?
It has good plasticity, low strength, certain toughness, easy processing, and no ferromagnetism.
How to Anneal 65Mn Spring Steel?
Annealing of 65Mn Spring Steel At first Slowly heated to 730 ℃ and allow enough times, let the steel to be thoroughly heated, Then cool slowly in the furnace.
How to Temper 65Mn Spring Steel?
Tempering of 65Mn Spring Steel Tempering of 65Mn steels is performed at 540°C, Soak well at the selected temperature and soak for at least one hour per 25mm of total thickness.
What are the characteristics of 65Mn high carbon steel?
65Mn steel is a Chinese GB standard spring steel grade, Manganese (Mn) improves hardenability, so the strength, hardness, elasticity and hardenability are higher than that of 65# steel, but it has overheat sensitivity and temper brittleness.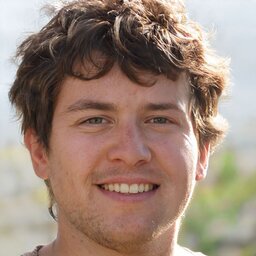 Hi, my name is Taras Kulakov and I'm a knife enthusiast. I have been collecting knives for over 30 years and I've owned literally thousands of different models over that time. My goal with this site is to share some of what I've learned about knives. You can find more info about Taras Kulakov here.