A "survival knife" is exactly what it says it is: a knife that can help in your survival. There are literally hundreds of functions linked to survival in this tool.
Contrary to what you may see on television, less is usually more when it comes to your survival knife. Enjoy the simplicity of a cleverly made survival knife by hanging the great movie prop knife on a wall.
Even if you're not fighting in a war, having a good survival knife can make all the difference in the world between life and death. Although survival knives were originally created for pilots, they today have a highly diverse range of uses that almost anyone can use.
In this article, we'll go through how to choose the best survival knife for your needs and preferences.  So here's the list of my own ranking of the best survival knives on the market that can help you get through even the worst of days.
Our Top Pick
List of 20 Best Survival Knives We Have Tested And Review:
1. Best Overall- ESEE Knives 4P or 6P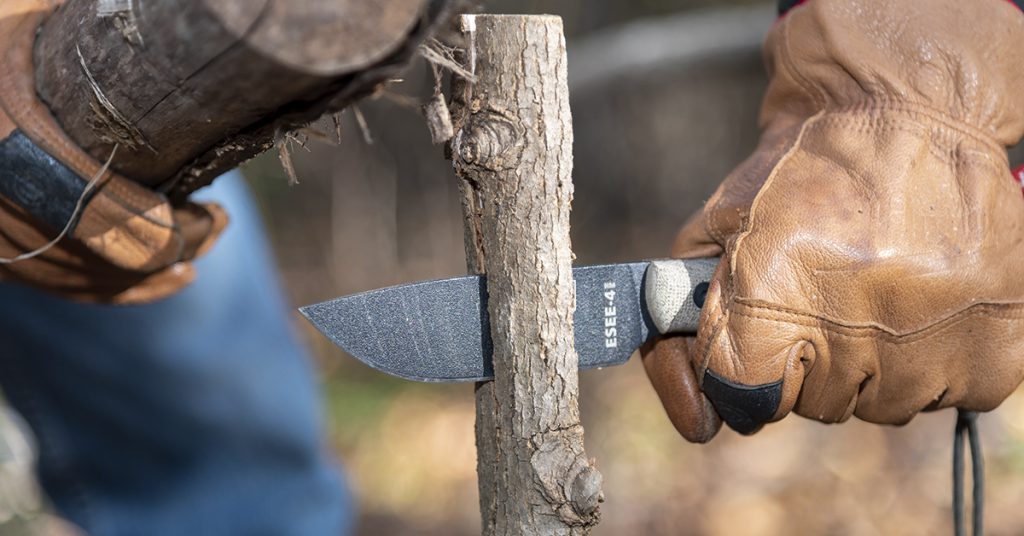 Although ESEE produces some best knives in the industry, there is no denying that the 4P is the company's best product and is unquestionably the most well-known ESEE knife ever produced.
Due to their high demand, survival and combat schools frequently purchase these in large quantities and distribute them to pupils as they develop the survival skills they will require.
1095 Although carbon stainless steel isn't particularly well-known for being an excellent steel in any one area, I'd argue that its versatility makes it particularly useful as a survival knife.
I believe this is why so many people genuinely adore the ESEE 4P, which has the impression of being made to be the most adaptable knife of 4.5 inches possible.
You can also check out ESEE 6P. The ESEE 6P is a plain-edge survival knife manufactured from high-carbon 1095 steel, and it's probably my favorite overall. I use this full tang knife more frequently than any of my other favorites because it is so gorgeous.

With a blade length of 6.5 inches and an overall length of 11.75 inches, ESEE created the 6P to be a monstrous knife. The blade has a 0.19-inch thickness and a 5.75-inch cutting edge.
The tang has a great finger hole just above the handle for when you want to choke up a little on the knife while remaining safe.
2. Best Traditional Knife- Ka-bar Becker Bk2 Campanion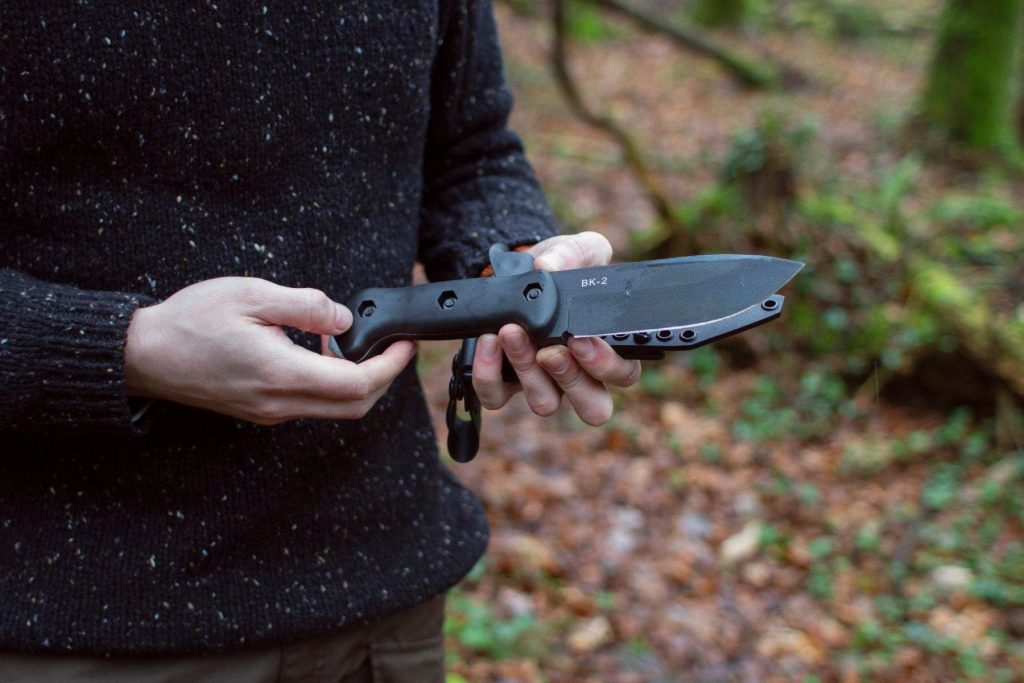 The KA-BAR Becker BK2 Campanion has all the qualities of a fantastic survival tool for you in the wilderness. The Becker BK22 Campanion is an excellent survival knife from the respected KA-BAR supplied with a heavy-duty polyester sheath. It was created by Ethan Becker, who founded the Becker Knife and Tool Corporation in the early 1980s.
The 1095 Cro-Van carbon steel, which is essentially regular 1095 steel with additional Chromium and Vanadium for enhanced wear and corrosion resistance, is used to make the Becker BK2 Campanion in the USA.
Keep in mind that 1095 steel is a good option for knives made for heavy use, but as it is not stainless steel, it is susceptible to rusting if not properly maintained.
The Campanion weighs exactly one pound, has a 5.25-inch blade, and measures 10.5 inches overall. The 0.25-inch-thick blade of the BK2 is undoubtedly on the heavier side, but thanks to the great ergonomics, you hardly notice it.
It has a flat grind and 20-degree edge angles in a drop-point form for simple sharpening. The blade sharpens quickly and keeps an edge fairly well.
When held correctly, the Becker BK2 Campanion balances at your index finger, making the knife feel lighter in your hand, which is something I truly like about it.
3. Best for Fire Starter- Morakniv Companion Spark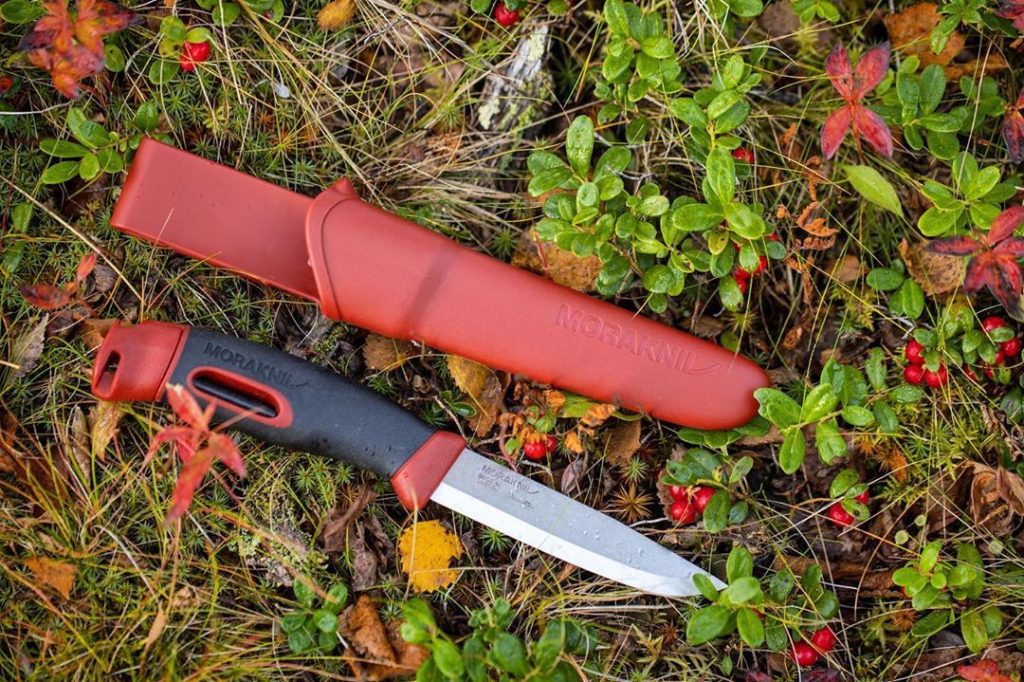 My go-to suggestion for someone seeking a new fixed blade to use outdoors for a long time has been the Morakniv Companion.  Morakniv produced the Companion "Spark" in 2020, building on the tradition of the original "Mora Companion."
The addition of the ferro rod in the handle is one of the Morakniv Companion Spark's greatest differences from the standard Companion.
The fire starter has been incorporated into the handle, and the knife steel has been improved to 12C27, making this the most practical camp knife you can buy for $30. Campers, scouts, and bushcraft enthusiasts will all want to try it.
The blade is made with 12C27 stainless steel. It features a clip point with a satin finish and a Scandi grind is included with the Companion Spark.
 All you need to do to get to the fire starter is just pull it out of the knife's handle slot. Just slide it back into place when you're done with it until you need it again.
As a result, it is kept out of the way and is an excellent method to store your knife and fire rod in the same location. The ferro rod includes a lanyard for enhanced comfort.
4. Best Value for Your Buck- Esee Laser Strike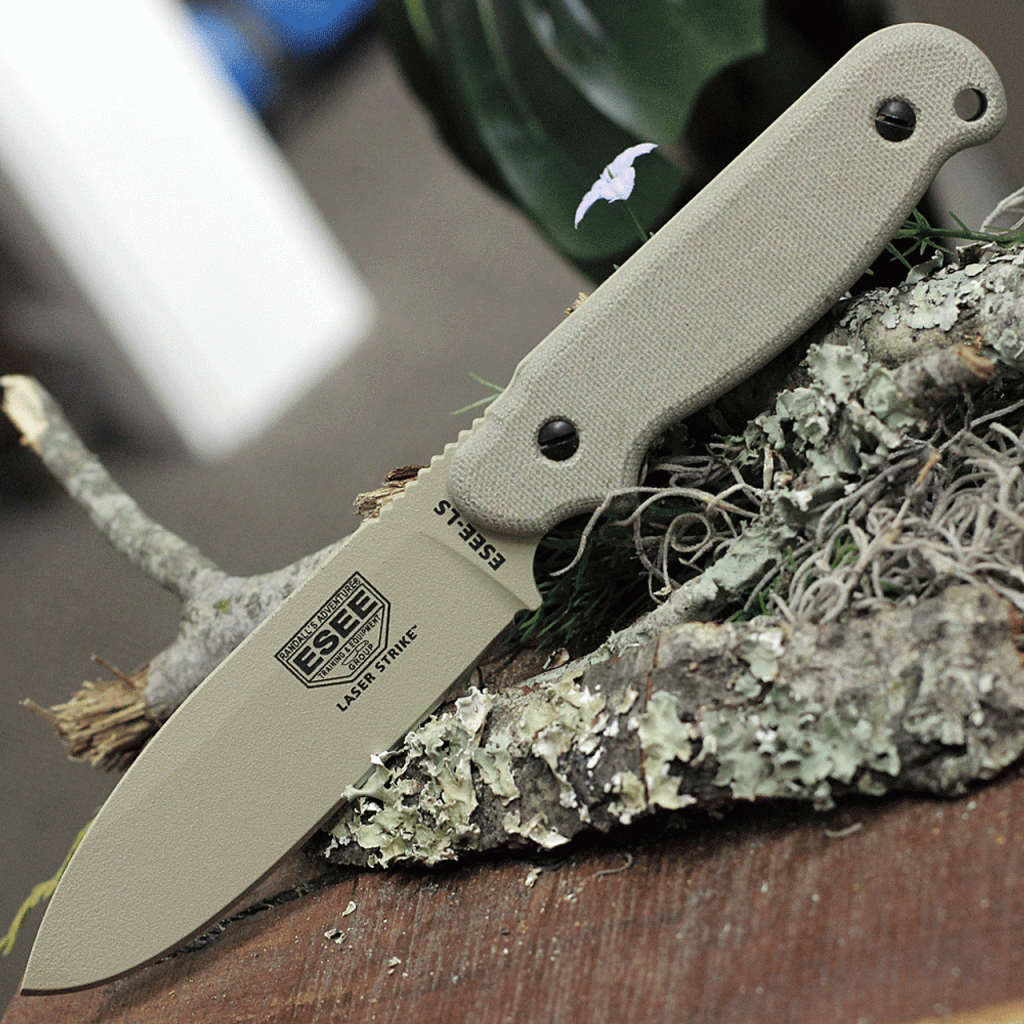 The Laser Strike is one of the few knives with a reputation for survival. This 1095 high-carbon bruiser, which TOPS first produced in 2000, has been used all around the world.
It's a medium-sized knife with a powder-coated 4.75-inch knife blade that measures 0.188 inches across the shoulders and can outperform other fixed blades twice its size.
Beyond its exceptional edge, ESEE improved the original version in a number of ways. First, the company replaced the 5.25-inch handle scales with Micarta ones.
One of these is a divot created by a bow drill, which enables the knife to serve as the top part of a crude kindling setup.
A ferrocerium flint and two tinder tabs, suitable for lighting a flame in a variety of situations, are nestled against the inside steel.
Although several other knives are able to complete the same duties, the comfort of the Laser Strike is what keeps me coming back to it.
The lower swell of the Micarta handles fits comfortably in my palm, and they have strong, gripping handles. When combined with the thumb jimping on the spine, the carved forward finger choil offers a great way to choke up on the blade.
5. Best Tactical Survival Knife- Helle Utvaer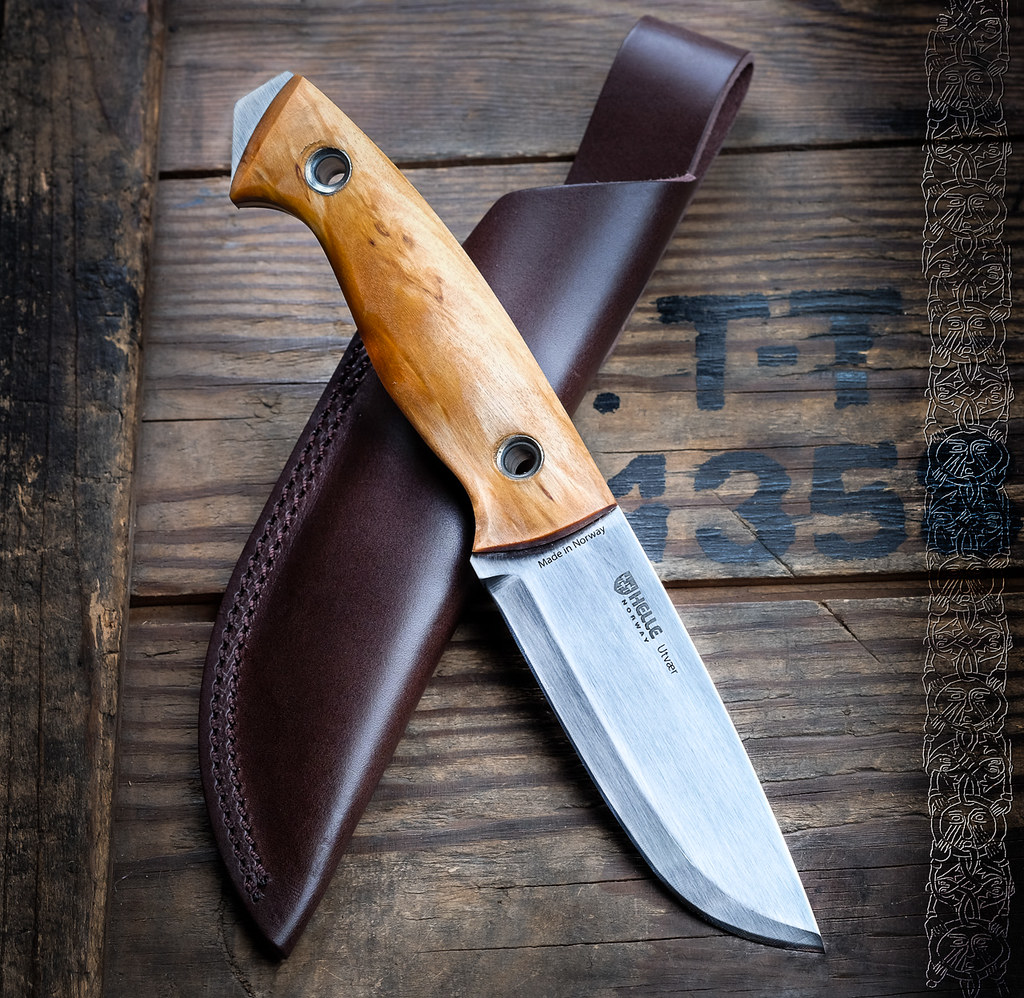 The Helle Utvaer is an attempt to create a more American-centric, "tactical" knife design while yet maintaining the completed product as genuinely Scandinavian in build and utility.
Helle of Norway is primarily recognized for traditional Scandinavian-style bushcraft blades.
The Utvaer's blade form is a little higher towards the handle than many other bushcraft knives. As a result, using the end of the edge gives you a little more control while performing intricate jobs. Consider notching as an example.
Steel 12C27 from Sandvik is used to make the blade. A type of steel from Scandinavia that was created especially for knives and other cutting instruments.
It is durable, keeps its edge well, is made of stainless steel, and is rather simple to sharpen. Nothing more is possible to ask for.
A lot of Helle knives include a "rat tang" or "hidden tang" construction. The tang is entirely concealed by the handle with this design. This kind of knife is great for survival situations.
Anyone familiar with Jesper Voxnaes' work is aware of how much care he gives to the ergonomics of his knives. You risk mistaking the knife for a "simple old knife with a wooden handle" if you only glance at it from the side and ignore the variances in depth.
Its ostensibly straightforward handle, however, was given a lot of thought when you look at it closely and from above.
6. Best Bushcraft Survival- Cold Steel Srk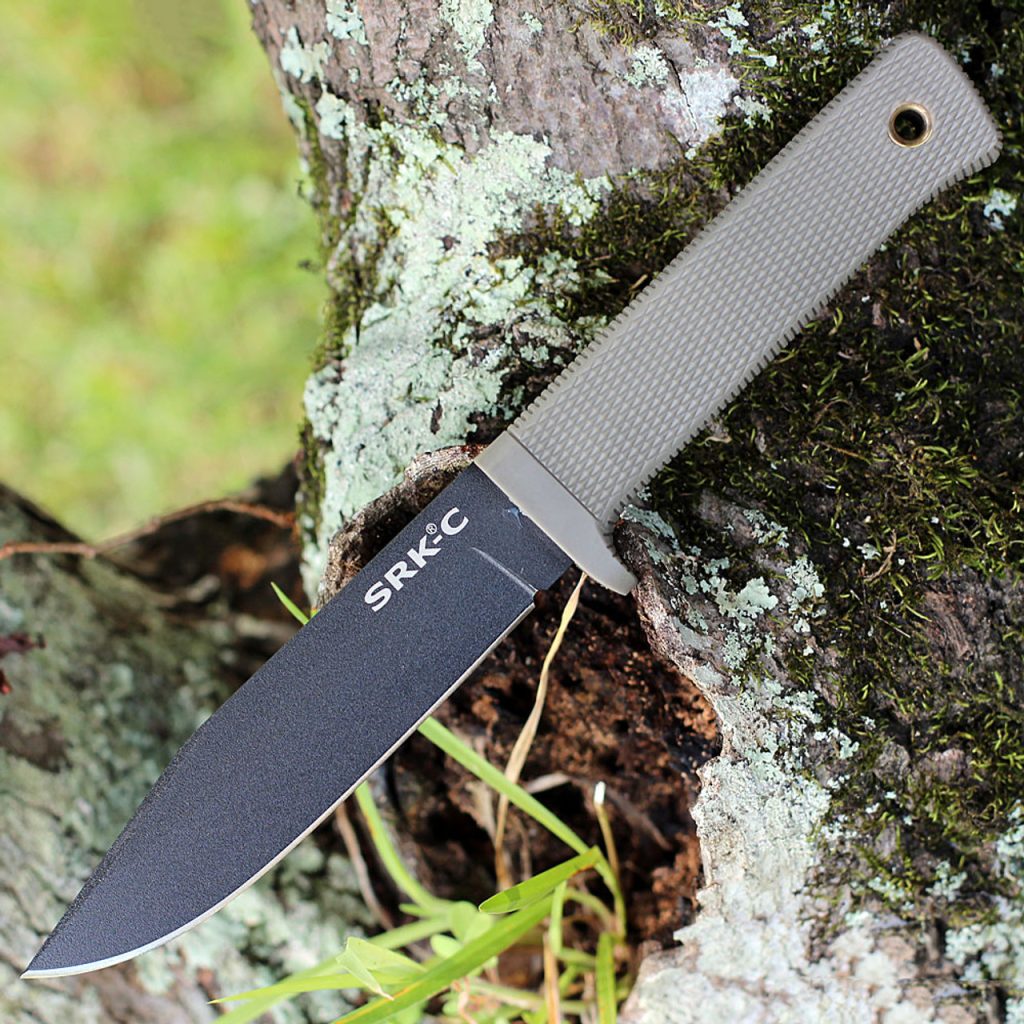 Cold Steel has to be on your list if you believe that overbuilt hard use harder than strong blades for a survival situation. The SRK (Survival Rescue Knife) fills that role.
The SRK, which is available in two sizes and two sheets of steel, is made to be effective in all survival scenarios; in fact, it serves as the standard issue knife for the Navy Seals' Basic Underwater Demolition School (BUDS) curriculum.

The SRK versions all have a broad clip-point blade profile with a medium-height saber grind for maximum blade strength.
They are available with a 6″ blade or a "compact" 5″ blade. Standard SRK fixed blade knives are manufactured of the somewhat uncommon, Japanese-produced SK-5 high carbon blade steel, which is also utilized by Cold Steel and Ontario.
In order to keep your finger from slipping onto the cutting blade when cutting, all models come with a single-finger squillion. A Kydex sheath with a nylon belt loop is included with the SRK for carrying.
7. Best Budget Knife- Gerber Lmf II (Under $100)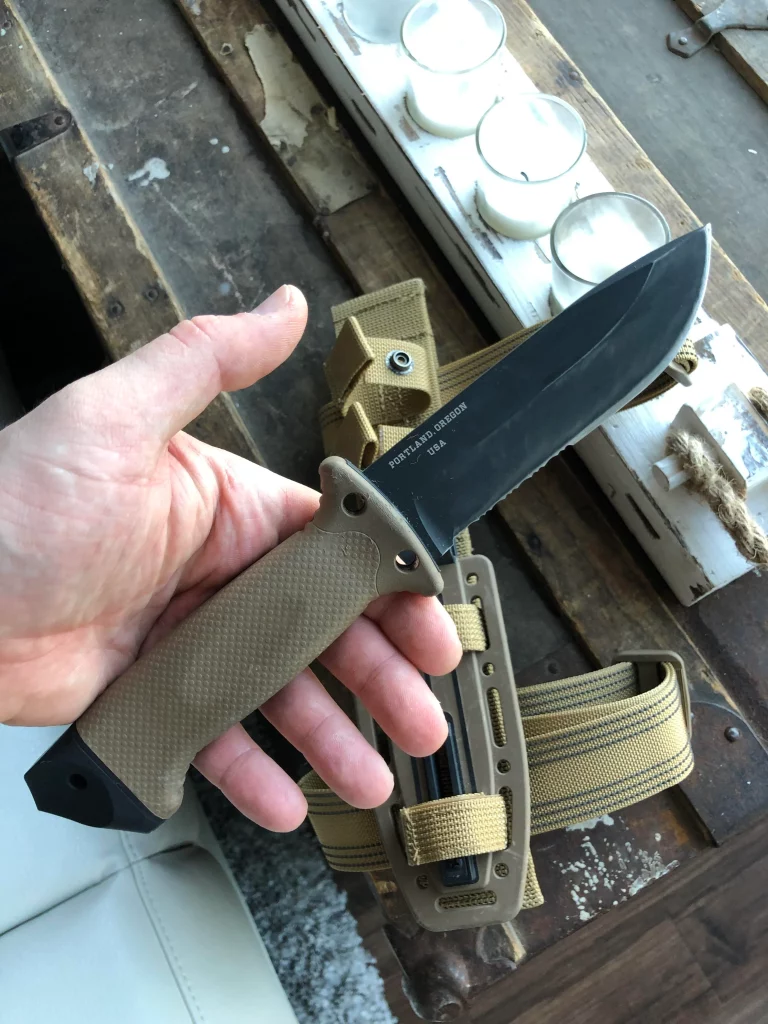 The Gerber LMF II is the company's direct response to a request from a military survival expert for Gerber to create an Army pilot knife expressly for the scenario described in the introduction of this guide.
In the unlikely event that they are shot down and must remain alive beyond enemy lines, a pilot was to carry the LMF II. "A knife to deploy and perform fast egress of a downed helicopter" was the precise requirement.
Extremely lightweight, quick to deploy, adaptable, and robust enough to stake your life on, the knife was required. It's the best survival knife for your money.
The blade is robust and sharp right out of the box. It is a sturdy piece of craftsmanship that ensures dependability and adds to the overall sense of the product thanks to its substantial weight.
The nearly full-tang, 420 steel blade is sturdy. The LMF II weighs over 12 ounces (23 with the sheath), which is a hefty weight, but it's not very heavy.
The grip and handle have a great feel, with a rubber surface that is textured and a width that feels custom-made for my mitt.
8. Best Bushcraft Survival Knife- Benchmade Bushcrafter 162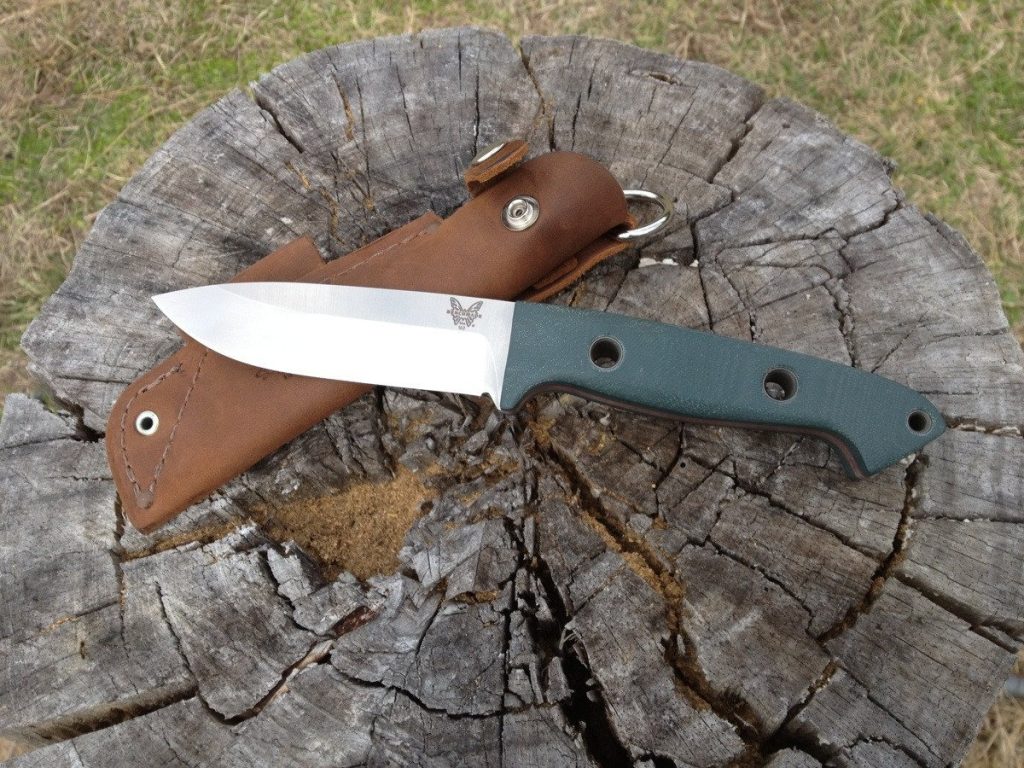 The Benchmade Bushcrafter is a bushcraft knife for the twenty-first century. In fact, calling the Benchmade Bushcrafter a "Tactical Bushcraft" knife might not be too far-fetched.
The Benchmade Bushcrafter is a contemporary update to an ancient question: What are the best characteristics of a bushcraft knife?
The Benchmade 162 Bushcraft Knife is the company's entry into the bushcraft market. It is a fixed-blade knife that is a true workhorse and a definite addition to the community. This knife can withstand some serious beating without undergoing any damage.
True survival blade as opposed to the majority of Bushcraft knives on the market, the Bushcrafter has what Benchmade refers to as a "high-ground drop point blade shape." 
The handle has a great feel to it, and I believe the design is far better than many conventional bushcraft handles. The flared titanium tube holds the G-10 handle scales in place.
You can transform the knife into a spear or a makeshift machete by lashing it with the help of the hollow tubes in the grip.
9. Best Runner-up Budget: Gerber StrongArm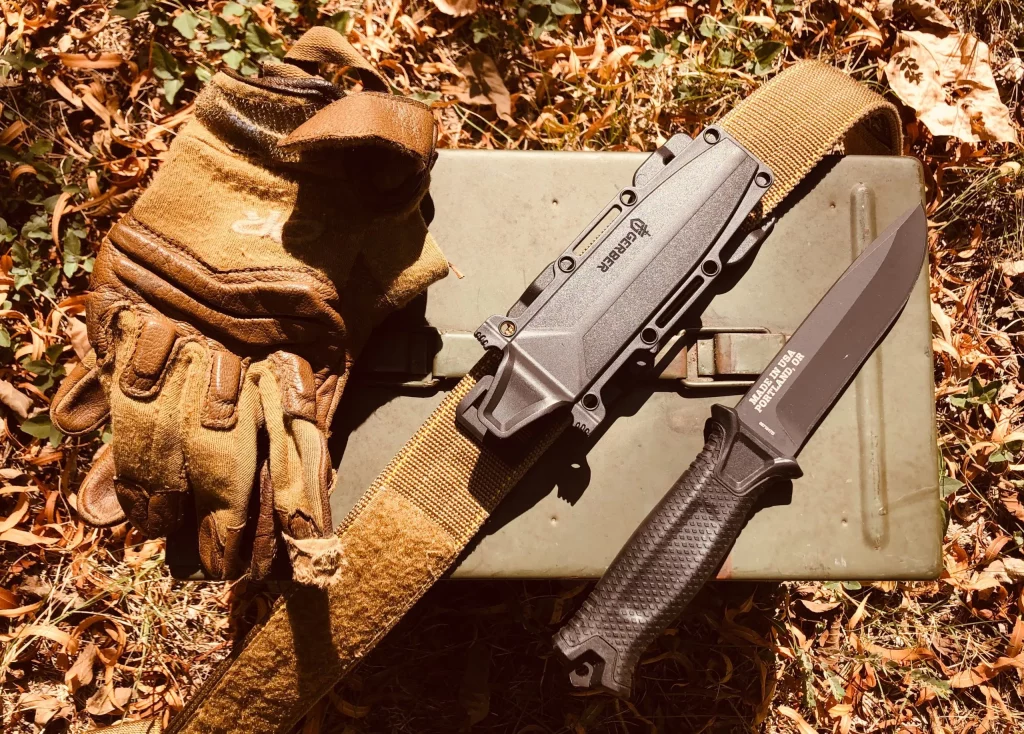 It is a little misleading to call the Gerber StrongArm the finest budget survival knife. This is one of the best survival knives available in any class or price range, with over 5 inches of ceramic-coated 420HC steel, full-tang construction, and a rock-solid grip.
One of Gerber's USA-made knives, the StrongArm, is forged from tested 420HC steel. Although this would appear to be a simplistic pick for a survival blade, I've discovered that its edge retention and hardness are more than sufficient for prolonged use.
This Gerber has a rubberized diamond design that is incredibly comfortable and grippy at the same time. The knife's slightly spiked pommel and lanyard hole provide it an additional alternative for mild hitting or hammering.
The knife is often comfortable on the hip and has decent retention. However, plastic does have a rather cheap feeling.
10. Best Serrated Survival Knife: KA-BAR BK3 Tac Tool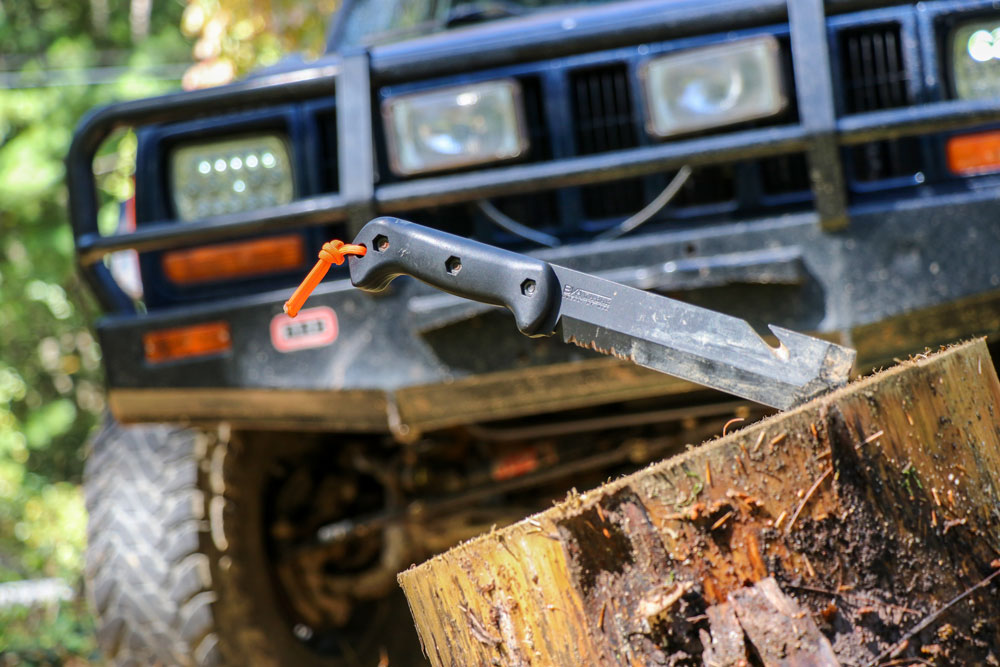 Normally, I'd advise staying away from serrated survival knives. They usually lose a beautiful cutting edge and are difficult to sharpen. They are also inappropriate for usage on wood. However, if we're going to go completely bonkers, let's do it with the  KA-BAR Becker BK3 Tac Tool.
This matte-black blade, which weighs 1.3 pounds and is half an inch longer than a standard school ruler, appears to be something out of a video game.
The blade's quarter-inch thickness and sharpened snub-nose shape make it perfect for scraping and prying.
It even has a cord-cutting hook at the front, making it a remarkably adaptable survival tool. The 1095 Cro-Van blade's base and serrated blade right in front of the finger guard.
The BK3 is designed to chop, slice, and generally demolish many kinds of natural and artificial things, whereas the majority of survival knives at least allow for some form of hammering or hacking. 
Thankfully, KA-BAR comes with a sturdy polymer sheath to assist in controlling this monster of a sword. You may carry the Tac Tool at or below your beltline thanks to its low-ish riding, which prevents the exposed tang from pricking you in the ribcage.
11. Cold Steel Drop Forged Survivalist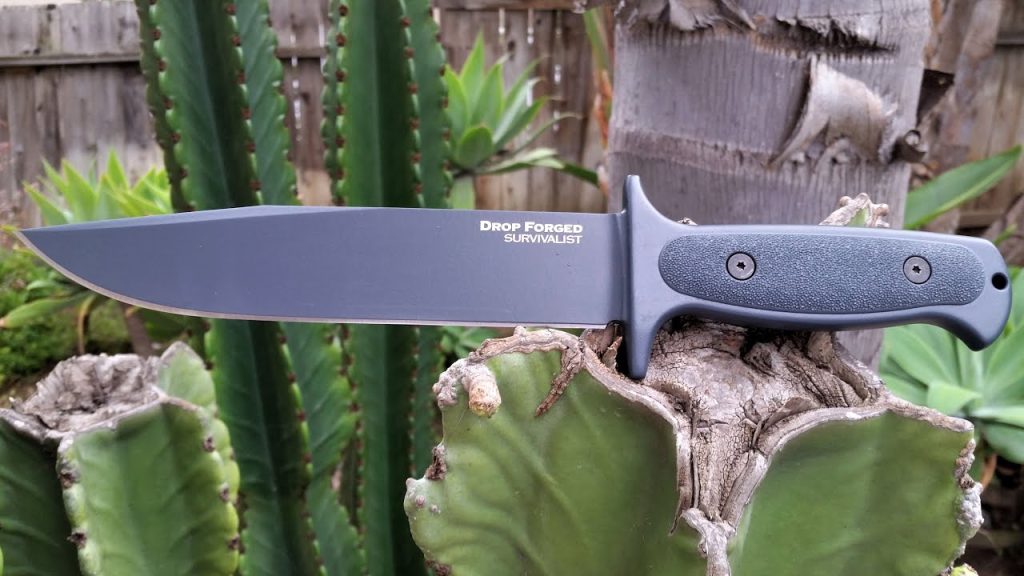 A huge and sturdy survival knife, the Cold Steel Drop Forged Survivalist 36MH is forged from a single solid block of 52100 steel. This kind of tool steel was initially employed to make ball bearings.
It was quickly determined that it also had great qualities for use in knives. It is resilient, simple to sharpen, and keeps its edge well.
This knife is designed for military use, hunting, survival, and bushcraft. It is a great option for practically any task thanks to its razor-sharp edge, steel guard, large belly, strong spine, and stout tip.
The Survivalist, which is drop-forged from a single solid piece of steel, is incredibly durable, making it a great option for tactical and military use, emergency preparedness, and survival applications.
The Survivalist comes with our adaptable Secure-Ex sheath in military design, offering you a variety of safe and secure carry alternatives in the field.
12. SOG Super Bowie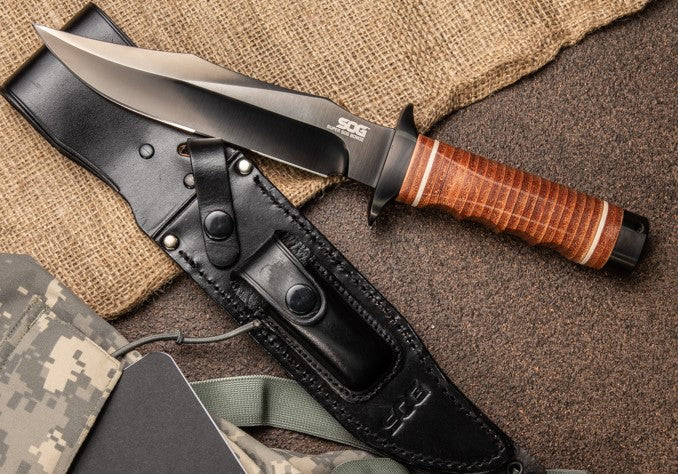 The Super SOG Bowie from The Studies and Observation Group is an updated version of the company's original knife design from 1986.
The 7.5-inch clip point blade of the Super SOG Bowie, which comes with a lifetime warranty and is made of AUS-8 steel, is strengthened by a hard-cased black titanium nitride coating.
The knife's handle is made of epoxied stacked leather washers and is finished with a steel crossguard pommel, adding a modern touch to this time-tested style. A leather belt-loop sheath is also included with the Super SOG Bowie.
13. MSK-1 Survival Knife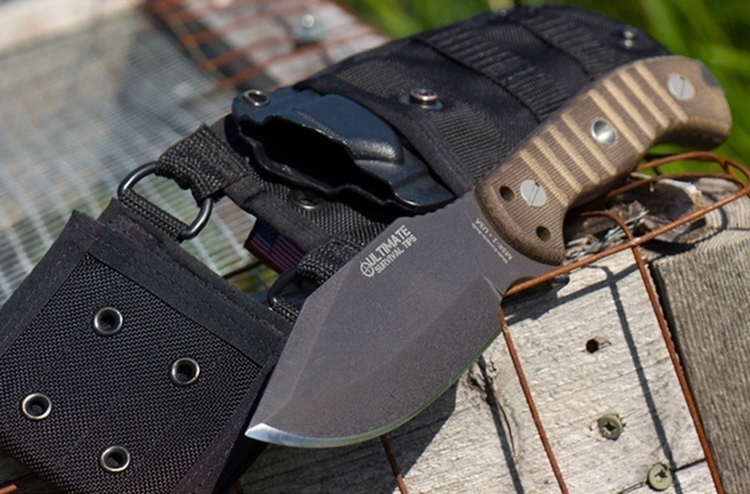 The knife, which is marketed as a "complete survival system," combines a tough blade with a grip that contains a complete survival kit, so it actually packs a lot more than is originally apparent.
The blade has the ability to "cut like a fine carving tool" and "chop like a hatchet," so yeah, it can slice and dice with the best of them.
The 4.6-inch full-tang blade of the MSK-1 Survival Knife has a fine edge, a quarter-inch thickness for reliable performance, a robust black oxide coating, and a center-aligned clip point for piercing and fine-cutting tasks.
The handle is equipped with a concealed survival kit, a steel bow drill pivot, a pommel fire steel striker, a tapered pommel for scraping and crushing, and built-in lashing holes. To reach the secret survival kit, remove the bolts from the handle.
Features include a D2 high-carbon steel structure, a 2-in-1 nylon and Kydex sheath, and an overall length of 11.3 inches. Yes, the sheath is equipped with all the hardware required for attachment to MOLLE-compatible gear such as belts, packs, straps, and clothing.
14. Terrain 365 Sc X Michael Vagnino Nk1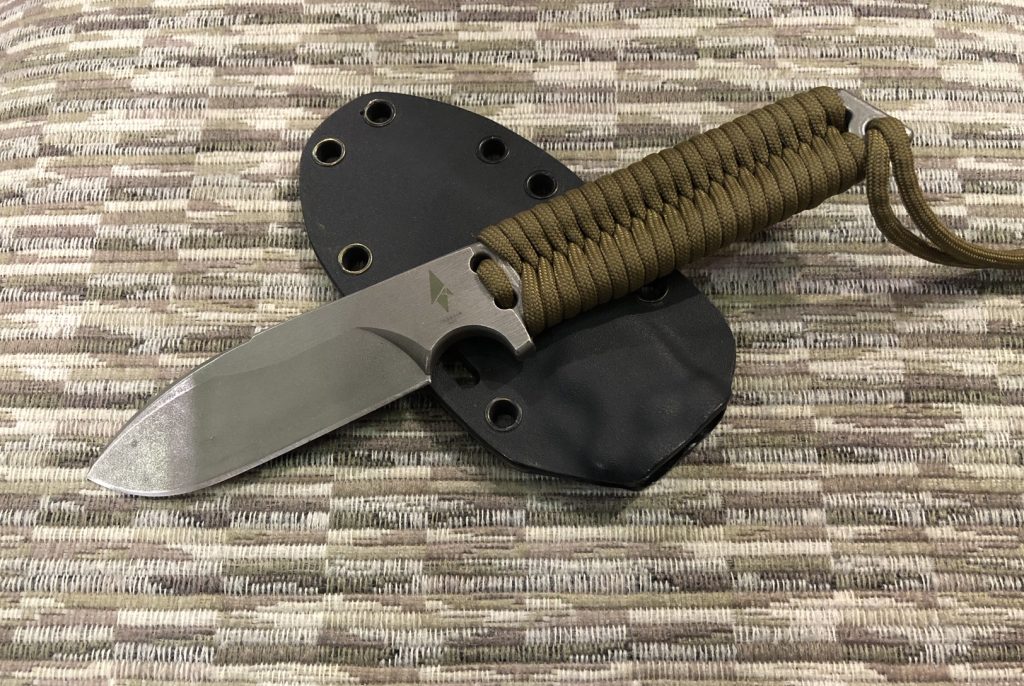 This reliable fixed-blade model, which was built in cooperation with American Bladesmith Society member and ABS Mastersmith Michael Vagnino, comes in a small 6.5-inch package and offers plenty of usefulness.
The SC X Michael Vagnino NK1, a member of Terrain 365's Special Collections line, features a full-tang Terravantium dendritic cobalt blade that is totally resistant to rust and corrosion.
3-mm ALSE-type 95 paracord has been used to wrap the knife's handle. This knife, which weighs only 2.2 oz, is also sold with a specially made KYDEX sheath.
15. Best Fixed Blade- Fallkniven A1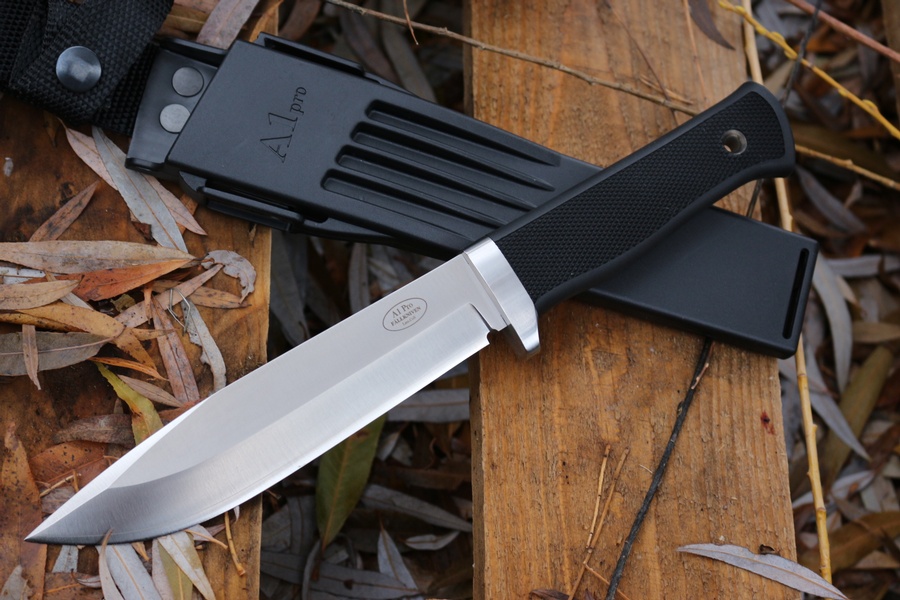 The A1 from Fallkniven is the next knife on my list of the top survival knives. This Swedish-made drop point knife has a large sweeping belly and swedge that give it excellent tip strength and allow you to pierce animals when using it as a spear tip quickly.
This medium-sized survival knife weighs under 12 ounces, has an overall length of 11 inches, and has a blade length of 6.3 inches.
The blade has a convex ground edge that is 0.24 inches thick and has somewhat flat ground. This knife performs absolutely fantastically when it comes to cutting, quickly slicing, or chopping through nearly any material.
Having said that, even if the knife isn't particularly balanced or meant for chopping, it still performs well for that task as well as wonderfully for batoning wood.
The Fallkniven A1 is adequate for the task of slicing through hardwoods or even treated lumber.
The more expensive stainless steel VG-10 can keep an extremely sharp edge reasonably well. Compared to 1095 carbon steel, it is a little more brittle. Thus you must be cautious when abusing it severely.
Nevertheless, it is simple to sharpen and when I used it to baton wood, it showed no signs of nicking or chipping.
16. SURVIVE! Knives GSO 5.1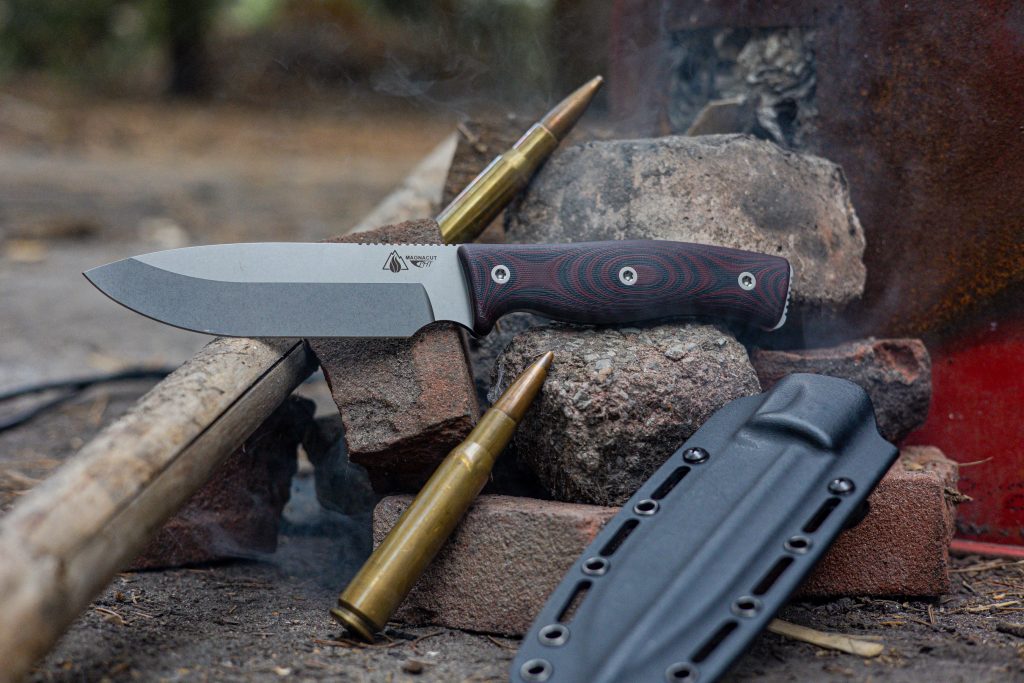 For those who are genuinely committed to or obsessed with survival knives, we are now entering the real specialist area. Survive is right there in the name. Knives produce knives in tiny batches that are all difficult to obtain and are all available via pre-order.
According to those who have used them, they appear to be worth the wait: picture Chris Reeve's attention to detail applied to overbuilt fixed blades for emergencies when you can't afford for your knife to fail you.
Their most popular line of knives is the GSO, which is available in an amazing variety of sizes and shapes, ranging from the GSO 3 (which has a 3″ blade from 0.125″ blade stock) up to the enormous GSO 12, with a colossal 11.93″ blade cut from quarter-inch-thick CPM 3V tool steel. 
With 0.19″ of blade steel at the spine, the GSO 5.1 is generally helpful as a camp knife or a hunting knife, and you won't have to worry much about hammering this through a piece of wood to start a fire.
High-end steel options are available; depending on your use case, you can select either CPM 3V tool steel or CPM Magnacut. Both are excellent options for a knife of this caliber.
17. Spyderco Bushcraft G-10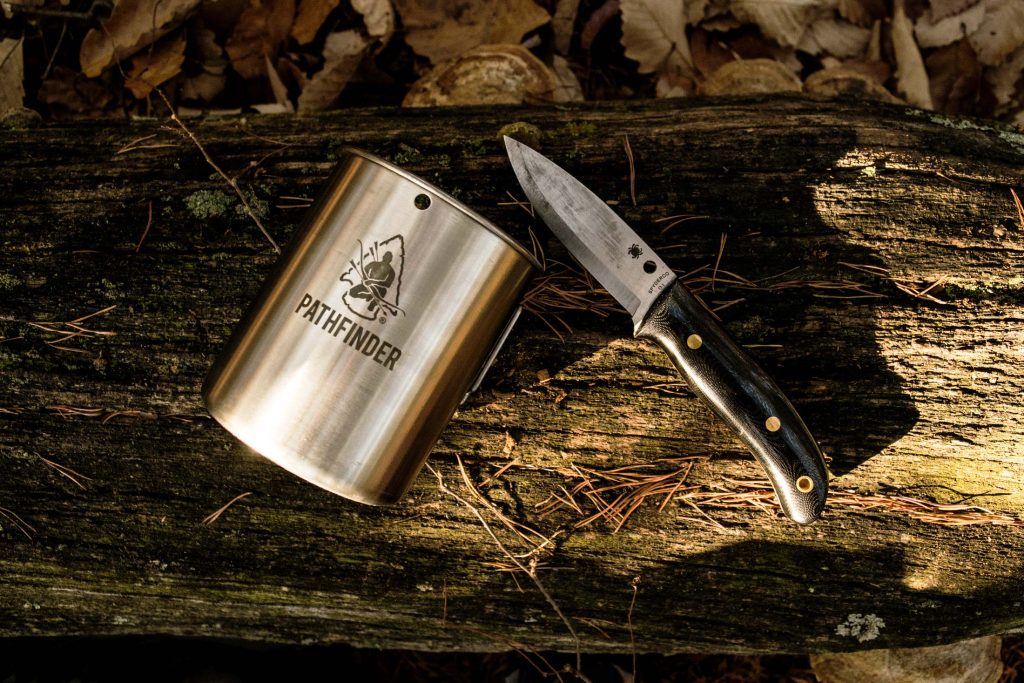 Spyderco is well recognized for its folding tactical knives, but it has also just made a noteworthy foray into the survival knife market.
The Spyderco Bushcraft G-10 is on the smaller side, measuring 8.75 inches overall and 4.1 inches in the blade. O-1 steel, a tool steel with a high carbon content as well as manganese, silicon, chromium, vanadium, and tungsten, is used to make the 0.140-inch-thick blade.
Although this type of steel is not frequently used in survival knives, it does have good wear resistance in a low alloy and even outperforms carbon steel in this regard. 
This knife's sheath, which features a plastic insert that makes it challenging to locate the "sweet" location for inserting the knife, is a small negative. The BushCraft is still useful for all potential survival knife tasks.
18. Condor Tool and Knife Bushslore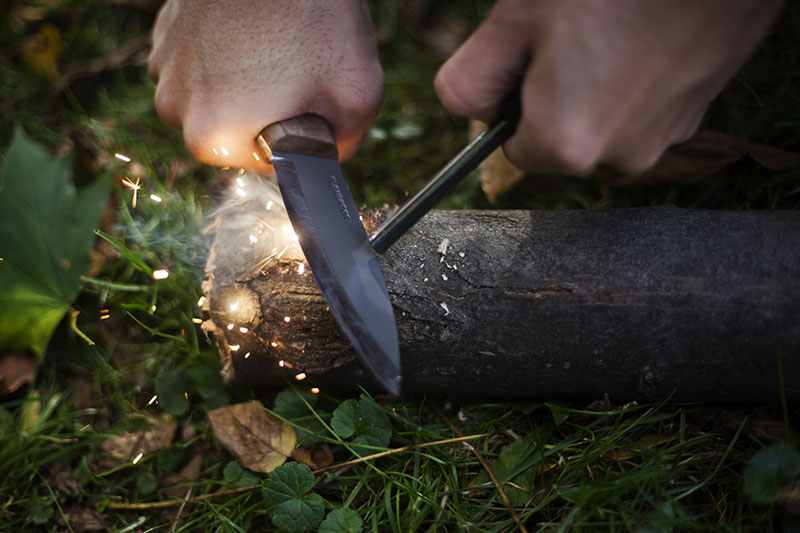 The Bushslore supplied by Condor & Tool is a superb all-purpose budget tool made of 1075 steel, a substance about which we don't talk much but maybe ought to.
Although technically still a high carbon steel at about 75%, the 1075 steel used to make this satin blasted 4.31-inch drop-point is a happy medium between low and high carbon steels.
Normally, I concentrate on high-carbon steel because I want the blade to be as robust as possible, but the truth is that a survival knife needs a variety of qualities in addition to strength.
Normally, 1095 would outperform 1075 in terms of edge retention, but the Bushslore is a 1075 steel blade that has built a solid reputation for being incredibly dependable and robust.
I also heartily suggest this knife, especially to a newbie, because it has the easiest blade on this entire list to repair and resharpen.
For a relatively inexpensive survival tool, the Scandi grind that comes with these is of amazing quality, and the knife itself is well-built.
19. Tops Brakimo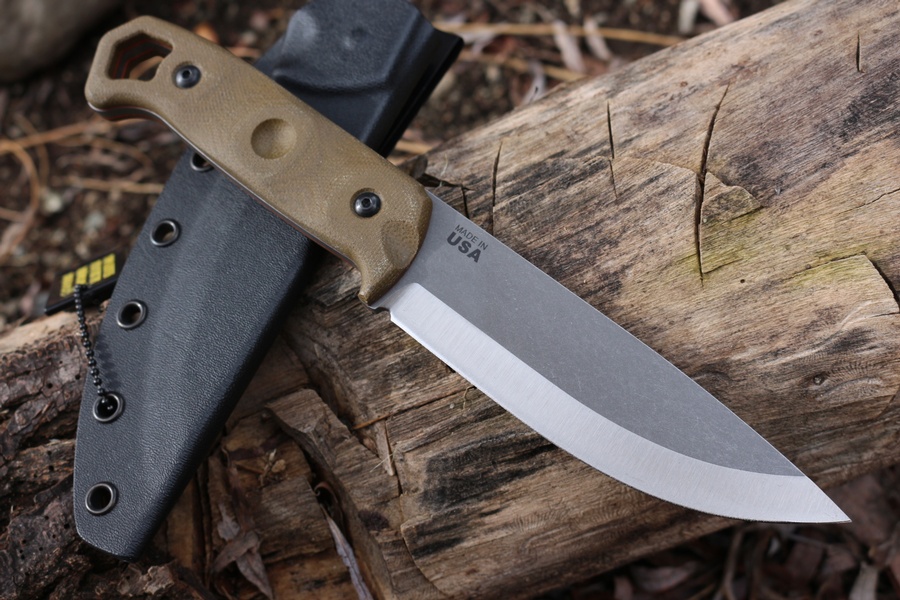 The TOPS Brakimo is an extremely tough and practical survival knife that contains a full-tang 1095 high carbon steel blade with a Scandi-ground edge and Micarta scales.
It was created by bushcraft expert Joe Flowers to withstand some of the harshest and most hostile environments on the globe.
The Bushcraft Global Brakimo, which is offered with a KYDEX sheath and is the official knife of the prestigious survivalist school taught in the Colombian woods, is also sold with a sheath.
20. Best for Water- Spyderco Waterway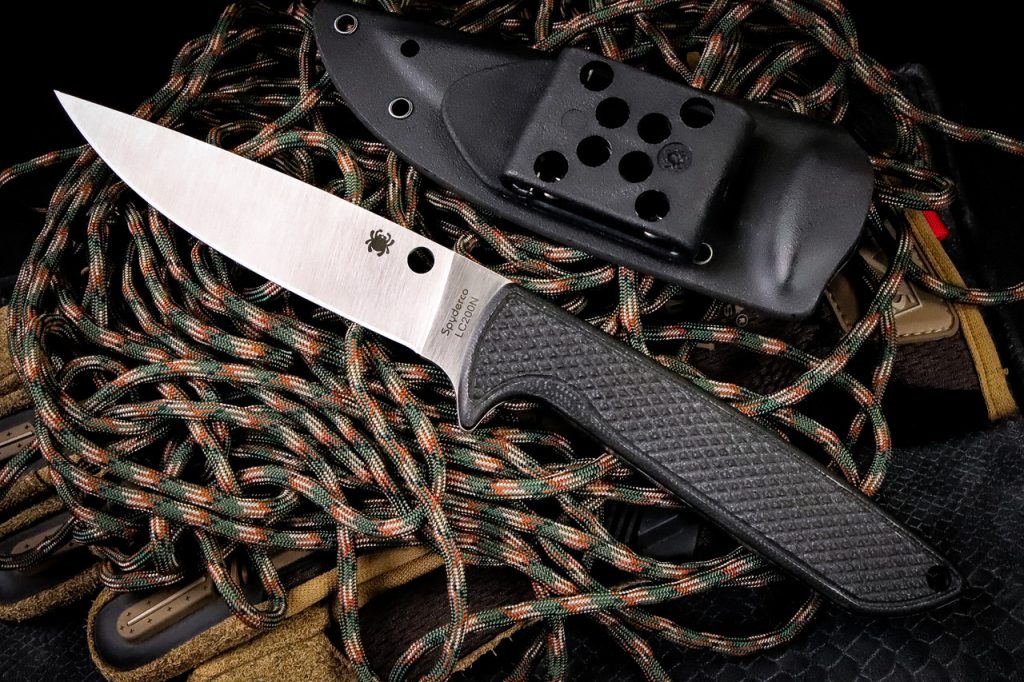 The majority of the blades we've discussed here are intended for use in urban or even wilderness survival circumstances. But what if you end up marooned on a desert island or stuck on the coast? The Spyderco Waterway is the right tool for you in that situation.
A knife with extreme corrosion resistance that excels at fishing chores while also being well-suited to general utility and outdoor use was Clinton's goal for the Waterway.
Two curved G-10 scales are wrapped around this full-tang piece of miraculous steel. These have a finely textured feel that is perfect for keeping traction in slick conditions. Additionally, a roomy front finger guard prevents users from slipping up onto the blade.
While we're on the subject of steel, let's take a look at the blade itself. This precision tool, which is just less than 4.5 inches long and 0.12 inches wide, resembles a fillet knife. The combination of its fine edge and nimbleness makes it ideal for cutting up fish.
6 Important Things To keep in Minds before Buying a Survival Knife 
Size Matters
Yes, size matters. But when it comes to a survival knife, knife enthusiasts agree that bigger is not always the answer. If your blade is too large, it will be difficult to do intricate chores like dressing small games or carving precise snare settings.
On the other hand, a small blade struggles with tougher jobs like chopping and batoning.
I've used a lot of survival knives, and I've discovered that the best length is between 9 to 10 inches.
Folding Blade is a NO! 
Compared to a folding knife, a fixed-blade knife is more reliable and durable. While I enjoy a decent folder for Everyday Carry (EDC), a fixed blade is superior for handling the requirements that may come in a survival situation.
Any type of joint is a liability. By selecting a knife that is better suited for smashing, chopping, thrusting, prying, and vigorous cutting, you can reduce the danger of losing or harming your primary survival tool.
Full-tang Always!
For a survival knife, there is absolutely no benefit to choosing a partial-tang knife over a full-tang knife. For survival use, a continuous, solid piece of metal is hard to break.
Search for the metal tang wedged between the knife's scales to identify a full tang blade, thus you can use the knife for any harsh utility purpose.
Opt For a Sharp-pointed Tip
Self-defense is first—against humans or animals. Anything less than a razor-sharp spear point tip will make it more difficult for you to thrust or stab with your knife, especially through thick fur, hide, or multiple layers of clothes.
Blade With a Single Edge and a Flat Ground Spine
Not only do I advise a single-edged blade, but I also like my survival knife's backside (spine) to have a flat 90-degree blade grind. The best place to strike a ferro rod to ignite a fire is on a flat ground spine. This is nearly impossible with spines that are rounded or beveled.
Solid Pommel
The bottom of the knife handle, often known as the butt, is referred to as the "pommel." I frequently pound and hammer lightly with my survival knife's pommel. For driving in shelter stakes, it works perfectly.