What Is The Best Survival Knife For Your Money:

You enjoy the outdoors. You may not get out as much as you hope but you still want a strong and reliable EDC knife that cuts, slices and saves you when you need it.
Each individual has their own personal needs and preferences in what they're looking for but you don't want to spend hours reviewing blade materials, densities, and locking mechanisms.
From the handle to the edge, having the best everyday carry knife can mean the difference between surviving and perishing in the wild. That's why I've created this helpful survival knife guide to allow you to quickly search 10 of the best survival knives by size, weight, cost, or even look.
List of 12 Best Survival Knives We Have Tested And Review:
| Survival Knife | Photo | Total Length (in) | Weight | Blade Material | Price | Rating |
| --- | --- | --- | --- | --- | --- | --- |
| | | 11.9 Inch | 11.2 Ounces | 1095 Cro-Van | $$ | 5 |
| | | 9.4 Inch | 4.5 Ounces | Stainless Steel | $ | 4.8 |
| | | 9. 5 Inch | 9.92 Ounces | Carbon Steel | $$ | 4.5 |
| | | 6.9 Inch | 3.6 Ounces | 420HC | $$ | 4.6 |
| | | 11.75 Inch | 16.48 Ounces | High Carbon Steel | $$$ | 4.9 |
| | | 9.75 Inch | 6.8 Ounces | Stainless steel | $$$ | 4.3 |
| | | 9.6 Inch | 10.08 Ounces | Stainless Steel | $$ | 4.7 |
| | | 9.8 Inch | 7.9 Ounces | Ceramic | $$ | 4.8 |
| | | 7.18 Inch | 3.2 Ounces | Stainless Steel | $$$ | 4.7 |
| | | 15 Inch | 27.52 ounces | Stainless Steel | $ | 4.7 |
| | | 12 Inch | 16.96 Ounces | Stainless Steel | $ | 4.5 |
| | | 4.34 Inch | 7.84 Ounces | Stainless Steel | $ | 4.2 |
These are the few knives we select, you can take a look at our full collection of Survival Knife on our shop page.
Chart Legend and Information
| | |
| --- | --- |
| Knife Title | Links to More Information and Option to Buy |
| Photo | What You Can Expect the Knife to Look Like |
| Total Length | The Length of the Knife From Base of Handle to Tip in Inches |
| Weight | Weight of the Knife in Ounces |
| Blade Material | The Metal the Forged into the Blade |
| Price | $ = Under 50 |
| | $$ = 50-100 |
| | $$$ = 101-150 |
| | $$$$ = 150 and Up |
| Rating | How Owners of the Knife Rated It |
You can sort by using the title of any column to your preferred topic. To find a knife with a lower cost, just click the word Price at the top of the column to sort it from lowest cost to highest cost.
When you've found a knife that fits your needs, click on the name or photo of the knife to check its current price on Amazon. Here you can use their check-out system to make a purchase or find other survival gear to help build your stash.
Knives are more than just tools to help when you find yourself in a dire life-preserving state. They come in handy on a day-to-day basis and are most likely part of your everyday carry collection.
The best everyday carry knife is one that you can rely upon to handle a variety of survival tasks and is not just specialized for one technique in particular. If you find yourself hunting, skinning, cutting, or batoning, a quality survival knife should be able to take a beating.
Survival Knife Buying Guide: Here are the Basic Points Which Should Shape Your Decision
When choosing your everyday carry knife, "The Best" knife is the knife you're going to get the most value from. That means you'll be using it often and it will serve its purpose during its lifetime. Each knife has strengths, weaknesses, and features to pay attention to.
1. Aesthetics and Design
Everyday carry knives are generally small enough to fit in a pocket or wear on your side without causing public disturbance to those nearby. For this reason, most people will go for a folding knife with a slim build.
Choosing a knife over 10″ is likely out of the question. Weight is also important as you don't want the drag of something heavy constantly on your side. Single-blade options are by far better than a basic pocket knife for anything beyond string cutting.
It can second as a survival knife in emergency situations and many come equipped with a glass-shattering handle. Along with being small in size, many people like the option of opening their knife with only one hand for rapid-fire situations.
2. Choose a Name with a Strong Reputation
There are a number of knife manufacturers who have been around for decades and are well-respected among enthusiasts. They have earned their stripes by producing knives that stand the test of time and don't fall apart in time of need.
By buying from brands like Gerber, Spyderco, and Cold Steel you're not only paying for the quality product but also the name that stands behind it (and usually a great warranty as well). Less expensive knives from unknown brands are made from cheap materials. Think in terms of value,
3. To Get a Locking Blade or Not
Locking blades add another level of safety when handling your EDC. Some blades have the option of locking while fully open. This prevents accidental closing while in use which gives a greater level of safety.
Will you be using the knife as a tool and do you expect it to take a beating? If so a locking blade is recommended. If you're looking for something light that is more for protection and in case of emergency, chances are you don't want this option. In reality, this is more of a personal preference but can make a big difference in the way the knife is used.
4. Size Does Matter
Of course, we are referring to blade size. Not all EDC owners look for the same size product and this will differ from person to person. You can ask my best friend and he'll have a completely different view than an enthusiast of 10 years like myself. Whatever your take on blade size, find something that you can access quickly but effectively in emergency situations.
The worst thing to happen would be for the moment you need your knife to find that it's inaccessible or out of reach. Keep it handy by choosing something you can have with you at all times comfortably.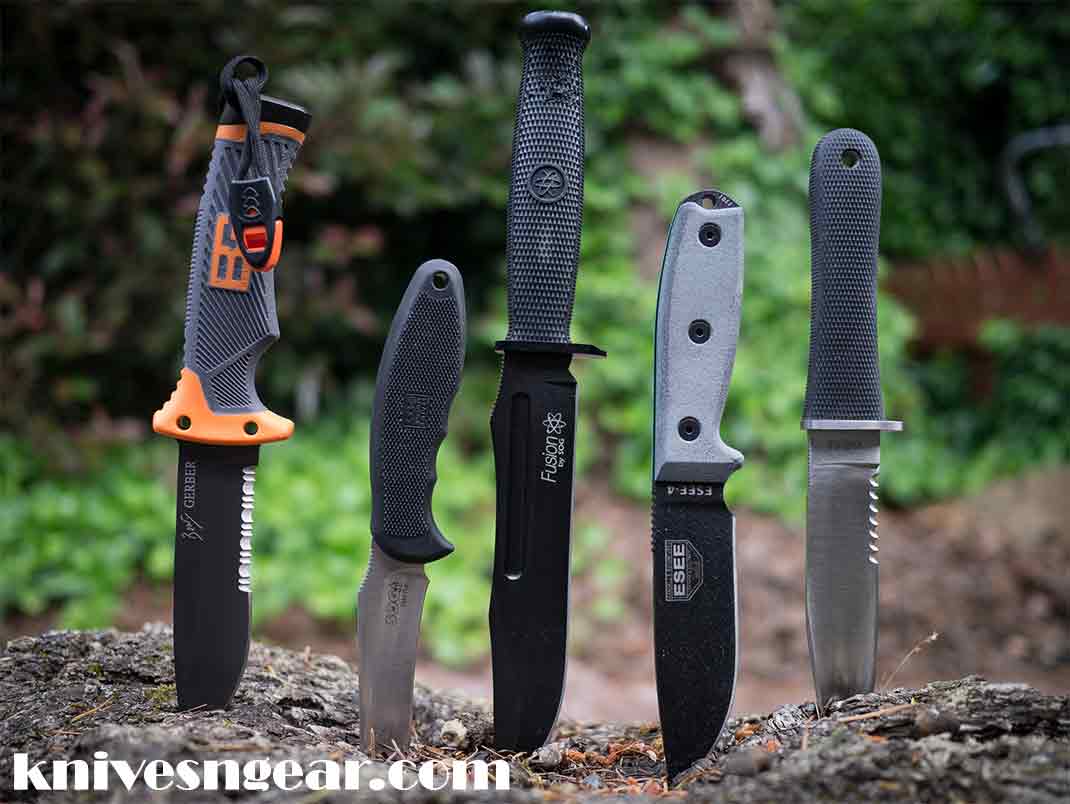 Categories of Knives:
1. Camping
Camping knives are dedicated to the age-old activity of spending time out in mother nature. Set up your shelter, put on those hiking shoes, and grab your camping knife. What differentiates a camping knife from the other knife categories is that it can oftentimes come with a bottle or can opener, a clip or drop point blade, and a large spear point. They're made for multiple uses and can be part of a multitool that includes many more utilities.
2. Hunting
Not everyone is a natural-born hunter, however hunting knives are made so that just about anyone can take advantage of their features. They're usually much sharper to be able to cut through bone and hide along with a stronger handle to avoid breaking while performing these tasks. At times you may need to skin or gut your game and hunting knives are prepared to do just that. Although most hunting knives are fixed blades, many take advantage of lock blade technology and come in a folding knife variety.
3. Survival
An extremely important tool to have specifically when surviving is the only option. Not everyone will face a life or death situation, but many times survival knives can provide high-level security, longevity, and peace of mind.
Knives are no doubt one of the most vital pieces of equipment you can carry at all times because of the sheer number of uses it provides when surviving. Hunting, chopping, building shelter, protection, starting a fire, the list goes on and on. Aside from food and water, I would choose my survival knife over anything else.
Ideally, it would be a full-tang blade, otherwise known as a fixed blade, which would prove to be the strongest and most reliable. Folding knives work as well and are more compact while being easily portable. These are partial-tang blades that aren't quite as strong as the full-tang counterpart when put under pressure.
Whatever your choice, owning at least 3 or more survival knives can keep you covered for any emergency. You can always find me with one in my car, one in my pack (on trips), and one EDC knife on my hip or in my pocket with easy access.
4. Tactical
The tactical knife is specifically designed for protection against attackers whether in the military or on a day to day basis or for emergency responders. They are primarily made for urban use as opposed to outdoor use.
For example, a tactical knife would be used in hand-to-hand combat or kept at your house for protection against intruders. Police, firemen, EMTs, and military personnel are the most common users of tactical knives. Materials used on these blades are often the strongest and ready to be put to the test.
Knife Knowledge: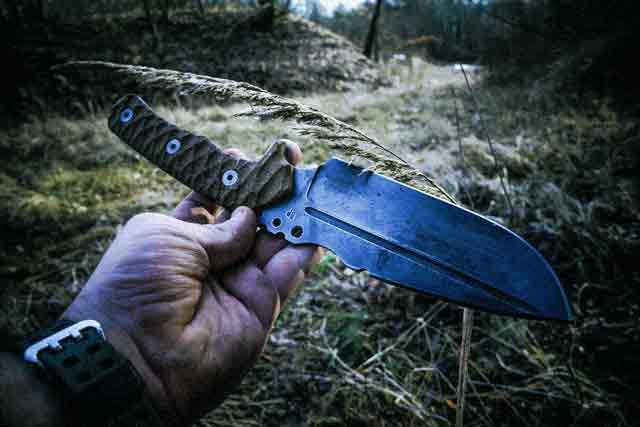 1. Tang
A knife blade is stronger when it extends down into the blade. The further down it extends, the more support and strength it bears for your cutting needs. Different types of tang (full-tang, half-tang, hidden tang, etc.) represent different styles of connecting the metal blade to the handle.
Half-tang is exactly as it sounds and only extends halfway through the handle. Cheaper knives will only connect smaller portions of the blade through the handle using epoxy or glue to save money but sacrifice strength and durability.
Over time these pieces can crack, separate, or even corrode the handle and eventually break altogether. Full-tang knives aren't always stronger, but for new buyers, you can almost guarantee the life of one over partial or half-tang.
2. Handle
Although handle materials vary quite a bit on EDC and survival knives, most will get the job done just fine. Grips vary as well including style and design but most importantly you should avoid simple plastic. Other things to look out for are handles that include a compass as well as hollow handles.
These features might be sold as a bonus but you often lose quality for these small perks. In fact, the compass on these knives is usually cheaply attached and also is terribly poor to use. If the knife costs you around $50 then the compass is no doubt worth less than a buck. Are you going to trust your navigation to $1 piece of equipment? I know I wouldn't.
A couple of features that can add value to the handle of your knife are rope cutters and glass breaking styles. These don't sacrifice any integrity and can be quite handy when it comes down to it.
3. Metal for the Blade
Since the best metal of a blade can be widely debated I won't steer you in any particular direction based on my opinion. Instead, you should know that stainless steel is known as the indestructible material you see in many garage tools, home appliances and cookware, and even building materials.
It is a time tested metal that serves your needs without rusting and corroding. The one complaint many have with it is that it loses edge (or sharpness) faster than the next metal I'll clue you in on. Carbon steel is newer to the knife market but has the ability to hold its edge far longer than stainless steel. It risks being susceptible to rust a lot quicker than stainless steel as well.
Carbon tool steels are typically highly resistant to corrosion, but also more likely to break. They are also easier to sharpen and hold a sharp edge better than stainless steel.
Rockwell hardness is a tool that is used to measure the extent to which an object can resist detail loss. Stainless steels are generally less tough than high carbon tool steels but will generally hold an edge better (depending on composition and Rockwell Hardness).
And, they are far less prone to corrosion. However, they are also more prone to break and, they are generally more difficult to sharpen as well.
Rockwell Hardness is a measure of the hardness of steel. The hardness of a blade steel is determined by its Rockwell scale, which falls between 0 and 100.
According to this scale, knife blades with a Rockwell Hardness of 50 – 54 are tough whereas, knife blades with a Rockwell Hardness of 58 – 62 are sharp and hold their edge well. Knives with a Rockwell Hardness of 54 – 58 are tough but not as sharp as those with a Rockwell Hardness of 58 – 62.
When it comes to survival knives, the Rockwell Hardness should be in the 50-54 range where camp knives can be made with either type of steel. It's not just about making a knife hard but also about being able to sharpen it. This is why a camp knife should have a higher Rockwell Hardness than one used for hunting or fishing.
Some of the more popular carbon steels that are used for this purpose are 1095, 5160, O1, and A2. Some of the more popular stainless steels that are used for this purpose are 420HC, 440C, AUS-8, and AUS-10.
4. Design of the Blade
Blades are either straight or serrated in design. Serrated blades have ridges and grooves along the edge and can make cutting and slicing easier. On the other hand, they can be more difficult to sharpen and need a special sharpener. Straight blades make sharpening a breeze. You can just about use any sharpener or block and can cut things quite nicely as well.
They are far greater at chopping and batoning objects. Choosing your blade design is a matter of preference along with how you will be using your knife.
5. Blade Length
When it comes to blade length, most knives are going to be between 6 and 12 inches. Outside of this range, you're going to primarily be looking at specialty blades. Choosing a blade based on length should only be done if you have a specific use in mind or if you've had experience using EDC knives in the real world.
Try to stick with something in the mid-range if this is your first purchase. Otherwise, you can almost guarantee that any of the blades we mention on this site will be well-balanced enough for you to get comfortable with. In other words, try to go with something between 7 and 10 inches if possible but don't fret too much if you're slightly out of this range.
6. Blade Thickness
Blade thickness shouldn't have too much bearing on your decision to purchasing. Generally, knives will be between 3/16 and 4/16 of an inch and this works just fine for all your needs. Chopping, batoning, skinning, and cutting will be handling perfectly without risk of cracking or twisting.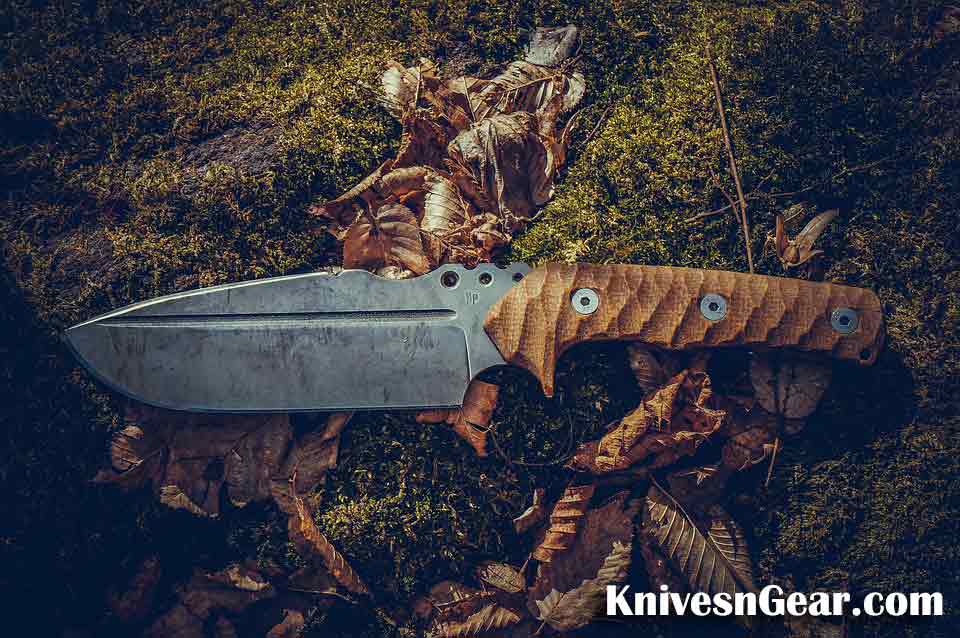 An extremely important tool to have specifically when surviving is the only option.
Knife Handle Materials:
Knife handles are created from various materials to hold and surround a blade to create the gripped end of your EDC or survival blade. Whether it's bone, plastic, or steel, you'll want to ensure that you choose what works for your use.
Different grips are created with patterns to make handling the knife a safe process. Below we run through several different handle materials you'll see and break each down with a description of their properties.
1. Aluminum for

Best Survival Knife



Aluminum is a metal that can take a beating without leaving too many war marks. They are a practical material for a handle because of their lightweight and functionality. Although they don't look as pretty as other materials, aluminum handles can be quite nice to grip for the user providing a smooth and comfortable handle.
2. Bone
If you're wondering where they source the bone material from, it comes from animals that have passed naturally. Bone has a classic appeal to it that has a history that dates back to ancient prehistoric man and his use of materials that were available to him. He had access to the animals he would hunt and cook and found that bone has the ability to harden into a strong and durable handle material.
3. Celluloid
Celluloid is used to mimic more expensive knife handle materials but is actually quite inexpensive. Make sure if a handle looks like it's made of bone or wood that the materials used are actually that. It could be this great camouflage artist known as celluloid.
4. G10
This compound is fiberglass combined with resin and hardened in extreme temperatures to create a lightweight and durable handle. It can be shaped into many different styles and is most often found on tactical knives.
5. Leather
Leather handles look quite nice and provide a great grip when the material hasn't been compromised. However, they don't often last as long as any other material and are usually better to look at on hobby knives. Stay away from leather if you're looking for an EDC or survival blade.
6. Micarta
This material looks better than G10 aesthetically and is produced in very much the same way by soaking materials like paper, canvas, or cloth in resin. They usually are available on more expensive knives but it known for being durable and waterproof.
7. Molded Plastic
Sometimes molded plastic is used for EDC knives but you should really try to stay away from this material in a knife handle due to its cheap quality and poor durability. The lowest costing knives usually use molded plastic which also has the worst design as well. I think you get the point.
8. Rubber
Rubber is exactly as it sounds and provides a great handle material especially when sweat and wet conditions come into play. Just be aware that if other elements are present quite often such as dirt and sand the knife is at risk of quick degradation. Survival knives with rubber are great when the quality of the rubber stays intact. Once it starts to fade it can become difficult to handle and ultimately almost useless.
9. Stainless Steel
Stainless knife handles are quite similar to the blade in quality and durability. They last forever and can take just about any workload. The only negative side of stainless steel handles is the weight factor, but if you can get over this detail then you have yourself a long-lasting handle for your blade. Don't be surprised to see rubber or plastic added to stainless to add better grip and design.
10. Wood
Handles made of wood come in many varieties. In fact, you'll want to avoid softwoods as they are not treated with resins and although they look beautiful when crafted, they can't stand up to the strains of regular use. Make sure the wood is treated if you plan to put the knife to the test of camping and outdoor use. Wooden handles are in fact the easiest and most commonly shaped into unique styles.
Knife Lock Types: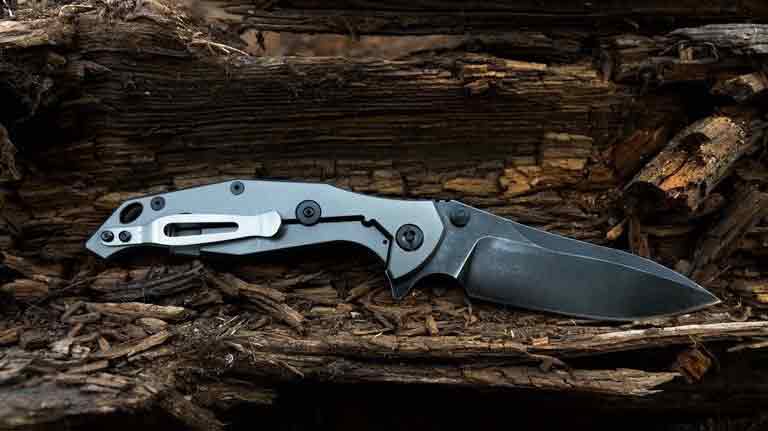 There are a variety of knife locks you'll see on folding and switchblades. Since many EDC knives are folding knives, we'll quickly go through the main locking varieties you're going to encounter.
1. Lever Lock
Using a pin pushed through a hole, this lock is located at the base of the knife and can lock the blade in both the closed or open position for added safety. Switchblades and other varieties of knives use this locking mechanism to lock the blade as soon as it fully opens.
2. Liner Lock
We talk about the liner lock first because it is the most common locking technology you'll see on the knife market today. The blade of the knife will fold open while the end of the liner inside the handle will slide into place locking the blade open. When this liner is pushed back toward the handle and away from the blade then the open blade is freed and can be folded closed.
3. Frame Lock
Perhaps one of the strongest lock mechanisms, this type of lock is in the handle frame. It works almost the same as the liner lock and is quite common as well.
Mid Lock – This is very similar to the lockback with the only change really being the location of the lock itself. It can be found in the middle of the handle to allow for greater pressure or in other words a more durable blade.
4. Back Lock or Lockback
Using a hook, the arm moves underneath the pivot. When this hook is moved then the blade can lock open. It is a very common type of lock which is used on some classics by Buck and other manufacturers. This is a similar lock to the mid lock.
5. Ring Lock
Though you may not see as many ring locks, they are still very simple to use and durable as a locking mechanism. It differs in that you twist a ring if you want to open the knife. When the ring is twisted the knife can be folded into the gap and locked by twisting further. Then to close the blade just do the opposite by twisting the ring folding the blade down and twisting yet again. They were popular among manufacturers for their inexpensive cost in making the ring lock.
What is the difference between a bushcraft knife and a survival knife?
A bushcraft knife is typically between 3 and 5 inches long while a survival knife is usually 6-12″. Bushcraft knives are best for tasks like trapping or skinning small game. Survival knives are better for combatting, chopping, and digging.
The first thing to consider when buying a knife is the purpose you intend to use it for. If you are looking at purchasing a survival knife, then keep in mind that this is not an all-purpose tool.
There are many different types of survival knives with different blade shapes and materials. Survival knives have a long belly curve and often come with a gut hook. I prefer this shape because it is easily controlled when using for delicate tasks like filleting fish or skinning animals.
But I'm Just Here to Buy A Knife, These Reviews Are Too Long
Many of you came here to make your buying decision easier, but it just looks like there are too many to choose from. We are constantly having people ask us which knife is simply "The Best".
The problem is, there is no simple answer to that. What one person might find a hundred uses for, another might not even need once. However, we can provide a few tips to help you make it easier to find "The Best" knife for you.
Additional Tips for Choosing Your Best Survival Knife
Whether you prefer a folding knife, full tang, or half tang, your selection should be one that can fit fairly well on your side or in your pack without holding you back from your regular range of motion. You should be able to walk, climb, hike and move freely without question. You'll also want to find one within your budget.
Just because a blade costs a significant amount more than its competitor it won't necessarily mean you're getting a better buy. Make sure you spend time reading our survival and EDC knife reviews over in the review section. We highlight details about popular knives on the market today and go in-depth to give you the Knitty gritty details of each blade.
On top of this, you'll find a huge library of helpful information throughout our site to assist both the knife enthusiast and new buyers make informed decisions. Before making your final purchase it's important to read reviews from both satisfied and unsatisfied customers.
You'll quickly learn the strengths and weaknesses of people who have had tons of real-world experience with the blade you might be looking at. There are a ton of knives on the market today and the best way to narrow down your search is to see what others have to say.
If you have any questions feel free to leave a comment below or head over to the Contact Page.
Now that you've learned everything you need to know about EDC knives head-on into our knife reviews and find the best folding knife for your collection. Check out different styles, sizes, and brands to make the most confident purchase you can. You can head to the top of this page and check out some of our survival articles as well! Good luck!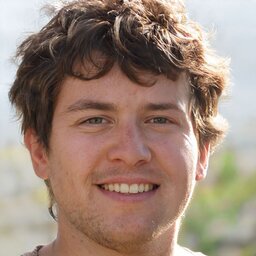 Hi, my name is Taras Kulakov and I'm a knife enthusiast. I have been collecting knives for over 30 years and I've owned literally thousands of different models over that time. My goal with this site is to share some of what I've learned about knives. You can find more info about Taras Kulakov here.