How to choose Best EDC Knives:
EDC knives are a vital tool in many outdoor activities. In the case of survival knives, size doesn't necessarily matter, it's the blade and handle that make the biggest impact for the user.
However, on the flip side, it depends on what you need the survival knife to do. Many people like a fixed blade, rather than a folding blade, to meet their survival situations. The majority of survival blades are available in stainless steel, which is nearly indestructible and rust-free in various weather conditions.

Carbon steel knives are manufactured with quality edges, but users must be knife savvy when using solvents or lubricants to keep the blades from rusting. EDC knife handles are available in varying materials, like hard rubber, polymer, bone, wood, antlers, synthetics, and more.
True outdoorsmen know how not to get caught up in decorative trappings, like electronics designed into the handles. These trappings can throw off a knife's balance, which could lead to injuries. Survival EDC knives vary in their styling options, as identified by the brand names below.
EDC knife features include varying colors, an advanced finish, lanyard holes, the style of its blade, its handle material, its sheath style, finger guards, serrated or non-serrated blades. Survival experts understand that the difference between life and death can be based upon the type of EDC knife that is chosen.
Survival knives were designed and fashioned to feed the family, construct habitable shelters, protect the user in combat, and is a vital piece of equipment in military environments.
Varied domestic uses for survival knives are hiking and camping. Modern technology has produced a range of well-constructed survival and tactical knives, which are lightweight and nearly indestructible.
They are versatile, multi-functional, balanced, efficient, strong, and extremely durable. Survival EDC knives can cut down tough branches, skin animals, and much more.
There is nothing like a trusty EDC knife to take with you on just about any trip like fishing, boating, skiing, and general road trips, that don't necessarily require survival techniques, but instead, you can open wild nuts, cut lines or dig up truffles.
People have used their survival and tactical knives to pry things loose, used them as a hammer, a screwdriver, a first aid tool and so much more. The survival and tactical knives below are manufactured by some of the more famous brands in the world. The ESEE-6 is a family member of the Randall's Adventure Training Company and has appeared in top Hollywood action movies.
The Cold Steel 39LSF Leatherneck knives are designed by Cold Steel, who has been designing and making survival knives since 1980 while continuing to make new inroads into the technology of survival EDC knives.
The Cold Steel 39LSF Leatherneck knife is designed to pay recognition to their outstanding tough work ethics and reliability, just like the indelible United States Marine Leathernecks, dating back to the early 1700s.
The Ontario Knife Company has produced the premium styled USN-1 Survival Knife, which is used extensively by U.S. military forces.
Since 1902, Ontario has maintained a brand name of dependability. The Morakniv ("Mora") Bushcraft Carbon Fixed Blade Knife has a five-inch handle. The Mora partnership with the globally famous Bushcraft family of traditionally designed and skilled knives renders it a quality, sharpened tool.
Here Are The 4 Best EDC Knives We Test For You: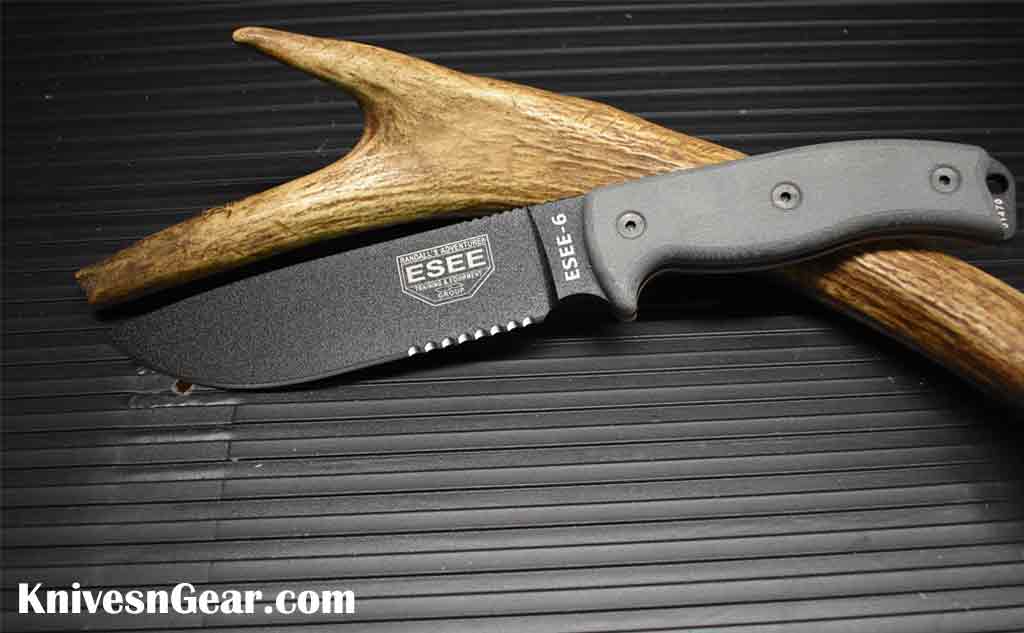 1. ESEE-6 Tactical Survival Knife
The ESEE-6 Tactical EDC Knife has a 6 ½ inch drop point blade, that can skin fish so quickly that you would think that the skin was falling off your catch initially. The blade's thickness is .188 inches. It features a full flat grind, as it can cut through bone and meat extremely efficiently.
This survival hunting knife may be all you need on a camping trip, other than a shelter. Its flat ground bevel and its straight, long sleek edge, is useful in all types of weather and in all types of tactical environments.
Its total length is 11.75 inches and its weight is light and easy to handle, at 12 ounces. The ESEE-6 knife has removable micarta handles, which are designed to be comfortably handled by busy outdoorsmen.
Its rounded pommel has a modification for a lanyard and when ordered, comes with a molded sheath with a clip plate. The ESEE-6 Tactical Survival Knife is indeed great for hunting and skinning.
Even though its blade is made from 1/4" carbon steel, rather than stainless steel, it needs cleaning and lubrication during wet seasons, but its engineered powder coating protects the full blade.
The ESEE-6 has been field-tested in the jungles of the Amazon and has passed every outdoor survival and tactical test. People have a choice of both a serrated or non-serrated edge.
Specification
Overall Length: 11.75″

Blade Length: 6.50″

Blade Material: 1095 Steel

Handle Material: Gray Micarta

Sheath: Coyote Brown Molded Polymer
ESEE-6 Tactical Survival Knife
Quality

Value

Handle

Blade
ESEE-6 Tactical Survival Knife
The ESEE-6P fixed blade knife features grey linen Micarta scales and a black finished blade with a plain cutting edge. Includes a coyote brown moulded sheath, clip plate, paracord and cord lock.
Pros
Durable, well-balanced, and an all-around, ass-kicker, the ESEE-6 is a purchase you'll be happy with.
Cons
Priced higher than most fixed blades in its class, but worth it.

2. Cold Steel 39LSF Leatherneck Knife
The Cold Steel 39LSF (Leatherneck Semper-Fi) knife is made from top-quality German 4116 stainless steel and a non-corrosive, non-reflective coating. This fixed blade knife is part of the family of Cold Steel blades that make it the ideal survival and tactical knife.
It has a lightweight of 10.4 ounces. Using the 39LSF Leatherneck safely is easy, due to its thick guard that keeps fingers from sliding down, onto its sharp, straight edge. It has a flat design from to bottom, which gives it a "V" shape silhouette for slicing, cutting, and shearing through varied materials.
The 39LSF Leatherneck 6 3/4" blade is made from quality thick steel, with double quillons (cross-guards), which are slightly turned forward. This forward turn allows a better grip when in close combat and or when performing hunting or utility tasks. Its gripping power allows for safe and efficient use in all environments.
The handles are made of checkered Kray which allows it to have an extra-wide tang. The 39LSF handles are easily held in the palm of your hand due to their oval cross-section. If you had to use it like a hammer or abutting weapon, the 39LSF Leatherneck knife features a thick, machined steel butt cap.
It comes with a secure sheath and an ambidextrous belt loop. This amazing Cold Steel 39LSF Leatherneck knife is a dependable combat tool that can get the job done. You can't help but have this exceptionally well-crafted knife, as part of your collection. It will not let you down for any of your outdoor activities.
Specification
Weight: 11.7oz

Blade Thickness: 5mm

Blade Length: 6-3/4″

Blade Steel: German D2 Steel w/ Black Powdercoat

Handle Length/Material: 5″ Griv-Ex

Overall Length: 11-3/4″

Additional Features: Secure-Ex Sheath
Cold Steel 39LSF Leatherneck Knife Review
Blade

Handle

Value

Quality
Cold Steel 39LSF Leatherneck Knife
The Leatherneck-SF (for Semper-Fi) has a beautiful hand-honed saber ground clip point blade, and the Leatherneck Tanto features our signature Cold Steel "American Tanto" blade with a stout reinforced tip for extra strength. Both are made from tough D2 Tool Steel with a non-reflective black powder coat finish.
Pros
An all-around great fixed blade survival knife for an unbeatable price. The balance and usability of it are excellent, to say the least.
Cons
It's been noted that the blade material isn't what some would hope.

3. Ontario SP24 USN-1 Survival Knife
Affordable, multi-purposed, and extremely durable, is the Ontario USN-1 survival knife. With a 5" partly serrated blade of thick carbon steel, the Ontario USN-1 is used in military environments, sporting events, and rescue missions.
This is the sleek, black beauty of survival knives, with a black blade and handle. The Ontario USN-1 features a full tang blade with saw-teeth on the spine and a line cutter. It is easy to hold because of its Kraton handle that provides a secure, strong grip. This Ontario USN-1 has a steel buttcap that can be used for pounding.
Its overall length is 9 1/2" which fits easily in its heavy-duty, studded sheath. For more mobility, you use the sheath's bottom 550 cord holes that fit great, tied to your leg. Don't let the brand name fool you, this dependable blade is made in the U.S. It is a double-edged knife that is extremely durable.
People will receive a sharpening stone when you buy this survival tool. Ontario knives have been around for years and used in many U.S. military involvements.
It is one of the major suppliers to the U.S. military. Most recently, military family friends have used the Ontario USN-1 in Iraq and have often been passed around among the troops, for use in all types of combat and rescue environments.
Specification
Overall length: 9.60″

Lock type: fixed

Edge type: combo
Ontario SP24 USN-1 Survival Knife Review
Blade

Handle

Value

Quality
Buy Ontario SP24 USN-1 Survival Knife
Built to be versatile and durable, the RAT series features either 1095 carbon steel or 5160 carbon steel, tough micarta handles and MOLLE compatible sheathes. The RAT's make ideal fixed blade "every day carry (EDC)" or for on the worksite, campground or down range.
Pros
Great handle, quality, and weight while doing it's job on holding an edge.
Cons
String cutter is not very useful for most.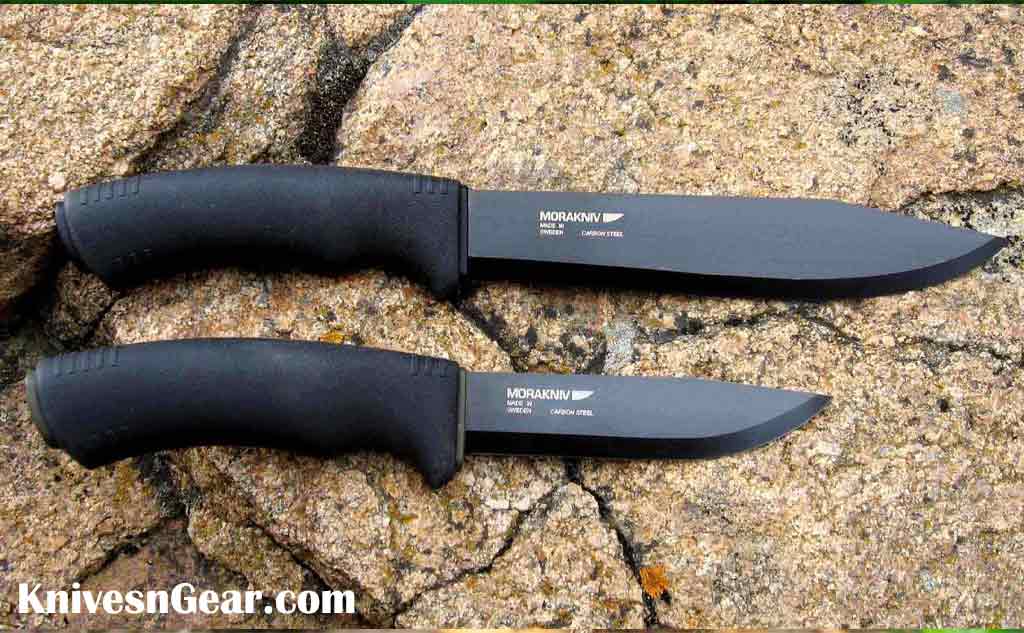 4. Morakniv Bushcraft Carbon Fixed Blade Knife
The Morakniv ("Mora") Bushcraft Carbon Fixed Knife, has a sturdy 3.2mm thick sheet blade. It is made in Sweden and features a 232 mm length. The Scandinavian designed bevel begins close to the edge and runs parallel with the length of the blade.
Its back edge has a slight clip point, about 1.5" from the tip, which reminds you of a sharp ice-ax. The drop point is a deliberate design that is quite different from other survival knives, but it certainly works. The tip of the Morakniv Bushcraft can puncture cans like "butta".
Its weight is 5.75 oz. (163 g) and is available in both stainless and tungsten coated carbon steel. I find that this great little sharp carbon fixed blade, with tungsten coating, can become discolored, but with a paper towel and a knife solvent or lubricant, the discoloration will rub off.
The blade still, however, retains its anti-corrosive nature. If you need to start a fire, use the back of its blade to produce sparks and strikes, even under wet conditions. The high friction rubber grip on the Morakniv is great, even when using it in serious impact situations.
This razor-sharp tool can be used in woodcutting, meat slicing, and so much more, with dependability and reliability. The combined skill of Mora and Bushcraft gives everyone functionality at an affordable price.
It is suggested, that anyone using the Morakniv Bushcraft Carbon Fixed Blade Knife, will need to have experience in using a sharpening stone so that the different levels along the blade can be maintained.
Specification
Fixed blade knife with 1/8-inch (3.2 mm) thick carbon steel blade with anti-corrosive black coating

Blade Thickness: 0.126″ (3.2 mm), Blade Length: 4.3″ (109 mm), Total Length: 9.1″ (232mm), Net Weight: 5.4 oz. (154g)

Black plastic sheath with integrated diamond sharpener and Fire Starter; ergonomic handle with high-friction rubber grip

Morakniv Fire Starter yields 7,000 strikes and produces 3,000 Degree sparks; works when wet

Limited lifetime manufacturer's warranty.
Morakniv Bushcraft Carbon Fixed Blade Knife Review
Blade

Handle

Value

Quality
Morakniv Bushcraft Carbon Fixed Blade Knife
The Bushcraft Survival has a Scandi grind which prevents the knife from slipping off easily, bites into the surface without getting stuck, are razor sharp and stay sharp for a long time. The blade is relatively thin making it easier to carve yet robust enough for batoning and other demanding outdoor activities.
The Bushcraft Survival sheath has an integrated diamond sharpener and holds an included Morakniv Fire Starter. It also comes with a removable belt loop and belt clip that safely and securely hold your knife in place.
Pros
Fire starter, sharpener, blade, and massive value.
Cons
Plastic sheath and grind edge.
The best EDC (everyday carry) knives are those that have a good balance of price, functionality, style and longevity. When you're looking for your first EDC knife, consider the ESEE-6. It's a great entry-level EDC knife that has a very reasonable price, is extremely easy to open and close, and has a great design.
You can rate each EDC Knives we review, feel free to provide your opinion. Also, let us know your thought in the comment.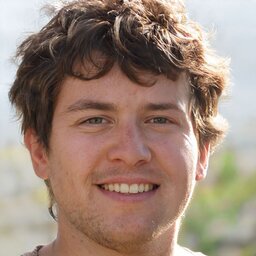 Hi, my name is Taras Kulakov and I'm a knife enthusiast. I have been collecting knives for over 30 years and I've owned literally thousands of different models over that time. My goal with this site is to share some of what I've learned about knives. You can find more info about Taras Kulakov here.