Buck 110 and buck 112 are some of the most duplicated knives in the world. Both of these are one of the best-selling knives in the world. By now, 15 million of these have been sold. Buck knives are the most popular American knife company. They started on a very small scale with Hoyte Buck who was a blacksmith earlier in his life and later in his life he started producing knives and building a reputation because they held an edge. At first, it was more of a custom knife shop and they started mass producing in 1902 when his son Al Buck took over the business. In 1964 they released the infamous buck 110 which became the top seller of Buck Knife till this date. Later they made a few significant changes and released Buck 112.
Now, these two knives have been the most popular knife in the pocket knife world. With time they have undergone a lot of changes from their previous version. If you are thinking about which one of these buck slim EDC versions fits you better, you are in the right place.
Here I will show you the key similarities and differences of both the knives and a detailed review of them too. So let's dive in.
What's the difference between Buck 110 vs 112?
The hand-to-hand comparison comes down to the basics- the overall length of the Buck 110 is 7.85 inches and weighs 5.09 oz, with 3-3/4 inches blade length which is made of 420HC steel, and blade style is clip point. And the overall length of Buck 112 is 8.96 inches and weight 7.2oz with 3 inches blade length made of 420 HC blade steel and the blade style is clip point as well.
Buck Knives 112 vs 110 – Key Comparisons
Already mentioned how classic of a knife these both are and the comparison between the two is very hyped up. However, there isn't much to differentiate these knives.
The buck 110 hunter was the most wanted knife back in the days. It was basically "the knife". It's the knife that was featured in a lot of survival movies, tv-series and has been the leading survival pocket knife for decades. It's not a small knife as it weighs 7 oz it's pretty heavy. It comes with a leather sheath that can be worn on the hip.
The 110 is not so different than the 112. Just a bit bigger. So a back story- apparently the soldiers at the Navy used to had this buck 110 and during a fight, somebody used his buck 110. That's when the knife company put a limit to this and decided the blade can only be 3 inches and the outcome is the buck 112 ranger.
The 112 has the same iconic design as the original one but is a lot lighter and thinner, both have clip-point blade style, are made of 420 HC steel, and have undergone Paul Boss heat treatment which is a legendary heat-treatment process. That's why they both hold a hack of an edge.
When it comes to the price, in buck's seasonal sale and clearance offers on their website you will see only 10-12 USD difference. While choosing between these knives, price is not a prime factor. Honestly, it depends on your personal preference, usages, and what you want to feel when you hold the knife.
If you are anything like me who prefers a big and heavy knife even for everyday use then the 110 is the best choice for you. But if you like an efficient knife with a lighter and slimmer profile that feels very comfortable in your hands, the 112 is what you should go for.
Side-by-side Specs: Buck 110 Vs Buck 112
| | | |
| --- | --- | --- |
| SPECS | BUCK 110 | BUCK 112 |
| Overall Length | 7.25''  | 8-9/16" |
| Blade Length | 3"  | 3-3/4" |
| Blade Steel | 420HC | 420HC |
| Knife Weight | 5.9 oz | 7.2 oz |
| Blade Style | Clip Point | Clip Point  |
Buck 112 VS 110 – Some Key Similarities
Steel:  420HC steel with Paul boss heat treatment that offers Good edge retention, wear, and corrosion resistance. Enhanced durability and great toughness while easy sharpen.
Handle: Both the knife handle is made of finger grooves ebony wood.
Blade Style: Both have clip-point blade style with a hollow grind.
Price: Both have the same price but a maximum of 5-10 dollars difference depending on the Bucks clearance sale or any seasonal sale.
Buck 112 VS 110 – Some Key Differences
Blade Lenght: BUCK 110 has a 3-3/4 inches blade and the Buck 112 has a 3 inches blade with a smaller clip point.
Weight: BUCK 112 weight is 5.9 Oz which is pretty thin and light. And on the other hand, Buck 119's weight is 7.2 oz, which is pretty much on the heavier side
Buck 110 – Detailed Knife Review
The first thing that attracted me the most about the buck 110  hunter pro knife is its classic look. In the era of tactical knives, these days the brass and the wood handle give such an aesthetic high-class look.
The buck 110 folding hunter knife is a clip-point hollow grind style blade. The blade length is 3-3/4 inches long. The steel in this is 420 HC steel with the paul boss heat treatment. That's why it will have the durability of carbon steel but yet it's easily sharpened. It has great edge retention and corrosion resistance. The spine of this blade is 0.12 inches thick which is almost an eighth of an inch thick which comes out to just a hair over three millimeters. The closed length of this is 4-7/8 inches long.
It's a lock-back mechanism knife. It has a brass bolster on the side and a brass liner which is one piece with the bolsters.  It also features a deep carry pocket clip that ensures the buck 110 won't fall from pocket space
The knife is pretty heavy weighing 7.7 oz. The construction of the original version of the buck 110 knife is a classic beauty. The handle of the knife is made of finger grooves ebony wood. But the updated version of buck 110, the hunter pro is made of S30V steel and G10 handle resin. The G-10 resin has made this version more durable as this hardy stuff is indestructible even if you abuse the knife badly. It's perfect for an adventurous trip to the wild.
Buck 112 – Detailed Review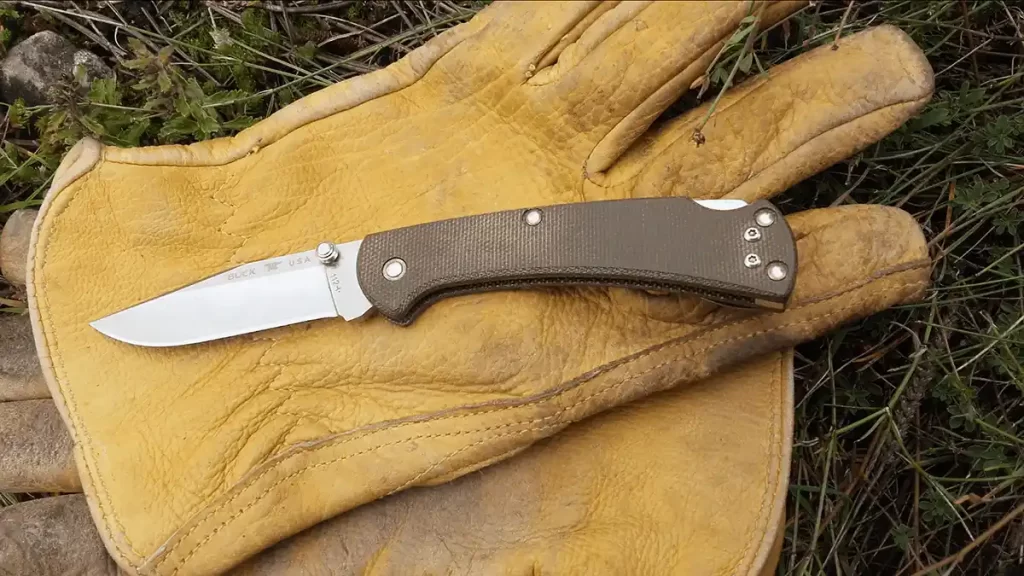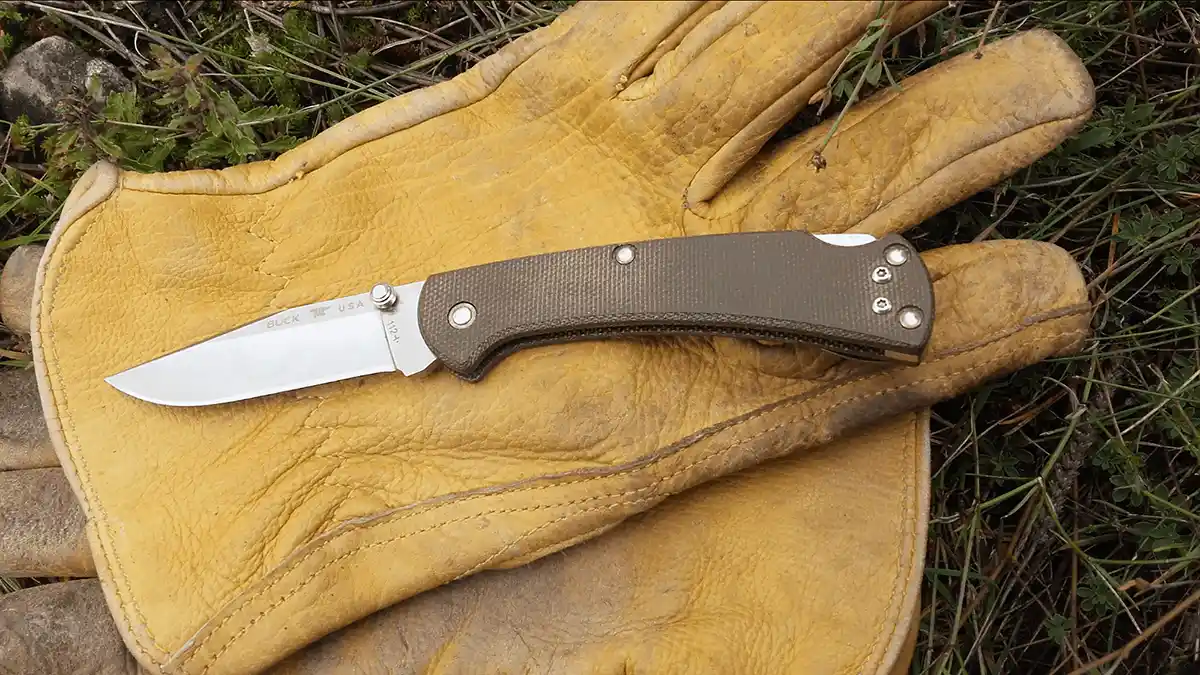 The Buck 112 is really similar to the buck 110 but just a couple of differences.
The 112 comes with a 3" clip point blade. Some people seem to like the short clip point more cause the blade is more durable on this. Its overall length is 7.25 inches when open and 4.25 inches when closed. The weight of the knife is pretty light, 5.9 oz. The blade steel is made from the 420HC steel as well with the paul boss heat treatment. Thu it offers great edge retention and corrosion resistance. The knife handle is made of ebony wood and has a brass bolster on the side. But unlike the buck 110, the bolster has a little lip here so it serves as a little bit of finger guard. It gives more stability to the hand. The knife has a locking system in the back. It comes in a nice leather black sheath with a belt loop.
The improved version, the buck ranger pro features S30V steel and G-10 resin steel for more durability. The buck ranger pro also has lock back mechanism for day-to-day use.
The 112 knife is as good as the 110 knives. They are the same in terms of edge retention ability and both work great in a wet environment. If you like your knife to be smaller, lighter, and handier, it's the best pick for your hunting, camping wild trips.
Still Can't Decide? Here's an Alternative – Buck Knives The 55 Folding Pocket Knife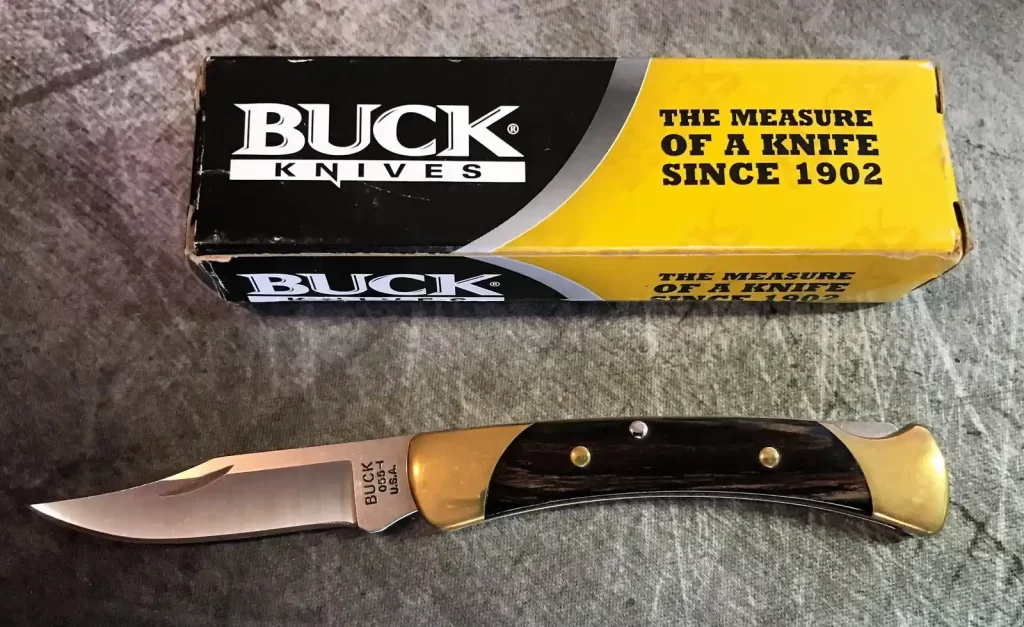 Both the buck 110 and 112 are on the big knife size although the 112 is buck slim knife still both are big for a pocket knife. If you are looking for something smaller then you can go for Buck 55 folding pocket knife.
This is a great all-around pocket knife. Perfect for someone who uses a knife for carving or camping. It has the same design as buck 110 but a lot smaller and lighter packaging. It is the half-scale of the buck 110. It is so small and nice that it disappears in your pocket. Its overall length is 5.75 inches and its blade length is 2.65 inches. The blade steel is 420 HC and has the same wood handle but the wood is a little different from American walnut wood. It has the back lock and pocket clip too. But it doesn't come with a sheath.
If you want something classic and very compact The buck 55 is the knife for you.
Conclusion – Buck 110 vs Buck 112
Both the Buck 110 vs Buck 112 pro knife is classic, USA build quality, iconic design with great durability and versatility. Any of them could be a safe choice for you. The more important thing is what you feel when you hold both. Both the knives are equally good in terms of usages, wear resistance, corrosion resistance, and edge retention. So, it depends on what you prefer your knife to be. If you think light and small knives are your things, buck 112 is the perfect match for you. But you like to hold a heavy knife while chopping things go with buck 110.
FAQ
What Are The Similarities Between Buck Knife 112 And Buck Knife 110?
The Key similarities between the buck knife 112 and the buck knife 110 are both have 420HC blade steel with Paul boss heat treatment that offers Good edge retention. Both come with a Strong nice black leather sheath with a belt loop to carry on the hip. Both the knife handle is made of finger grooves ebony wood. Both have clip-point blade style with a hollow grind. And they have the same price.
Is The Buck 110 Worth It?
Buck 110 is a great pick for camping, hunting, or any wild trips. It is perfect for any wet environment as the blade has great corrosion resistance. If you are a hunter, you either own this or heard of it. This classic beauty is a must-have. It should be in the collection of every knife enthusiast.
When Was Buck 112 Introduced?
The Buck 112 was introduced in the 1960s as a smaller version of the Buck 110.
Is Buck 110 Made In The Usa?
Yes, almost all of the Buck knives are made in the USA. The main factory of Buck is in post falls, Idaho with more than 300 employees.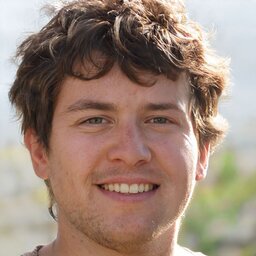 Hi, my name is Taras Kulakov and I'm a knife enthusiast. I have been collecting knives for over 30 years and I've owned literally thousands of different models over that time. My goal with this site is to share some of what I've learned about knives. You can find more info about Taras Kulakov here.