Founded in 2002 in San Diego, Buck knives were among the most revered and respected of all the brands on the market. Back in the day, the name "Buck" was synonymous with outdoor knives in general. Even outside of knife enthusiast circles and throughout the world.
But for such a widely known company they still have plenty of products that we knife nuts get excited about. from their classic models that are full of heritage to their fully modern designs using all the latest and best materials, you need to have one in your collection.
Today we will be looking at two of Buck knives core products- The Buck 119 and The buck 120. Both of these buck knives models are iconic and have been around for decades.
So today we decided to put these popular edc knives up against each other and to help you find out which one is best for you.
In this blog post, we will show you the similarities and differences between both of these knives so you can decide which one is best for you. And we also have a surprise option to make your purchase worth it for you. Of course, it's not a battle to the death, but it's gonna be a score to pick a winner.
What's the difference between Buck 119 and Buck 120?
The hand-to-hand comparison comes down to the basics- the overall length of the Buck 119 is 10.5 inches and weighs 7.5 oz, with 6 inches blade length which is made of 420HC steel, and blade style is clip point. And the overall length of Buck 120 is 12  inches and weight 8.3 oz with 7.38 inches blade length made of 420 HC blade steel and the blade style is clip point as well.
Buck Knives 119 vs 120 – Key Comparisons
For 47 years the buck 119 and the buck 120 special knives have been proven survival gear. Back in the day if somebody had a buck model 119 or 120, he would undoubtedly be the top dog outdoorsman. Their iconic design has been a staple in the survival world for decades.
Made from strong 420 high carbon stainless steel the Buck 119 and the buck 120 is very similar knife but have a little bit different attitude. There's no difference for some users and dramatic difference for some knife fanatics between these two blades.
Both of the knives are built around a full clip, slender profile, and were made in the same year. But there are a few changes over the years, so I wanted to give a quick overview to show you the differences. They are currently produced with 420 high carbon stainless steel. With heat treatment pioneered by Paul Bos.
Both knives handles are made of the same type of material and have the same issue of being slippery when wet.
The sharp clip point on both of these knives is very useful for getting into tight places while skinning a processing game, or when you are doing some fine woodwork, in short, these knives do the work best for you depending on how you want to use them.
So the only difference is that the 120 is a larger knife than the 119, yet it is also lighter and more portable. It can do most of the tasks of the 119, but the 119 is still better for many things like fine cutting or deboning.
A lot of hunters prefer the 119 over 120 as it's an inch smaller. But 120 is for hunters who can handle a foot-length knife in their big game hunting.
Side by Side Comparison- Buck 119 and Buck 120
SPECS

 

Buck 119

 

Buck 120

 

Overall Length

 

10.5"

 

12"

 

Blade Length

 

6"

 

7.38"

 

Blade Steel

 

420 HC

 

420 HC

 

Knife Weight

 

7.5 Oz
8.3 Oz

 

Blade Style

 

Clip Point

 

Clip Point

 
Buck 119 VS 120 – Some Key Similarities
Blade steel: Buck 119 and Buck 120 both are manufactured in the USA. Both knives are made with the same steel i.e., 420 HC steel that offers good wear resistance, toughness, good edge retention, and great corrosion resistance to the knife.
Handle Material: Both the knives feature the same handle material and come in two versions- phenolic handle with aluminum finger guard and aluminum pommel and Hardwood Cocobolo handle.
Sheath: Both the knives come in a premium leather sheath with is attachable to a belt loop.
Design: The blade design on both of these knives is so iconic. They feature a satin finish hollow grind, sharp clip point blade.
Warranty: Buck 119 and Buck 120 both knives come with a Lifetime Warranty.
Buck 119 VS 120 – Some Key Differences
Overall Length: The Buck 120 offers more length at just over 12 inches vs 10.5 inches on the back 119. The Buck 120 has 7.375 inches of blade length the Buck 119 comes with a 6 inches blade length.
Weight: The buck 119 has more weight on it at 10.5 oz being the smaller between them. On the other hand, the buck 120 is lightweight at 8.3 oz being the larger guy.
Buck 119 – Detailed Knife Review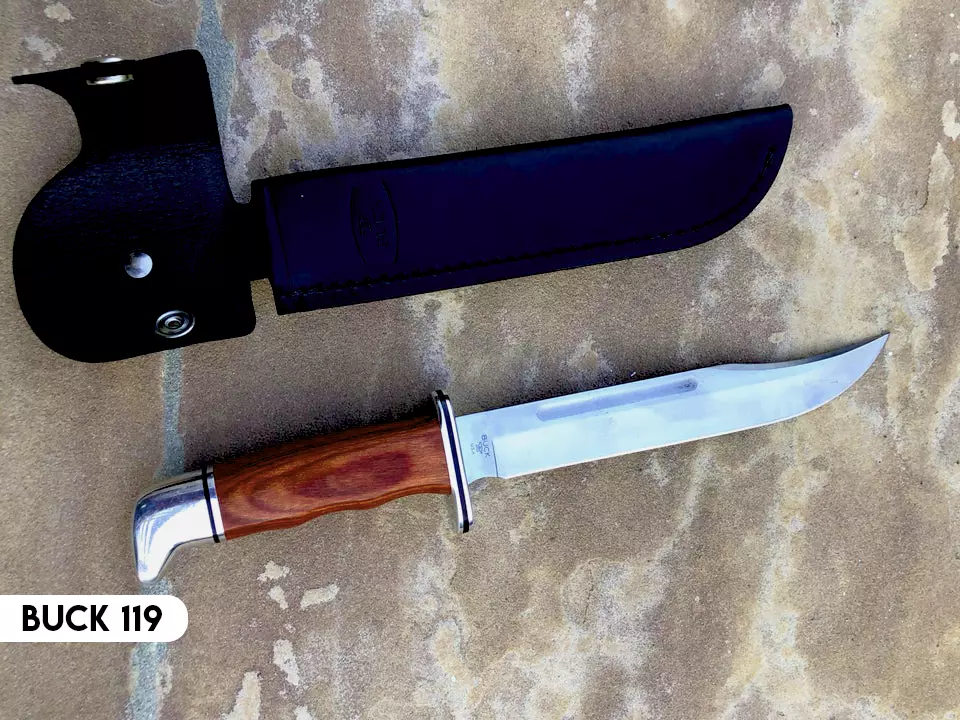 Buck 119 is the most classic knife ever. While some people think of this as the larger fixed blade brother to the buck 110, this knife actually came first. Hoyt and Al Buck used to make this knife by hand in their small shop all the way back in the early days of the buck. You can still get this knife made in America today.
The blade in the 119 is made of 420 HC. It has a 10.5 inches overall length, a six inches 420 HC blade with a long clip point of satin finish profile. Blade thickness is 0.175 inches and the knife weighs 7.5 oz. You could say it has the perfect size for big game hunting and camping. It can even cross over to tactical roles thanks to the aggressive blade profile and the prominent finger guard.
The blade design is so iconic. With this knife, you get a satin finish 6-inch hollow grind, clip point blade. It's razor-sharp out of the box. And Buck did the best use of 420hc stainless steel. The blade has great corrosion resistance and edge retention.
The Buck 119 features a phenolic handle with an aluminum finger guard and aluminum pommel. And there is another version that has cocobolo diamond wood and brass hardware handle. The butt of the handle has a nickel pommel. The handle provides the perfect balance between safety and comfort.
The Buck 119 comes in a high-quality protective sheath with a snap fastener made of burgundy leather. The sheath itself is made in Mexico. The sheath has a nice wraparound snap close button to keep life in place
Timeless design, durable construction, and versatile cutting capabilities are all attributes that make buck 119 special a worthwhile purchase. In our opinion, you will have a hard time finding a better American-made fixed blade for the money.
Buck 120 General – Detailed Review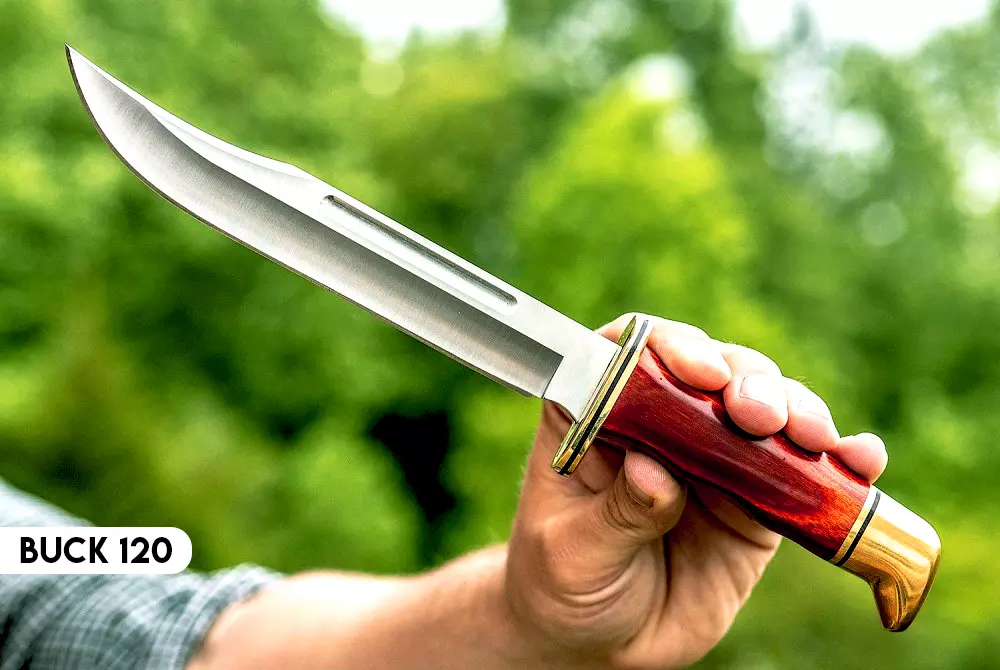 The Buck 120 general is very popular since it was used as the main weapon, used by "Ghostface", the killer character in the 90's movie Scream film series. Pretty obvious why they chose to feature this knife in movies cause this knife is hella sexy with the long blade and tough handle.
Not just the look, the buck 120 is a very big heavy-duty knife. The overall length of the knife is 12 inch so it's a foot long. It weighs 8.3 oz. The blade is 7.38 inches long and the blade thickness is 0.175 inches It features a deep clip point blade with a false sharpened edge.
The blade style is the hollow grind and has an exquisite satin finish. The 7 inches blade is pretty perfect for hunting. If you are a serious hunter this knife would come in handy after big game hunting. Deboning and skinning are easier with this knife cause of the sharp tip.
It features a Cocobolo diamond wood handle with a brass pommel and guard. Looks elegant and provides a secure grip. There are certain things about the knife that make it safe and secure to hold, like the handle's curved and padded back. The knife also has a brass guard, which makes it perfect for both beauty and balance.
And of course, what would a buck knife be without its genuine leather sheath.
You can easily attach the knife to your belt by using the built-in snap fastener, helping you keep it from getting lost in your backpack or purse. This sheath helps you in safe and secure transportation of your knife on your belt or in a bag.
Buck 120 comes with a Lifetime Warranty, so you're covered even if it breaks. Buck Knives give a Lifetime Warranty because they're confident that their product is never going to break.
Still Can't Decide? Here's an Alternative – The Buck 656 Pursuit Large
If the Buck 119 and 120 don't do it for you, we have got another option for you with some more tactical bushcraft hunting knife that we think deserves to be in the same breath as those other two competitors. Let me introduce to you the Buck 656 pursuit.
The Buck 656 Pursuit is one of their newest design and is going to be around for a while we think. This is an American-made full tang design which is made of buck special Paul Bos heat treat 420 high carbon stainless steel and features an over-molded handle. When in hand, this knife feels extremely solid and locked in grip-wise. It's going to last a lifetime.
This knife has an overall length of 9.5 inches with 4.25 inches long blade. The blade has a hint of recurved on the bottom near the handle. The blade style is the drop point. You can get it with our without the gut hook, which is very ideal for skinning. And the blade got enough to reach to handle a larger game.
This multi-functional knife can be used for the all-around purpose, the Pursuit series was designed for. With an overall thickness of 0.14 inches, the blade feels substantial and drops down to a thick point for heavier tasks.
When it comes to choosing a knife, consider its fit, which is something that's important, but it's also important to notice whether the knife feels good in your hand. The over-molded handle of the pursuit provides a very secure grip.
While holding the knife at a 90-degree angle, press the knife blade down so that it makes firm contact with the wood. Pressing the knife blade downward will prevent the edge from cutting into the hands or arms
The sheath is made from a strong, durable polyester that's soft against the skin. There's also an internal plastic 'cuff' which can be partially pulled out for cleaning if needed, and a double stitched belt loop to help you get it strapped around your waist.
Overall the buck pursuit is a great knife and heavy enough to be a professional cutler, and still easy to use.
Conclusion
Well with these two knives, there's really no contest. Both the Buck 119 and 120 are iconic hunting knife and these are absolutely best as a camp knife, survival knife, and can make any big game hunting job easy.
Now which one to game, depends on personal preference really! If you are someone who likes large lightweight knives, buck 120 is the one for you. I got Buck 120 just because I like me some knives features in movies. But if you think a little bit of short knives gives you more control, then I suggest getting your hands on the back 119.
Either way, you will be getting your hands on the most iconic quality knife ever.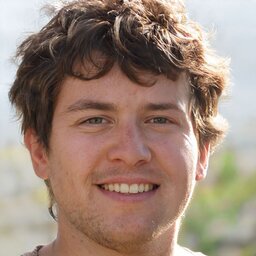 Hi, my name is Taras Kulakov and I'm a knife enthusiast. I have been collecting knives for over 30 years and I've owned literally thousands of different models over that time. My goal with this site is to share some of what I've learned about knives. You can find more info about Taras Kulakov here.