Looking for a new hiking/survival/camp knife? And wondering which budget knife to go for? Well, today I will introduce you to two of the best budget survival knives that have been around for 2 long. Gerber Prodigy and Cold steel SRK.
If you are looking for a cheap, tough, well-made, and proven design, you can get one of these. But of course, in this article, we will put both of these knives against each other, and give you an in-depth review of these two, the key similarities and differences.
At the end of this article, hopefully, you will know which survival knife you are getting next. So read on!
What's the difference between Gerber Prodigy vs Cold Steel SRK?
The hand-to-hand comparison comes down to the basics- the overall length of the Gerber Prodigy is 9.75 inches and weighs 7.5 oz, with 4.5 inches blade length which is made of 420HC Carbon steel, and blade style is the drop point.
And the overall length of Cold steel SRK is 10.75 inches and weighs 8.2 oz with 6 inches blade length made of Japanese SK-5 High Carbon Steel with Black Tuff-Ex Finish and the blade style is clip point for detailed performance.
Gerber Prodigy vs Gerber Strongarm – Key Comparisons
Gerber Prodigy and Cold Steel SRK are two budget bushcraft survival knives that honestly in my opinion perform better than what they are worth.
Both of these knives perform great at any bushcrafting task. They can take whatever is thrown at them.
Both these knives have strong blades. The Prodigy has an about five inches blade of ceramic black coated made of 420HC steel. And the SRK has a long 6 inches blade which is made of Japanese SK-5 High Carbon Steel w/ Black Tuff-Ex Finish.
They are both full tang construction with an over-molded handle. The prodigy has a little bit of texture, and palm swelling which feels great in the hands. They put jimping all around the handle as well for better grip. Same with the SRK. But Cold Steel used Kray-Ex as handle material for a tough grip.
The overall length of SRK is 10.75 inches with a blade length of 6 inches and the overall length of the prodigy is 9.7 inches with a blade length of 4.75 inches. So when our team took both of these bad boys for field testing, we have found out that, with batoning the SRK performed better than the Gerber. It's just because the SRK is a bit thicker and of course several inches in blade length longer than the Gerber Prodigy.
The blade thickness of SRK is 0.196 inches while you get a 0.185 inches thick blade on the Prodigy. Both of these knives can stand quite a thrashing. They are not the type of knife that just cracks or break. The SRK again a bit beefier weighs 8.2 oz than the Prodigy that weighs 7.2oz.
The blade on the prodigy is half serrated and half plain cutting edge. It's a drop point and hollow grind. On the other hand, the blade on srk is a classic clip point and 2/3 of the way up the blade is hollow grind which is a very useful style blade.
One of the things about the srk is the thick Karton handle material. I love this high-density rubber material for a survival knife. The handle is heavily textured for a secure grip and features a finger guard for the comfort of your finger while bushcrafting.
And what I like about the Prodigy is it has jimping all around the handle to give a little more purchase on the blade. It is made in the USA and features Gerber's lifetime warranty.
Gerber offers 25 years of warranty if your knife has material or manufacturing defects. I once broke my knife and they sent me a new one within about two weeks which is fantastic.
On the contrary, Cold Steel provides no such warranty for normal wear and tear or resharpening damage caused by the user.
Side by Side comparison- Gerber Prodigy Vs Cold Steel SRK
SPECS

 

Gerber Prodigy

 

Cold Steel SRK

 

Overall Length

 

9.75"

 

10.75"

 

Blade Length

 

4.75"

 

6"

 

Blade Steel

 

420HC Stainless Steel

 

SK5 Stainless Steel

 

Knife Weight

 

7.5 Oz
 8.2 Oz

 

Blade Style

 

Drop Point

 

Drop Point

 
Gerber Prodigy vs Cold Steel SRK – Some Key Similarities
Knife Construction: Both the knives' have full tang construction with an over-molded handle.
Blade Style: Both the knives have a hollow grind blade style with a drop point. Both the tip are extremely sharp.
Gerber Prodigy vs Cold Steel SRK- Some Key Differences
Overall Length: The SRK offers more length at just over 10.75 inches vs 9.75 inches on the Gerber. The Gerber Prodigy has 4.75 inches of blade length the Cold steel SRK comes with a 6 inches blade length.
Sheath: Gerber Prodigy comes with a ballistic nylon sheath, which is molle compatible and can be attached to your backpack. It has a clasp to keep the blade in place. On the other hand, the srk comes with a polymer secure-ex sheath. It features a drainage hole and lot's of lashing points
Handle: The Gerber Prodigy features a premium over-molded rubber handle that has a little bit of texture and the SRK features a thick Karton handle material. The handle is heavily textured for a secure grip.
Weight: The prodigy weighs 7.5oz without the sheath. And the srk is a bit heavier than the Gerber at 8.2 oz. Both of them feel tough in their hands.
Gerber Prodigy – Detailed Review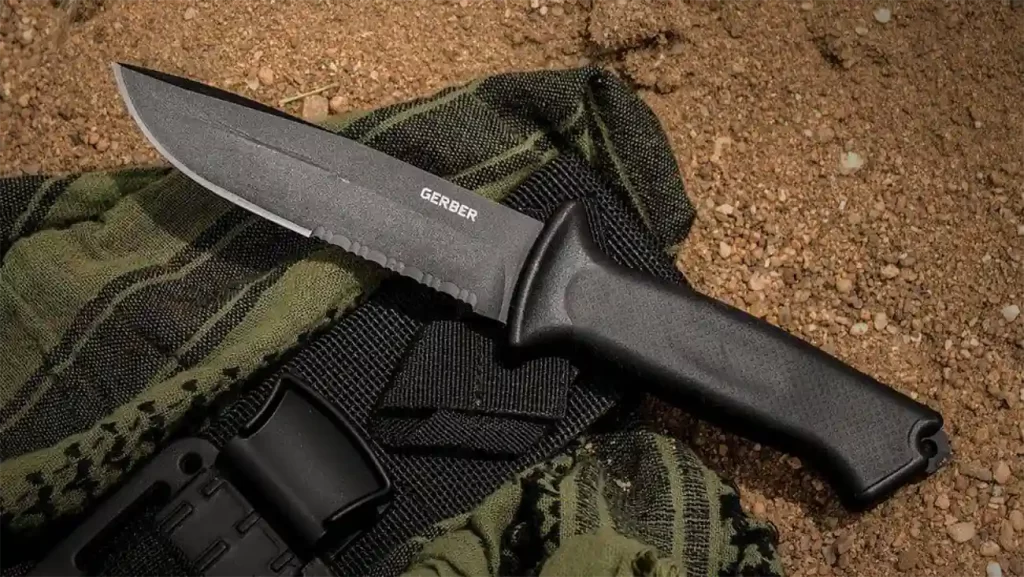 Gerber Prodigy is a knife that was originally made with a serrated partial blade. It came out in the early 2011's as a basic survival knife. Made in the USA, this knife has received an incredible reception from general survivalists, backpackers, the EDCers everybody. This knife is an endangered species.
This knife comes in two types- the clamshell packaging where the knife is on display and in a box, which is more like a collector packaging, where the knife is pre-assembled in the sheath.
Right off the bat I'd like to say this is one of the best truck car knives I have ever seen for a fixed blade and we are gonna get to it and you will know why. But particularly if you are looking for a fixed blade for your vehicle, I would say this will be it and for some survival situations possibly.
The blade of this Gerber Prodigy is 7.5 inches long and has an overall length of 9.72 inches. you will get a full tang. The knife blade is made of 420hc stainless steel. 420 high carbon stainless steel is really good. It got a Rockwell hardness of 58. So the knife holds an edge long enough and capable of doing a lot of work without dulling. At the same time, it's very easy to re-sharpen.
The blade is half serrated and half plain cutting edge. The blade is 0.189 inches thick, hollow grind with drop point style. The tip is very strong and can penetrate and stab well. The serrations are not very aggressive but wicked sharp. They can cut through nylon, your seat belt very easily without a lot of drag.
In short, the blade is awesome. It's perfect for survival use out in the wilderness. The handle material of this knife is over-molded rubber. It has a little bit of texture, and palm swelling which feels great in the hands. They put jimping all around the handle as well for better grip. The handle also has molded quillions and a lanyard hole.
The knife weighs 7.2 oz and the combined weight of the knife and sheath is 12.5 oz. The sheath is ballistic nylon material. It's molle compatible. You can attach it to your backpack or hands. It also features a friction-released thumb lock. Overall, this Gerber prodigy is a standup survival knife. You are not going to regret purchasing it.
Cold Steel SRK – Detailed Review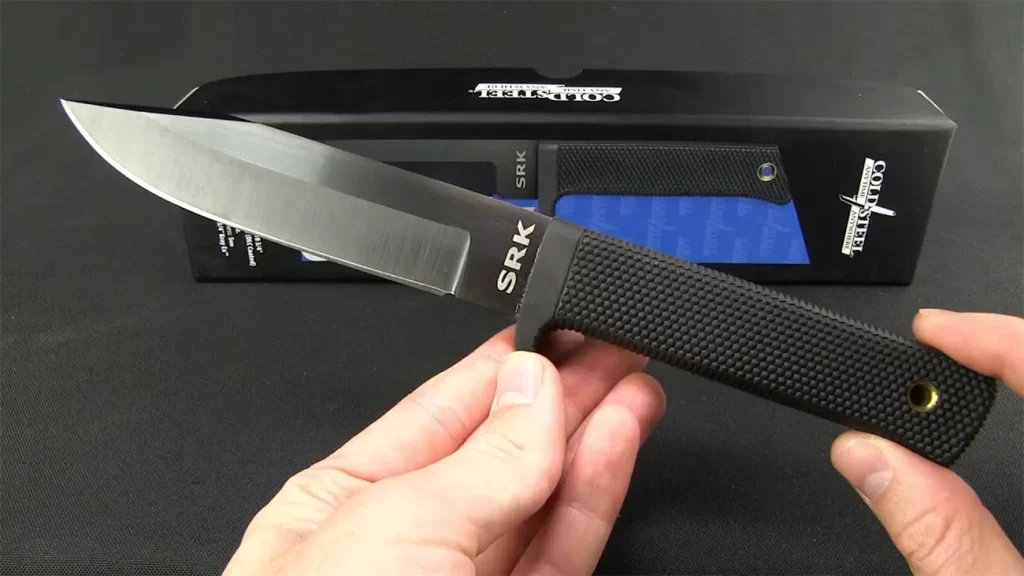 The SRK of cold steel has been around for probably 20 years or more. This knife was one of their earlier designs, been issued to Navy SEALs in the past. This knife is really a staple when it comes to a tactical utility knife. Cold steel has done two different design tweaks to the classic SRK and now released it in sk5 steel making it the cheapest of all the versions to date as well.
This is one of the most affordable best entries into bushcraft and survival in general.
The SRK stands for search and rescue knife and this Cold steel knife is made in Taiwan, which is an ally of the US. It's a very solid knife and can hold up to any abuse that you throw at it.
With this knife, you get an overall length of 10.75 inches. The SRK features a six-inch clip point blade with sk5 steel with a black tuff-ex finish. Sk5 is great blade steel. It is super low maintenance and easy to mend and correct. The blade is three-quarter inches thick.
The handle is made of Kray-ex. The Krayton has a  ribbed texture that provides a nice and strong grip. Even if you are in a high humid area, the ergonomics of the handle give such a strong grip. It's very bush-friendly. It's a full tang knife, you can see the steel through the lanyard hole.
The weight of this knife is 8.2 oz. The SRK comes in a polymer secure-ex sheath. It features a drainage hole and lots of lashing points. You can lash it with paracord. It has a thumb ramp. SO it's easy to pull out and provides good retention. It has velcro straps and a belt loop. You can carry it around your waist or on your LBD system.
If you are looking for something to either throw in a pack or start your training with survival, you'd be hardpressed to go wrong with this knife. It's very durable and it's going to take whatever you throw at it.
Whether it's batoning or maybe just peeling off some dead slimy piece of wood or starting fire strike with the back of it with Ferro rod, it's going to work well in all circumstances. In addition, it's also is a low maintenance knife as it has a nice coat and the handle is over-molded on the steel.
Still Can't Decide? Here's an Alternative – Fallkniven S1 Fixed Blade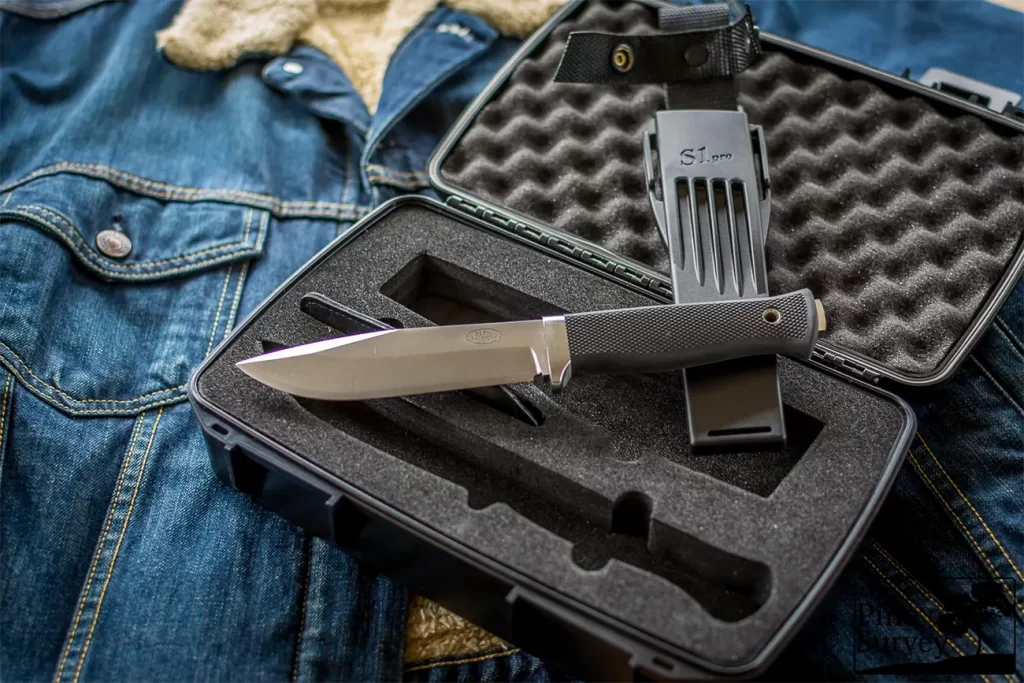 If you think you want to go for more premium quality survival knives then I am sure you can't choose from Gerber Prodigy and the Cold Steel SRK. Now for a premium stainless option, I'd like to direct you to the brand Fallkniven.
They make high-quality knives in Japan and everything from their classic F1 pilot survival knife with a four-inch blade up to their A1 with a blade over 6 inches would be a great choice for survival. All these knives are built in the same style
But the S1 from their line is a personal favorite and one of the best survival knives in the market. The S1 comes with a vg10 blade. It's a phenomenal knife and adds good value. From the tip to the handle this knife is 5.1 inches. And blade thickness is 0.2 inches.
Blade steel is vg10 laminated steel. It has great wear resistance. It has a full tang construction and an over-molded rubber handle. You will also get a protruding tang at the end for all the thumping and striking.
The blade itself is a drop point profile and it features a convex grind. Now, this you won't usually see on your average joe survival knives.
This has a cross-section, something like an apple seed and it's probably the strongest grind for your survival knife, very useful too. It can survive some heavy use like light chopping but because of the geometry of the convex profile, you can even get any use out of it.
You can use the shoulder of the grind itself to very precisely angle the edge in what you're cutting for some very accurate cuts. The knife comes with a waterproof Zytel sheath. It's a low-profile molded plastic sheath.
It features drainage holes and secures and protects the knife very well without adding extra bulk.
This knife is field-proven and very capable of taking any abuse you throw at it.
Conclusion
Overall what I have to say about these knives, they are both evenly matched. You can not go wrong with any of these. They are both great tactical knives on a budget. And are about equal in performance.
The final decision comes down to two factors, the blade length, what you are after, and the price. If you prefer a larger blade, narrow and thinner blade for your bushcrafting tasks, I would without hesitation get the SRK.
But if you need a knife a little bit smaller, a little bit narrow, which is capable of dressing out game animals, I would lean more toward the Gerber.
These two knives are all-around, really solid, budget-priced fixed blade survival knives. Both are solid winners in my opinion.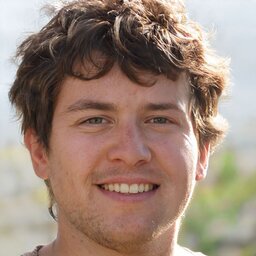 Hi, my name is Taras Kulakov and I'm a knife enthusiast. I have been collecting knives for over 30 years and I've owned literally thousands of different models over that time. My goal with this site is to share some of what I've learned about knives. You can find more info about Taras Kulakov here.