When it comes to knife manufacturing, choosing the right steel is vital. There are several varieties available for bladesmithing, each with its distinct features and characteristics.
15n20 steel has grown in popularity in recent years. Damascus steel typically uses 15n20 to create stunning blades. However, is 15n20 worth the hype? Let us take a closer look.
What is 15n20 Steel?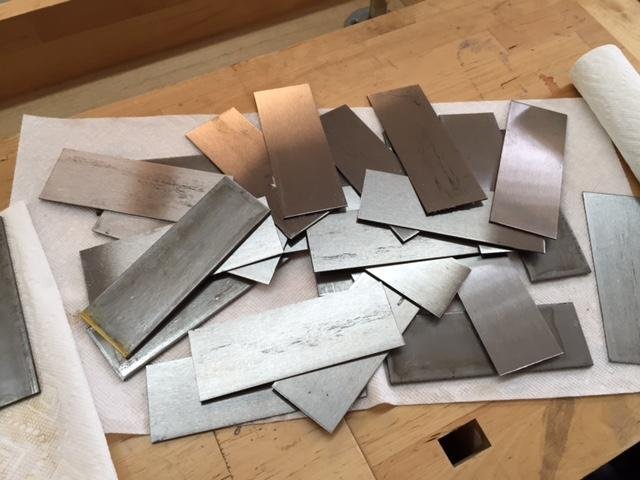 Bohler, a German company, makes this alloy steel. 15n20 is high nickel steel. These contents provide it with versatility and durability. It is typically used with 1084 or 1095 or other high-carbon steels to produce a visually stunning Damascus pattern.
It is typically considered to be inexpensive and mid-range. Because of its hardness, It is generally used to make Damascus knives, saw blades, hammers, swords, and axes and used for heavy-duty tasks like hunting, butchering, or chopping.
It is also quite easy to work with, thus a few knifemakers often practice with it.
Heat Treatments of 15n20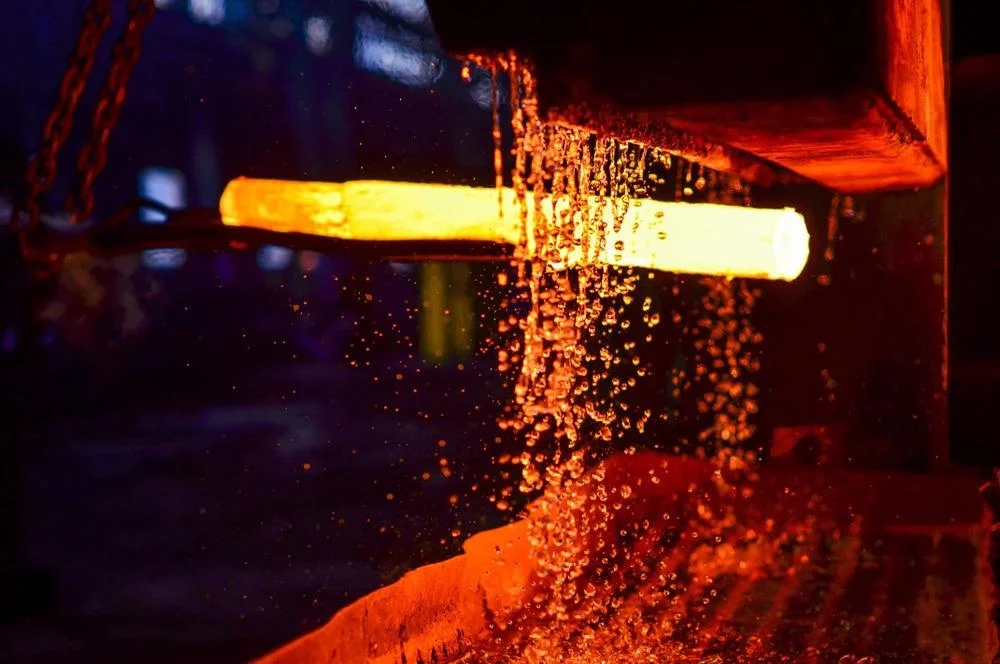 Different sorts of heat treatment processes can be used for the great steel before it is molded into something else. These methods must be analyzed to identify any manufacturer differences that may affect its performance.
Annealing
This process is heating up the steel to a certain warmth, mostly to the critical temperature, where it is no longer magnetic. Three substages that follow this are:
Recovery: Here, 15n20 can recover its properties such as thermal expansion and grain density, because of the low warmth.
Recrystallization: During this, the steel is cold-formed for stronger crystallization to occur.
Grain growth: The steel is exposed to the heat of 400–600 °C
Quenching
This directly boosts toughness. The temperature of heating during the austenitizing step, as well as the medium used for quenching, are both important in the final characteristics of 15n20.
There are significant differences between allowing the steel to air cool to room temperature after being exposed to 1480° and cooling it under control in the special medium. The most common liquid for this process is oil, however regular water or brine can also be used.
Tempering This is sometimes referred to as baking the steel. A fraction of the temperature is used during annealing. The level of heat affects the hardness of steel.
It will have roughly 60HRC (high) if tempered at 200° for 2 hours and lower HRC if tempered at a higher level of warmth for the same period. Because hardness and toughness are inversely proportional, lower hardness indicates greater flexibility and toughness.
Chemical Composition of 15n20 
15n20 is a great high nickel alloy. Here is the list of the percentage of metals in the alloy and how they contribute to it being so hard, tough, sharpness retentive, and corrosion resistant-
Carbon 0.75 % – Increases hardness, sharpness retention, and wear/corrosion/abrasion resistance.
Nickel 2% – Increases toughness.
Manganese 0.4% – Increases hardness and sharpness retention.
Silicon 0.03% – Increases strength. 
Phosphorus 0.02% – Increases strength, hardness, and machinability.
Sulfur 0.01%  – Improves machinability and toughness.
Hardness of 15n20 
The Rockwell scale's high hardness rating of 15n20 can range from 61 to 65 HRC. The manufacturer's heating treatment determines the rating. According to the HRC range, it is one of the hardest steels available. That is because of the high nickel and carbon content. The rigidity level makes it rust-resistant and sharpness retentive.
Properties of 15n20 
The low carbon and high nickel amounts, combined with low alloying agents, give 15n20 unique properties. It is commonly used as a blend with other steels rather than on its own, yet its properties come in handy and make every blade they are in special!
High Toughness
Despite its high HRC, it has a remarkable toughness level because of the high levels of nickel in its composition. This implies that it can endure impacts and bend without breaking or chipping. This is especially true for heavy-duty jobs like chopping wood or carving. Its durability is also the reason why it is preferred for pattern welding.
Excellent Edge Retention
It has greater edge retention than all the high-carbon steels on the market. The nickel here is also responsible for keeping the corners sharp and ready to use. But being high in carbon, it might need to be sharpened once in a while for frequent heavy-duty tasks. 
Easy to Sharpen
Despite being hard, It is not too hard to sharpen. It is not easy to find both sharpness retention and ease of sharpening in one material, especially when it is a high-carbon one.
Because of its great nickel content, it stays sharp for a long time. Even if it doesn't, you can always carry a portable sharpening tool with you and sharpen the steel at a 20° angle to make it as sharp as new!
Corrosion Resistance
Due to the lack of chromium in its composition, It has extremely low corrosion resistance. It is also the reason why it's not stainless. This is one disadvantage of steel. You must take care of it by regularly wiping, cleaning, and lubricating it to keep its quality and avoid corrosion.
Is 15n20 Steel Good for Knives
15n20 provides what you'll expect in a knife. It provides the perfect amount of toughness, hardness, and sharpness retention by itself and offers stability and strength when paired with steels like Damascus. The sole disadvantage is corrosion resistance, which is easily resolved with good maintenance. It is simple to use and also helpful in versatile, detailed works. 
Comparison of 15n20 to Other  Knife Steels
15n20 Vs 1095 
15n20 is tougher and easier to sharpen, but the other one wins over in the aspect of firmness as it has more carbon in its composition. They are both bad at resisting corrosion as they have less amount of chromium.
15n29 Vs 1080
1080 is popularly used with steel to produce Damascus blades. Both of them are easy to use and thus loved by knife makers and users. However, 1080 is harder than 15n20, making the latter tougher. 
15n20 Vs 1084
15n20 has better toughness, stiffness, and edge retention than 1084. Both the steels have almost no corrosion due to the lack of chromium.
3 Best 15n20 Knives in the Market
1. Custom Handmade Damascus Steel Skinner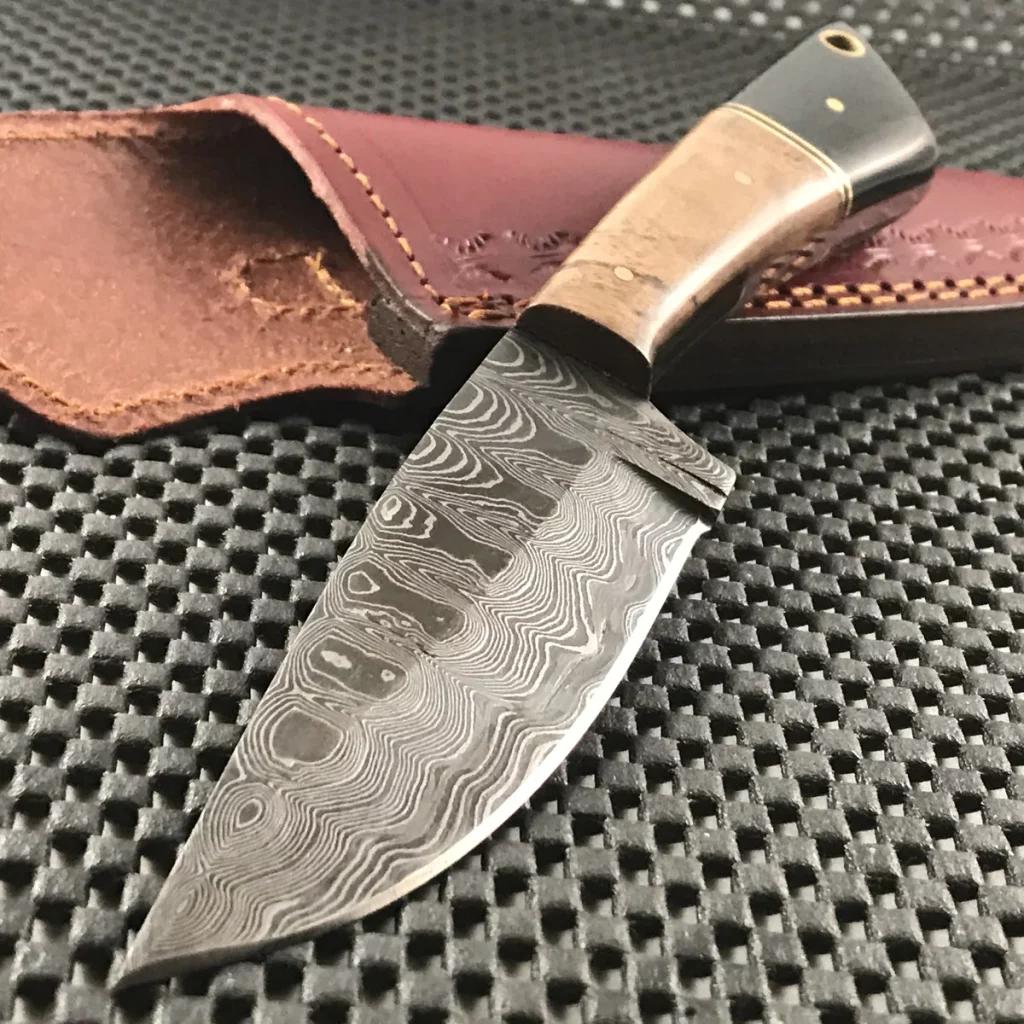 This 2a's Handcrafted Skinner is a full tang folding knife with a sturdy construction, a thickness of 5mm, an 8-inch length, and a kukri form.
The blade is folded 8 times of 1095 and 15n20 producing 512 layers in a magnificent pattern. The object was forged for hours and then heat treated to perfection.
The hardness level is 58-60 HRC, and the layers flow to the corner, preventing it from dulling. The handle is constructed of a black bull horn with brass liners and Damascus bolsters. It comes with the ideal cow skin leather sheath for protection.
It is ideal for a variety of military, hunting, survival, tactical, industrial, and outdoor usage. The best part of the purchase is that it comes with a lifetime guarantee!
2. 2a's Beautiful Custom Handmade Damascus Steel Hunting KUKRI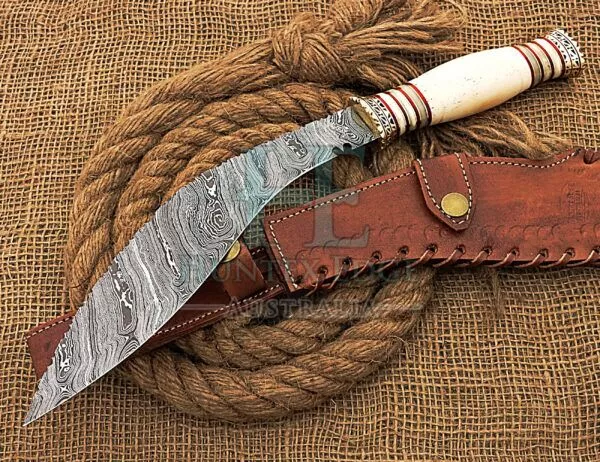 The rigidity and sharpness of this 2a's Kukri-style handcrafted hunting folding knife is exceptional. It is forged for hours and folded 8 times using 1095 and 15n20, yielding 512 layers forming an amazing pattern and sharpness. It is overall 17″ long, 5mm blade thickness, and has a hardness of 58-60 HRC.
The handle is made of stag horn with brass and black bull spacers, linked with the Damascus guard. It is excellent for hunting and comes with a lifetime guarantee.
3. Handmade Damascus Steel Dagger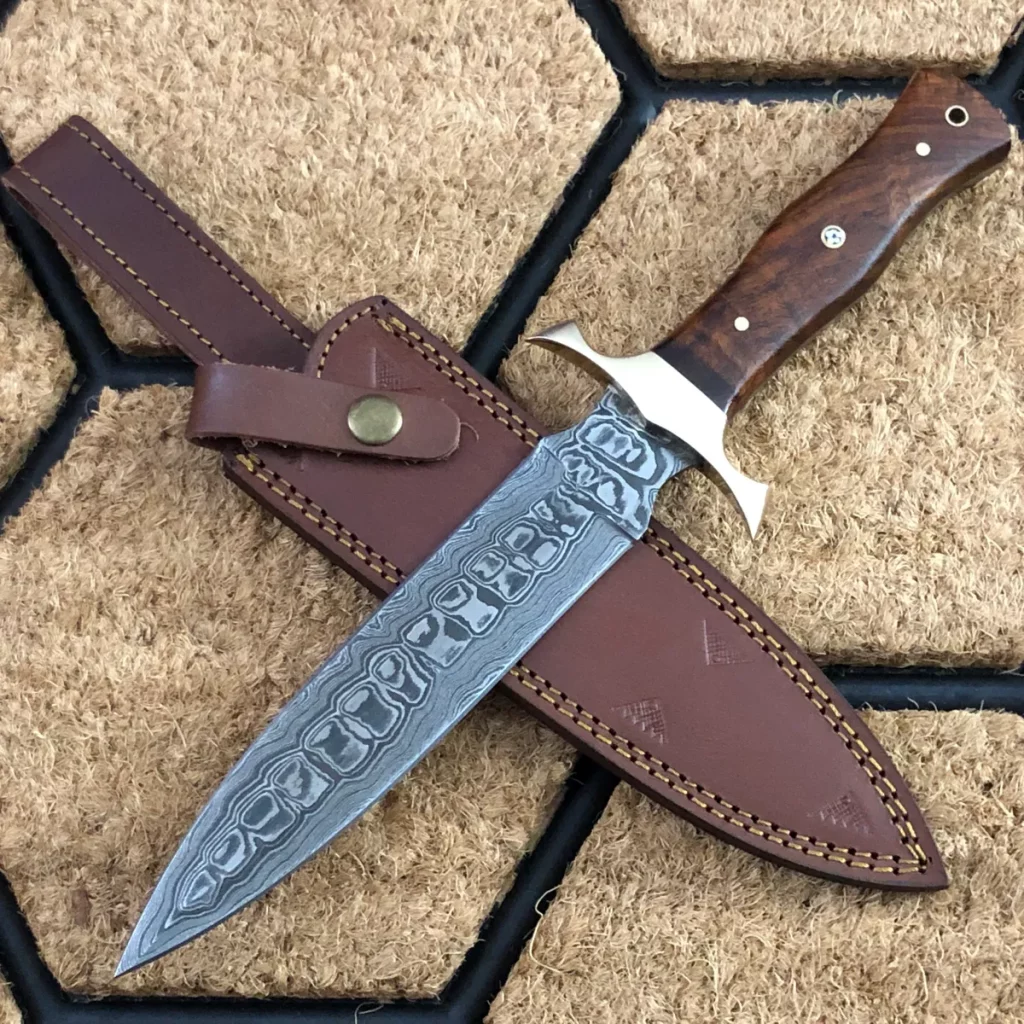 The handmade Skokie Dagger Knife may be utilized for heavy-duty tasks anytime they are required. It measures 13 inches and is portable. It features a 5mm blade thickness and a hardness rating of 58-60 HRC. It is greatly made with a twisted Damascus design.
The handle is constructed of an original bull horn with a combination of the brass spacer and red pakka wood and a gorgeous bolster with exquisite craftsmanship. This would be a great addition to your collection.
Conclusion
Getting the perfect level of hardness, toughness, and edge retention in such inexpensive knives is not easy. Yet, 15n20 steel gives you that chance. It is your best choice if you want something easy to use that also helps you do heavy work like carving wood or hunting. All you need to do is some maintenance, and you're good to commit to your next favorite blade steel!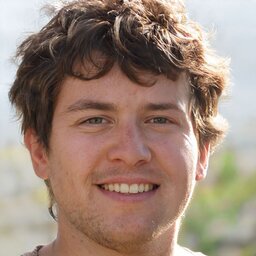 Hi, my name is Taras Kulakov and I'm a knife enthusiast. I have been collecting knives for over 30 years and I've owned literally thousands of different models over that time. My goal with this site is to share some of what I've learned about knives. You can find more info about Taras Kulakov here.