The steel used in most blades and tools is D2. The invention of stainless steel and high-speed steel somewhat preceded the invention of D2 steel.  The superior strength and durability of this variety of steel are due to its high carbon and high-chromium content. It is a fantastic option for many uses because it is also very heat- and corrosion-resistant.  
What is D2 Steel?
D2 tool steel has been utilized in a variety of industries, including custom makers and mid-tech businesses. It is also making inroads into the market for inexpensive knives. It is at least generally acknowledged for being one of the non-powder steels with the longest-lasting edge retention, which is why many businesses have shifted toward it.
D2 Stainless Steel Chemical Composition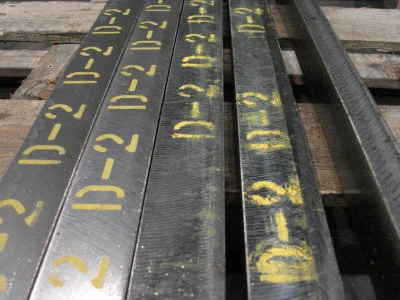 D2 steel is a multipurpose air-hardening, high carbon steel, high chromium steel that has a higher strength capacity and good war resistance. D2 steel, on the other hand, does not fall under the category of true stainless steel since it does not contain the required 13% chromium percentage.
Its chromium composition ranges from 11.5 to 12%. D2 tool steel is therefore known as semi-stainless tool steel.
1.5% Carbon C 
Carbon improves durability, sharpness, and retention of the edge. Also, it has better corrosion resistance. 
12.0% of Chromium 
Chromium carbide synthesis increases the blade's tensile strength, hardness, and corrosion resistance.
1.10% of Vanadium
Vanadium has properties in the hardened condition. It also increases corrosion resistance while increasing wear resistance and toughness, making it a hardening steel.
0.45% of Manganese
Increases the steel's strength and hardness. Increased manganese throughout the heat-treatment process increases the steel's capacity to harden.
0.03% of Phosphorus
Increases machinability. This high-speed steel is primarily used to create stamping dies that cut steel from other, softer steels. Indeed, only a very small portion of the D2 tool steel created by steel producers is used to construct knife blades.
Hardness (HRC) of D2 Stainless Steel
D2 has a Rockwell hardness of 60 HRC on the Rockwell C scale, although depending on the time and temperature, this hardness can increase to 62 HRC. A style blade manufactured of this steel can keep its edges for a very long time in addition to exhibiting excellent wear resistance because of its hardness.
D2 Tool Steel Properties
Edge Retention
D2 steel is exceptionally hard compared to other tool steels with chromium content and HC 55-62. It may therefore have a good edge for a very long time. The edge of D2 is comparable to that of CPM 3V steel, grade 440C, and is superior to that of 154CM, but it is noticeably inferior to that of S35VN, S30V, and M390 steels.
Corrosion Resistance
D2's chromium gives the steel an additional layer of overlap that prevents rust and corrosion. Rust development is more likely to occur when exposed for an extended period of time to damp conditions. Make sure to completely wash and dry your D2 steel knife after use in order to avoid rust.
Wear Resistance
D2 steel blades have excellent wear resistance and mild corrosion resistance because of the chromium content. It can be heated to a hardness between 55 and 62 HRC and is machinable in the annealed state.
Sharpness
Given that D2 steel is a high chromium steel with a good toughness to corrosion and high wear resistance, sharpening it can be difficult. With D2, you will need to put in more effort in order to get an ultra-sharp edge, but this is made up for by long edge retention, which lowers the frequency of polishing.
Machinability
D2 has a machinability grade of 45 when adequately annealed contrasted to a 1% carbon steel's value of 100. When compared to other tool steels, Tool Steel D2 experiences the least heat treatment deformation.
Toughness
D2 continues to be uncommon steel since it possesses both hardness and toughness. D2's toughness is poor due to its high hardness. The big carbides that have a negative impact on its toughness are to blame for the low toughness.
What Kind of Knife Can Be Made Using D2 Steel?
Depending on the manufacturing lot of steel, how the steel was heat-treated, and how the blade edge was beveled and polished, it can range from good to amazing. The D2 knives that can cut the rope the longest might not necessarily cut other materials well. Usually, but not always, the quantity of the cut and the quality of the cut are coincidental. The only way to learn is to test your knife's capabilities by cutting with it.
Regardless of what any expert advises you to expect according to their expertise, every knife has the ability to function differently in your hands.
Why D2 Steel is the Best Option for Making Knives?
D2 steel has several great qualities that make it the right steel to make great knives, including tool steel with high corrosion resistance, durability, toughness, etc.
It does have certain drawbacks, such as sharpening difficulties and limited availability, but all of them are relatively simple to fix. 
Comparison With Other Steel Knife Options
It is crucial to contrast knives with d2 with other common steel knives before making a purchase. Generally, the D2 blade can be used to evaluate S30V, VG10, CPM3V, and S35VN knives.
D2 vs S30V
S30V is superior knife steel over D2 in terms of quality. It often offers greater toughness, edge retention, and corrosion resistance. While being more expensive, it is a steel that is very well-balanced. The high carbon content of D2 tool steel, which allows it to achieve a greater Rockwell hardness than S30V stainless steel, surpasses S30V steel in wear resistance.
D2 might occasionally experience chipping issues if you apply far too much pressure when sharpening the blade. 
D2 vs VG10
The knives in D2 are the best option if you want a knife for camping, chopping, or hunting. This is due to the fact that it is more durable and will perform better under the severe demands of these events.
The D2 typically outperforms VG 10 blades in terms of performance. You will discover that you can keep the edge more than you can a VG 10, and it will sharpen more quickly and easily.
Knives made of VG 10 are nearly as durable as those made of D2, but they also have high corrosion resistance. The choice ultimately comes down to taste.
D2 vs CPM 3V
In order to give the greatest resilience to breakage and chipping in a good wear resistance steel, CPM 3V, a cold steel produced by the Crucible Particle Metallurgy method, was developed.
Impact resistance is stronger in CPM 3V than in D2. It is easier to process and more durable than wrought D2 since CPM D2 is the powder variant of D2.
D2 vs S35VN
Knife producers and consumers favor the steels D2 and S35VN. You would believe that the knives are identical because of this, but they actually differ significantly.
Knives made of semi-stainless D2 rust more quickly and offer worse corrosion resistance than blades made of stainless S35VN. Although they offer the same amount of edge retention, they differ in terms of hardness, sharpening simplicity, and pricing.
Best D2 Knives on Amazon
1. OKC Rat 2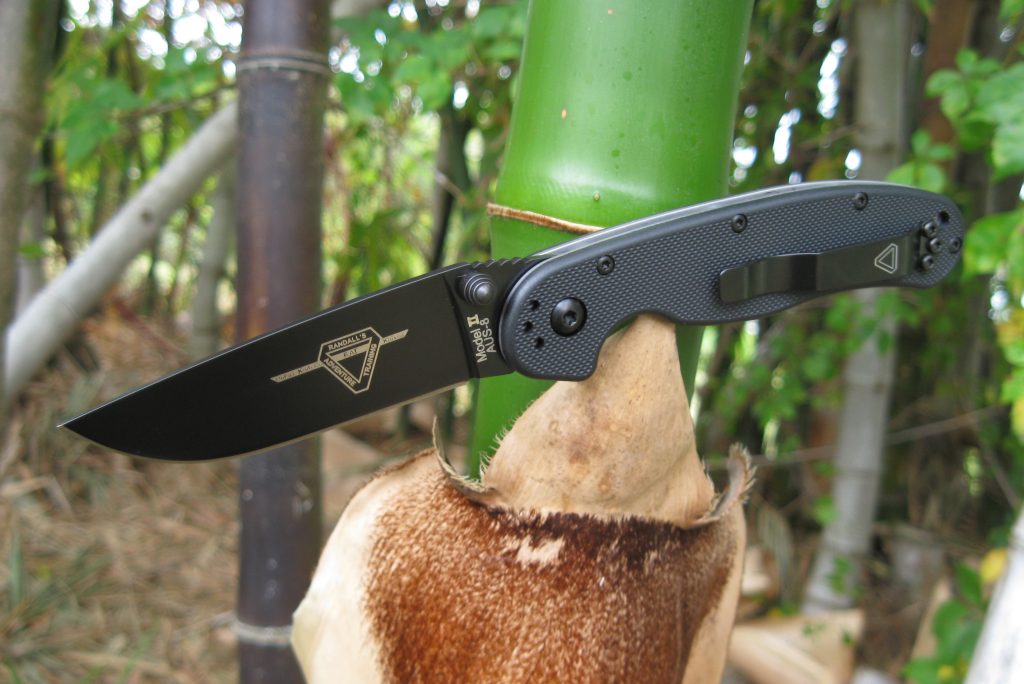 Most people still regard the Ontario Knife Company's RAT II as the best budget knife. The blade profile is small enough to make it slice, and the flat grind retains the edge quite robustly.
It fits neatly enough to be a pocket knife. It is a 7-inch folding knife with a 3-inch blade length, a drop point blade with a satin finish, and a jimping on the spine for added control while operating the blade. The handle is made of textured nylon with six scales, and the lock frame is made of an open-built steel liner.
2. Kershaw Cannonball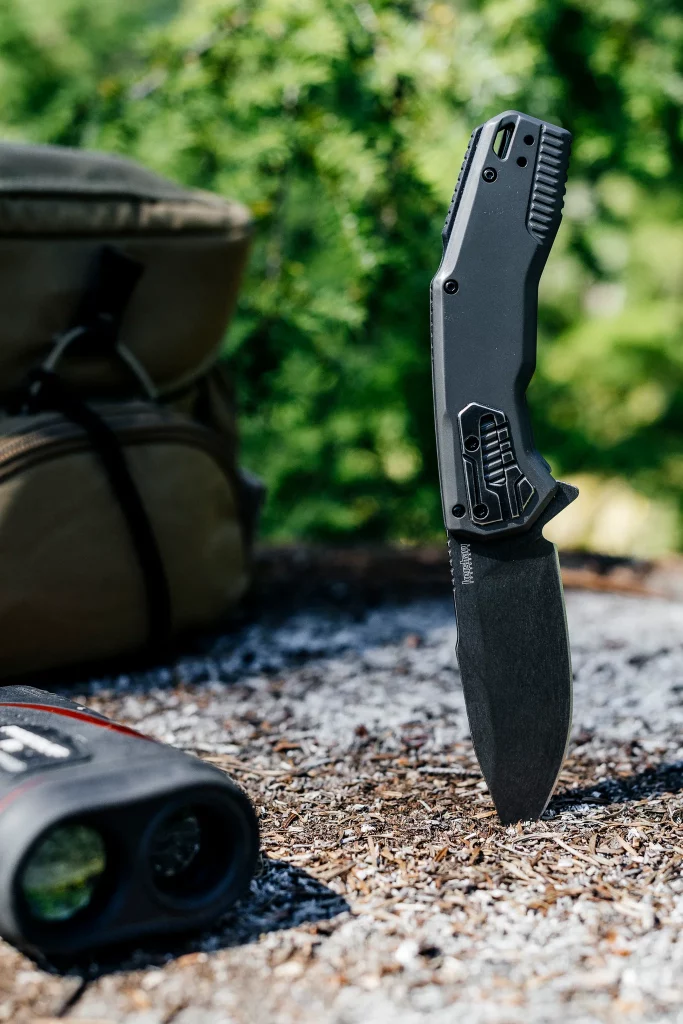 The Cannonball has strange-looking texture designs, and the stainless steel handle comes at a different price. The ergonomics are remarkably tight and gripping for a big steel handle.
This is partially due to the placement of all the texturing and jimping. Thanks to this texturing, the curved handle, and the height flat grind, you have a lot of leverage to make a powerful cut.
3. CRKT Bona Fide
However, when we talk about D2, this is one of the more intriguing d2 folders on the list because CRKT produces two variations of this knife: the gray with D2 and the OD Green with 1.4116 German steel.
The D2 version has a much more intricate design, with the grind reaching half the height and incorporating a swedge going to the tip, even though both variants have the same fundamental form and grind. The 1.4116 version has a full flat running all that goes back to the spine.
4. Cold Steel Leatherneck-SF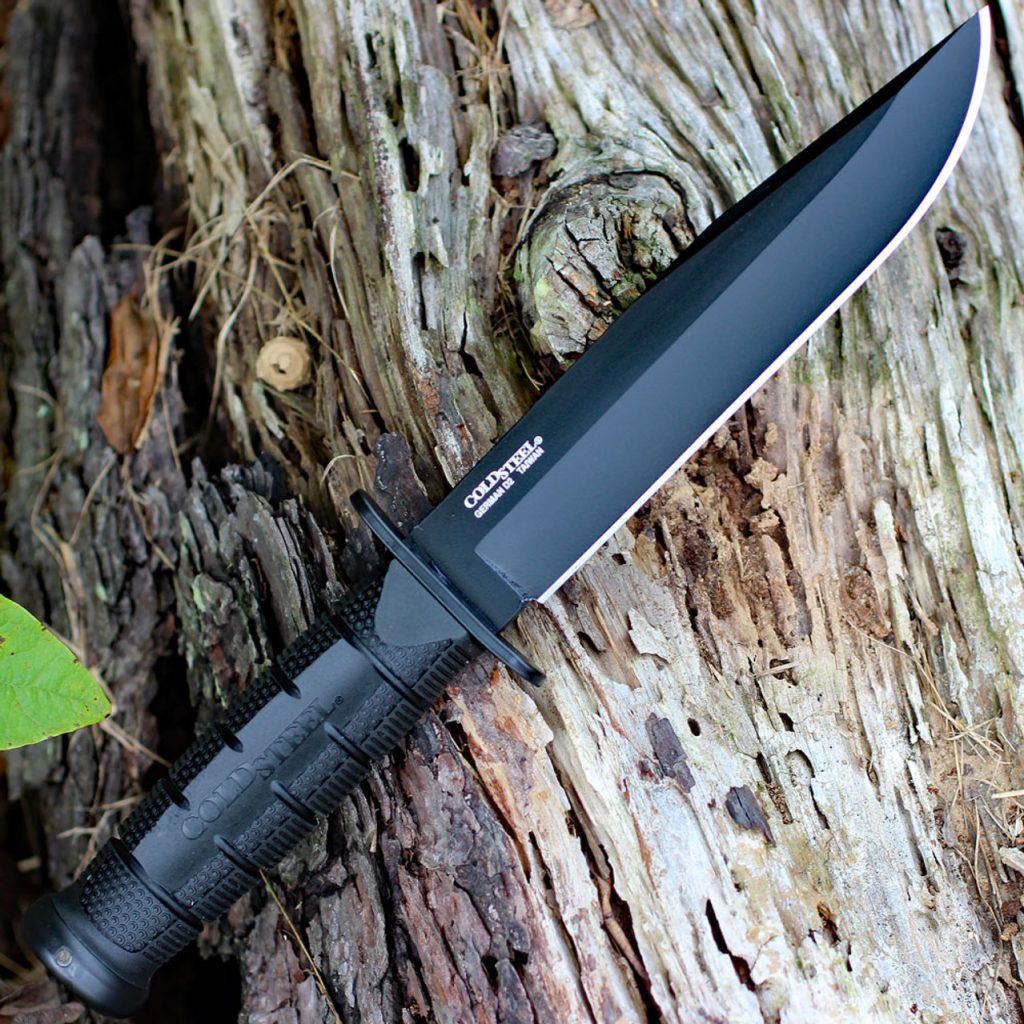 The Cold Steel Leatherneck-SF is a hand-honed ground clip point fixed blade with a total length of 11.34″, blade length of 6.34″, and thickness of 5 mm. Cool Steel is one of the knifemakers who made the D2 their primary Tool for knife making. Of course, it's composed of durable D2 with a black powder coat finish.
This knife is perfect for fans of huge survival tactical knives since it is sturdy, gripping, effective, and comfortable. It also features a steel finger guard for your safety and a lovely vertical sheath. All in all, it is an Exceptional quality knife that feels great in the hand for a reasonable price.
5. Off-Alpha Grid's Dog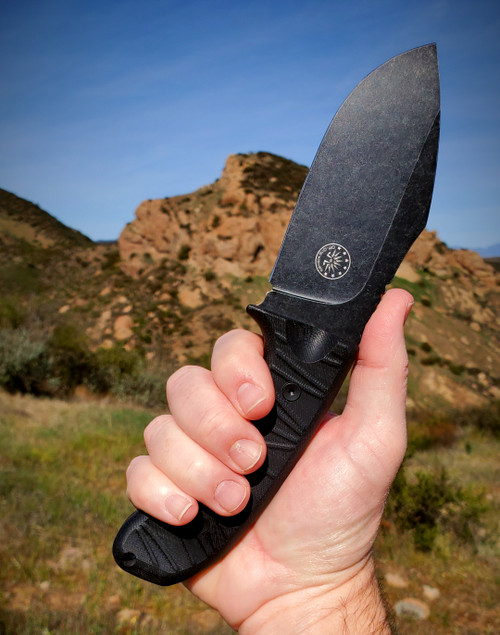 If you enjoy knives with thick blade stock, you should definitely check out Off-Alpha Grid's Dog. Although not lightweight, it is manageable to carry because of the clever Kydex sheath. This fixed blade is designed for heavy use and excels at chopping, batoning, and even hammering with the spine.
Despite having a robust spine, the tough steel blade is tall and has a flat grind, making it effective for preparing food while camping.
The blade of the Alpha Dog is built of Off-Cryo Grid's D2, which has been one of our favorite hard steels for heavy use or camping knives for a long. It has an excellent price-to-quality ratio for edge retention and unexpectedly strong toughness.
Conclusion 
Compared to the other non-stainless steels on the market, a blade from D2 is a solid choice.  D2 steel is routinely made and hence typically available from most tool steel firms, making it cheaper and easier to find than powder steel. Knives made of D2 steel won't soon develop scratch marks on the blade.
Even if the marks are visible over time, you can polish the knife to remove them. D2 has a longer lifespan than others as a result. It is clear from the explanation above that D2 steel is suitable for blades.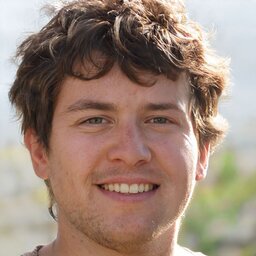 Hi, my name is Taras Kulakov and I'm a knife enthusiast. I have been collecting knives for over 30 years and I've owned literally thousands of different models over that time. My goal with this site is to share some of what I've learned about knives. You can find more info about Taras Kulakov here.