If you are wondering "Is Sandvik 12C27 steel good for knives?" you must find clear-cut answers. Good knife steel is always hard, can maintain sharp edges, and is resistant to corrosion and rust.
The Sandvik series has seven steel grades. Among them, 12C27M, 13C26, and 14C28N are popular for knife making. In this blog, we will discuss 12C27 properties, and compare 12C27 with some other knife steel to explain 12C27's advantages as a knife steel. Read on!
12c27 Steel and Its Composition
The Swedish steel manufacturer Sandvik is renowned as the best knife steel producer.12C27 steel is one of the most efficient knife steel they produce.
It is chromium-heavy steel made with carbon, silicon, sulfur, manganese, phosphorus, and chromium of course!12C27 is strong, hardenable, and durable. The manufacturing composition of 12C27 made it a good selection for knife steel.
Chemical Composition of Sandvik 12c27 Steel
12C27 steel properties chart will help you to have a clear idea of its material composition and physical properties.
| | |
| --- | --- |
| Property | Value |
| Carbon (c) | 0.6 % |
| Chromium (Cr) | 13.5 % |
| Manganese (Mn) | 0.4% |
| Iron (I) | 85% |
| Hardness | 55-60 HRC |
| Tensile Strength | 600-1000 MPa |
| Yield Strength | 1950 MPa |
| Modulus of Elasticity | 200 GPa |
| Density | 7.7 g/cm³ |
| Corrosion Resistance | High |
| Toughness | Good |
| Edge Retention | Good |
| Sharpness | High |
HRC Comparison: Sandvik 12C27 Steel Vs Other Knife Steels
The 12C27 steel hardness is in the same range as 440A and VG-10. But the 400C or d2 sheets of steel are harder than 12C27. The hardness of the steel depends on the heat treatment used by the manufacturer.
Here I am adding a comparison chart for some popular knife steel hardness:
| Steel Name | Hardness (HRC) |
| --- | --- |
| 12C27 | 57-60 |
| 440A | 55-57 |
| 440C | 58-60 |
| 154CM | 59-61 |
| CPM S30V | 58-62 |
| CPM S35VN | 59-61 |
| VG-10 | 58-62 |
Edge Retention- 12C27 Stainless Steel Vs Other Knife Steel
The edge retention of 12C27 is good. But you can find CPM S35VN and some other stainless steel with way better edge retention. And also there are 420HC and 440A with lesser edge retention than the 12C27.
Corrosion Resistance- 12C27 Stainless Steel Vs Other Knife Steel
The corrosion resistance of 12C27 can be compared with high-quality steels like VG-10 or S30V. High corrosion resistance helps 12C27 to perform well in humid weather. It also helps to prevent rust and deterioration of the blade.
Wear Resistance- 12C27 Stainless Steel Vs Other Knife Steel
The wear resistance indicates the resistance and tear properties. Sandvik 12C27 has a high wear resistance that makes it good for knives.
The 12C27 stainless steel has greater wear resistance than the 400A or AUS-8. But it is not as high as the VG-10. Yet 12C27 is a compact blade material.
Sharpness- 12C27 Stainless Steel Vs Other Knife Steel
The Sandvik 12C27 has a high carbon content and a tact structure. These qualities lead it to a higher shape blade material. The sharpness retention of 12C27 is far better and can be compared with VG-10 and 154CM. But some users prefer CPM-S35VN and S30V sharpness though they are costly.
Characteristics of a Good Knife Steel
To be a good knife steel it must have some qualities. Let's see the characteristics of excellent knife steel:
Hardness: A good knife steel deformation resistance should be between 58-62 HRC. Higher hardnesses represent better quality for knife steel.
Sharpening: A knife owner must be able to sharpen his knife easily. Quality steels allow a user to sharpen easily and maintain sharpness.
Toughness: Good knife steel should resist breakage and cracking under pressure. You don't want your knife to break during any chopping operation. A good knife steel has greater toughness and never fails to impress!
Wear resistance: The ability of a material to withstand abrasion and erosion from work-related materials, dirt, grit, bone, and other external forces makes wear resistance an additional significant property.
Blade wear obstruction is affected by the blade's degree of hardness and its substance makeup. The two essential types of wear harm cutting edges can cause are grating wear and tacky wear.
Corrosion resistance: Increasing the steel's chromium percentage is necessary to develop corrosion resistance. To solve the problem of producing corrosion-resistant steel (heat-treatable and wear-resistant), many specialist CPM alloys have been developed. 
Steel can be vulnerable to attack in areas with high humidity, moisture, or salt. The corrosion resistance is particularly crucial under these conditions.
Is 12C27 Steel Good for Knives?
Yes, the Sandvik 12C27 steel is good for knives. It has balancing properties like a high hardness level, magnificent edge retention, ease of sharpening, and good corrosion resistance. It is one of the best knife-making steel in an affordable price range 
12C27 is being used for high-quality pocket knives, kitchen knives, outdoor knives, skate blades, and ice drills. Its versatility and overall performance make it popular among knife makers and enthusiasts.
Best Sandvik 12c27 Knife
1. JEO-TEC Nº18 Bushcraft Survival Knife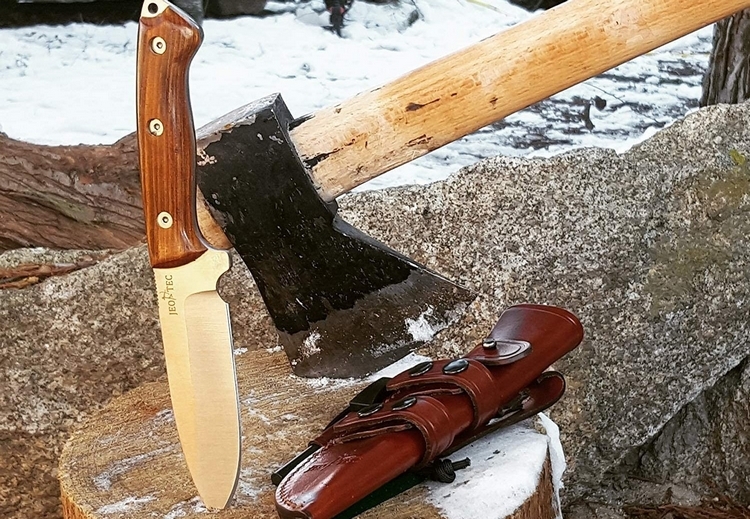 This knife is handmade in Spain and is popular among explorers, hunters, fishermen, and military personnel. It boasts a  4,48″ blade length and an overall length of 9,01″. The blade has a thickness of  0.15″ which is perfect for handling tough cutting jobs.
It is made of high-quality Sandvik steel 12c27. The blade steel is durable and has an HRC of 56-58. The handle is made of Cocobolo Exotic Wood and lined with red liners for added grip. 
The knife comes with a 100% genuine leather sheath.  And it also features fire steel which is a great addition for any outdoor adventure, such as hiking, camping, backpacking, fishing, or hunting.
2. LAND 911 Pocket Folding Knives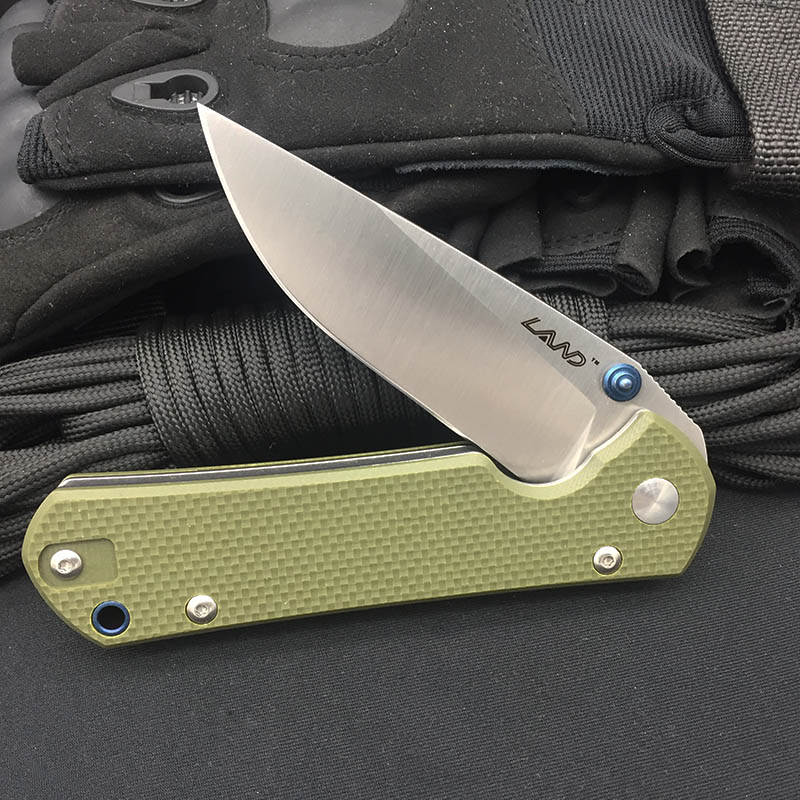 The LAND Knives 911 is an excellent choice for any knife enthusiast. Its Sandvik 12c27 stainless steel blade and amy green G10 handle provide great strength and durability. The knife features a rivet on the blade. Thus it's easier to open with one hand.
The ball-bearing design of Land tactical knives provides a smooth unfolding. The handle is designed with an anti-slip grip with a hanging clip. The knife is lightweight. It's very easy to carry if you are using it as a hunting knife.
The overall length of the knife is 7.83″, the blade length is 3.5″ and the weight is 4.5oz. All and all, the LAND Knives 911 is a great choice for anyone looking for reliable, lightweight hunting and camping knives!
3. CRKT Stickler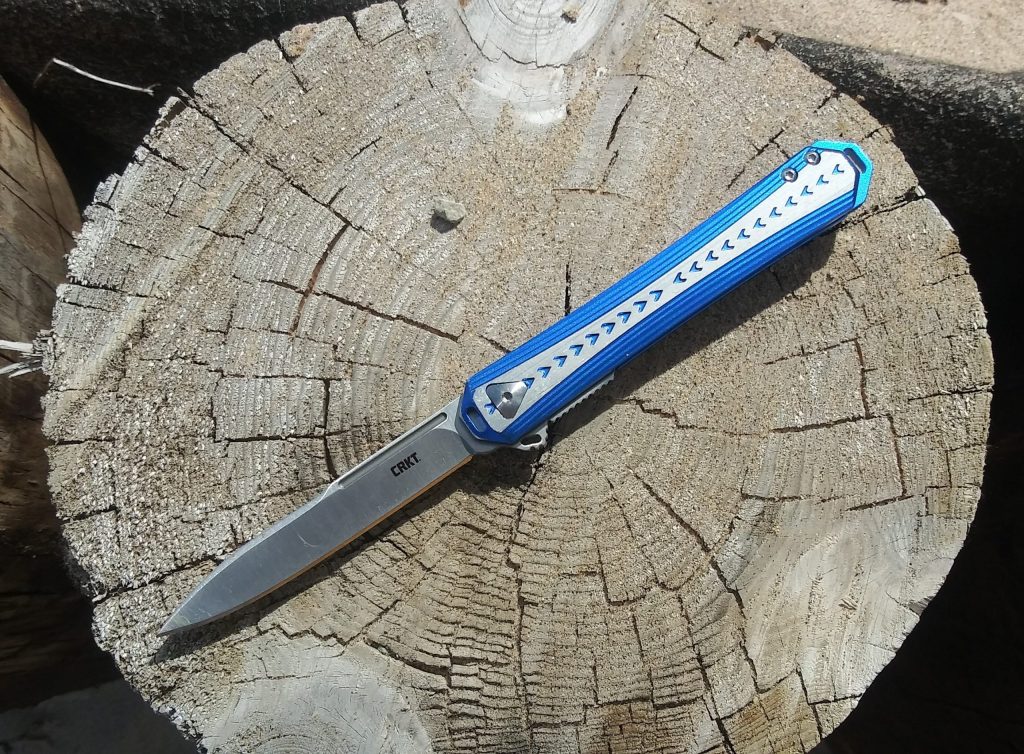 CRKT Stickler is one of the sharpest knives with superior performance! The knife features Sandvik's most well-rounded knife steel 12C27 for excellent edge retention. I have personally tested this knife.
It keeps an extremely sharp edge for longer than other blades. The assisted opening flipper is a great feature to have in this tactical knife.  It deploys the blade very swiftly.
The IKBS ball-bearing pivot ensures the blade opens smoothly. The reliable liner lock allows me to easily close the knife with one hand. The knife features an aluminum handle. It provides strength and keeps the overall weight of the knife minimal.
In conclusion, the CRKT Stickler is a great purchase for anyone looking for a dependable folding knife with superior performance.
Conclusion 
12C27 is a popular knife steel for producing high-end hunting and kitchen knives. Its fascinating properties make it a perfect choice. I have discussed details on 12C27 steel. Now you have got the answer to the question "Is 12C27 steel good for knives?" and the answer is "Yes".
So don't overthink about this and enjoy your chores and hunting with a 12C27 steel knife!
FAQ
Is 12C27 steel easy to sharpen?
Yes, 12C27 steel is relatively easy to sharpen because of its fine-grained structure. This feature allows it for a sharp and durable edge.
How does 12C27 steel compare to other knife steels?
The Sandvik 12C27 steel is high-performance stainless steel with good edge retention, toughness, and corrosion resistance. It is comparable to other popular knife steels such as VG-10 and 154CM in terms of performance.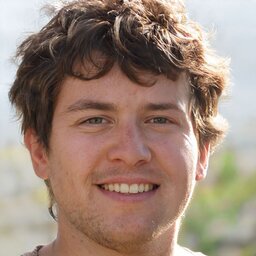 Hi, my name is Taras Kulakov and I'm a knife enthusiast. I have been collecting knives for over 30 years and I've owned literally thousands of different models over that time. My goal with this site is to share some of what I've learned about knives. You can find more info about Taras Kulakov here.