Welcome to Knivesngear. Today we will take a look at a classic rivalry. Two of the greatest survival knives- the Esee 6 vs Ontario Rat 7. If you read my blogs before, you know by now, how much I have raved about both of these knives before. Both are awesome knives with high-end manufacturing and great materials. These two knives are made in the USA and interestingly both of these knives are designed by same people. In 2002, Ontario hired 2 guys from Randall's Adventure & Training to design the rats line. And later Randalls Adventure & Training eventually changed their name to Esee. Ever since then there's been this battle of which one of these two knives is better.
Read on to find out more about these two knives and what is the best choice for you.
What's the difference between Esee 6 vs Rat 7?
Well, it's hard to differentiate two almost identical knives. Funny how the difference between both the knives is night and later the night. The overall length of the Esse 6 is 11.75 inches and weighs 12 oz, with 6.5 inches blade length, which is made of 1095 Carbon steel, and blade style is the drop point.
And the overall length of Rat 7 is 12.2  inches and weighs 12.6 oz with 7.2 inches blade length made of 1095 carbon steel, and the blade style is full flat taper for maximizing performance.
Esee 6 vs Rat 7 – Key Comparisons
Right of the bat, I want to mention that, if you stack them up on top of each other, they are identical. The profiles and design of both the knives mimic each other exactly. Except you get about a half-inch more blade on the Rat 7.
The thickness of both blades is identical, similar jumping. Also, same blade steel, both of the knives are made of 1095 high carbon stainless steel.
However, the heat treatment on the Esee is better, you are less likely to get a dinging chip, a fold, or roll. Don't get m wrong here, the plate on Rat 7 is badass too. It does a great freaking job as well.
Both the Esee and Rat were made in the USA, designed by the same people. The Esee has a powder coating on the blade that makes it rough textured and the thick strong coating makes the blade more durable.
On the other hand, the coating of Rat 7 is smoother. It's not a thick layer of coating which is good for batoning and stuff but it might wear off faster. Handle thickness on the rat 7 is a little bit thicker. I'd say maybe an inch thicker, feels a little heavier in hand.
It has no liner on the contrary the handle of Esee 6 has a liner, it is a bit thinner and contoured which gives a tough grip, and fits nicely in the hand. The finger choil on the esee 6 is bigger than the rat 7 although rat 7 has a bigger length. The Rat 7 comes in a black nylon sheath with a Kydex insert. See 6 comes in a modular plastic sheath.
Comparisons Table
SPECS

 

ESEE 6

 

RAT 7

 

Overall Length

 

11.75"

 

12.2"

 

Blade Length

 

6.5"

 

7.2"

 

Blade Steel

 

1095 Steel

 

1095 Steel

 

Knife Weight

 

12 Oz

 

12 Oz

 

Blade Style

 

Drop Point

 

Drop Point

 
Esee 6 vs Rat 7 – Some Key Similarities
Steel: Both the knives' blades are made of 1095 high carbon steel. This steel offers great edge retention, wear resistance, and durability.
Thickness: Both the knives are 0.188 inches thick.
Blade Style: Both the esee 6 and Ontario rat 7 are full flat grind with drop point blade style. But the rat 7 comes in both plain and serrated version
Knife Handle: Both the knives have removable Linen Micarta Handles.
Esee 6 vs Rat 7 – Some Key Differences
Overall Length: The Ontario rat 7 offers more length at just over 12.2 inches vs 11.75 inches on the Esee. The Esee 6 has 6. 5 inches of blade length the rat 7 comes with a 7.2 inches blade length. Yes, not a big difference.
Sheath: Rat 7 comes with a Black Nylon Kydex sheath, which can be attached to your backpack. It has a clasp to keep the blade in place. On the other hand, ESEE 6 comes with a Black Plastic Sheath which is so form-fitting.
Esee 6P – Detailed Knife Review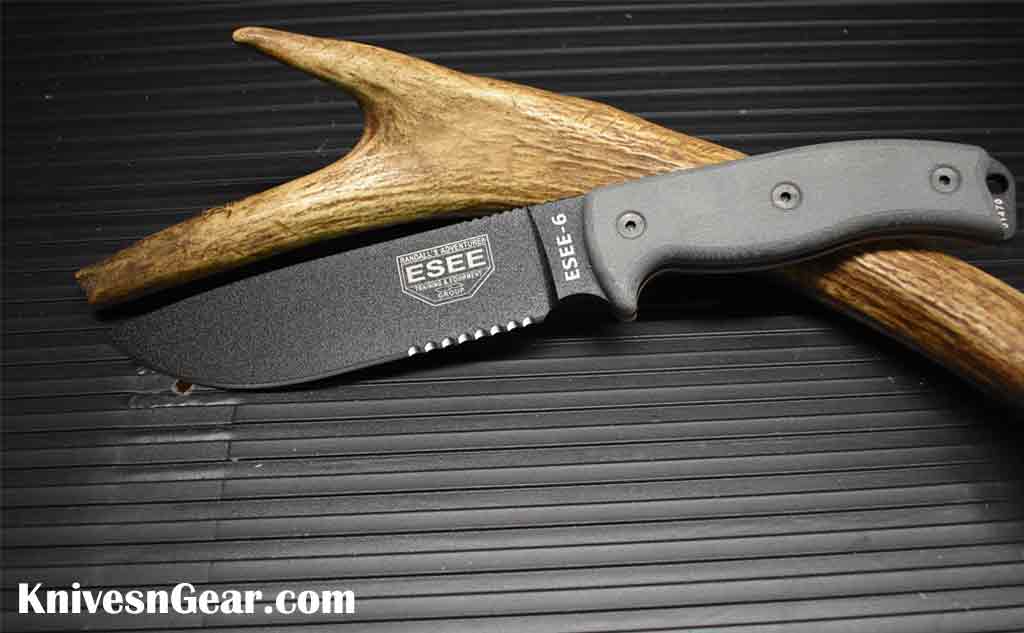 The Esse 6 has been a long-term favorite knife of mine. It's a no-nonsense straight-up midway survival knife that promises to take loads of abuse.
The Esse 6P has a little bit more blade length than the other Esee knives. With a blade length of 6.5 inches and 0.18 inches thickness, it's a very balanced knife.
The blade is made of 1095 high carbon steel, which is prone to rust (in high humidity), but it's very easy to resharpen the field.
It'll hold its edge decently. You can use a river stone and resharpen its edge. Even though it's a three-sixteenth-inch thick blade, the full flat grind does make it a phenomenal slicer.
The way I see 6P has been designed where the blade has contouring to a belly and great choil combined can make a fine paper-thin slice.
The old Esee scales cause a hot spot while making fine slicing, but with the new version, 6P has contoured handle scale and scalped, the slight blocking is now gone.
The blade also has powder coating, which will help to resist corrosion. The handle of the knife is a Removable Linen Micarta. It's bolt-on style construction and features a red liner with a nice linen micarta material for the outside.
The contoured handle is flat on the hand but fairly contoured on the shoulder. What makes it a great survival kit is the glass breaker protruding pommel at the end.
Even though this isn't pointed, it creates a nice apex, and that's going to come in handy when you need to use it to break open things in the wild.
So as far as larger knives go, this is a heavy-duty option, but it's not a chopper. The knife comes in a nice black plastic sheath.
It offers nice retention, and it carries easily. I like the knife because it balances that large blade and the handle to create something that's still pretty agile in hand.
The knife performs well at heavier tasks like batoning, but it also has the type of geometry which makes it work well at butchering and food prepping.
Rat 7 – Detailed Review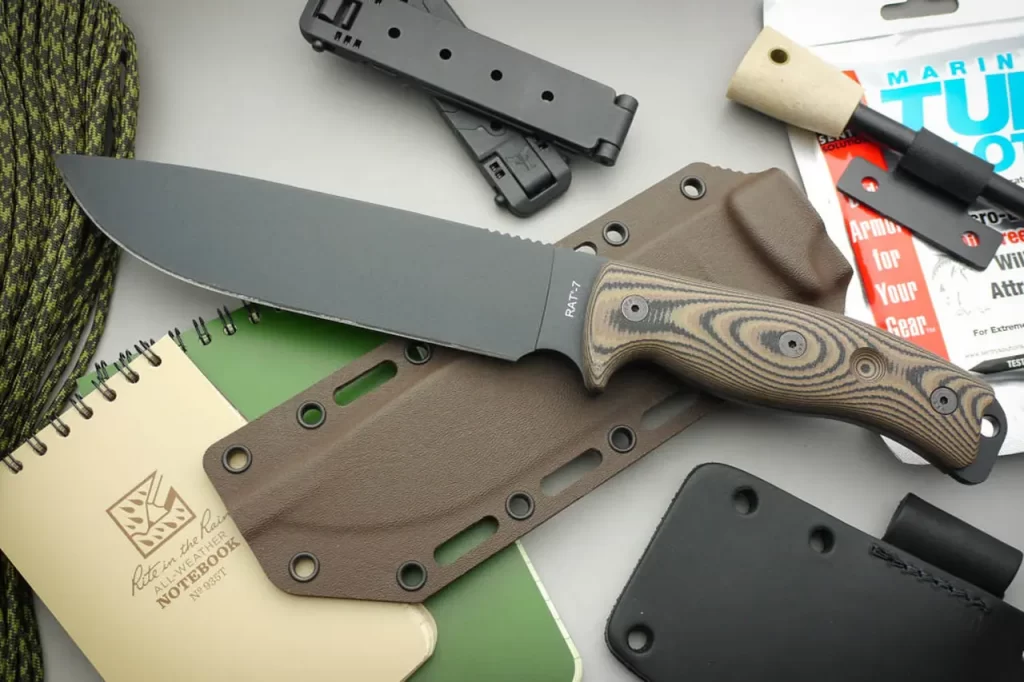 Ontario rat 7 is an awesome knife with great reviews all over. With this, you will get a 7 inch overall from handle to tip knife with a six-and-a-half-inch cutting edge.
The blade is made of 1095 carbon steel and the blade thickness is about 0.188 inches. 1095 is great carbon steel for a survival knife.
The blade is coated with a smooth thick layer of textured powder to make it more durable. It's easy to sharpen and at the same time holds a greater edge. But not good corrosion resistance so you might want to clean and dry the knife blade properly.
With a 6.5 cutting edge, the first half-inch of the blade is a nicely sized finger choil. The blade shape is a full flat grind with a drop point design and comes in both plain and serrated versions. The Rockwell hardness of this knife blade is 55 to 57 which is pretty great for a survival knife.
Weighs in at 12 oz this knife feels tough in hand. Great for batoning, curving, chopping thicker branches by hammering to make a camp.
The handle is micarta scales, full tang just how I like my survival knife. The handle on this feels boxy in hand but yet it gives a tough comfortable grip. There's a nice lanyard hole too.
The Ontario Rat 7 comes in a black nylon sheath. It's molle compatible and has two button fastener clasp to hold the knife in place. The sheath has a plastic Kydex inset so that the blade stays secure.
This beast of a knife is hands down the best if you are looking for an affordable heavy-duty survival knife. The knife is robust and will stand up to any heavy-duty outdoor activities.
Still Can't Decide? Here's an Alternative – Kershaw Scrambler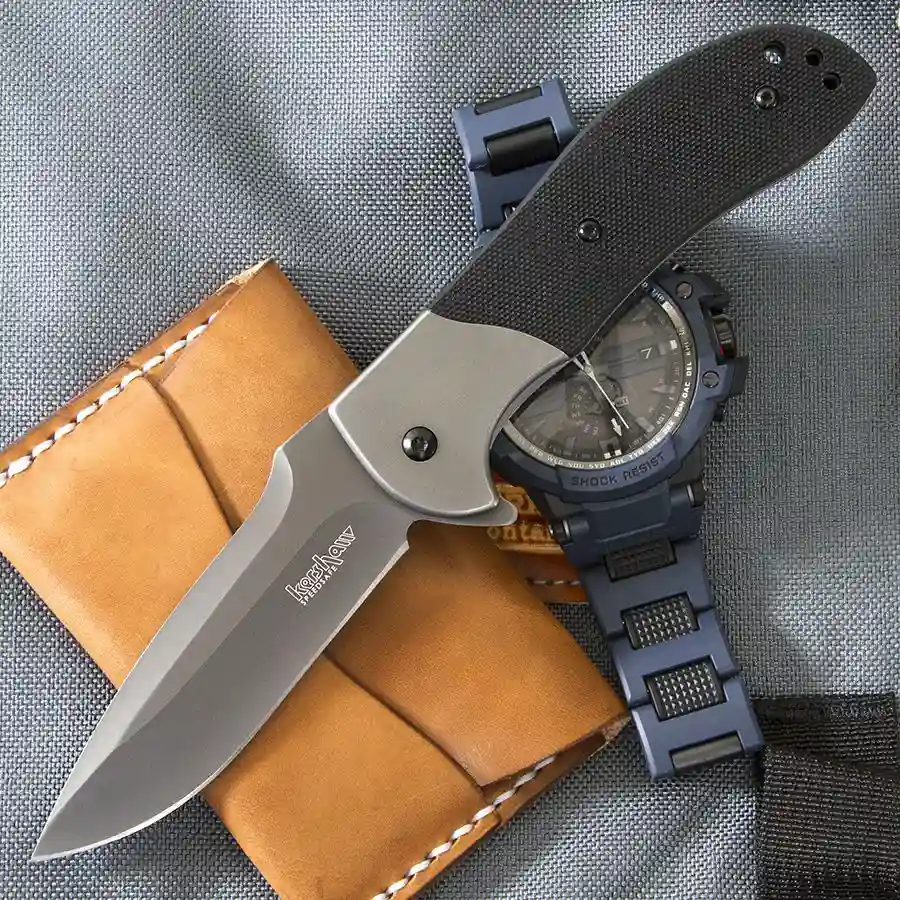 Confused about the esee6  and rat 7? no worries, I might have another option that suits your need better. Let me introduce to you another favorite knife the Kershaw Scrambler.
The scrambler has an open length of seven and seven-eighths inches when open. And four and three-eighths inches when closed. The blade is about 3.5 inches.
The blade of this knife is constructed of 8cr13mov stainless steel and features a hollow ground edge with a drop point tip. The handle of this knife is composed of g10 material on one side and 410 steel with a titanium carbon nitride coating on the other.
This knife also features Kershaw's signature speed safe opening system with a flipper to quickly deploy the blade. This knife also features a sturdy frame lock and reversible pocket clip. Overall the Scrambler is an excellent tactical folder.
Its compact size unique handle structure and top frame lock make this knife ideal for use around the house or small-scale cutting tasks out in the field. The half-textured handle also allows you to perform small-scale cuts from multiple angles while keeping a firm grip on the knife.
When the blade is deployed the flipper acts as a small finger guard so you can make precision cuts without fear of your hands slipping up toward the blade. It's a great EDC knife and can get every cutting job done.
Conclusion – Esee 6 vs Rat 7
So as far as, "Which one wins the battle" is concerned this is probably hard for me to answer. I love both of these knives. Is there a clear-cut winner? Well, yes I have a winner without a doubt. But is it because one is a lesser of knife? Absolutely NO. Rather one is just more of a knife.
As far as comfort the grip on the Esee 6 is better than the grip on the Ontario. Cause of the contoured handle. As far as built quality is concerned, I'd say Esee puts in some liners to take away the shock and make it overall better while the knife is in use.
The coating on the Esee is again just a tad bit stronger than the coating on rats. But these all do not mean rat doesn't perform well. The rat holds more staining than the Esee, even when the Esee is more gritty. So you'd think the esee can take more abuse, well not really. The Rat does.
Size-wise, I'd learn a little bit more about the Rat, cause I like a big fat knife. The choil of the Esee is thought out more. It's carved and a little bit bigger so you will get less pinching on the finger.
The steel is the same, but the heat treatment of Esee is really good. Performance-wise both are great. So which one should you get? Well, I'd recommend getting both. But over the other, I'd suggest the Esee 6 knife without a doubt.
FAQ
What was the ESEE 6 designed for?
The Esee 6 is specially designed for all of your wilderness outdoor activities. It is one of the best survival tactical knives.
Where is Esee Avispa made?
With the Avispa what you have from the handle to tip is 8.5 inches with 3.5inches  actual blade length. Made in Taiwan, the knife design is pretty compact which is perfect for EDC.
Does Esee make folding knives?
ESEE  has an excellent line of Folding Pocket Knives. The Esee Framelock Pocket Knives, Avispa Knives, and Zancudo Knives are the top knives in the folding series.
Is the ESEE 6 full tang?
The ESEE 6 is a medium, full-tang, fixed blade survival knife.
Are ESEE knives any good?
Esee knives are known for their high-quality military-grade survival knives. They are incredibly durable and functional made with a 1095 carbon steel blade and a micarta handle with a powder coat finish.
What is a BK7 knife?
The KA-BAR Becker BK7 is a traditional combat knife. This knife is said to be a "Jack of all trades" knife. This all-purpose knife was initially designed for soldiers. It's very lightweight but can stand up to hard use.
Is the Becker BK7 a good survival knife?
The Becker Bk7 is an amazing platform for a mid-weight survival knife. The Bk7 should always be in the top 3 best mid-weight survival knives, I say mid-weight cause I believe a survival knife should come in at under a pound and this bk7 weighs in at 13.6 oz. It has 7 inches big blade made of 1095 Cro van steel that means additional albeit minimal additions of chromium and vanadium over standard 1095. Means tougher and durable.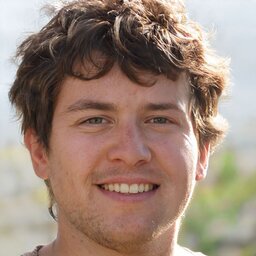 Hi, my name is Taras Kulakov and I'm a knife enthusiast. I have been collecting knives for over 30 years and I've owned literally thousands of different models over that time. My goal with this site is to share some of what I've learned about knives. You can find more info about Taras Kulakov here.