According to Kamikoto, they employ premium Japanese steel. Kamikoto claims the high durability and corrosion resistance of their steel. You won't readily discover the parts of this "high-quality steel" on their website if you try to look for them. 
Kamikoto knives made of 420J2 steel in the Genten series. This steel is of low quality and is used by manufacturers to create inexpensive knives.
It is extremely soft and retains an edge very little. This steel would lose its hardness extremely quickly after being worked up to a possible 53 HRC. On the other hand, due to its high chromium concentration, it has strong corrosion resistance.
Now the main question is – Are Kamikoto Knives Good?
Kamikoto is also proud of the quality of its single-bevel knife production. They claim that they get their inspiration from the ancient method of making Japanese blades. Kamikoto does not create the typical single bevel blades, despite claiming to produce traditional Japanese blades.
What is Kamikoto Knife Set?
An elite line of Japanese steel knives is made in China and Japan by the Japanese business Kamikoto. Even when compared to manufacturers like Yoshihiro, which hand-craft their blades out of premium steel, these knives retail for some rather exorbitant rates.
From seasoned pros to amateur cooks and foodies, this well-known company has a wide selection of excellent items to suit all types of cooks.
Each knife made by Kamikoto takes years to complete, according to the company. To keep knives' edges razor-sharp, their skilled blade smiths put them through an extended procedure of shaping, forging, polishing, and sharpening.
How Kamikoto Knives Are Made?
More than any other brand, Kamikoto knives are great display pieces. Although they don't perform any better than other high-end knives in terms of functionality, they do have fantastic looks and include display stands. 
It's difficult to establish the specific location of Kamikoto knives' production.
It's crucial to understand that using real Japanese knife is quite acceptable. Similar to Japan, China has a long history of producing knives, with thousands of years of expertise in places like Yanjiang.
The blades are constructed of Japanese steel from Honshu, and the knives are handcrafted to exacting standards.

Authentic Japanese knife manufacturers with established histories in Seki City or Niigata, Japan, include Shun, Miyabi, or Global. Having mastered the art over a period of time, these brands are quite transparent about the processes by which they make knives. 
What Is Honshu Steel?
The word "Honshu" refers to Japan's largest island. There are numerous steel varieties that can be produced there. In order to conceal the actual sort of steel being utilized, the name "Honshu steel" is only an umbrella term.
Kamikoto Knives- Double bevel or Single Bevel?
Both right- and left-handed people can use double bevel knives because they are more frequent and functional. Single-bevel knives are perfect for particular tasks, including making sushi or slicing delicate produce.
When making long cuts with a Kamikoto easily is a single-bevel knife, the blade tended to veer to the left even more. In other words, getting proper management involves a learning curve.
Are Kamikoto Knives Good?
Pros
The knives are evenly weighted.
Could be used as steak knife and vegetable knife.
Compared to many of German-made knives, they weigh more.
Cons
They are expensive
Single-bevel knife, so difficult to sharpen kamikoto knives.
Not dishwasher safe.
Kamikoto Kanpeki Knife Set Review
Kanpeki knife set are fashioned by hand from Honshu steel, which should assure endurance due to their resistance to corrosion. They also come with a limited lifespan guarantee, exactly like all Kamikoto knives, for your piece of mind.
They are well balanced and move around the kitchen quite easily, but if you prepare food for a while at once, you can feel your arm getting a little tired.
Furthermore, the grip and the blade both feature a subdued satin finish that looks incredibly classy.
Amazon's Choice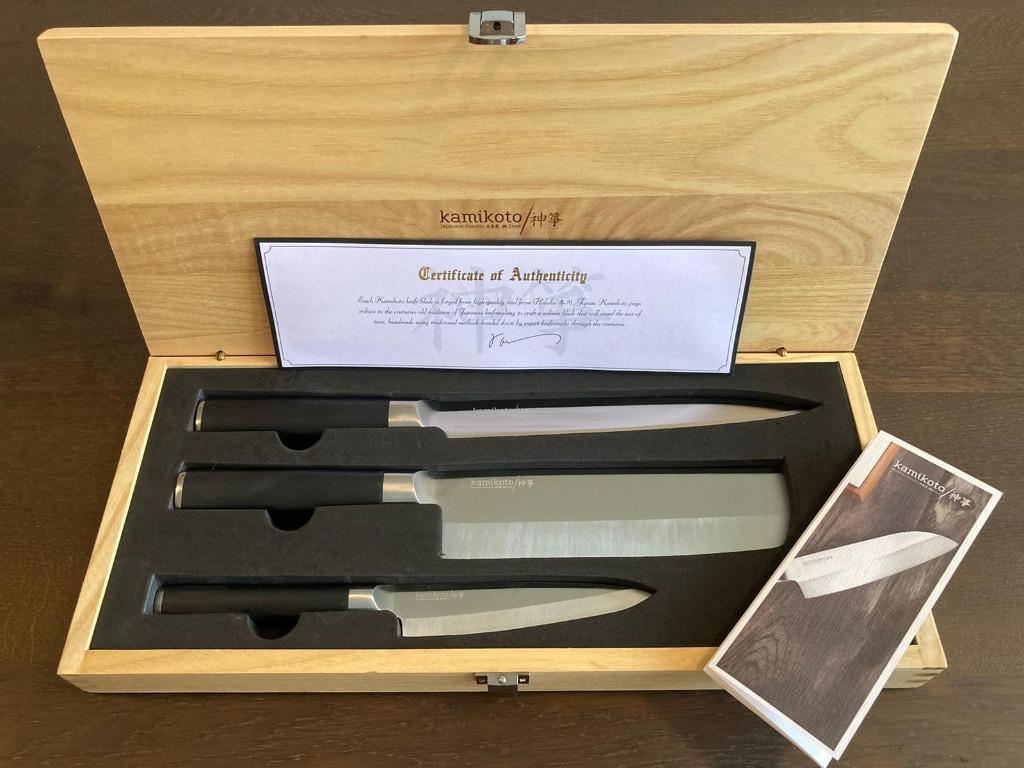 The Set Includes –
7-inch Nakiri knife.
8.5-inch slicing knife. 
5-inch utility knife.
handmade box made of ash wood.
For a variety of jobs, single bevel three knives are included.
1. Vegetable Knife 
The 7-inch Kamikoto Nakiri vegetable knife looks like a miniature butcher cleaver. The knife has only one side that has been honed; the opposite side remains entirely flat, as is typical of Japanese blades.
Although the blade isn't especially thick, it is sturdy and doesn't bend when we try to bend it.
Vegetable cutting was simple. It was simple to use and handle when handling tomatoes, onions, potatoes, and bell peppers.
The blade needs to be handled carefully because it is incredibly sharp; otherwise, you risk getting more than just a little cut.
2. Slicing Knife 
Have you ever attempted to skin a piece of fish? Even a sharp knife won't make it easy. The kitchen knives in this set is 8.5 inches long, incredibly sharp, and heavy enough to make chopping up a variety of foods a snap. It's really simple to cut small slices of everything with the Santoku thanks to its flat back.
One thing to keep in mind is that, due to the flat side, this is only for right-handed people. Although it will be more difficult for you to cut tiny slices if you use a left-handed knife, you can still use one.
3. Utility Knife
The set's 5-inch utility knife is perfect for hand-peeling apples and cutting fruits. It has the sensation of a tiny Santoku, which is fantastic. When you only need to swiftly chop any scallions or prepare some fruit, this knife comes in handy.
Pros
Sturdy and corrosion-resistant.
Lovely finishing.
Multipurpose set of knives.
Really sharp for clean cuts.
Cons
Due to their single-bevel blades, they are exclusively appropriate for right-handed users.
It is pricey. 
Dishwasher incompatible.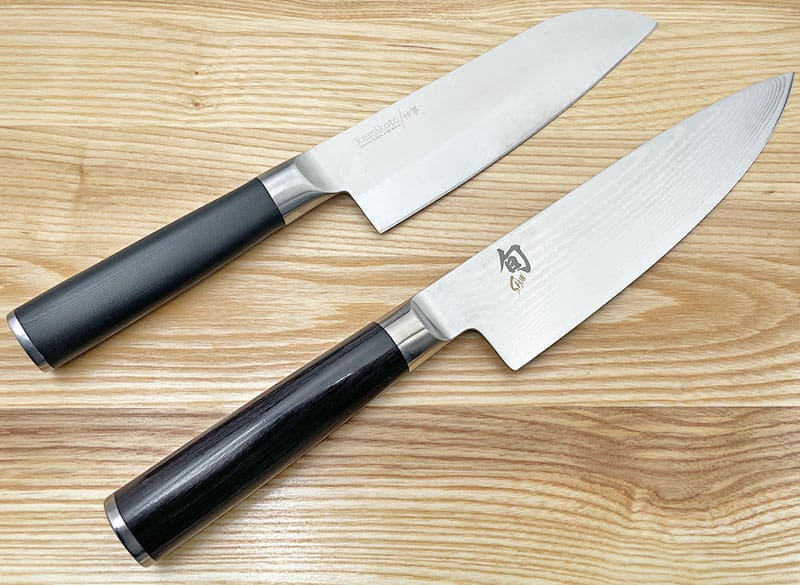 Famous Japanese knife maker Shun prioritizes quality and craftsmanship above everything else. They have been making their knives by hand in Seki City, Japan, for a long time.
Shun creates very high quality knives because they rely on talented craftspeople to hand-make their products.
However, they are slightly more expensive than knife that's produced in large quantities on an advanced, automated production line. Leading center of Japanese-style knife are generally okay with this.  They grow accustomed to such quality of the knives.
On the other hand, Kamikoto blades is a high-end Japanese knives in the United States. In actuality, a special, superior steel from Honshu, Japan, is used to make their blades, which are always handcrafted by a small, experienced group of artisans.  
Although their advertising makes you think the knives are made in Japan, a closer look reveals that Kamikoto products are actually crafted in Yanjiang, a Chinese city renowned for its history of producing blades.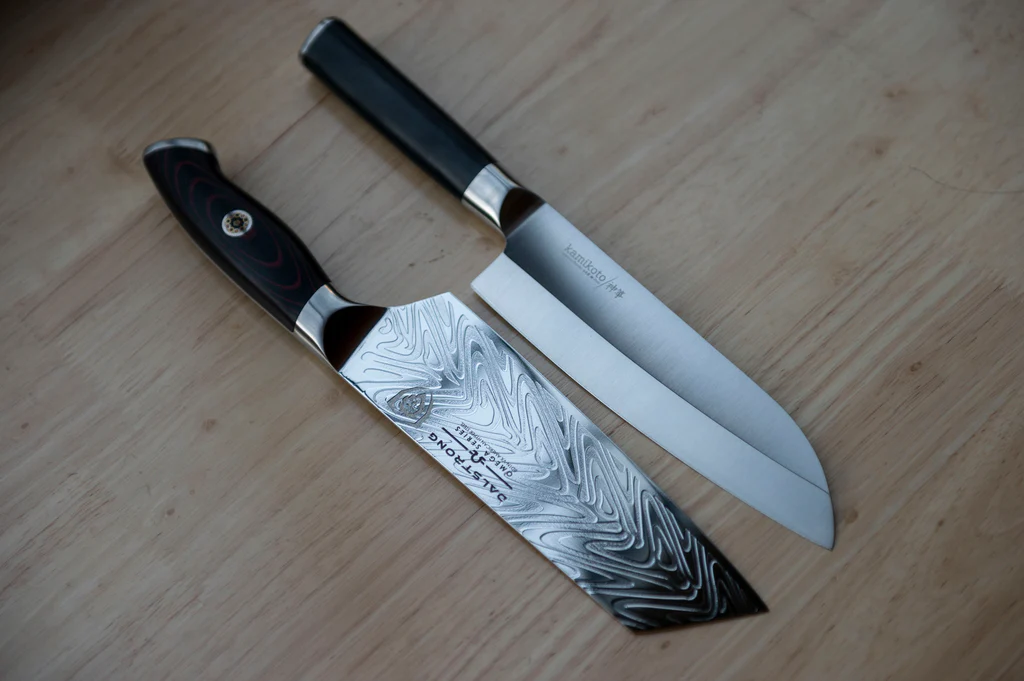 High-end knife maker Yoshihiro has its headquarters in Japan and has been in business for more than a century. Since they only started marketing their knives abroad in 2008, they are still somewhat uncommon in many nations.
Yoshihiro's knives come in a wide variety of shapes and patterns, as well as many various metals and handle styles.
Despite the fact that Kamikoto offers a broader and heavier blade than you might anticipate from a Japanese knife, they nonetheless perform admirably as knives.
Center of Japanese-style knife forging merely produce blades with a single bevel that are extremely thin.
FAQ's
Are Kamikoto Knives Worth It?
Your wants, needs, and money will determine the response in full. In particular than almost every other brand, Kamikoto knife are good knife and their brand are superb display items. 
Is Kamikoto made in China?
In Yangjiang, China, a city with a history dating back more than a thousand years of forging knives and swords, a small group of skilled artisans who are fully educated in traditional Kamikoto Japanese knife making techniques handcraft Kamikoto's blades from Japanese Ibaraki Steel.
Do chefs use Kamikoto knives?
Kamikoto knives are designed to be a mainstay in every kitchen; they are not just top chef's knife. 
What is better German or Japanese steel?
Kamikoto forge have significantly more carbon than German style knives due to different forging processes, which renders them both tougher and more delicate. Japanese-style steel is tougher than German steel, thus it can keep an edge longer and requires less frequent sharpening than German blades.
Who owns kamikoto knives?
Chinese manufacturer Kamikoto Knives is based in Hong Kong and produces its knives there. Galton Voysey is the corporate parent.
Buy Authentic Kamikoto Knives
Best Kamikoto uses high-quality steel in, can easily last for ten years or longer. Since Kamikoto knives are also designed simple black handles highlight the blades' angular lines and subtly highlight the high level of craftsmanship, it draws emphasis to its crisp design. Buying these knives will be better than buying a chinese knife brands. Make sure to  check the Kamikoto logo before purchasing it!!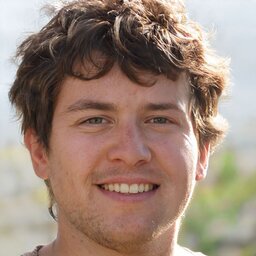 Hi, my name is Taras Kulakov and I'm a knife enthusiast. I have been collecting knives for over 30 years and I've owned literally thousands of different models over that time. My goal with this site is to share some of what I've learned about knives. You can find more info about Taras Kulakov here.