Best Electric Knives Reviews
Are you looking for the best way to slice through the meats, bread, and filleting fish?
An electric knife makes the task much safer, quicker, and more consistent. To carve a whole turkey or chicken with a knife can be pretty hard on your hands. To cut through the flesh and bone carving demands you to allow a significant amount of energy. A perfect electric knife, for example, allows you to do so with clear affability and less stress.
So, why would you instead put in all the effort and energy required when using a standard kitchen knife? However, you can invest in one of the best electric knives for taking care of the hassle of carving.
I am going to break down the Top-selling 15 electric knives this year. There are great collections of electric knives made for different purposes.
In a hurry? Top 5 Electric Knives – Quick Comparison Chart
15 Best Electric Knives Currently On The Market

1. Cuisinart Electric Knife CEK-40
This electric knife from Cuisinart is a top seller on Amazon. It is of superior quality and innovation with a state-of-the-art electric stainless steel knife. It comes with two different types of blades, one heavy-duty blade for slicing your crusty and another thinner one for general carving.
The bread blade makes short work of crusty baguettes, and the carving blade produces clean restaurant-quality cuts. Ideal for slicing meats, loaves, and vegetables, the ergonomic handle accommodates both right- and left-handed people. The edge feels sharp and effortless to work with.
The Cuisinart CEK-40 comes with a wooden holder for storage, an electric cord that is extremely flexible too. The cable measures up to four feet, so if you are working indoors and have a wall outlet a couple of feet away, this will work for you.
WHY I LOVE IT
Super-easy to clean
More than one blade attachments for every task

Easy to use with a safety lock system 

2.

Hamilton Beach

Easy Slice Electric Knife
Hamilton Beach Easy Slice Electric Knife is lightweight and comfortable to hold, and it can slice through meat, bread, and vegetables. It is also crafted from stainless steel, making it durable and tough.
You will be able to slice bread very fast and evenly too. If you do a lot of baking, the 9-inch blade is perfect for slicing loaves. Use the blade release button added to it when you need to wash them. It will be fast, easy, and safe.
There is a comfortable grip handle that is designed to assure you get to enjoy total control as you slice. Also, providing precision cutting under your control because of the easy-touch button on the handle.
WHY I LOVE IT
Affordable
Blades are easily removable for cleaning, Dishwasher safe.
Fast, easy, and safe ( has a safety lock to prevent an accident)

3. American Angler PRO Professional Grade Electric Fillet Knife
American Angler's newest electric fillet knife, the PRO EFK, is our most powerful knife yet. Fillet easily as even big bones and Filleting a fish can never slow you down when you use the PRO Series motor boasts 2X more torque with the heavy-duty feature.
The knife can handle large fish like striper, grouper, salmon, and more, and the 8-foot cord gives you plenty of room to move around for the best cutting angles. This professional-grade electric knife from American Angler is so powerful.
It includes five blad fees: 10″ Saltwater Blade, 5.5″ Curved Tip Blade Replacement, 8″ Curved Tip Blade Replacement, 10″ Heavy Duty Shark Blade Replacement, and 8″ Heavy Duty Shark Blade Replacement. The set comes with a protective glove and storage case, while a single blade version is also available for purchase.
WHY I LOVE IT
Comfortable handling, and longer cord
Comes with replacement blades
Backed by a 2-year limited lifetime warranty

4. NutriChef Premium Electric Knife – PKELKN16
NutriChef Premium Electric Knife is Perfect for meats, turkey, chicken, steak, and pork. Food prep & cutting are made easy; not only is this electric knife portable and handy, but it also features an Ergonomically Designed Handle for Comfortable Handling and carving with ease.
The amazing design makes producing cuts quick and simple, while the removable blades mean the post-cutting clean-up won't take any time at all. With this product, there is no need for you to use sawing motion or excessive pressure as it is made with a consistent slicing ability. The built-in four-foot power cord is helpful as you've got plenty of flexibility during use.
Blade functions- for bread, meatloaf, cheese, and a carving blade for carving a turkey, chicken, ham, or roast. It can also be used to cut fruits and vegetables.
WHY I LOVE IT
Lightweight & Ergonomic
Affordably priced
Simple button control operation and comfortable handling

5. Mister Twister 120V Electric Knife (Green/Yellow)
Mister Twister is a brand that provides such a knife that's the trigger is well designed and easy to push. This knife zips through the toughest cuts. It runs smoothly on 120V AC current. This little thing provides 50% more cutting torque so carving dinner is no longer a battle.
Especially if you have a large catch to fillet, the Mister Twister is the perfect solution designed with a relaxed handle to ensure comfort when used. For the fishermen of our future, this fillet knife is the perfect intro tool for filleting fish with an electric knife.
You should use a good-quality boning knife for all your deboning tasks. There is a blade release system that you need. The blade is sharp, and you won't need to switch blades that often.
WHY I LOVE IT
The safety lock button is amazing
Simply the sharpest blade
Very affordable

6. Waring Commercial Rechargeable/Cordless Electric Knife
This is one of the best electric knives on our list, it is so powerful and the best thing is it's cordless. This little monster will make work hassle-free. This one uses a lithium-ion battery, which charges quickly and lasts long while cutting large roasts that gives you comfort.
It is crafted by Cuisinart commercial-grade cordless electric carving knife. For making even slices the WEK200 features a bread blade and a meat blade, both are easy to use, easily moved around. There is a built-in LED light, so you always have ideal clarity.
The price tag is nothing to worry about because you're getting the best cordless electric carving knife on the market.
WHY I LOVE IT
Cordless
Quick charging
1-year warranty

7. Oster Electric Knife, Black/Silver
You can cook passionately and serve with pleasure with the Oster corded electric knife. The blades slice with precision, so cutting of meat and other food product is made with ease with effortlessly and precisely for serving meats and poultry to perfection.
Included custom storage case and carving fork. It has the ability to slice through roasts e serve with confidence. Includes carving fork and storage case. The blade is removable for easy cleaning. It is made with special anti-rust properties, and the blade is made very strong to last long. Oster corded electric knife is ergonomically designed and perfect for carving the holiday feast.
WHY I LOVE IT
Corded

Removable stainless steel cutting blade

Ergonomically designed

8. Rapala Heavy-Duty Electric Fillet Knife
The Heavy Duty Electric Fillet Knife gives you more power result that works excellent for cutting pork, beef,
chicken, or lamb. Even if the meat is frozen, it still works pretty amazingly. The best electric fish fillet knife on the market with the highest quality materials and makes filleting fish simple.
It implements a 7.5-inch reciprocating blade with an eight-power cord. This particular knife works at three times the power of many standard electric filleting knives. The blades are removable for easy cleaning and a comfortable, relaxed grip provides fatigue-free filleting.
WHY I LOVE IT
Makes filleting easy
Excellent cord flexibility
110 volt and 7.5-inch blade
1-year warranty

9. Chefman Electric Knife With Fork & Storage Case
The Chefman Electric Knife is great for slice meats, roasts, chicken, turkey, fruits, vegetables, bread, and cheese all kinds of chopping and slicing for the holidays or just everyday use. It comes with reciprocating dual serrated blades and a carving fork to add precision and power to any slicing task.
The eight-inch blade was created to assist in uniform cutting. People will love the on/off trigger touch with an integrated safety button that locks the knife when it's not being used and is removable to make cleaning up quick and easy.
It is perfect to use when preparing a meal for Thanksgiving dinner, barbecues, parties, etc. The ergonomically designed rubber handle is suitable for left and right-handed users.
Besides, you get a pass in the Club Chefman where you get access to recipes, video tutorials, and more with every Chefman product you buy.
WHY I LOVE IT
Dual serrated blades
Carving fork & sturdy case
Ergonomic handle
Removable blade and Dishwasher-safe blade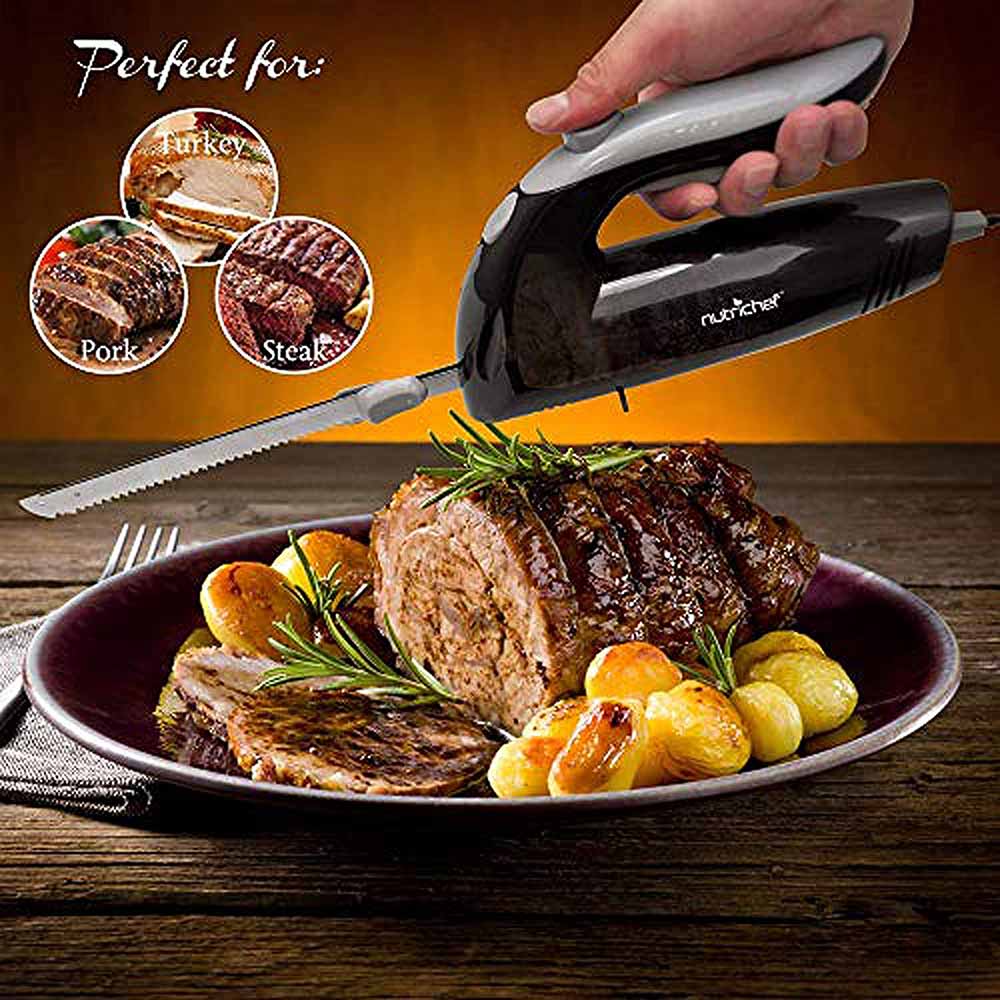 10. Nutrichef Electric Knife Set
NutriChef Electric Kitchen Knife with Elegant Wooden Storage Tray is incredible for Carving and Slicing. It has a 120 V power supply, the ultimate carving tool for roasts, turkey, and Ham. Definitely has the power for carving or slicing tougher meats, butternut, acorn, and spaghetti squash.
It has 2 stainless steel blades: one for carving and another one for cheese, meat, bread, and more. Ergonomically designed handle, this electric knife is both comfortable and adaptable to suit your every slicing need. Customers often described it as "easy to clean" and "works well." If you have wrist problems, you will still enjoy the food preparation with this knife.
WHY I LOVE IT
Quite affordable
Stainless steel blades
Safely lock keep blades in place
Comfortable handling
Hand Crafted Premium Hardwood Butcher Block
Good for tougher meat

11. Proctor Silex 74311 Easy Slice Electric Knife
Proctor Silex 74311 Easy Slice Electric Knife is an inexpensive stainless steel blade that ensures your food is not contaminated while you work it to your favorite shapes and has a hand—contoured grip for easy slicing. They're precise, easy to join, and allow you to be in control when slicing and carving.
The extra-long 60-inch cord gives you a lot of abilities for carving huge meats and for cutting foam and other elements for crafts and DIY projects.
Another great feature is the intuitive easy-touch button. After using, you can release the blades to clean them and re-attach them.
WHY I LOVE IT
Affordable
The blade gives the best service
Easy to clean
Light and portable
Sturdy & sharp steel blade

12.

Mighty Carver Electric Carving Knife
Mighty Carver Carving Knife is a powerful electric carving knife that is a smart choice for all those families where meat is regularly on the table. Chainsaw-inspired design knife not only carves a turkey but also makes memories that will last a lifetime and give people an experience to remember.
This device can also cut everything preciously for items like bread, cheeses, vegetables, and fruits. Easy-release buttons make using the knife useful and convenient. This electric knife includes dual stainless steel blades, a carving fork, and a guard to grip a consistent cut.
Although it looks big it's actually lightweight and very ergonomic. The knife cuts smoothly and evenly, and the blades are easy to clean, making them dishwasher safe.
WHY I LOVE IT
Great price
Ergonomic design
Easy to hold and lightweight
Removable blade
Durable

13. BLACK & DECKER 9-Inch Electric Carving Knife
BLACK & DECKER 9-Inch Electric Carving Knife makes slicing simple so that any carving is an easy way to create consistently cut slices of meats, cheeses, bread, and even craft items. The 9-inch stainless steel blades securely work in their place when you turn it off, so you can depend on this uniquely made electric knife for that perfect cut.
It has the ability to cut chicken perfectly and also slice through bread perfectly, leaving it with a presentation worthy. With this knife, you have the ability to cutting foam for craft projects—this knife makes quick work of it all. Apart from this wonderful feature, the ergonomically designed handle makes it fit and stay put perfectly in hand.
This electric knife will keep the finger locked onto the trigger without slipping while using it because it has no vibration. So to cut through foods and with a quiet or noiseless profile makes it completely pleasant to use. The knife is dishwasher safe for easy cleaning after use because it has removable parts features.
WHY I LOVE IT
Flexible
Easy to clean
Safety lock

14. Mister Twister MT-1208 Mr. Twister SW Piranha Knife
Blue White Color Mister Twister MT-1208 SW Piranha Electric Knife is perfect if you are looking for a good kitchen knife for cleaning and slicing seafood (like tuna, salmon, oysters, etc.). Piranha knife features 25% more torque and 15%  more speed than most other electric knives.
The key to its cutting power is in its 9″ heavy-duty stainless steel blade, which helps handle rough scales and skins. You get to choose what speed to top to fillet your catch. So you can set it at maximum speed while you prepare or work on something else. To truly make the Saltwater Piranha, "Bad to the bone" it has more power, torque, and speed couple-up.
WHY I LOVE IT
Easy and quick to clean
The blade is superb
Design is amazing

15. Toastmaster Electric Knife
The corded model of an electric knife by Toastmaster comes with serrated and sharp stainless steel blades cut through even your tougher foods with added peace of mind during use.
Blades remove at just the touch of a button for easy cleaning. Very comfy and convenient. While carving or slicing it allows you to be in control. The blade is 7 ½ inches long and the cord is a standard length.
Get your turkey sliced to perfection the easy way with this electric knife. Its quick release and trigger safety lock features make it perfect for those tough holiday dinners while its durable stainless steel blades will satisfy all of your other meat-cutting needs.
Say goodbye to cutting yourself trying to saw through a frozen steak when you can just power your way through with this powerful 100-watt motor that's built-in. The ergonomic handle is comfortable to hand providing stability, control, and comfort.
WHY I LOVE IT
Comfy grip
Serrated and sharp blades
Durable
Why Would You Choose Electric Knives Over Traditional Carving Knives?
An electric knife does the work fairly well as there is greater consistency of size and shape and a smart and long-term investment. In some cases, it is slightly overkilled. But there are some tasks that this kitchen appliance really shines in. In those cases, the advantages of an electric knife are clear cut.
Since the knife is doing most of the work for you, uneven meat slices and torn meat will be part of the past once you begin using an electric knife, it cuts the perfect slice of meat or fruit whenever you use it.
So you are happy to slice bread with distinct consistency. This allows you to have excellent consistency when carving meats such as ham, frozen meat, roast beef, and turkey, especially when you are making hard-to-cut items such as baked poultry or vegetables like squash.
An electric knife may take around 10 minutes to carve a turkey with a traditional knife. But, with the speed of electric knife blades, you just need a minute or two because blades are doing the slicing for you.
If you experience serious arm pains (arthritis) after doing one too many chores around the kitchen, then the electric knife is for you to eliminate that pain. So you can serve your beloved one more preparedly and do it in a stunning style too.
Another Advantage is safety because of the low human force needed for the cutting process if you are using an electric knife, and the best electric knives easily cut through any kind of food.
Hence, there is less chance of a slipped finger or human error. You only do the movement with an electric knife. We're talking about those who have a lot of experience chopping up fruits or vegetables, who have cut their fingers a few times, know very well about the struggle we're talking about.
Electric kitchen knives usually have replacement blades and traditional knives that need to be regularly sharpened. So with the electric knife, you will use a sharpened blade whenever possible.
Some brand has the best electric knife kits and adds special blades like for bread and different kinds of meats and vegetables that allows you to customize the blade for the task at hand.
Although A small traditional knife will be plenty sufficient for such a task and An electric knife, have so many versatile to make any work easy. Sometimes, it just doesn't make a judgment to bring out the electric knife.
What should you consider before buying an Electric Knife?
Trying to find the perfect electric-powered knife for your chaos but you can't find one yet?
You don't have to worry; we will help you to get the right one. Depending on your purpose, your needs may vary, so check out those tips to find out the best electric knife in the market.
Cordless or Cord Electric Knife
There are 2 types of electric knives- with a cord and without a cord. The one without a cord works with batteries. When you are out fishing, packing a wired electric knife is difficult, and using it at the dining table or at outdoor parties and functions is beneficial.
Without worrying about the battery power to cut through bigger amounts of meat cord ones is for you. The models with cords must be a bit large, so you can easily pug in anywhere. The cordless ones are more helpful in terms of accessibility.
The type of blade
Most of the time, electric knives have serrated and stainless steel blades. A duo-blade knife is more beneficial than a single-blade one. It also gives sturdiness and strength. Depending on your cooking or meat prepping needs, you should try to pick a unit that helps you to achieve your end goal. Read the details of a knife to take what it can and cannot do.
Cost
There is a different type of price range in the market. For home uses, you can go for ones with lesser prices, but for bigger tasks, you can go for higher ones. The prices of knives differ based on the type, blade heads, and accessories, but they all come with moderate prices.
Sharpness
It helps a lot if the sharpness is long-lasting too. To carve precisely and effortlessly you need is a razor-edge sharp electric slicer.
The type of handle
Most of the electric knife is always try to look for the model that will allow you to stay comfortable and flexible with regular use.
Durability
Stainless steel is an especially reliable option since it is long-lasting, lightweight, and voids rust which could otherwise spoil your food choices and act health risks. The blades' ideal length is between 8 and 9 inches for optimal cutting to be achieved.
How To Keep Your Electric Knife Clean & Safe
There are some tips that you should follow if you want to ensure your electric knife works perfectly:
Use Cutting board: Any wood or plastic cutting board does the job perfectly; just make sure it has a stable cutting surface.
Maintain Safety: Use a carving fork instead of your fingers to hold the meat in place. Especially you have to make sure to cut away from you in case the knife accidentally slips.
Clean: In some models, both the handle and blades are dishwasher safe. It is pretty nice to have clean-up as simple as placing the unit in the dishwasher after some devoted meat cutting action. Never soak the electric knife in water because it has a motor. The blade should be removed for cleaning, and the handle can be wiped with a wet cloth.
Maintains: Unplug its cord or remove its batteries when you want to clean the removable blades. With warm water and soap dry the blades and placing them in their protective cover clean other parts of the knife, as well as the cord, with a damp cloth (dry well before using). They still require the occasional sharpening even though they keep their sharpness longer than traditional blades.
Conclusion
Today electric knife is more popular than a traditional knife because they are comfortable, flexible, durable enough to win your heart.
In the past, they weren't made comfortable enough and were rather loud. You should always go for electric knives because it slices meat without leaving waste and the work, the noise has become a minimum.
If your are a first-time electric knife user, we warmly welcome you to check the above reviews to pick the best electric knife for you to get an electric knife without having to spend a small fortune.
We include all types of electric knives in this review. From bread, fruits, and veggies-chopping to meat-carving, the above 15 best electric knives in the market right now that can help you out with affordability, comfortability, flexibility, durability.
FAQ
Can you sharpen electric carving knife blades?
Electric knife blades can be sharpened in a variety of ways. You can either take it to a professional knife sharpener and pay to have it sharpened or get the knife back to its original brilliance at home.
Are electric knife sharpeners better than manual ones?
To sum up, when you choose a manual sharpener over an electric sharpener, you'll get more control during the sharpening process, less steel taken off your blade, consistent pressure, and a precise angle resulting in a sharp edge that's ready to take on any task.
Can you use an electric knife to carve a turkey?
Whether it's a delicious Thanksgiving turkey, ham, or even a meatloaf, having the best electric knife ready to assist you is one less thing to think about on the day of your feast.  Sharp, serrated blades cut the skin of meat better than any regular kitchen knife, according to the experts at Bon Appetit.
Is an electric knife worth it?
The quick-sawing motion of the serrated blade actually cut the skin better than a regular knife: It didn't tear it, shred it, or pull it. An electric knife can also be handy with delicate terrines, a big roast, or loaves of country bread. But even if you just bust it out once a year, that's fine, too.
Can an electric knife cut through bone?
Cut through the bone using a strong, tough stainless steel blade on a sizeable cutting board is recommended.
Can an electric knife cut raw meat?
Yes, an electric knife can cut raw meat, as well. It does the work fairly well as there is greater consistency of size and shape. The electric knife cuts through cartilage in meat and other bony parts.
Can you use an electric knife to cut bread?
The best electric knife does most of the work for you. Slicing poultry and bread are two top uses for electric knives.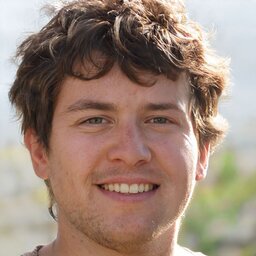 Hi, my name is Taras Kulakov and I'm a knife enthusiast. I have been collecting knives for over 30 years and I've owned literally thousands of different models over that time. My goal with this site is to share some of what I've learned about knives. You can find more info about Taras Kulakov here.