Granite stone Nutriblade knives are a popular kitchen item that claims to make dicing, slicing, and chopping effortless. The knives are advertised as high-quality, durable, and sharp enough to cut through almost anything effortlessly.
This 6pc set ensures you can cook, chop and work worry-free without being heavy on your wrists. Their stylish design and ergonomic handle ensure a pleasant grip that reduces hand fatigue and allows for easy and precise slicing and dicing.
It can be challenging to decide whether the Granitestone Nutriblade knives are worthwhile and the right product for you, given the variety of options on the market. In this review, we will review the specific advantages and disadvantages of the Granitestone Nutriblade knife set in more detail to help you make an informed decision. So, let's get started.
The Key Features of the Granitestone Nutriblade Knife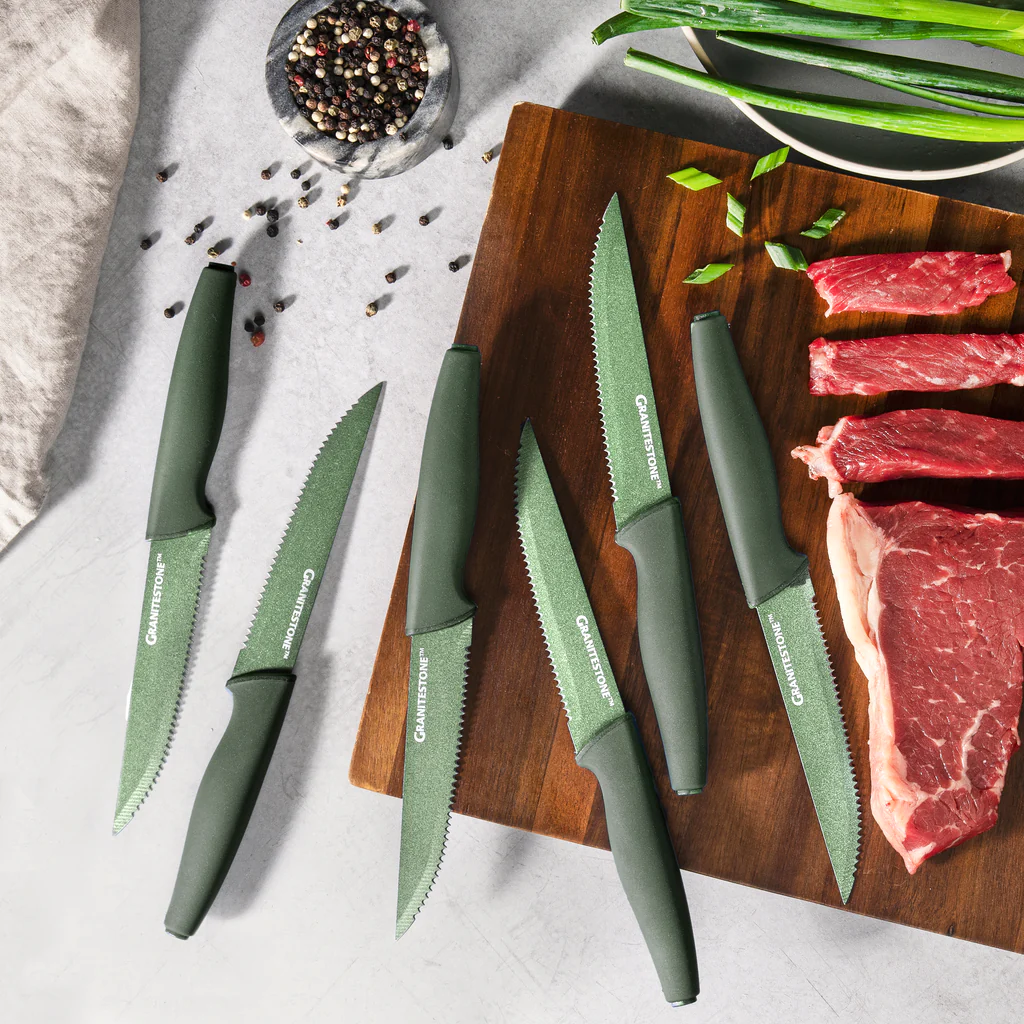 Some of the unique features of granite stone Nutriblade knives are given below:
Blade Material
Granite stone Nutriblade knives feature high-quality stainless steel blades coated with a layer of granite stone for increased durability.
The non-stick coating on the blades allows for easy slicing and dicing of various foods while also helping to prevent food from sticking to the blade during use.
With their sharp and durable stainless steel blades, these knives are ideal for slicing, dicing, and chopping various ingredients precisely and easily.
Ergonomic Design
Nutri blade knives are comfortable and secure to hold. These knives are a dependable and valuable tool in any kitchen thanks to the non-slip handle, which ensures safe and simple handling even when wet or slippery.
Nutriblade knives are an excellent choice for professional chefs and home cooks who value functionality and style due to their ergonomic design and granite stone coating.
Precision Cutting
The ergonomic design and sharp blades of the granite stone Nutriblade knives are built for easy and precise slicing. These knives have a razor edge that ensures every cut will be exact.
The knives' rust-proof granite stone covering also aids in keeping their edge and preventing dulling over time. The Nutriblade knives provide great performance and control, whether you're using a slicing knife to slice meat or a paring knife to trim vegetables.
Even when working with wet or slippery substances, the ergonomic handle ensures a firm hold, enabling confident and precise slicing and dicing from bread and butter to vegetables.
Dishwasher Safe
The granite stone, Nutriblade knives' ease of maintenance is one of their distinctive features. These knives are dishwasher safe, making cleanup simple and ensuring they are always in perfect working order.
The Nutriblade knives offer great performance and flexibility, with a range of blades available for every activity, whether dicing like a pro or trying a new recipe.
Additionally, due to their dishwasher-safe design, you can simply throw them in the dishwasher after use quickly and easily to clean them up so that they are ready for their next use.
Multiple Knife Types
Nutriblade knives set – includes a variety of knives for every use that fits various needs and preferences. One notable choice is the ultra-light chef knife, which provides a cozy and simple-to-use knife for extended dinner preparations.
A chef's knife, utility knife, paring knife, and other necessary knives are included in the set, making it simple to complete any dish or meal.
To further ensure that you have the proper tool for any activity, the Nutriblade knives also provide specialty knives for particular activities, such as bread knives, cleavers, and serrated knives.
Nutriblade knives offer a flexible and dependable solution for any home cook or professional chef due to their various shapes and sizes.
Edge Profile
The Nutriblade knives are razor-sharpened to ensure they create clean, precise cuts effortlessly. Even the toughest materials can be easily cut into smaller pieces because of the blade's robust, angled edge.
Set the knife on the cutting board and go to work pressure-free and without worry. Preparation work is simple because of the edge's sharpness, which easily slices through products. 
Fit & Finish
Nutriblade knives are expertly made to offer a premium item that works well and looks excellent in any kitchen.
The knives have a shiny and polished appearance that will likely wow because of the meticulous finishing that went into them. The knives' lightweight form allows for pleasant use without being burdensome despite their sturdy manufacture.
This makes controlling the knife for fine cuts simple and lessens hand fatigue even after prolonged use. You can tell that a Nutriblade knife is higher quality and more skillfully made than you might have anticipated from a kitchen knife when you hold one in your hands, whether you're searching for a piece of durable and useful cooking equipment for yourself or as a gift.
Versatility
Nutriblade knives are essential in any kitchen because of their versatility. These knives can perform various tasks with ease and precision, including chopping, slicing, mincing, and dicing.
It allows you to dice from bread to cheeses, fruits to meats, and even poultry without breaking a sweat. The knives have an additional layer of protection and durability from the granite stone coating, allowing them to resist frequent use while keeping their edge longer.
Additionally, this coating renders the knives non-stick, making it possible to effortlessly cut through various ingredients, from delicate fruits and vegetables to more challenging cuts of meat.
You can approach any dish with the Nutriblade knife, knowing you have a dependable and adaptable tool to handle everything you throw.
Are Nutriblade Knives Worth It?
Nutriblade knives are made to make slicing and dicing fruits and vegetables simpler. They are known for their sharpness and durability.
The knives are produced with premium stainless steel blades; many consumers like them because of their distinctive design elements.
Although Nutriblade knives may cost more than other brands, many people think the investment is worthwhile. Ultimately, it comes down to your requirements and tastes as to whether Nutriblade knives are helpful for you.
Here is Our Take On Nutriblade Knives
If you're looking for a budget-friendly knife set that doesn't sacrifice quality, the Nutriblade knives might be worth considering. These knives have a minimalistic design that will look great in any kitchen, and they come with a granite stone coating that makes them durable and long-lasting.
The blades are incredibly sharp and have a handy hanging feature, allowing you to keep them within easy reach. Throw them in the dishwasher when cleaning, and they'll look new.
With the Nutriblade knives, you can work worry-free without straining your hands, thanks to their lightweight design and comfortable handles. The precision cutting edges make prep work a breeze, and the non-stick coating allows easy and smooth cutting through various ingredients.
Whether you're a home cook or a professional chef, the Nutriblade knives are a reliable choice to help you take your cooking to the next level. So, if you're looking for a budget-friendly and high-quality knife set, the Nutriblade knives might be the perfect choice.
Pros and Cons
Pros
It is Affordable for many people
Razor sharp and effective for cutting a variety of foods
Lightweight and easy to care
sleek and modern design
easy to clean and maintain.
Ergonomic handle design with a rubberized smooth finish 
Cons
Poor edge retention and require sharpening frequently
Become dull relatively quickly, which can reduce their overall value
Sharp choil finish might cause hands to tear
It may not come with a warranty or guarantee. 
What Does the Granitestone Nutriblade 6-Piece Knife Set Include?
Due to the variety of kitchen knives in the 6-Piece Stainless Steel Nutri Blade High-Grade Knife Set, it essentially covers all cutting needs. There are 6 different knives in the set. Those are briefly discussed below:
1. 8-inch Bread Knife
The 8-inch Nutriblade bread knife is a cutlery made to easily cut through various kinds of bread. The blade is robust, durable, and stain- and rust-resistant because it is made of high-carbon stainless steel.
The blade's sharp, serrated edge can quickly and efficiently cut through crusty bread without crushing or damaging it.
Since the knife's handle is comfortable and non-slip, you can work comfortably and securely with it. The NutriBlade 8-inch Bread Knife appears to be a well-liked and well-reviewed option for those searching for a premium bread knife.
2. 8-inch Santoku Knife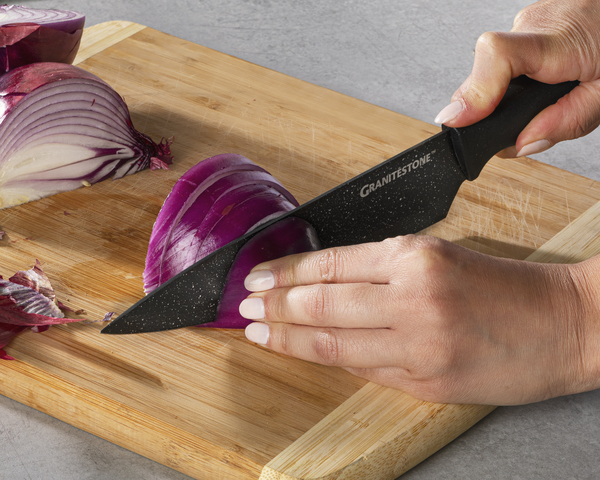 The Nutriblade 8-inch Santoku knife is an important part of a set that includes other knives of various styles. This package is made to give beginner cooks and chefs all the equipment they need to handle any task in the kitchen.
The Santoku knife is a flexible and all-purpose tool that works well for dicing, slicing, and chopping fruits, vegetables, and meats.
For home, cooks and professional chefs who want a whole set of high-quality knives they can trust for every task in the kitchen, the set that includes the Nutriblade 8-inch Santoku knife is especially well-liked.
According to several customers, the knives in this set are sturdy, easy to use, and well-balanced, making them an excellent purchase for anyone who enjoys cooking.
3. 8-inch Slicer Knife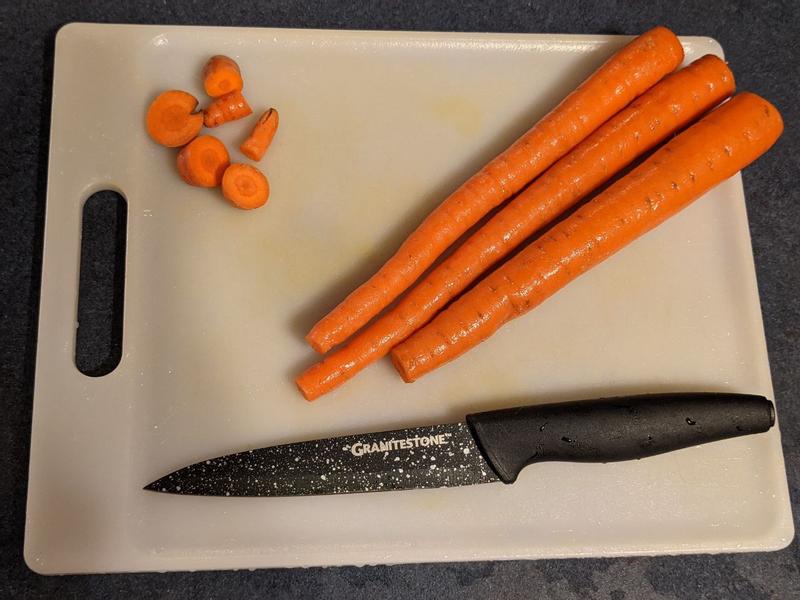 The 6-piece knife set, which includes a variety of top-notch knives for every task in the kitchen, stands out for the Nutriblade 8-inch slicer knife.
The super sharp blade effortlessly slices meats, veggies, and other items precisely and accurately. It is made of dependable stainless steel and has a special granite coating.
Long-term use is made simple by the ergonomic handle's firm grip and pleasant design. Customers have praised the set's adaptability and durability, making it an excellent purchase for home cooks and restaurant chefs.
A well-liked and rated alternative, the Nutriblade 8-inch slicer knife adds style to any kitchen and makes slicing and dicing like a pro simple.
4. 8-Inch Ultralight Chef Knife (Tuff Knife)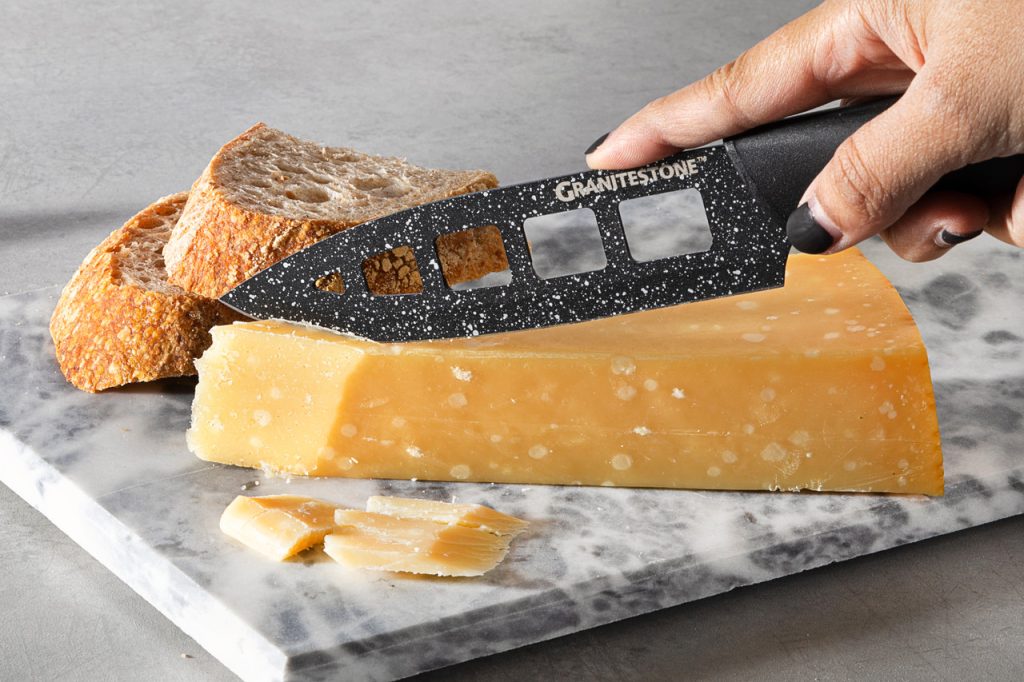 The Nutriblade 8-Inch Ultralight Chef Knife is a chef-grade knife set. Its extremely lightweight design makes it simple to use for a long period without becoming tiring.
Cutting is made simple and precise due to the blade's sharpness and high-quality stainless steel structure. Customers claim this knife is well-made and works incredibly well in the kitchen.
Although customers have mentioned that it should be handled carefully due to its lightweight design, the comfortable handle does provide a secure grip. This knife's magnetic sheath, which enables quick and accurate storage, is one of its distinctive features.
If you insert it into the sheath, the knife will be kept safely in place until you are ready to use it again. All things considered, the Nutriblade 8-Inch Ultralight Chef Knife is a well-liked and well-reviewed product that makes a terrific addition to any kitchen.
It is a fantastic purchase for any home cook or professional chef who appreciates quality and accuracy in their kitchen utensils due to its lightweight design and sharp blade.
5. 5.5-inch Utility Knife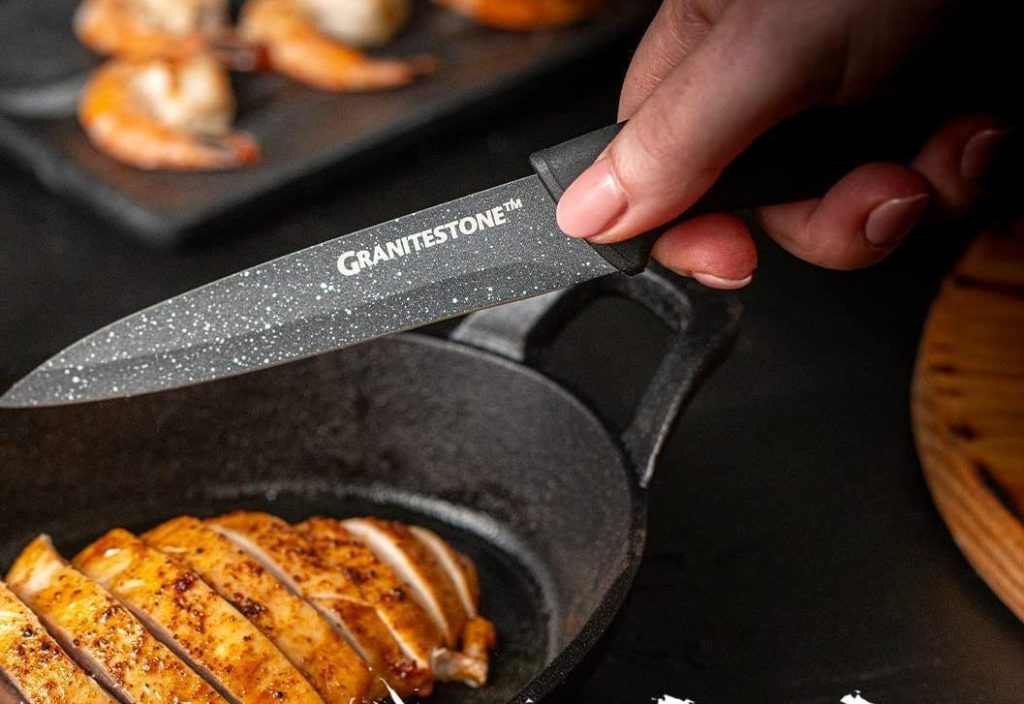 The Nutriblade 5.5-inch utility knife is a reliable and versatile tool perfect for "paring and other small cutting tasks in the kitchen.
Customers have praised its sharp blade and comfortable handle, which provide a secure grip and make cutting through meats, fruits, and vegetables accessible and precise.
The granite stone coating adds a stylish touch and enhances the blade's durability and resistance to corrosion, making it easy to clean up after use.
Overall, the 5.5-inch knife is a well-made and popular option worth considering for anyone needing a dependable utility knife.
6. 3.5-inch Paring Knife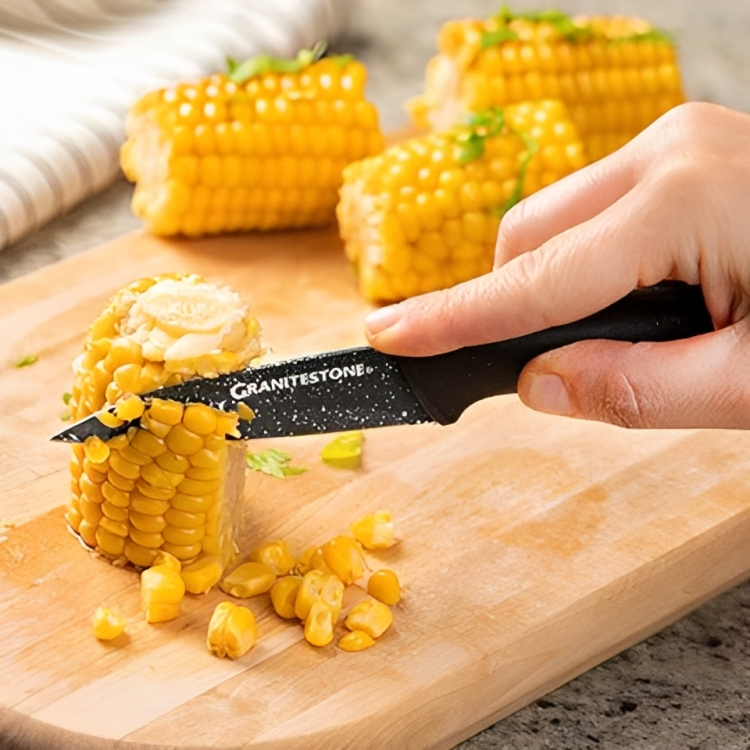 The Nutriblade 3.5-inch paring knife is a most-loved pick for anyone looking for precision cutting tasks. This razor-sharp knife is made of high-quality stainless steel that can easily cut through a variety of foods with ease.
Customers have praised its sharpness and performance in the kitchen, noting that the comfortable handle provides a secure grip. The knife's non-stick coating gives it a unique feature that makes cleaning up a breeze, and nothing sticks to the blade.
Overall, the Nutriblade 3.5-inch paring knife is a reliable and highly-rated option that is perfect for anyone needing a small but powerful one.
Granite Stone Nutriblade Knives Overview
Granite stone Nutriblade knives are marketed as knives for every job. They are high-quality kitchen knives that are durable, versatile, and long-lasting. These knives are made from high-grade stainless steel and feature a non-stick granite stone coating to prevent food from sticking to the blade. This coating also makes the knives easier to clean and maintain. 
Nutriblade knives come in various shapes and sizes, including chef's, santoku, paring, and utility knives. Each knife is designed to perform specific kitchen tasks and provide maximum precision and control.
Granite stone Nutriblade knives are popular for home cooks and professional chefs. They offer a combination of durability, versatility, and performance, making them a valuable addition to any kitchen.
Price of Granite Stone Nutriblade Knives
The fact that this knife set is affordable is one of its best features. Getting knives of that caliber and variety at that cost can be a real bargain. Although prices remain competitive, you may get them at everyday low prices.
Additionally, buyers of Nutriblade knife sets have 60 days to try them out risk-free. If unsatisfied, the manufacturer provides the customer with a complete refund of the purchase price.
Conclusion
High-quality stainless steel is used to create Granitestone Nutriblade knives, which include a non-stick coating to keep food from clinging to the blade. The knives are dishwasher safe and have a cozy, ergonomic handle for every job in the kitchen.
Customer feedback is inconsistent; some buyers praise the knives' sharpness, toughness, and use, while others complain about problems like the blade dulling quickly or the non-stick coating wearing off over time.
The value of these knives ultimately depends on individual tastes and demands, including intended use, price range, and performance and durability expectations. Making an informed decision may also benefit from reading various customer reviews.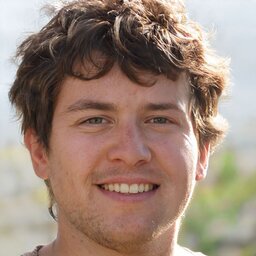 Hi, my name is Taras Kulakov and I'm a knife enthusiast. I have been collecting knives for over 30 years and I've owned literally thousands of different models over that time. My goal with this site is to share some of what I've learned about knives. You can find more info about Taras Kulakov here.