KA-BAR Becker BK2 Expert Review: You can almost guarantee that any outdoorsman will have a variety of different knives that have been designed to do very different tasks. Some knives are more adept at handling smaller, menial camping or hunting tasks, while others are designed to do the "heavy lifting" that only a certain type of knife can deliver.
The Kabar Becker BK2 Campanion knife tries to fit somewhere in the middle, as this is a smaller knife that is probably going to be a little heavier in your hand than you might have expected. That feeling of weight may well be enough to give you the confidence to use it to tackle some of the heavier chores.
KA-BAR Becker BK2 Campanion Fixed Blade Knife Review
Blade

Handle

Value

Quality
KA-BAR Becker BK2 Campanion Fixed Blade Knife
KA-BAR knives are renowned for their quality, strength, and versatility. Each KA-BAR knife is made using the highest quality materials and craftsmanship. KA-BAR knives can be passed down to future generations as heirlooms that can be used throughout the lifetimes of more than one family member. The process begins with making KA-BAR's proprietary steel, then to the shaping of the blade and the selection of handle materials. All of this is done with one goal in mind: to make the finest knives in the world. For more than 75 years KA-BAR has been making knives that are used in every corner of the world.
Pros
Solid construction, sturdy grip, great all-around knife to own in the fixed-blade build.
Cons
Nothing much to note here, just that it's only 5.25″ long.
The Construction of

KA-BAR Becker BK2
The Kabar Becker BK2 has certainly been designed to be able to take on bigger tasks. The first thing that you notice when you pick up this knife is the weight. It is certainly a little heftier than most other knives in this category, thanks in large part to the sturdy, ¼-inch thick blade that it sports. Speaking of the blade, it measures 5.5-inches, making the total length of the knife 10.5-inches. The blade is constructed of 1095 Cro-Van Steel that can make short work of everything from small animals to thick tree limbs.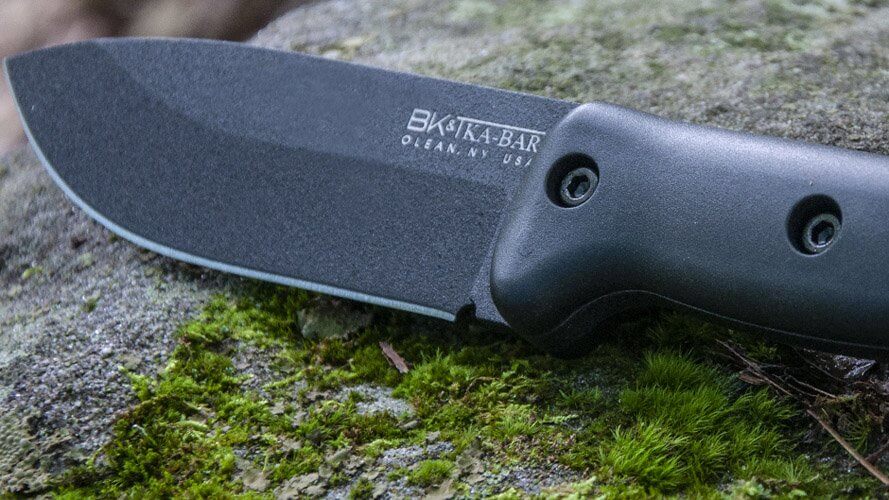 How We Feel About the Handle
The handle of the Kabar Becker BK2 is a work of art in itself, with an ergonomic design that makes it fit comfortably in the hand. Grivory, which is a hardened plastic material, is used in the construction of the handle and may well be something that not everyone really cares for. While it is certainly one of the major grumbling points of the owners of this knife, most would agree that it shouldn't be enough to prevent you from investing in this great knife. After all, it's not that difficult to find aftermarket handles that can be interchanged with the existing Grivory piece.
Now the Blade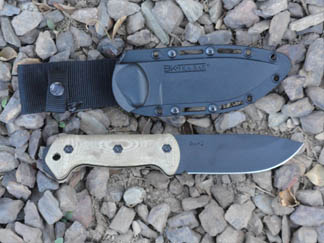 The black traction coating and drop point style of the blade makes for an aesthetically pleasing knife, but don't let all of that beauty fool you, this is a knife that is designed to work hard and take a beating. It's an incredibly rugged tool that will stand up to some of the more extreme outdoor tasks that you undertake. If you are in any doubt as to just how strong a knife the Kabar Becker BK2 actually is, you need only look at the lifetime manufacturer's warranty that comes with it to see how confident the company is in what it can deliver.
To Buy or Not to Buy
Perhaps the biggest selling point of this knife, of which there are many to choose from, is the price point. Head over to Amazon right now and you can pick the Kabar Becker BK2 Campanion knife up for under $75. This is a knife that can do many of the jobs that larger, higher-priced knives can't, which is why you really should consider adding one to your outdoor kit. And while you're at it add another shining review of this one, we're that confident you'll love it.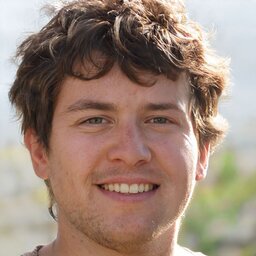 Hi, my name is Taras Kulakov and I'm a knife enthusiast. I have been collecting knives for over 30 years and I've owned literally thousands of different models over that time. My goal with this site is to share some of what I've learned about knives. You can find more info about Taras Kulakov here.