Cowboy boot knives, a hidden avenue of escape, useful in a pinch or just plain to protect you and your loved ones, boot knives offer you concealed insurance in the absence of certainty. Carry them properly, care for them and they will be there for you forever.
If you're a knife enthusiast, this is just another notch in the belt. The boot knife is easily the most concealable fixed blet you can buy. Designed to be carried comfortably and securely inside your boot. A boot knife is perfect for any self-defense as well as daily mundane tasks.
Opening packages and boxes, removing staples, and cutting anything come in handy with a cowboy knife. With its compact size and ability to be strapped to your ankle a boot won't add bulk or weight while still giving you the utility of having a knife readily available at all times whether it's for protection or utility. However, finding the best boot knife can be an overwhelming task.
To help you out we put together the best boot knives on the market. Our team is set to work meticulously researching numerous products with intricate criteria to filter out the treasure from the trash.
So whether you are interested to purchase your very first boot knife or you just want to add a new knife to your growing collection we have just the ones for you.
Here is the list of 10 best cowboy boot knives:
1. Rocky Mountain Spike
Initially designed to be a sidekick or backup to a power eagle or a machete or another larger knife, this Rocky Mountain spike itself proves to be a great survival knife. It's made of 1095 high carbon steel which is differentially heat-treated. It has an overall length of seven and a quarter inches with a blade length of three and a half inches.
The handle of this knife is skeletonized which gives a low thin profile that is really an important feature for a boot knife. It has some jimping up along the spine to help improve your grip on the knife. The thickness of this knife is three sixteenth of an inch.
One exciting feature of this knife is, if you look closely at the blade, you can see a heat-treat line that is because of a proprietary process that they have created in a black river wash and the Sandstrom bronze is a variation of this process to give the knife a rugged gritty look.
Rocky Moutain Spike comes with a black leather sheath that looks classic. It's attachable to a cowboy boot or your belt.
Pros:
Highly versatile knife. Super sharp blade ready to cut anything.
Comes with a sharpening kit in the built-in emergency box. Features an NSA proof compass.
Comes with a emergency kit that has all the survival necessities.
Cons:
No refund policy in returning. If you want to return the knife just in case of any wear and tear, you have to bear the shipping cost too.
2. Smith & Wesson SWHRT9B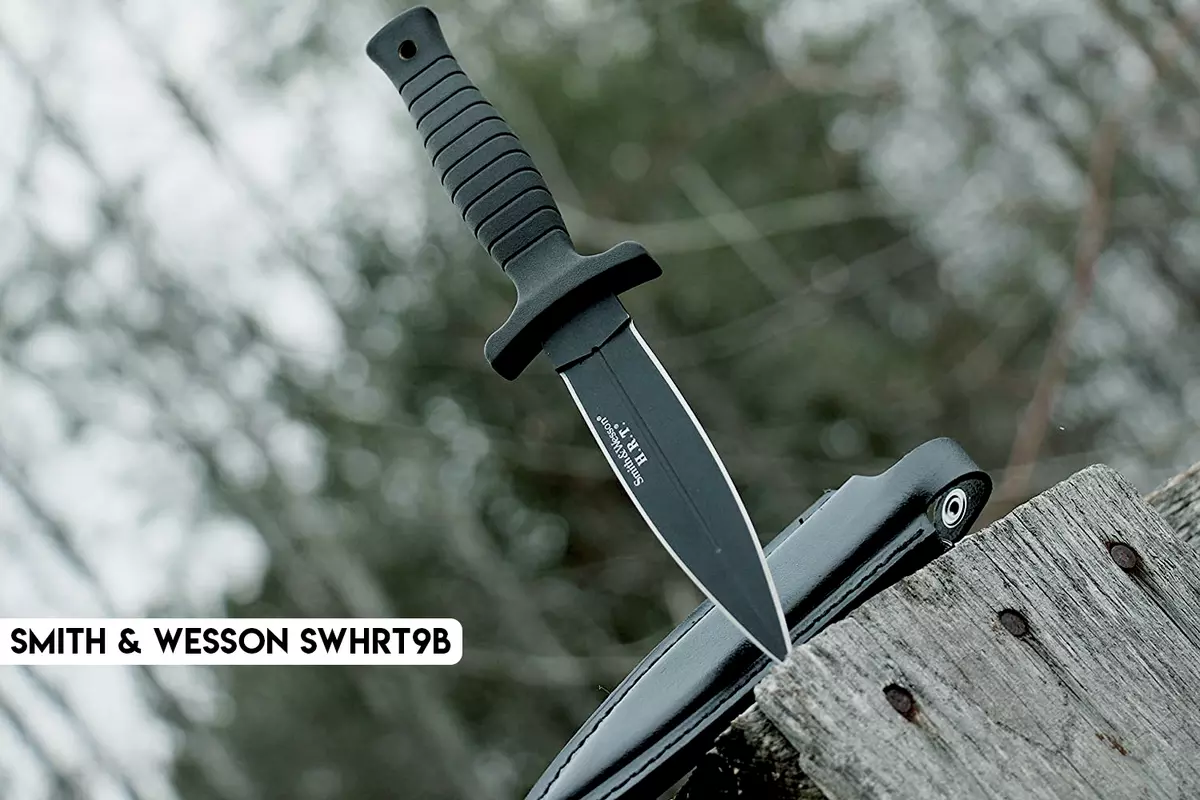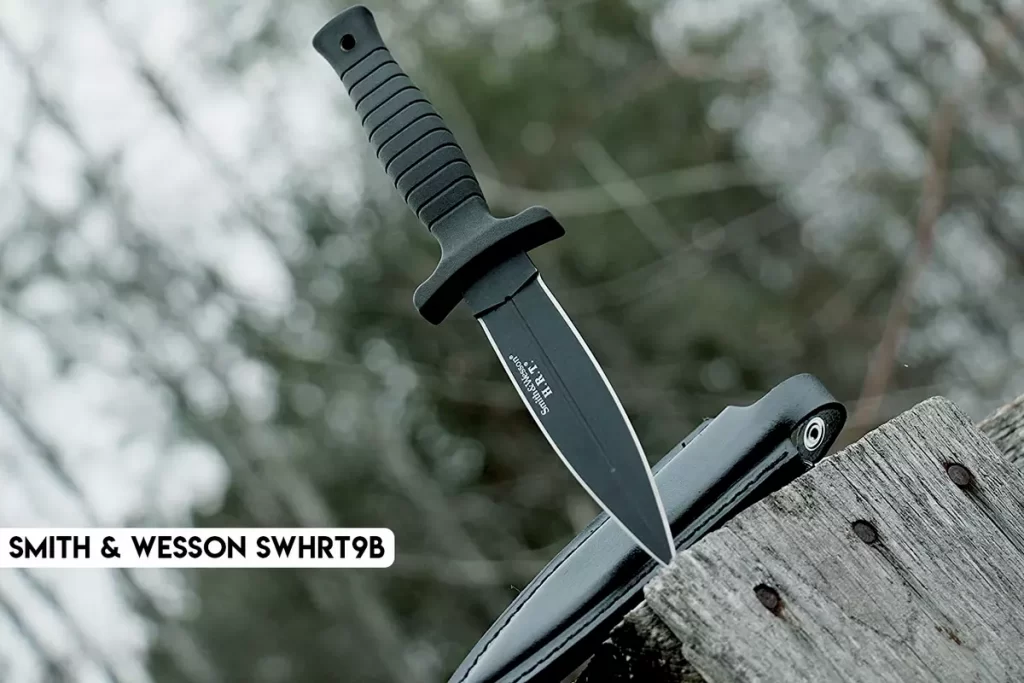 Founded in 1852 Smith & Wesson is an industry-leading American manufacturer of firearms and knives. The SWHRT9B is a fixed blade boot knife that is best for it's simplicity, reliability, and budget-friendliness.
Constructed with 7Cr17MoV high carbon stainless steel. It's dual spear point blade is 4.7inches long. The black powder-coated finish is to provide enhanced resistance and a stealth look. It features a black rubber wrapped handle made from thermoplastic elastic.
This knife will give you the finest grip while its large handguard will provide safety to use in any self defense situation.
Weighing around 7.7ounces it comes with a black leather sheath to carry the knife while it's added stainless steel clip let's just stick to your boot firmly no matter how much you move.
Pros
Full tang knife that provides strengthVery sharp double-edged blade design.
Comes with a big lanyardHigh-quality sheath
Textured grippy handle.
Limited lifetime warranty
Cons
Doesn't come with a sharpening tool.
The sheath clip gets loosened over time.
3. SOG Instinct Mini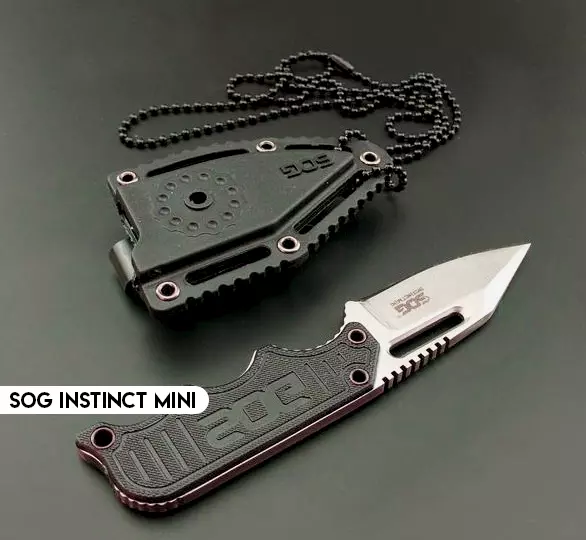 Custom designed by Jason Brous, SOG Instinct Mini is a perfect small foam of boot knife for users who want to stay inconspicuous. Crafted with 5cr15Mov stainless steel this knife features a 1.9 inches satin polished clip point blade that is sharp to cut anything that comes in your way.
This knife is available in 910 and skeletonized handle. This small compact knife has perfect symmetry while it's generous jimping and a well placed finger choil provide a good grip for either hand.
It features a 360 degree mount hard molded sheath and a ball chain that enables multiple carry options like wearing around your neck or clip it to a belt or boot. his skeletonized handle weighs 1.1 ounces while the 910 weighs just about 1.4 ounces making it extremely easy to carry with you.
Pros
Incredibly lightweight
The blade steel is easy to sharpen.
Sheath retention is great.
Can be carried as a neck knife
Compact knife design makes it a safe carry.
Numerous carry options.
Reasonably priced.
Cons:
The blade doesn't hold an edge very well.
You may have to sharpen the knife often
The small handle of the knife can be an issue for users with big hands.
4. CKRT Shrill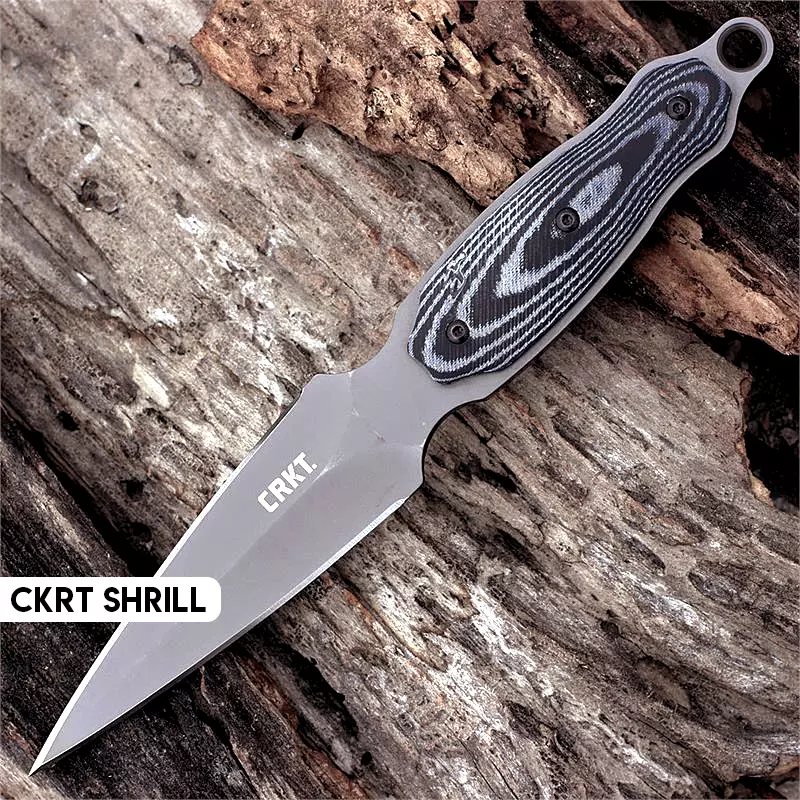 Designed by Matthew Lerch in sussex winconsin the ckrt shrill is a fixed blade go to knife that is sturdy compact and surprisingly long blade. Made with 8Cr13Mov stainless steel, it features a versatile 4.77 inches dual-edge blade with a titanium nitride finish which makes it extremely sharp to cut the toughest elements.
There is a full tang resin infused fiber handle that combines the strength with visual appeal of the knife. Weighing at around 4.3 oz it comes with a black sheath that a steel clip on top so that you can attach the knife on your belt or boot with this.
5. Cold Steel Counter TAC Series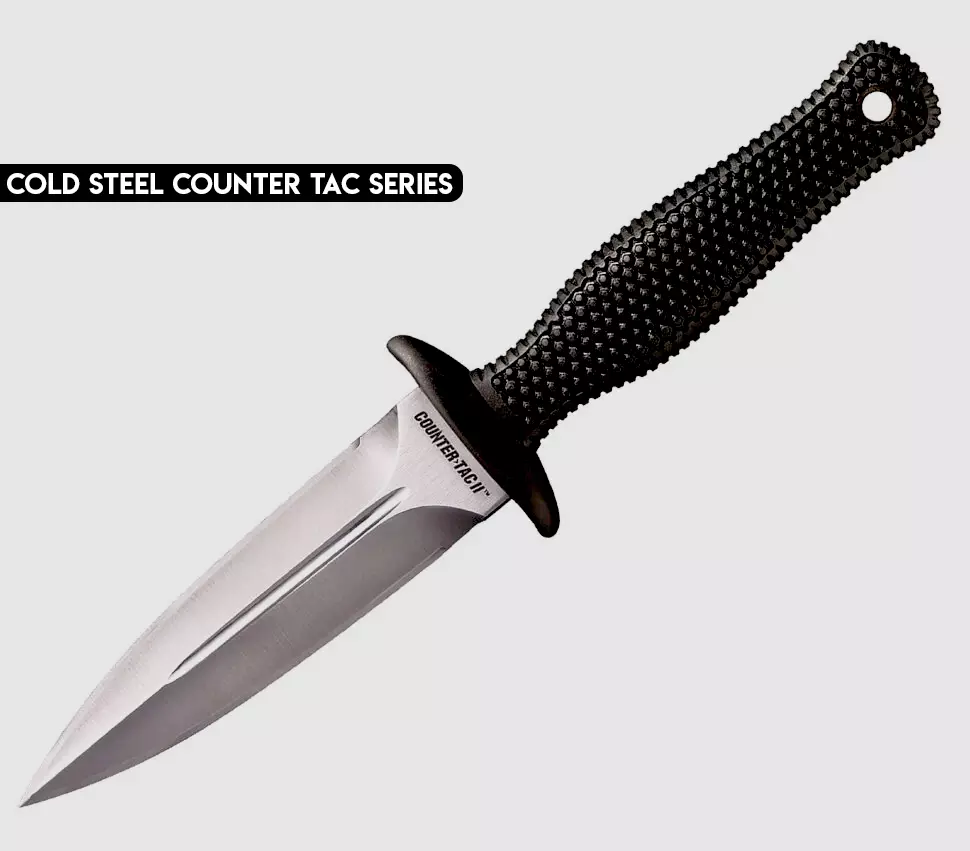 Conceit with one simple principle in mind and created to perform under any circumstances the cold steel counter-attack series boasts classic combat knife design.
Forged with premium AUS8 stainless steel, this boot carry features 3.3 inch full tank blade that is vacuum heat treated to give you enhanced strength and durability while preventing it from corrosion-resistant.
At first glance you'll notice it's cray x handle because of it's catchy design and due to it's textured surface this knife is not going to slip from your hand under any circumstance.
Weighing at around just 2.08 ounces this cold steel counter TAC series offers a state of the art security sheath with a removable boot belt clip and lashing slot to carry it anywhere easily.
Pros:
A sharp blade with double-edged.
Great for tactical defense.
Durable resin grippy handle.
Cons
Too sharp edges can be dangerous if the user is not a pro knife handler.
Sheath material is very fragile, the sharp tip of the knife cut through the sheath which can be dangerous while carrying.
6. Kershaw Secret Agent (4007)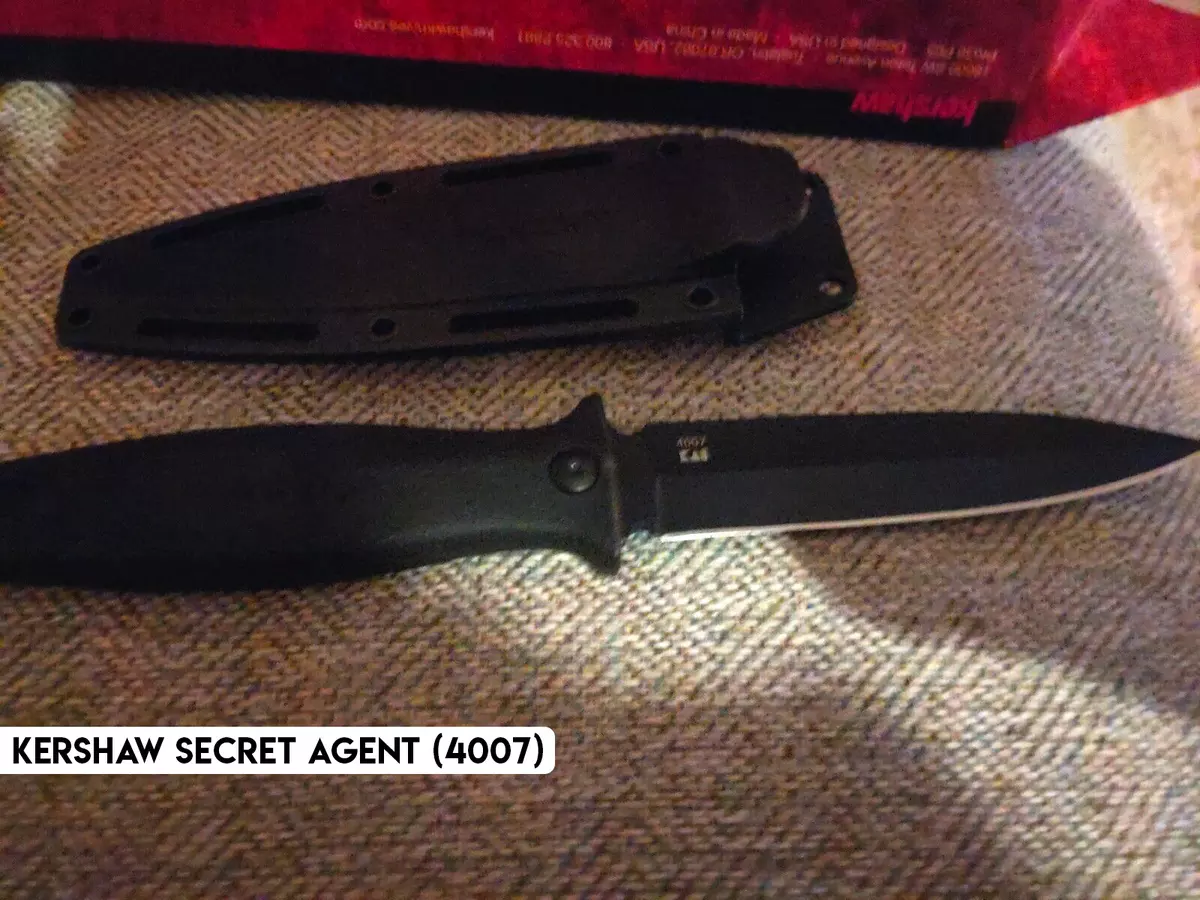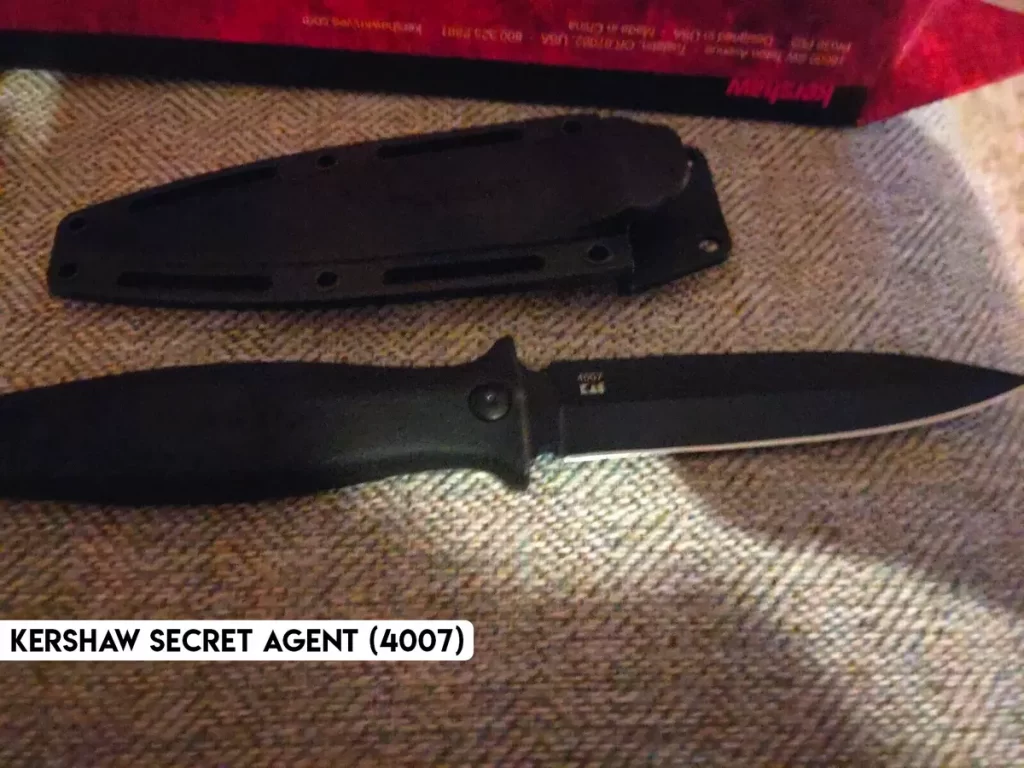 The Kershaw Secret Agent is a great fixed blade for backpacking. The knife is small and light, and has a nice solid feel in the hand. It's not quite as long as a larger knife like the Spyderco, but it's still very good for a carry knife.
Dominating in the knife market Kershaw crates high-quality exceptional knives, affordable to all users. Kershaw Scret Agent 4007 is a discreate boot knife that is known for it's ability to provide personal protection with enhanced blade sharpness.
Made of 8cr13 stainless steel it has got a 4.4 inches dagger style blade with a non reflective black oxide finish to withstand damage from abrasive wear.
The handle of this knife is made of glass-filled nylon that has got a textured rubber layered on top to serve as an additional grip for your hand. With this dual carry, the molded sheath also protects you from external damages making the boot knife a worthwhile option to take on the go.
Weighing at around 3 ounces this fixed blade knife has a clip to make wearing it on the belt conveniently while it also features slots for attaching it to the leg.
Pros
The rubberized and co-molded handle provides a secure grip.
The non-reflective black oxide coating on the blade ensures maximum durability.
Dual-carry sheath for secure and comfortable shoe attachment.
Lanyard hole provides additional versatility.
Cons
Single edge blade.
The design of the sheath is not comfortable for wearing longer period.
7. Old Timer 162OT Boot Knife
Whether you are going on a trip to the wilderness or joining the elite forces get yourself this ultimate backup weapon with this piercing boot knife from Schrade Old Timer.
This knife has a 3.8 inch plain edge blade made from rugged 400 series stainless steel to give you flexibility and durability in real combat.
We are talking about enough power to cut through pretty much anything or even fight off a zombie attack. The ultra-strong Delrin handle offers a great feeling in hand with solid grip.
This knife features an awesome finish at less than 4 ounces. It has a high quality construction that is easy to handle so that you don't get caught off guard and lose your edge.
Pros:
Black oxide coating ensures maximum durability.
Reinforced polymer handle
Cons:
The knife design is not ergonomic.
Only one edge is sharp.
8. Cold Steel Kobun Tanto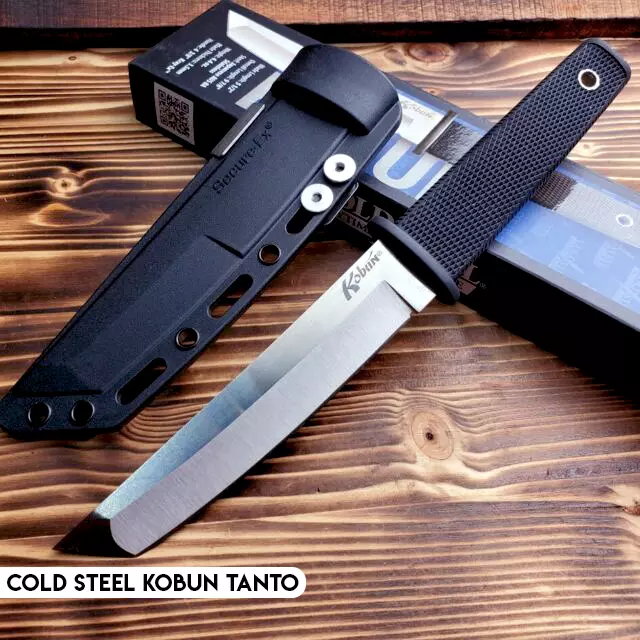 Cold Steel Kobun is a knife with really good retention, no rattle of any kind. This cold steel fixed blade comes with a long Kraton checkered handle which gives you a nice grip. It has a tanto tip, which Cold steel reinforces the tip to give extra power. The blade length is 5.5 inches and thickness is 0.13 inches.
The blade has a nice satin finish, and it's a hollow grind with a plain edge. It's a full tang solid fixed blade knife which will not break on you even if you put it through hell. Kobun in Japanese actually means soldier and this knife is built to be a soldier.
Made from AUS8 Japanese stainless steel blade, this beast of a knife will provide you extra strength while maintaining the edge for a long period of time. Weighing at 4.4 oz this soldier comes with a Kraton Secure-Ex Sheath.
You can strap this with paracord to anything that you'd like or you can also use the carry clip that it features to stick it to a belt.
Pros
Made of Japanese stainless steel which provides a long-term sharp edge and durability.
The leather sheath material is durable and features a clip for attaching to boots and backpacks.
Sharp and reinforced tip.Kraton rubber handle material with checkering for extra tough grip.
Cons
The clip on the sheath gets loosened over time.
9. CRKT Sting 3B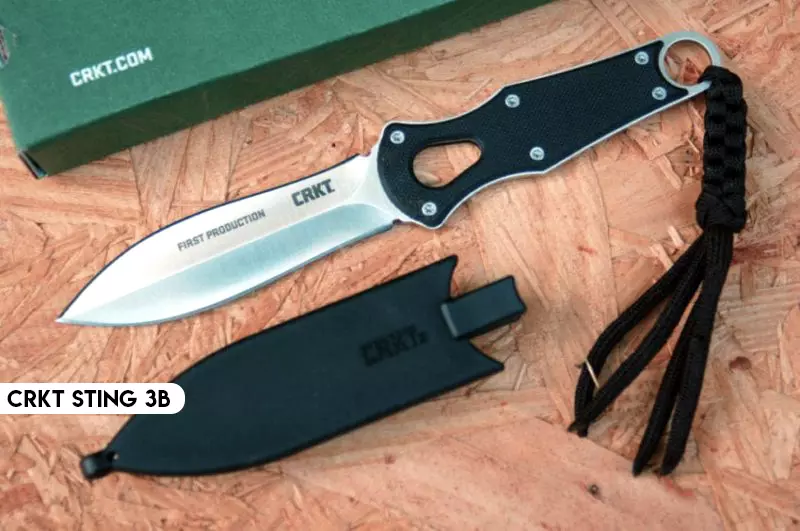 Designed by A.G. Russell, the CRKT Sting 3B fixed blade tactical knife hails from pedigree that is both proven and prodigious. Hot forced with 8cr13Mov stainless steel this dagger style knife features a 3.42 inches satin blade that is sharpened in both edges and is ideal for self defense.
It's G10 handle scale adds texture to this skeletonized full tang knife and they can be removs for easy cleaning and customization.
Besides there's Nylon FOB that adds real state to the handle for a solid purchase in hand. The CRKT sting 3B comes with a glass reinforced nylon sheath with a removeable stainless steel spring clip that you can attach to your boot waistband and gear.
Weighing at around 1,8 ounces thisboot knife is amazingly ultra lightwight while still maintaining it's versatility to protect you at a moment's notice.
10. Smith & Wesson SWHRT3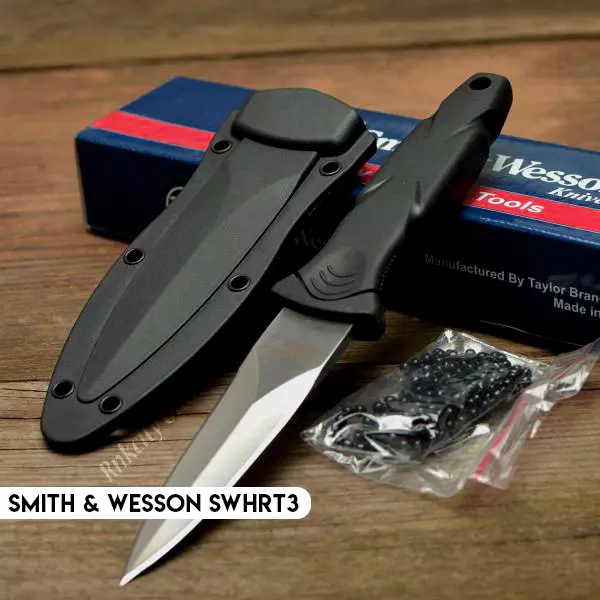 The Smith & Wesson SWHRT3 is a full tang fixed blade boot knife crafted from 7.50 inches of 7cr17 high carbon stainless steel. The 3.5 inch dual full fine edge spear point blade is perfect for utility tasks and self defense.
The Jimping and thumb depression give a perfect mix of comfort and grip security to the ergonomic TPR handle. It comes with a black nylon fiberglass belt and boot sheath. And the included ball chain gives you an option to carry it as a neck knife. This SWHRT3 is a quality tool to design for your most demanding needs.
Pros
Durable high carbon steel blade.
Black rubber wrapped handle provides a comfortable grip.
Leather belt/boot sheath gives multiple carry options.
Full tang robust design.Snap-on the knife sheath is easy to open just with a finger.
Razor-sharp double edge blade
Cons
Too Long handle will make you roll up your pant to get the knife out.
Things To Keep In Mind Before Buying A Boot Knife?
Now that you have got the list of best-ever boot knives, you might still be confused about which one is the best for you. Before buying a boot knife there are some factors you might take into consideration.
Blade Material
There are mainly four main types of materials used to make boot knife blades stainless steel, titanium, carbon fiber, polyoxymethylene.
Make sure the knife you buy is made from the right kind of steel. You should pay close attention to the type of steel used to make the knife you want to buy to make sure it has the potential for the intended use.
When it comes to choosing knife steel, you should always go with the highest carbon content that is feasible. If you are able to afford it, stainless steel is the best option.
Knife Handle
Slip-resistant handles prevent accidents. When used properly, they deliver exceptional grip. Top handle options for tactical boot knives include Kraton, linen-micarta, canvas-micarta, and Nylon FOB
Of course, the shape and size of the handle will determine how good it feels in your hand. A good feel is important. It means less chance of injury to your wrist.
Sheath
Make sure the boot knife you're about to purchase comes with a reliable and sturdy sheath. It's only when you're actually holding a knife that you realize how thin the blade is.
Conceal your knife in your boot as close to the skin as possible. One advantage of carrying a sheathed knife is that it causes less injuries. Another advantage is that it makes it much easier to get to the knife when you need it.
The best boot knife is the Western-style or whatever type of knife that will allow you to perform tasks comfortably and efficiently. A good knife should have a sheath so it doesn't get lost. It's also classy and formal looking, which goes with any gentleman.
How To Combine Boot Knives With Your Cowboy Boots?
There are two ways to wear a "knife-wearing" boot. On the outside of the boot, above the ankle, or inside the boot, hidden from view.
The first way to carry a knife is to wear it in a sheath so it's hidden from plain sight. If you want to make sure the job gets done, you can wear it inside a boot knife sheath inside a cowboy boot. Just make sure the leather sheath is securely attached to the boot knife so it won't come loose and cut you or your fellow rider. If the sheath of the boot knife constantly rubs your feet, it will irritate you.
Therefore, it is important that the boot knife be worn correctly so that it will not cause you any discomfort. Smooth skin is best. It's easier to keep clean and sanitary. It's also better able to hold moisture.
Conclusion
A good boot knife is an essential tool for any tactical situation. It has numerous uses as a backup weapon, for opening tourniquets and removing splinters. It'll make your life much easier, especially when you are doing chores like mowing the lawn, washing the car or doing heavy construction work.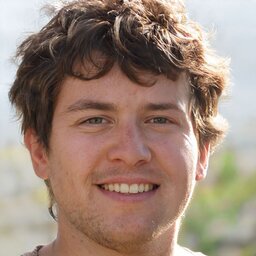 As a boy, I grew up in the mountains and was handed my first knife by my dad when I approached manhood. Activities like hunting, camping, and exploring were on the top of our list of weekend getaways. Over time as I searched the internet that there is a SERIOUS lack of information on quality survival and prep gear. There is so much information out there that it can also be difficult to sift through it to find what you need. Building this site was important to me because I wanted to offer people a place where they could compare prices, quality of gear, and basic information all in one easy to use the site. One place that could offer straight FACTS to compare directly seems to be hard to find.