Spyderco Knife is the most heard name in the knife industry. They produce excellent knives with high-end manufacturing with high-end materials.
Today we will be taking a look at a classic Rivalry- Spyderco Paramilitary 2 vs para 3. These are two of Spyderco's core products. Spyderco generally likes to say they design in the dark, which means that the physical look of the knife, the aesthetic of the knives is secondary. Having said that we kind of like the way pretty much all of their knives look.
In this blog post, we will show you the similarities and differences between both of these knives so you can decide which one is best for you. And we also have a surprise option to make your purchase worth it for you. Of course, it's not a battle to the death, but it's gonna be a score to pick a winner.
What's The Difference Between The Spyderco Paramilitary 2 Vs Para 3?
The hand-to-hand comparison comes down to the basics- the overall length of the Para 2 is 8.28 inches and weighs 3.75 oz, with 3.44 inches blade length, which is made of CPM s30v stainless steel, with satin black coated finish and blade style is the drop point. And the overall length of paramilitary 3 is 7.24 inches and weighs 3.4 oz with 2.95 inches blade length made of CPM s30v stainless steel, and the blade style is a drop point for maximizing performance.
Spyderco Paramilitary 2 Vs Para 3 – Key Comparisons
Super popular knives. The bestseller from Spyderco. Both of the knives are very much identical. They share a lot of things in common and there are some differences too. Of course, the most obvious difference is the size and it's gonna reflect in a difference in weight. Both of the knives come in s30v steel for solid edge retention.
Now, these 2 knives come in various versions of which many with different types of steel and handles. So we will just disregard the aesthetic differences of the handles and the steel property differences.
Construction-wise they are very very close. The major difference between the two of them is the stop-in. The pm2 has two Torx screws running into the inner side of it. On Para 3 it's a stop pin that just sits inside the liners and the G10. It's just a larger diameter of 10 and the middle has some kind of material that it sits in and creates a better interface between the plastic and the metal.
The para 3 is everything you know and love about the paramilitary 2 on a smaller scale with a 3-inch blade. The ergonomics on this knife are fantastic. They rounded these edges of g10 scales. If you look at the level of the chamber is subtle but it's not quite as sharp of an edge as the pm2. That makes a huge difference on hand.
The similarities between both of these knives are, they are sporting like a compression lock. You will see the same locking mechanism on both of them. Look wise they are the same. Both feature the spyde hole to flick open the knife with your thumb. They also feature the same collectible features as many sprints run- you can pick your blade material, you can choose the handle material and color.
You can pick the one that is right for you and customize your knife accordingly. Both of the knives have a big lanyard hole, you can use a pretty thick paracord through them. The handle thickness and the blade stock thickness are the same.
Side by Side Comparison- Spyderco Paramilitary 2 vs 3
SPECS

 

Spyderco Paramilitary 2

 

Spyderco Paramilitary 3

 

Overall Length

 

8.28"

 

7.34"

 

Blade Length

 

3.44"

 

2.95"

 

Blade Steel

 

CPM S30V

 

CPM S30V

 

Knife Weight

 

3.75 Oz
 3.4 Oz

 

Blade Style

 

Drop Point

 

Drop Point

 
Spyderco Paramilitary 2 Vs Para 3- Key Similarities:
Steel: Both the knives have the CPM S30V stainless steel. This steel offers great corrosion resistance, great wear resistance, and durability, and comes with solid edge retention. It's very easy to resharpen. This is for the base model. But Spyderco lets you customize your knife blade accordingly for both of these models.
Blade: Both the knives have a drop point blade with a hollow grind. And it can be had with a plain edge, partially serrated, and even a fully serrated edge.
Handle: Both knives feature Spyderco's famous bi-directional G10 textured FRN handle. This material offers plenty of grip and strength without a lot of weight
Spyderco Paramilitary 2 Vs Para 3- Key Differences:
Overall Length: Para 2 offers more length at just over 8.28 inches vs 7.24 inches on para 3. The Para has 3.44 inches of blade length the Para 3 comes with a 2.95 inches blade length.
Weight: The Para 2 weighs 3.75 ounces and The Para 3 weighs 3.4 ounces.
Spyderco Paramilitary 2- Detailed Review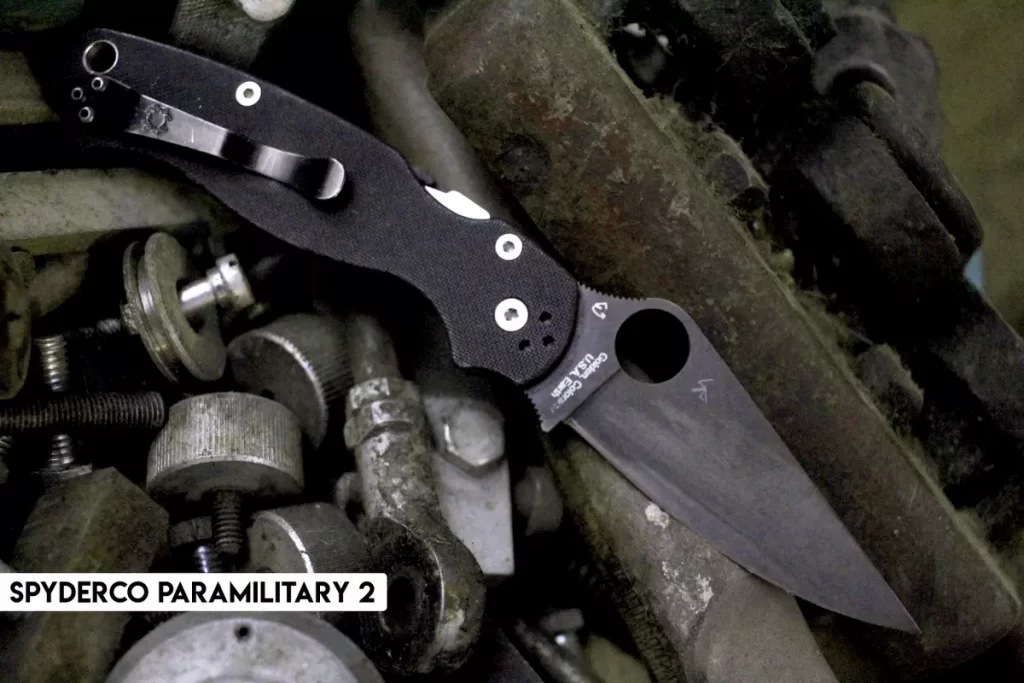 The Spyderco Paramilitary 2 is the most loved knife in the EDC community. This knife is so iconic is sort of an upgrade to the previous version of Paramilitary.
It's a very lightweight knife and really easy to flick open and at the same time, it gives a sturdy feel. This midsize folding knife has become one of the most collected knives of all time.
Design and made in golden colorado, this Spyderco paramilitary 2 features an overall length of 8.28 inches and a blade length of 3.44 inches. Blade thickness is 0.14 inches and the blade is full-flat ground for maximum performance. Regular production versions of the pm2 feature a razer sharp s30v blade with a satin or black coated finish and a black g10 handle.
The iconic spidey opening hole and compression lock make opening this knife with one hand a breeze. It works like a dream.
Oddly enough, I've never had a problem with this locking mechanism on any of my other folders. Perhaps it's because they have a different style of handle geometry? Regardless, if you have one of these folders and you do run into problems with it, simply send the knife back to Spyderco for repair, and they'll install the locking mechanism, free of charge.
It also features a four-way reversible pocket clip. The paramilitary 2 comes in 2 different blade styles, a drop point and a tanto with a ton of different handle color and blade steel variations. Overall it really checks a lot of marks for me. It's well made and solid and durable.
Spyderco Paramilitary 3- Detailed Review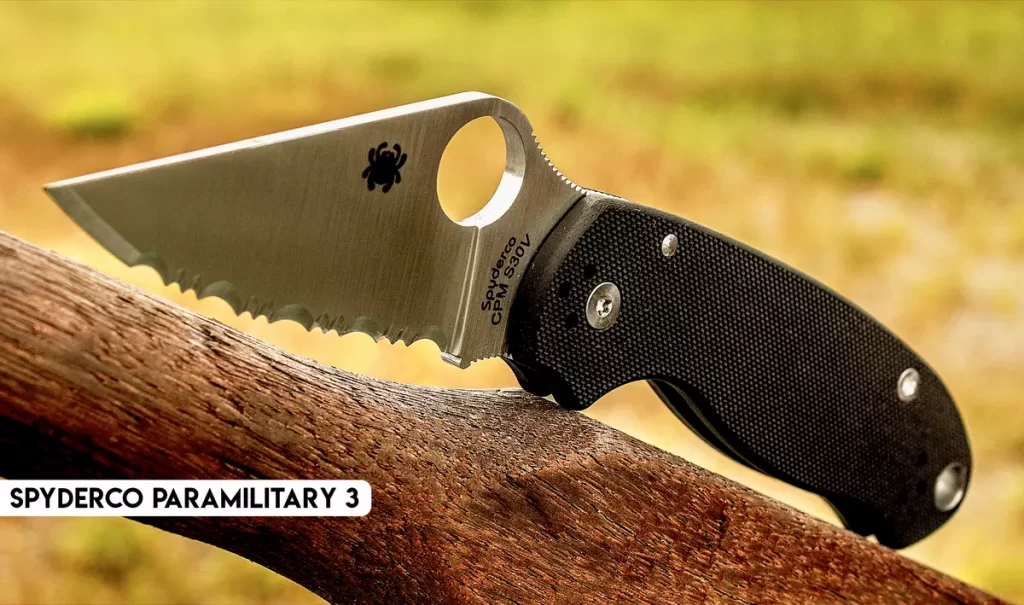 A spinoff from the ever-popular Paramilitary 2, the Spyderco Para 3 is a little bit smaller, and in my opinion, it's just about perfect. Although we only get about two and a half inches of a sharpened edge, the handle is still nice and big, it offers a full grip for big jobs.
The blade is instantly recognizable as a Spyderco. It's got a broad profile, a full flat grind, and a large opening hole. The standard model features S30V blade steel for solid edge retention. And it can be had with a plain edge, partially serrated, and even a fully serrated edge.
It also features a textured G10 handle for plenty of grips and it retains some of the key features of the larger paramilitary 2. Namely, the 4 position pocket clip for any carry preference and an oversized lanyard hole. It also houses Spyderco's compression lock which allows for safe one-handed operation by keeping your fingers out of the closing path of the blade.
It also allows you to easily flick the blade open and close if that's your preference. In use that sort of resembles a spine-mounted liner lock but it's even stronger and that's thanks to a tab that sticks into the tang of the knife so that you have multiple surfaces of engagement rather than a single one as you would with a standard liner lock. Apart from the standard version in typical Spyderco fashion they've released several variants upgrades and sprint runs over the years.
The latest is the new lightweight para 3 which joins the standard lineup. It's made in the USA and offers an even more economical entry into the lineup by swapping in CTS-BD1N steel and Spyderco's famous bi-directional textured FRN handle. This material offers plenty of grip and strength without a lot of weight.
This knife also shakes it up a bit on the hardware front, moving and shrinking the lanyard hole just a little and adding a deep carry wire pocket clip that is reversible for left or right-side tip-up carry.
These are just the tip of the iceberg but no matter which you choose the Spyderco Para 3 makes a phenomenal EDc or even a backup tactical knife.
Still Can't Decide? Here's an Alternative – Spyderco Delica 4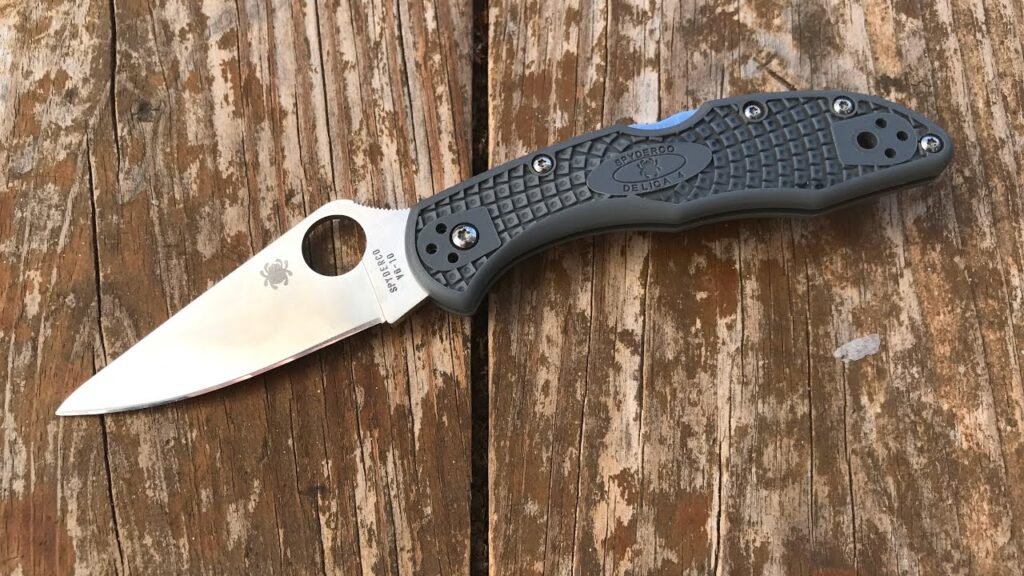 The Spyderco Delica has always been a top choice for those who wanted a lightweight pocket knife but still packs in a lot of performance. It features good steel with ultra-light and grippy material and it's built extremely well. This Spyderco Delica has been around for 24 years and it's just a classic EDC blade. This signature product from Spyderco is now in its fourth generation.
This knife is 2.2 oz. Certainly a feather-weight knife. The overall length of this knife is 7 inches when open and 4.25 inches when folded. The blade length is 2.8 inches and the blade thickness is 0.9 inches. The blade style is Spyderco's version of drop point with a satin finish. The blade has a plain edge which makes it easier to sharpen. It's a full flat grind and the blade steel is vg10 steel.
The edge has a hint of belly near the tip, straight spine with a hint of drop right at the end for a little bit of extra strength right there at the tip.
The VG10 steel offers a good cutting performance. It's good stainless steel with a decently fine grain that holds an edge quite well and it's not too hard to sharpen.
The full flat grind on the model ensures that it can slice efficiently, although saber ground models are also available if you want a more robust edge with more lateral blade strength.
The knife features a fiberglass reinforced nylon handle. The Delica 4 has skeletonized liners that run nearly the whole length of the handle. It imparts a bit more rigidity to this design. The texture on the handle is kind of aggressive.
It has Spyderco's much-touted bi-directional texturing. This means with this knife we've got these raised peaks that radiate out from the logo at the center and the grippy part of the peak actually points towards that center that gives you positive traction both forward and rewards directions.
The Delica 4 also features Spyderco's Zome Camo finish, which each one is individually hand-dyed so no two are the same. It also comes in a lot of one-toned vibrant colors as well as stabilized wood, stainless steel, and more. This is Spyderco's best-looking knife.
Now when it comes to opening the blade, the Delica uses the signature Spyderco's thumb hole. It makes it very easy to rotate open quite smoothly. The blade performance is top-notch. It provides a great slash on the draw cut and it's excellent for scoring as well since you will be able to use the tip easily. Especially in conjunction with placing your index finger on the jimpped thumb ramp right behind the finger hole.
Conclusion
Undeniably, Spyderco paramilitary 2 and 3 are some of the best folding pocket knives ever made. Performance-wise both are excellent. As far as its looks are concerned, the PM3 is perhaps one of the best-looking folders ever made by Spyderco. This is a knife that any man will be proud to carry around and show off. It is a super functional knife.
Now the decision comes down to, what size you prefer for your EDC. For me, I'd always prefer Spyderco Para 2 as I like the length on it and it feels more comfortable in my hand. But if you prefer your edc to be featherweight Para 3 is the one for you. All in all, both are fantastic edc knives.
No matter which you choose the Spyderco Paramilitary makes a phenomenal EDc or even a backup tactical knife.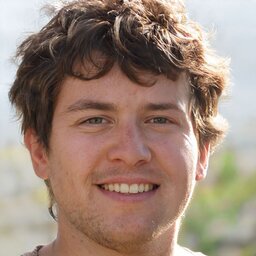 Hi, my name is Taras Kulakov and I'm a knife enthusiast. I have been collecting knives for over 30 years and I've owned literally thousands of different models over that time. My goal with this site is to share some of what I've learned about knives. You can find more info about Taras Kulakov here.