Top 10 Best Pocket Knife Under $50 and $100
(Hand-on-tested)
Are you someone like me who gets very picky with their pocket knife? Well, you are in the right place. While choosing our everyday carry gear we often have to make compromises with what suits us while keeping in mind that the EDC doesn't cost a leg and an arm. Most of us, don't want to buy the $1000 holy grail pocket gear even if we have all the money in the world.
So good news for you! I have listed some truly impressive budget gear that is budget-friendly and you can just pick on right now for just $50 or less. From a bottle opener to cutting someone free from a seat belt inside a burning vehicle you can accomplish any task with a pocket knife. So let's get you a good one!
Following are the 15 best budget-friendly pocket knives worth considering. Read on!
1. Ontario Rat 2 Best Value Stainless Steel Knife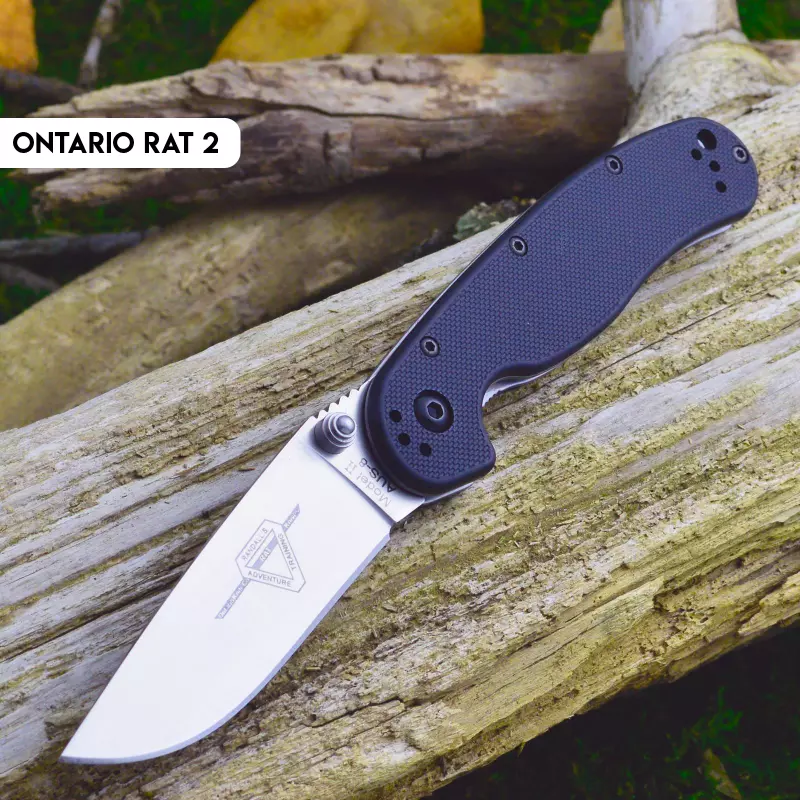 Ontario Rat 2 has the same functionality as its big brother Ontario rat 1, just larger. The RAT series has folders that feature a full flat ground blade. The blade is made of Japanese AUS-8 steel, and this steel can be heat treated to around 59 HRC.
The Rat 2 is surprisingly comfortable for its size. Although the blade material is tough, the blade stock is super thin to make the knife slice. Ontario is one of the best companies in the knife industry that uses AUS-8 at its best. So they offer fantastic knives while keeping the price down.
In this knife, dual-tiered thumb studs are used to deploy the blade. And with just a simple flick the blade will fly out of the handle. The handle is made of thermoplastic. It feels like G-10 handles cause of the pattern and the texture. the handle is very effective at keeping the knife in your palm during hard use. Full stainless steel liners further add to the sturdy feeling of these knives.
The knife has a four-way repositionable pocket clip.  So you can carry this handy guy in any configuration you like. It doesn't offer a frame lock. Ontario offers both models of handle scale colors and black and satin blade finishes with plain and serrated edges.
This knife is so smooth that it feels like it opens and closes like it's riding on glass. In simple, you can say that it has a very simple and effective design with a buttery smooth feel lots of great options.
The Ontario RATs aren't just smooth for the price, they're smoother than knives ten times the price. Overall I can't recommend this knife enough, its value far outstrips its price tag.
Ontario Rat II Linerlock OD Green D2
Crafted from the highest quality materials
Built for performance and durability
Made in Taiwan
Package Dimensions : 2.3 L x 4.4 W x 11.2 H in Centimeters
2. Spyderco Tenacious Overall Best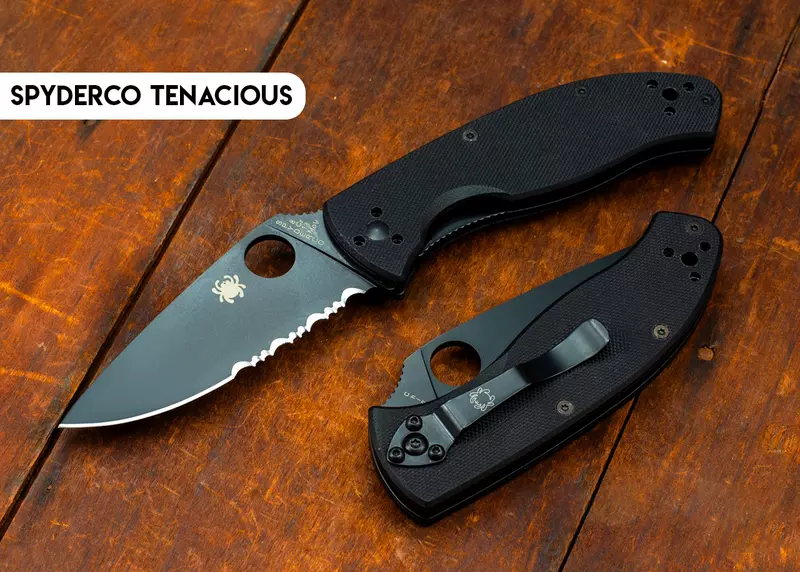 If you are even slightly interested in pocket knives, you have definitely come across the name Spyderco. There are only a few companies in the knife industry that can boast as many innovative designs as Spyderco, that is why Spyderco knives are a must-have.
Spyderco Tenacious is a knife that is persistent and cohesive. Tenacious means something that holds fast. It means being tough and tireless until the goal is achieved. The Spyderco Tenacious features a beautiful leaf-shaped blade.
The blade is ground flat from spine to cutting edge for smooth cutting performance. And the blade steel is 8Cr13MoV steel. This steel performs admirably well for its price range.
Tenacious has a G-10 laminate handle. And it can be found in black or forest green. The ergonomics of the handle is simple but it's so grippy and thus a pleasure to hold. It has a rounded spine and a very slight finger choil and a ramp for you your pinky to grab. Inside the G-10 handles scale, a full stainless steel liner is milled out to lighten the knife with prolonged fatigue-free cutting in mind. The thumb-hole opening method in Spyderco
Tenacious is a fantastic opening method. The blade shapes and is positioned in an oversized Spyderco Round Hole. And there's a textured spine jimping that allows you to open the blade and position your thumb on the spine. It may take a while to get used to it.
But once you got it down using the blade hole, you can flick the blade open in multiple different ways in slip-proof confidence.
The Spyderco Tenacious has a Walker liner lock that keeps the blade nice and secure during use. The knife also features a four-way repositionable pocket clip. So you can carry this bad boy any darn way you want. This is one of the best budget knives you could get. It is a tough, well-built EDC with excellent balance and great slicing ability.
Spyderco Tenacious Lightweight Folding Utility Pocket Knife with 3.39" Stainless Steel Blade and Black FRN Handle - Everyday Carry - PlainEdge - C122PBK
Game Changer - Being tenacious means you are persistent and cohesive. It's being tough and tireless in achieving your best performance; all worthy descriptive words for a hard-use knife
Superior Blade Steel - The 3.39" 8Cr13MoV stainless blade is ground-flat from the spine to cutting-edge for non-stop cutting
A Secure Grip - This all-new lightweight version raises the bar even further with injection-molded fiberglass-reinforced-nylon (FRN) handle scales that reduce the knife's overall weight by almost 12 percent
Easy-to-Use - The blade's shape coupled with an oversized Spyderco Round Hole and textured spine jimping allows you to open the blade and position your thumb on the spine in slip-proof confidence ready for work
Pocket-Friendly - The Tenacious includes a Walker LinerLock and a black 4-way pocket clip lets the folder be set in a variety of carry and draw positions: Tip-up/tip-down left-hand/right-hand.
3. Kershaw Leek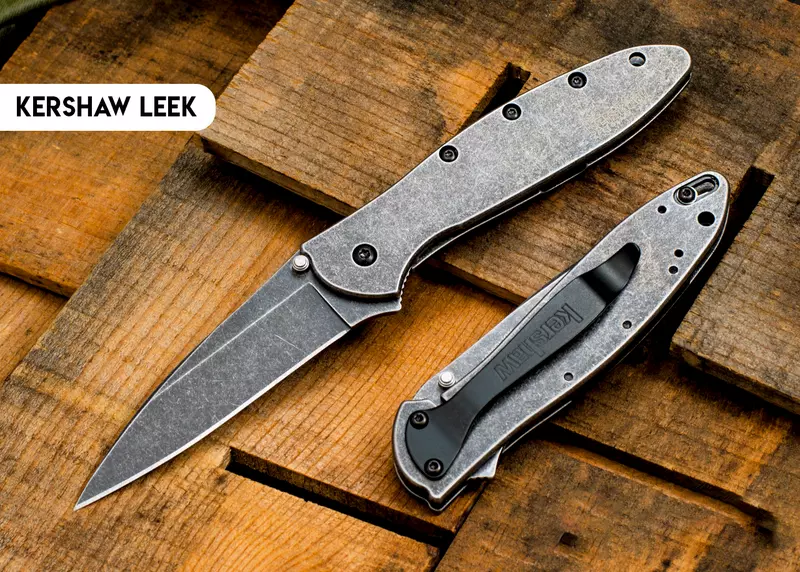 The Kershaw Leek is just the ideal EDC. The Leek is one of Kershaw's all-time top sellers. Designed by Ken Onion, Leek is a good-sized knife, not too big or not too small with a fantastic sleek design. It has the classic Ken's touch that is a very light use EDCwith a very organic flowing shape. The knife features a 3-inch razor-sharp blade made with Sandvik 14C28N steel. That means the knife can take care of a full range of cutting tasks.
The blade is Wharncliffe style that offers a straight edge to make slicing tasks easy and a super-fine tip gives it piercing capability and the ability to do detailed work. It is ideal for daily tasks that you didn't know you'd need a knife for until you have it like opening packages or tackling small tasks in the kitchen.
The handle of the knife is made of stainless steel that feels comfortable in your hand. Thanks to the finely designed ergonomics. It has a generous groove for your index finger on the front, a nice dip on the back for your thumb to rest, and rounded off at the butt end. It also features a frame lock that is sturdy with solid engagement. Opening the Kershaw Leek is a fun game.
The SpeeedSafe technology (when the knife is closed the blade is held by a detent ball and once enough force is applied it pushes the blade very quickly out into the locked position) of Kershaw allows you to open the blade just when you press the flipper tab on the back.
It's totally hassle-free and opens faster than you can imagine, every time without fail. Whether you're left-handed or right-handed, a push outward on the thumb studs will make the blade fly out and ready for you to slit.
Sale
Kershaw Leek Pocket Knife (1660) 3-In. Sandvik 14C28N Blade and Stainless Steel Handle, Best Buy from Outdoor Gear Lab Includes Frame Lock, SpeedSafe Assisted Opening and Reversible Pocketclip, 3 oz.
KERSHAW LEEK POCKET KNIFE: The Kershaw Leek might just be your new favorite EDC. Not too big, not too small, the 3-inch blade and slim design make it capable of fulfilling a wide range of cutting tasks. Made in the USA.
DROP POINT PLAIN EDGE BLADE: Made from high-performance Sandvik 14C28N stainless steel, the blade resharpens easily and holds its edge. The bead-blasted finish provides a clean, matte look.
410 STAINLESS STEEL HANDLE: The corrosion-resistant, stainless-steel handle is contoured for a comfortable grip while in use. Silver, bead-blasted finish. Includes reversible pocketclip for right, tip-up/down carry.
DESIGNED WITH SAFETY IN MIND: Equipped with Kershaw's SpeedSafe assisted opening for easy one-handed release with flipper. Frame lock secures blade open while in use and Tip-lock slider keeps blade locked closed when folded. 
SIZE SPECIFICATIONS: Blade Length: 3in. Closed Length: 4in. Overall Length: 7in. Weighing in at 3oz. Backed by Kershaw's Limited Lifetime Warranty. 
4. Nagao Higonokami Friction Folder Knife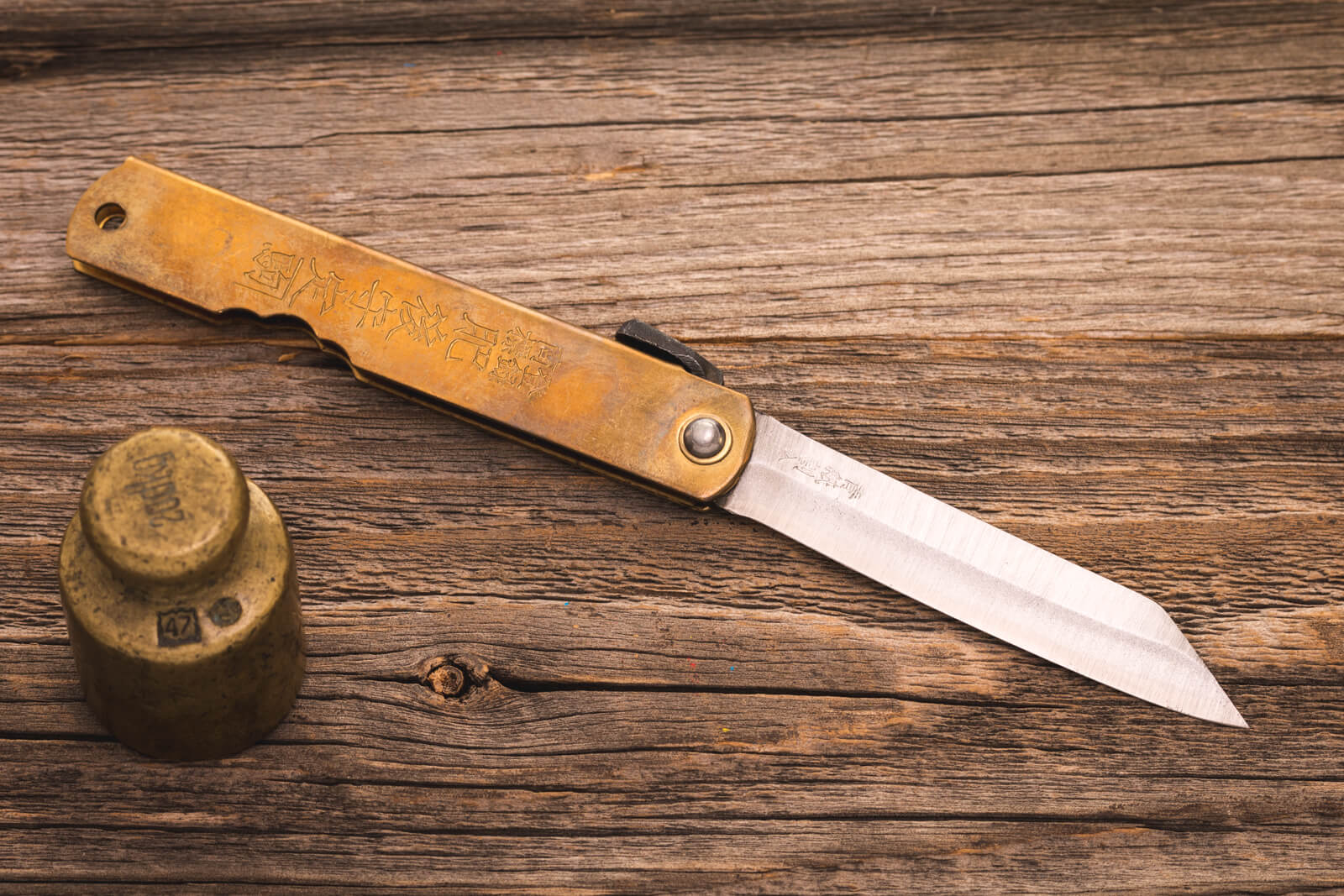 Source: NAGAO HIGONOKAMI FRICTION FOLDER KNIFE
The Nagao Higo no Kami folding knife is a historically significant simple design knife that is still available in the market and probably the best everyday carry knife.
It has a long history in Japan dating back to the late 19th century. The specialty of this knife is, it's handmade by expert craftsmen in Japan. Thus the blade of the knife might look a little bit different than the usual knife and the size might vary too.
The knife proved to be successful as back in the days a blacksmith added a simple lever to this minimally designed pocket knife and a guild was formed to oversee the manufacture of the knife. This budget pocket knife features a blue paper steel reverse tanto blade made with Warikomi steel.
The steel has good corrosion resistance. And I love the gorgeous solid brass handle with kanji etched into it that gives a decent grip. But don't be fooled by the beautiful classic design of this knife, it was built to withstand some dangerous punishment.
Till today, each Higo no Kami knife is still handmade by the last remaining manufacturer of this trademarked knife, Nagao Seisakusho.
Sale
Higo no Kami 10 Pocket Knife by Nagao Seisakusho, Brass Finish
Made by the last remaining manufacturer of this trademarked knife, Nagao Seisakusho
Blade approximately 3", handle approximately 4"
Warikomi steel
Brass satin handle
Specifications and appearance may differ slightly due to the handmade nature of this product
5. Gerber Flatiron Cleaver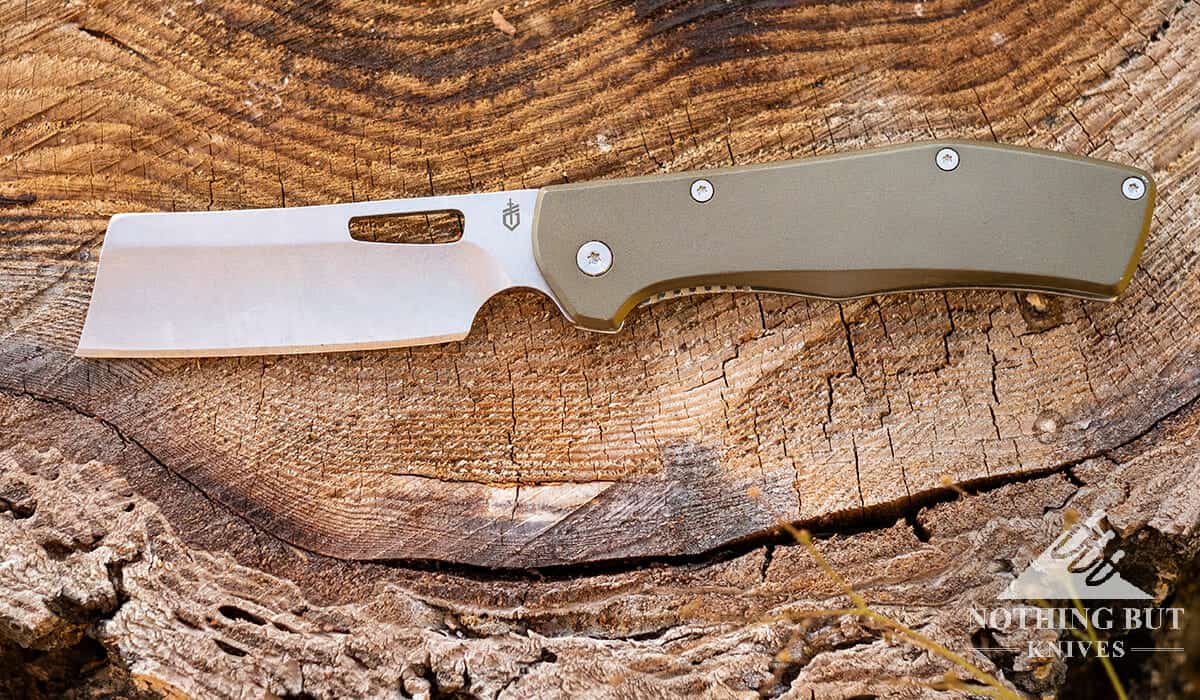 Source: GERBER FLATIRON CLEAVER
Gerber has managed to pull off something that a lot of companies in the industry are struggling with budget-friendly knives. They designed this amazing robust cleaver large pocket knife with a comfortable handle and has a strong set of clear uses.
The Gerbal FlatIron features a dark grey aluminum G-10 frame lock handle and a stonewashed durable 7CrMoV stainless steel blade.
The handle is thin but deep enough to fill the hand comfortably. The end of the handle has an aggressive curve to get a better grip as well as it can rides in the pocket nicely. It also features a wide and short pocket clip to avoid any danger of creating a hot spot. It has a large finger choil that you can use to choke up the blade comfortably.
This is one of the best cheap knives that you can count on a day-in or day-out. It's a good quality knife that hits a lot of important features we look for in everyday carry cheaper knives.
Sale
Gerber Gear 30-001494N Flatiron Folding Pocket Knife Cleaver, 3.6 Inch Blade, Black
Arguably the most prominent feature, the cleaver blade is bold and trend forward
The sleek thumb-hole opening allows for smooth one-hand engagement while operating
A large finger choil ensures solid hand placement for secure control when choking up
The pocket clip is specifically designed for low profile carry that doesn't draw attention
Machined aluminum handle is smooth yet secure - perfect for everyday carry
6. Victorinox Pioneer Swiss Army Knife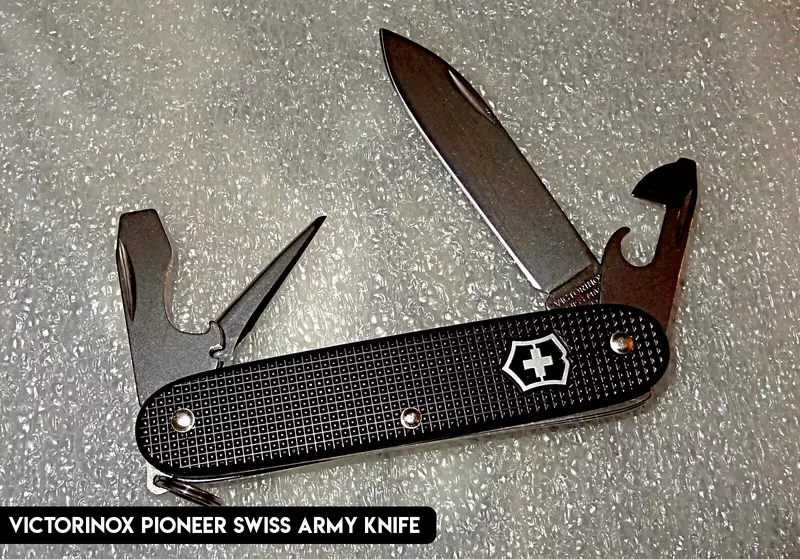 The Victorinox Pioneer is one of the most famous Swiss army knives and it might be the most instantly recognizable folding pocket tool around. Inspired by the classic Soldier's knife, it comes in a plethora of different shapes, sizes, and formats.
The knife features 8 stainless steel tools inside which makes it a super compact EDC knife with extra functionality.
If you carry this knife you will have the right amount of tools with you for any task. This sleek multi-tool packs all of its functions with two sturdy and beautiful Alox scales.
Everyone should own at least one Swiss Army Knife and this particular Victorinox is carried by army personnel worldwide. Proof that you can't go wrong with this compact knife which is indispensable in many different situations.
Sale
Victorinox Swiss Army Pioneer Pocket Knife,Silver Alox,One Size
A CUT ABOVE THE REST: Compact, agile and ready to face any adventure head-on. Our range of Swiss Army Knives have been established since 1897 and continue to be an icon of utility and smart design.
DURABLE CONSTRUCTION: Swiss made stainless steel construction encased in our popular scales offers a slimmer profile and is extremely resistant. Blade lockable - No
COMPACT CARRY: Bring this knife with you on your daily adventures without sacrificing space. It makes a great gift for any occasion or stocking stuffer for Christmas.
FIT FOR ALL TASKS: At their heart, all our pocket knives are a survival tool; multitaskers that deliver in any situation. At their most evolved they have surpassed basic function to pioneer space travel and restart engines.
TRUSTED QUALITY: Made in Switzerland; Victorinox provides a lifetime guarantee against defects in material and workmanship. Making a lifetime commitment has never been so easy. No assembly required, money back guarantee.
7. CRKT Pilar II Pocket Knife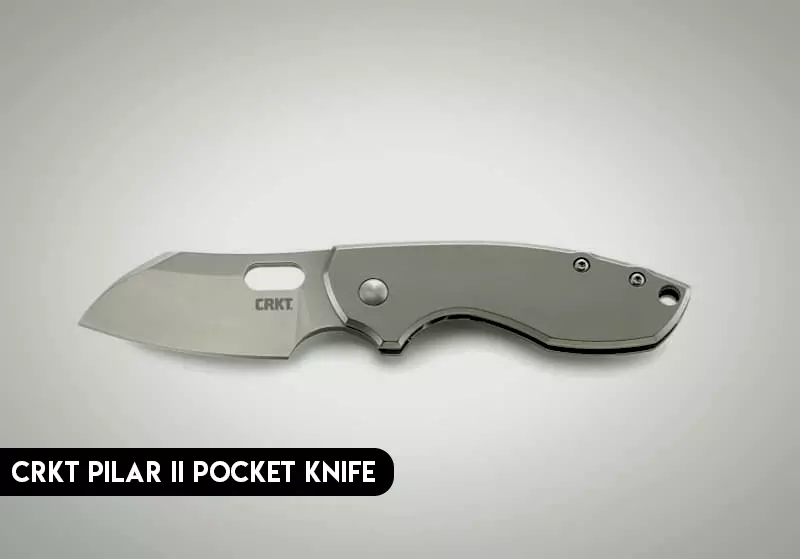 The CRKT Pilar II is the elongated version of the normal Pillar made in collaboration with custom knifemaker Jesper Voxnaes. This collaboration is by far the most successful collaboration design for the EDC knife community. The Pilar II is a nice and solid high-quality knife that features a more slender and organic shape.
The sleek lines of this knife is a typical Danish design- the finger groove and the elongated thumb hole is the typical VOX design. The CRKT Pilar II has a modern blade design with a modified spearpoint shape that excels at both piercing and slicing tasks.
The blade size is 2.75″ and it is made from D2 steel which is tough and holds a great edge. Because of the large eyehole for ambidextrous manual opening, you will have enough grip with your entire hand.
The manual opening of this knife is made smooth with IKBS ball bearings in the pivot. The knife has black G-10 handles and a broad spear point blade. The knife locks solid with a steel frame lock which adds heft and strength.
And the deep ride pocket clips ensure safety and secure carry. This is stunning as an everyday knife. Small enough to stand out and capable enough to get the work done. Columbia river knife tool good quality corrosion resistant knives and they last for a long time.

8. Buck 55 Solid Knife
The Buck 55 is a small traditional-looking knife that is built like a tank and has a simple arcing design. The knife provides a nice grip and is easy to hold in a variant of ways. It comes with a one-handed open-close system, a textured handle, and a pocket clip.
The blade of the buck knives 55 is under 2.5 inches. This might feel like a disadvantage cause without a clip to secure the blade, it is designed to roam free in the pocket. The blade is sharp and has amazing corrosion resistance. It can cut a string, open a package and open a blister pack. The whole knife size is 6 inches and it's fully open but it has a comfortable knife handle.
The wood accent of the handle is made of American walnut and it looks really attractive and the brass portion of the frame is sturdy and thick. The knife has a good grip cause the handle consisted of a light amount of wood grain with minimal texturing.
The knife handle also features three small brass studs that's why the handle is not slippery and holds firm in hand.
The buck 55 features a clip point blade which is similar to a drop point blade. The fine tip is great for detail cutting and the belly is for slicing. The flat edge is used for dicing and chopping. The knife opens and closes with a satisfying snapping noise.
The lock is positioned at the end of the knife handle.  The blade of the knife is made with 420 HC steel which you may know as a low steel spectrum and heat treated. What buck knives do is they apply a heat treatment and that puts it up in the range of AUS8 of 8Cr13MoV steel.
I own a Buck 55 and my Buck held an edge noticeably longer than the other pocket knives I have. With this price range, it has to be my favorite knife. Can't recommend this knife enough.
Buck Knives The 55 Folding Pocket Knife 2-3/8" 420HC Steel Clip Blade, Ebony Handle, Brass Bolsters
Razor Sharp Clip-Point Blade - 2-3/8" 420HC Steel Clip Blade has great edge retention and corrosion resistance. The Clip blade has a very sharp controllable point, and is good for piercing and slicing. Closed length 3-3/8" and 1.9 oz
Genuine Wood Handle - Crelicam Genuine Ebony with Brass Bolsters deliver an ideal combination of ergonomic feel and balance
Strength & Safety - Easy to open with a nail notch on the blade. The lockback mechanism locks the blade open for reliable strength and safety while you work
Classic & Compact for Everyday Carry - The 55 is a mini version of the renowned 110 Folding Hunter. This knife fits perfectly in your pocket for easy access and every day use
Durable and Multi Use - Meant to withstand even the toughest conditions and stay sharp for long. Great for hunting, camping, bushcrafting, fishing, hiking, and overlanding
9. SANRENMU 710 Budget Knives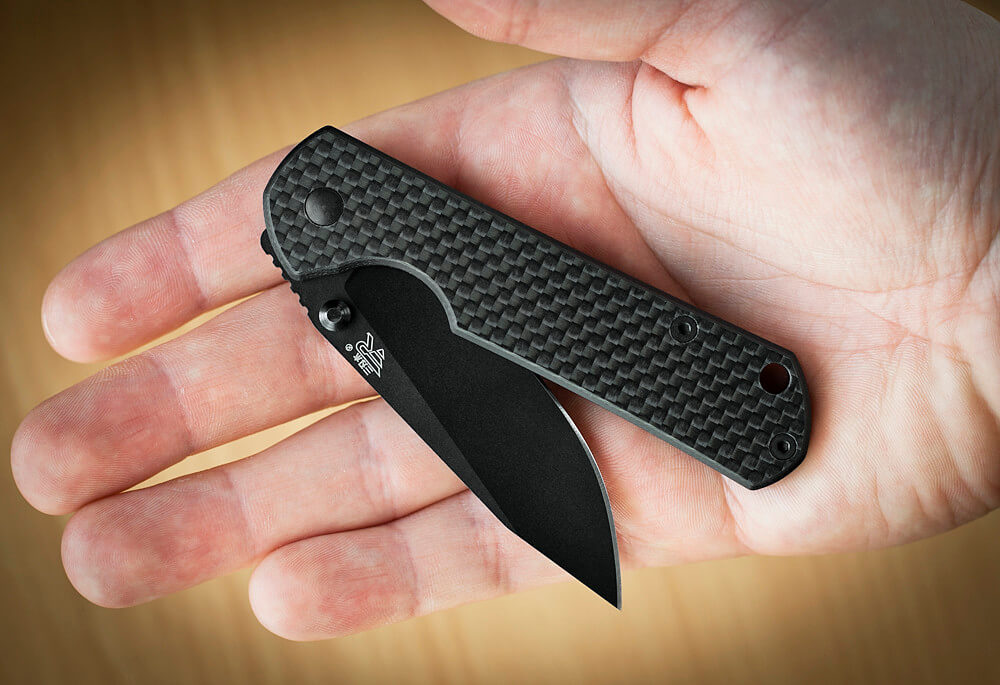 SANRENMU 710
If you are an extreme budget seeker, I have good news for you. SanRenMu 710 might be everything you are looking for in a budget pocket knife and their blade design is very good looking. This knife features a blade with a very abrupt clip point shape. It's more like a broad piercing tip with a very sharp edge and the flat ground is about 3/4th of the blade width.
The blade is made of 8Cr13MoV so it can be sharpened easily with just a razor blade. To open the knife, there are dual thumb studs. The knife handle is made of solid stainless steel and has an aesthetically pleasing simple design. The handle features a finger choil, a straight swell to the end of the knife, and a straight spine.
Two small areas have been finely milled into the face of the steel. the texture of the area feels like sandpaper which helps to lock the knife in your hand while using. The knife has a full-frame lock so locking up the knife is extremely good. You can roughly use this knife as hard as you can without worrying.
There's no chance of the knife accidentally closing on your hand. The pocket clip of the SanRenMU 710 is only suitable for right-handed tip-down carry. So lefties, sorry to say but you are out in the cold on this one. This price retails for less than $15 so you might think that with such a low price and a Chinese knife maker, this knife may be a blunder.
But from my very personal experience, I am telling you to get this knife and you will thank me later. I don't think I've ever handled a knife as hard as this one. The consistent quality is 10 times the price tag!
Sanrenmu 7010 Folding Pocket Knife EDC Knife 12C27 Blade Frame Lock Stainless Steel Handle with Clip
Sanrenmu 7010 is an all-steel construction knife and is very affordable for people who want to start with a cheap yet quality knife. The locking mechanism of this knife is quite proficient and supports a one-hand opening style from both sides. The knife is small and heavy, making it quite preferable for some rough applications. This foldable alloy steel knife holds the edge pretty well, even regularly.
It comes with a Frame lock mechanism. It is highly preferable for everyday carry, hunting, and camping adventures. It comes with a straight-back blade shape
It uses 12C27 blade steel for the making.The blade size for this knife is 2.7 inches. The weight is pretty much on the heavier side with 3.2oz.
Blade Length: 7.0 cm / 2.76 inches; Blade Width : 2.4 cm / 0.94 inches; Unfold Length: 16.5 cm / 6.50 inches; Fold Length: 9.5 cm / 3.74 inches; Product weight: 90g
You can clip it on your belt, backpack or somewhere else you want Folding design makes it more secure and convenient to use.
10. SOG TWITCH II KNIFE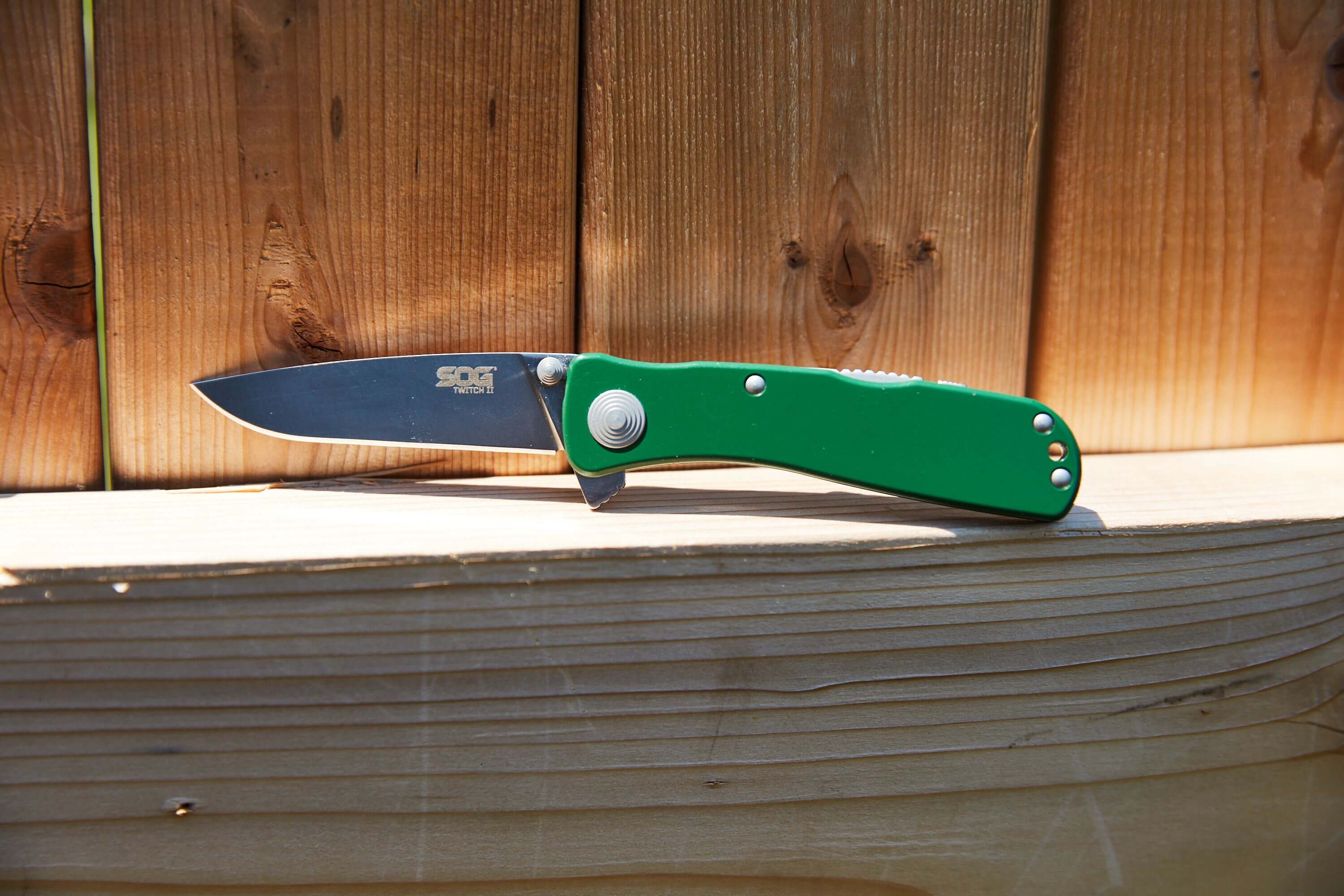 SOG TWITCH II KNIFE
SOG is typically known to play on the tactical side of the spectrum. But honestly, I am impressed seeing that they toned down a bit and procured something EDC-friendly folder.
TWITCH II is just a super handy knife. It features a drop point blade made of AUS-8 which keeps you ready for anything anywhere. It has a sturdy lightweight hard-anodized aluminum handle. The knife opens in a flash and stays open until you are done using it and the lock back keeps it secure.
I own this knife and it fits in the pocket of jeans so well that you don't realize it's there. It's super sharp, I love the blade shape and the textured button to release and close. The knife also sharpens well. All over it's an excellent knife and a high-quality knife blade you can pass down to the next generation.
Sale
SOG TWI8-CP Twitch II 6.20 Inch EDC Folding Knife, silver
2.65 INCH AUS-8 STAINLESS STEEL KNIVES: This ultra sharp knife is a discreet emergency knife, hunting knife and every day pocket knife for men or women; measures 3.55 inches in closed length with model number: TWI8-CP
SOG ASSISTED TECH (S.A.T.): Makes a great everyday carry, camping knife and outdoor knife; assisted opening knife system opens this straight edge clip knife one-handed
FOLDING KNIFE "KICK": Release this fast opening knife with either hand using very little pressure; flick the EDC tactical folding knife "kick" on the back of the Twitch II and the folding knife into action
TOUGH ALUMINUM HANDLE: These tough utility knives, camping knives and survival knives offer strength and durability with a hard-anodized aluminum handle
SOG KNIVES FOR LIFE: Take care of your pocket knife and we'll take care of you; SOG folding knives and pocket knives are built to last, and we consider all repair and replacement requests
Best Pocket Knife Under 100 Dollars
Well, it feels weird to me that sometime we spend $90 on an edc knife and it ends up being totally useless. After so many useless purchase of folding pocket knife I finally found a few knives that are worth the price and you can abuse them as much as you want. Usually, the price of a great knife depends on the blade steel.
Very often, the value is in how well that steel has been treated and ground. So expect to see some hard premium steel paired with a tough thumb stud and handle.
1. Buck 841 Sprint Pro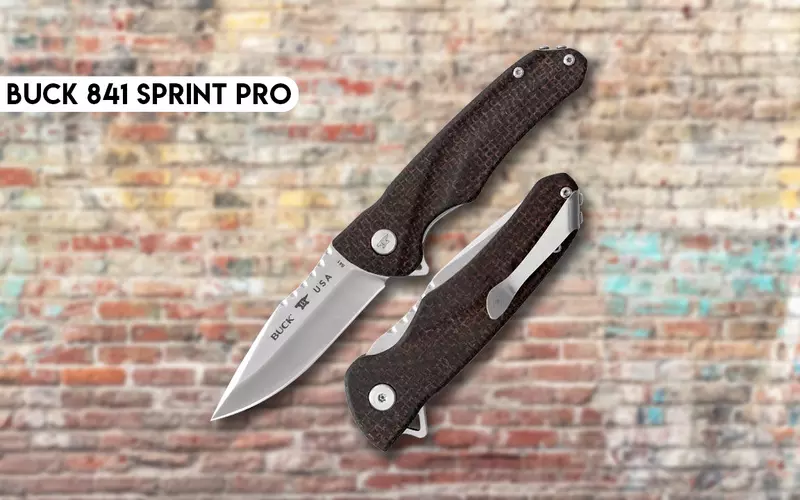 If you know me, you should know I have a special place in my heart for buck knife. I love this brand, its history, the blade style of its knives, and the quality.
I have got this Buck 841 Sprint Pro knife a month ago and it's been in my pocket since then.
There's a lot to like about the Sprint Pro, and I'll go over some of my favorite parts of this knife one by one.
It's an unassisted knife. I am not a great fan of flipper knife but it's actually a ball-bearing flipper, and the action on the Sprint Pro kind of inspires it. You can easily flip it open with a thumb flipper reading the liner lock. I kid you not closing it and flicking it back open is kind of addictive.
It's a great utility knife.
I use it to open packages, heavy-duty projects around my house and also used it a couple of times on hikes. Once while in camp, it has sliced some delicious cured meat for us to enjoy.
The blade is centered and totally clear of rubbing anything. The pivot looks slick with the tiny Buck anvil engraved on it, and the pocket clip is almost perfect. The screws on the handle are also slightly recessed, and the work is really well done.
Although, as a knife enthusiast I am a little bit provisional about recommending S30V steel for knife blades for obvious reasons ( if it is heat-treated to a point that it is extremely hard it tends to chip easier than softer steel), Buck knives have this amazing Paul Bos Heat Treatment on sprint pro which retains decent edge retention, but it can handle tough tasks without chipping easily.
While the handle is super grippy burlap Micarta, the scales are reinforced. It has a comfortable blade shape that makes it nice for a variety of purposes. It feels like a fixed blade knife and that's definitely my feature of the Sprint Pro.
Overall, It's one damn sturdy knife. It has a healthy, positive snap that lets you know the blade's locked in place. I recommend this knife without a doubt. This thing is super solid and bombproof I would say. It's a very good survival knife as well.
2. Benchmade Mini Griptilian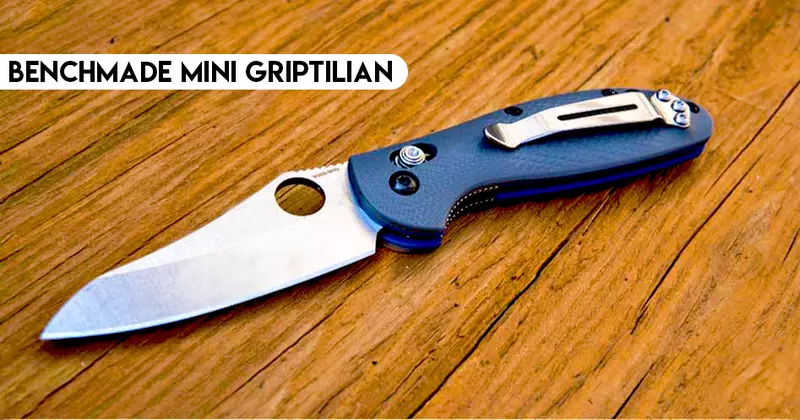 The Mini Griptilian is reputed for putting the pocket in a pocket knife. It's designed in collaboration with Mel Pardue, who Benchmade says designs knives that offer great utility to the everyday knife user while at the same time presenting an upscale distinction.
This is a small knife, but it acts like a much bigger knife. It's lightweight, easy to use, relatively slim and comfortably pocketable, and quite capable. The blade is extremely sharp and after very rough use the sharpness is still there. As I always say the 154 CM steel is super for blades and long-lasting edge. You can understand what I mean after using this knife.
The resin handle of this knife looks a little cheap, but it's comfortable. Despite its simplicity, the knife has a great give to it.
The mini Griptilian is available with a thumb stud or it can also be open via an ambidextrous thumb hole. I thought the thumb hole suits my preferences so I went with this option. Not sure if it was the right decision but I have yet to regret my purchase choice.
The lock has zero give to it. Benchmade's AXIS lock is unlike any other folding knife locking mechanism. The blade doesn't budge forward and rearward or left to right. It's ambidextrous and consists of a small spring-loaded metal stud for pressing the blade upward, but that's the second string to the push-to-release lock system.
Overall I would say, don't be fooled by the name of it. It's big enough to be practical, small enough to not draw stares if you need to use it in public. The bright colored handles help to give the mini Griptilian the same sort of public perception as a small Swiss Army Knife. Plus, the smaller size makes it easier and more comfortable to carry.
3. Spyderco Delica 4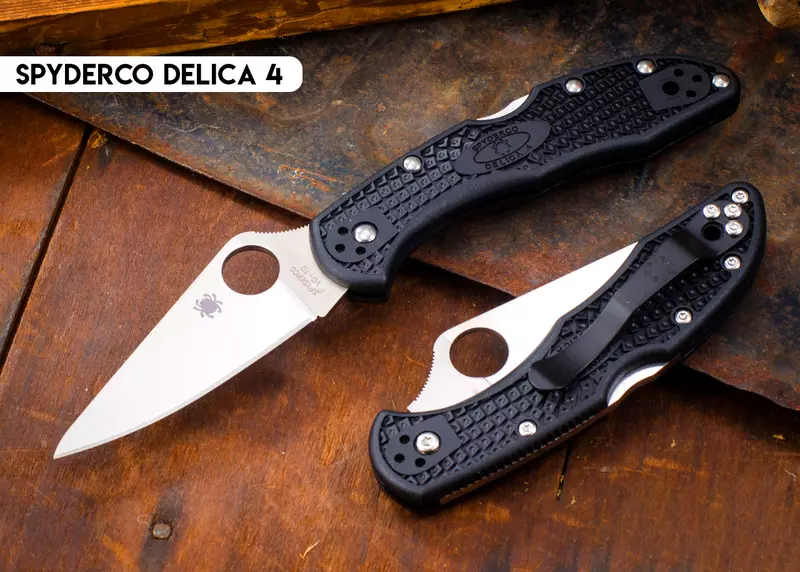 The Delica 4 is a smaller Spyderco knife. It is solid, proven, and made with excellent blade steel. The deep but narrow blade is its most salient characteristic. The blade length is 2.875-inch is perfect for states with silly 3-inch rules.
The handle of the Delica 4 is full length. 4.1 inches is pretty long for a typical pocket knife. Generally in a pocket knife, we look for 3.5 inches handle length. The grip of the handle fills my hands well. Although it's a little thin as it is a compact knife, you make concessions.
The grip is made of FRN (Fiber Glass Reinforced Nylon) which is a super tough polymer composite. The one-handed thumbhole opening is simple and at one time led the field in terms of opening innovation.
The knife blade is made of VG 10 steel, which is common in kitchen knives.
The blade is corrosion-resistant, easy to sharpen, and gets nice and sharp pretty easily. It doesn't hold the razor-sharp edge for long but sharpening it is really easy. Give it a quick run with the sharpener and you will see it shines up real nice.
If you ask about the construction quality, I'd say it's a pretty sturdy knife even though it's very lightweight. Initial impressions of knife quality are often tied to their weight. But let me tell you, a knife doesn't have to feel heavy or sturdy to actually be sturdy.
All metal components make for a denser package. In the case of Delica, all the metal components are tight and optimized, but the overall package is pretty lightweight.
Overall my take on this knife is, it's a knife with a thin, gently tapered edge. The basic design of this knife is decades old and marked an important step in pocket knife evolution.
The knife is tuned for the fine task but the overall depth of the blade lends strength and confidence. The Delica 4 is a handy, lightweight little knife. It feels great in the hand the upward swooping thumb rest is great for carving motions. The blade is a little on the short end for my tastes, but compact is compact.
Spyderco Delica 4 Lightweight 7.15" Signature Folding Knife with 2.90" Flat-Ground Steel Blade and High-Strength FRN Handle - PlainEdge Grind
WIDE SPECTRUM OF HANDLE COLORS - The Delica 4 now offers new vibrant tones including blue, green, brown, gray, orange, zome green, black and purple.
WIDE SPECTRUM OF HANDLE COLORS - The Delica 4 now offers new vibrant tones including blue, green, brown, gray, orange, zome green, black and purple.
SUPERIOR BLADE STEEL - The blades are full flat-ground VG-10 Steel with a thinner highly refined cutting edge and a larger 13mm opening hole.
ULTRA-LIGHTWEIGHT - Inside the handle are dual skeletonized stainless steel liners which strengthen the knife without additional weight and double as an anchor for external and internal components to attach through generating more sturdiness.
ERGONOMIC - Added to the blade's spine is slip resistant jimping. Phosphor bronze washers smooth out the open/close action and the clip is upgraded to a four-way tip-up, tip-down, left-or right-handed clip.
4. Gerber Highbrow Compact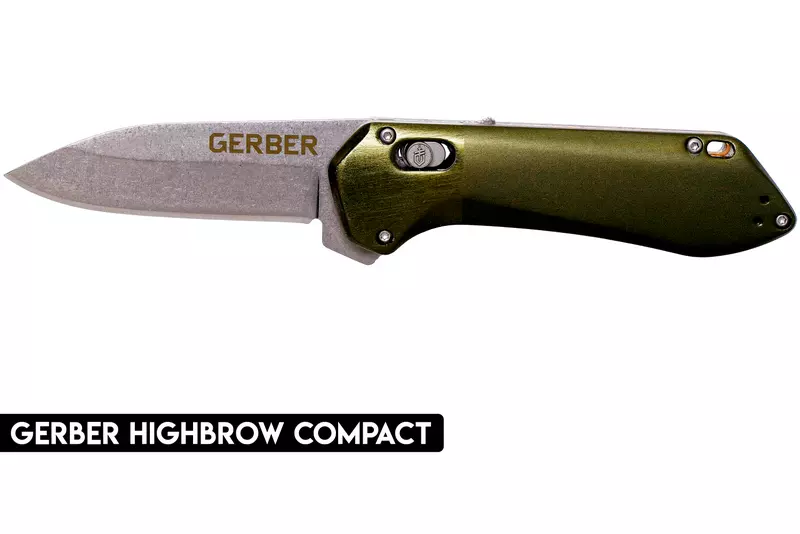 Gerber is a long-time favorite of mine since forever. Their knives work the best. The Gerber Highbrow is a metallic sage finish tactical knife that looks absolutely wonderful.
The blade is made out of 7Cr stainless steel. It is a good entry-level, rust-resistant stainless steel that offers the user a good value. Although the steel is softer and you might need to sharpen it quite frequently, it will hold an edge adequately.
The blade has been finished with a stone wash finish. The stone wash finish is a dark stone wash, or an acid stone wash, finish. And the cause of this, Highbrow is a more low-maintenance knife. This is because the appearance of the texture easily hides the scratches and smudges that do accumulate over time. The knife is designed into a nice drop-point blade shape.
You can perform fine detail work with this Highbrow compact. It gives you more control over cuts than other designs. Another favorite thing about this blade design is, the tip of the blade is wide. This will allow the blade to withstand repeated piercing or contact in ways that finer blade shapes would not be able to do.
The large belly of the blade gives the increased surface area, which allows you to have an increased ability to slice. The blade has a sharp plain edge, which allows you to equip a wider variety of tasks, making this Gerber the perfect EDC.
The handle is made out of green anodized aluminum. The handle does look a little bit edgier. The spine is completely straight until about 7/8ths of the way to the butt. The shape of the handle is simple, sophisticated, but one that you probably wouldn't find on many other knives. The handle gives a good grip and adds a bit of comfort too.
Gerber Highbrow is a spring assisted opening knife with a large integrated flipper as well as a slide lock. I find the assisted opening action super crisp. The blade deploys via a finger flip mechanism which is pretty satisfying. The assisted opening mechanism is smoothly and quickly activated by the finger flipper.
Gerber says with ambidextrous design gave the ease of the use a priority.
It may take some time to get used to it but the Pivot Lock can be accessed from both sides making closing the knife a breeze. The pocket clip can be arranged for left or right-hand carry. It allows you to close your knife while keeping the tender digits out of the sharp blade's path.
Overall I would say, it's a solid EDC knife. It looks really nice but it works nicer. It will meet your day-to-day needs without any real gripes – especially for the price point!
Sale
Gerber Highbrow Compact, Pocket Knife with Assiste
The Highbrow Compact Is An Everyday Carry Folding Knife With An Assisted Opening Drop Point Fine Edge Blade
The Finger Flipper Assisted Opening Mechanism Smoothly Springs The Blade Into Use
A Pivot Lock Allows For Smooth, One-Hand Operation When Closing The Knife And An Additional Slide Lock Safety Acts As A Secondary Lock For Added Security
The Knife Features Anodized Aluminum Handles, Lanyard Hole And 2-Position Pocket Clip For Left Or Right Carry
5. Cold Steel Voyager XL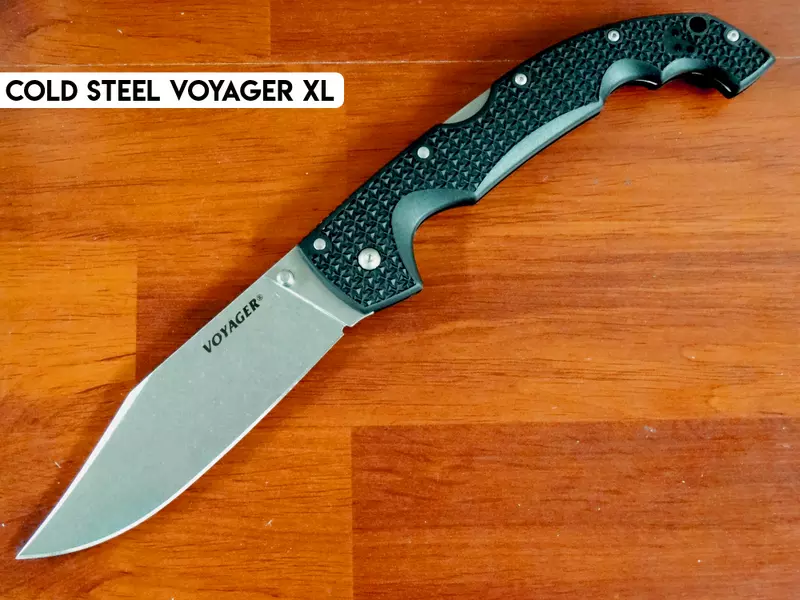 The Cold Steel Voyager XL is a big folding knife. So big that first I totally ignored this. Initially, I thought it was bizarre to call it an EDC knife but boy was I wrong! It does take up more space in your pocket but surprisingly it sits comfortably in the pocket.
The Voyager XL comes in three different blade styles: Drop Point, Tanto, and Vaquero. As I was partial to drop point, and I am a clip point addict, I went for clip point.
The newest design of the Voyager XL features AUS10 steel which is excellent hard use steel. In fact, I think it is the best steel for hard use knives with a budget-friendly option.
The blade of the Voyager XL was crazy sharp on delivery. And the blade is centered nicely; no horizontal or vertical play. This really impressed me for an EDC folder this big at this price point. I have mixed feelings about the blade style.
It's a serrated blade with a plain edge combo. A bit of serrated is nice but it makes it harder to sharpen the knife. There is a 100% plain edge version if serration is not your thing. Again if you are a serrated blade lover there is a fully serrated version.
As a tactical knife, the full flat grind with a nice thin edge and aggressive clip point of Voyager XL makes it stands out. The ambidextrous thumb studs of the blade are well placed. It will take a little practice to get used to the thumb stud to open the knife smoothly cause of its size. I prefer to flip it open mostly.
The Voyager XL has a really smooth action, but it doesn't feel like it wants to jump out of your hand when you flip it open quickly like some other large folders.
The handle of Voyager is made of Cold steel Grivory. This glass reinforced polymer is durable and it's really tough. The handle has textures from one end to another which gives a good grip on my hands. I used the knife a lot during wet weather. It doesn't slip or anything and you can work without any problems.
Another great feature of the Voyager XL is that the big handle makes it practical and fairly easy to use for everyday tasks. The 6.8 inches of the handle is larger than any pocket folder. Cold steel saw an opportunity here and utilizes this space to make the Voyager fairly versatile and easy to grip.
The handle features a large finger groove which makes the handle really gripe. There are two grooves. The rear and the semi-finger grooves together provide an extremely secure grip.
Cold Steel has really raised the bar here. The entire Voyager line is extremely well done. They are Taiwanese made and let me tell you the finishing of the knife is just too perfect.
The more I use this knife the more I get impressed. How perfectly everything is lined up. With this Voyagers line, you get a great choice of blade shapes, the comfortable lightweight handles, the excellent lock, the awesome pocket clip, the great materials – I could go on and on.
So in conclusion, I am a fan of the Voyager series. It was one of the best releases in 2011, and when they upgraded the steel in 2016 they made the knives even better. If you are looking for a large utility knife then pick up a Large Voyager.
Can't recommend this knife enough. It's tough to beat. And if you are looking for a folding sword then snag the XL. The XL is a fun knife, but it's not a gimmick.
Final Word
Man, I had some fun testing these pocket EDC knives. I am a BIG knife lover and it's not often you get to try out a handful of knives and the ability to handle a variety of knives from a variety of companies. I still learn every day about new knives, knives, steel, and just how tired my hand gets after cutting stuff and carving all day.
Being a knife enthusiast it's hard to narrow the list down to just 15. Cause there are so many more amazing knives out there that easily could have made this list.
I could have comprised this list of just Kershaw and Spyderco EDC knives under $50. Cause they have got a minimum of 10 more great pocket knives that are not on this list.  Just because they have so many to offer, but that would have left out many other great knives from other manufacturers and I couldn't just ignore them.
So here you have it. My final take on best pocket knives under 50 and 100 USD. Hope I explained the knives well and you find the best knife for your need from my top knife list. If you have any questions, leave a comment below! Also if you have any more knives to add to the list or if you disagree with my choices, I'd be happy to hear from you.
Happy slitting!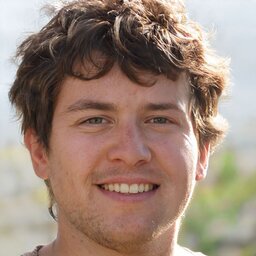 Hi, my name is Taras Kulakov and I'm a knife enthusiast. I have been collecting knives for over 30 years and I've owned literally thousands of different models over that time. My goal with this site is to share some of what I've learned about knives. You can find more info about Taras Kulakov here.
Last update on 2023-03-13 / Affiliate links / Images from Amazon Product Advertising API