SOG Flash II Knife Review:
The unique handle of the Flash II is made from thick fiberglass reinforced nylon, which is essentially a reinforced plastic. The FRN versions are available in over a dozen colors, but certain versions also feature an aluminum handle.
I prefer the FRN version because it helps the knife maintain its lightweight without looking or feeling cheap. This is largely due to the fact that the knife uses a much denser FRN than the FRN used for other knives like the Benchmade Griptilian.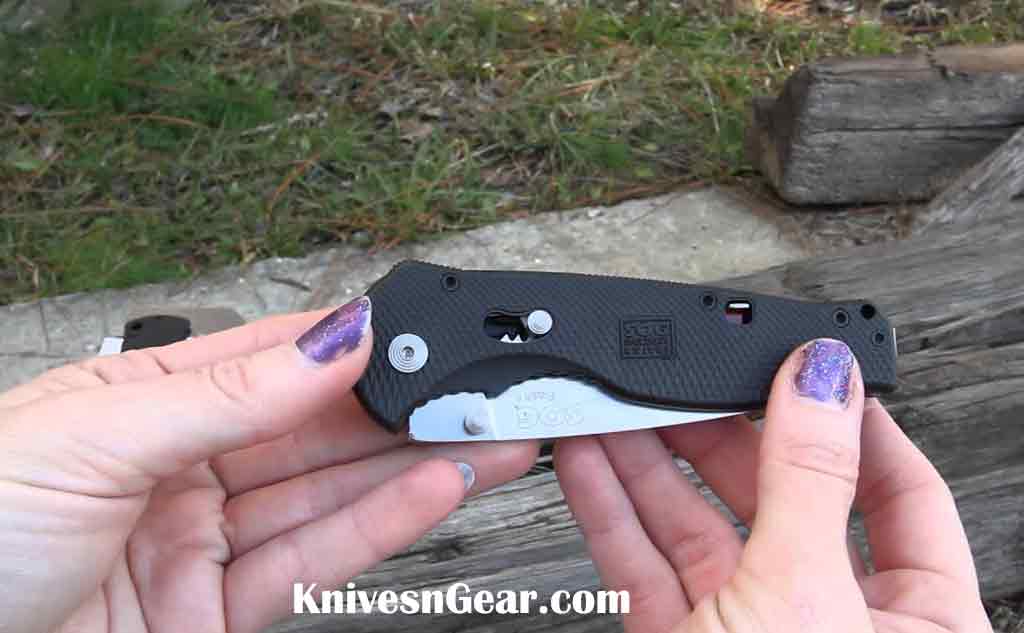 Shop Now
Key specs
Blade length: 3.5 inches
Overall length: 8 inches
Closed length: 4.5 inches
Weight: 3.1 ounces
Blade material: AUS-8 stainless steel
Country of origin: Japan
Price range: About $

69
Although the handle of the Flash II may be oddly shaped, the knife's ergonomics are rather intelligently crafted. Overall, the knife utilizes a chunky design that perfectly fills the hand.
The corners are also slightly rounded, which makes the knife quite comfortable for normal use. I particularly like the dual coils and the thumb ramp for added control while performing detailed work.
The diamond texture of the handle also improves the knife's overall grip. Even when I was tightly gripping the knife and peeling off slices of wood, the knife did not feel uncomfortable in my hand. The Flash II can comfortably handle most tasks, but I wouldn't necessarily choose it for building a treehouse.
The pocket clip is an often overlooked feature of pocket knives, and the clip on the SOG Flash 2 deserves to be mentioned. The tip-up only clip is reversible and utilizes an ultra-deep design for strong tension.
It may look funky at first, but it is easy to appreciate another distinct look from the SOG brand. For added flexibility, there is also a small lanyard hole located beside the clip.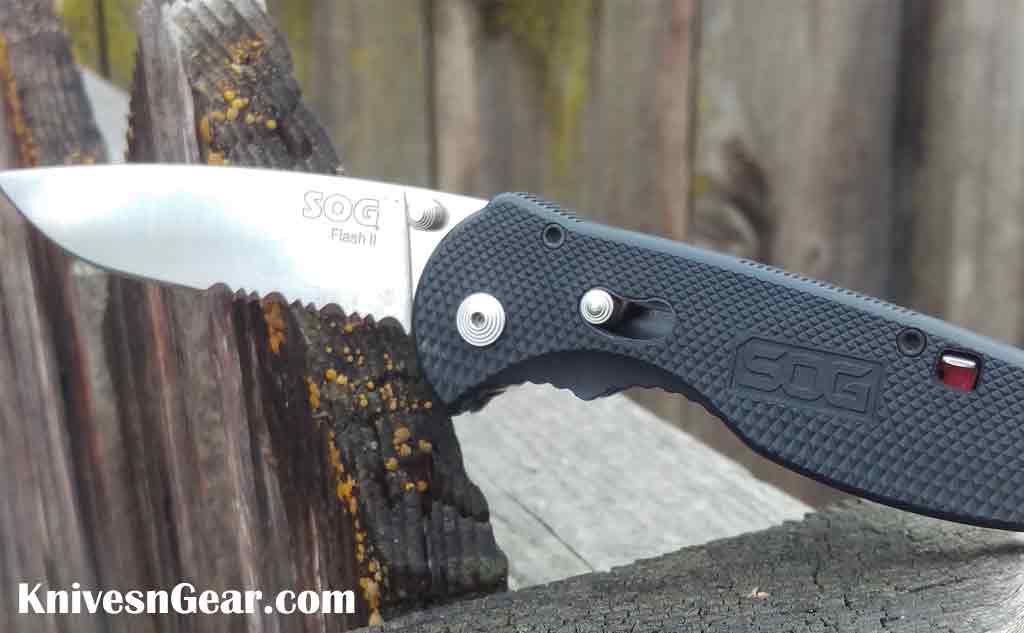 The assisted opening of the Flash II was a welcome feature. To open the knife and watch the blade snap out in no time at all, you simply need to apply a little pressure to either of the thumb studs.
Most of the time, the topic of assisted openings comes down to a matter of taste, but the feature works out perfectly for this knife, especially as a folder in emergency survival situations.
When I'm in the market for an emergency survival knife, I look for a knife that can be deployed rapidly while under stress, and the Flash II does not disappoint in this regard.
There is also a safety lock located on the side of the handle. When this lock is engaged, it is nearly impossible to open the knife accidentally.
For many users, this feature will prove useless, but it has allowed SOG to produce a knife that can be carried with the tip up, so I don't mind leaving mine in the off position as I go about performing my daily tasks.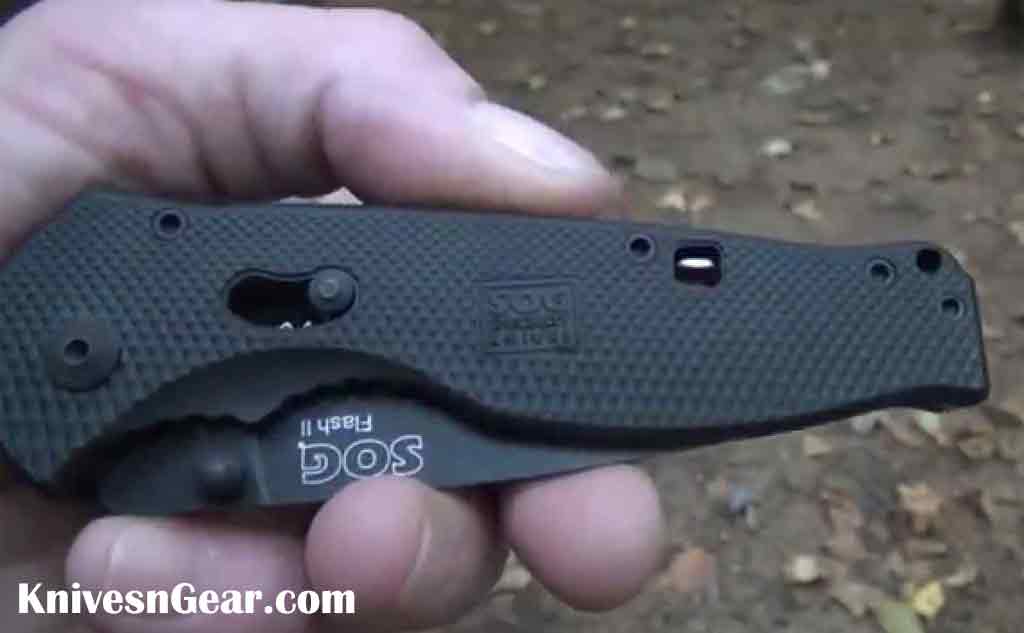 Unlike most knives that either utilize a lock back or a bolt lock, the SOG Flash II seems to use a combination of the two. In truth, it's difficult to tell without stripping the knife apart, which I have yet to find myself willing to do.
However, I did notice a little side-to-side- movement when the blade was open and in the lock position. I was able to reduce the play somewhat by adjusting the pivot, but a little play was still evident.
Given the fact that the knife does not have a liner and a type of bolt lock is used in the design, a little play did not really come as much of a surprise. On the other hand, if an up-and-down play was evident, I would be a little concerned that the lock could potentially fail.
All in all, I find myself agreeing with the thousands of other reviewers who have been pleased with the SOG Flash II. The blade is fantastic, it has a light carry weight, and the assisted open is both convenient and fun.
The uniqueness of the knife definitely allows it to stand out in a crowd, but I actually feel that this is a positive attribute. There is a slight amount of blade play, but that hasn't stopped the Flash II from becoming a classic folding knife that has been enjoyed by thousands of people around the world.
If you are looking for a knife that is practical, lightweight, and unique, then the SOG Flash II may be the perfect knife for you.
SOG Flash II Knife Review
Blade

Handle

Locking Mechanism

Value

Quality
Summary of SOG Flash II Knife
Our Verdict
This is an average pocket knife, with some important attributes that bump it up. We like assisted opening knives. The SOG Flash II has this function and fits it in a relatively affordable package with proven blade materials and geometry.
We like that too. There are better value options available, and other, more expensive options work much better, but the SOG hits a pretty sweet spot. We think that assisted opening function is a worthy addition to any pocket knife. If you share that preference, the SOG Flash II rises toward the top of our tested heap.
Comments Rating
( reviews)
Pros
Wonderful blade with serrated edge, locking mechanism, and wonderful value for what you pay.
Cons
People question the quality of the handle.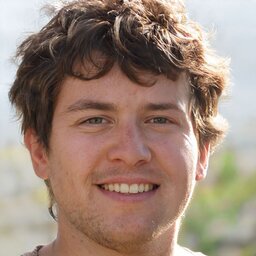 As a boy, I grew up in the mountains and was handed my first knife by my dad when I approached manhood. Activities like hunting, camping, and exploring were on the top of our list of weekend getaways. Over time as I searched the internet that there is a SERIOUS lack of information on quality survival and prep gear. There is so much information out there that it can also be difficult to sift through it to find what you need. Building this site was important to me because I wanted to offer people a place where they could compare prices, quality of gear, and basic information all in one easy to use the site. One place that could offer straight FACTS to compare directly seems to be hard to find.