Best Pocket Knives for Women
How many times have you been told to stay away from knives and scissors as a child? "Knives are scary, sharp, easy-to-slice human flesh" etc.
But in reality, the knife is a useful and versatile tool that has many uses. A pocket knife is an incredibly useful tool that will appeal to both men and women as both can use it for various purposes.
If you are a woman and want to buy a pocket knife for daily tasks or just want to keep it in a purse for any emergency situation or you are buying a pocket knife for a woman, then there are many things to consider and you should compare the different products available.
Our recommendations for women's pocket knives include blades that are smaller in hand and carried lightly in the pocket.
So, here is a list of the 15 best pocket knives for women to help you make your decision.
1. Benchmade Mini Griptilian

Made in USA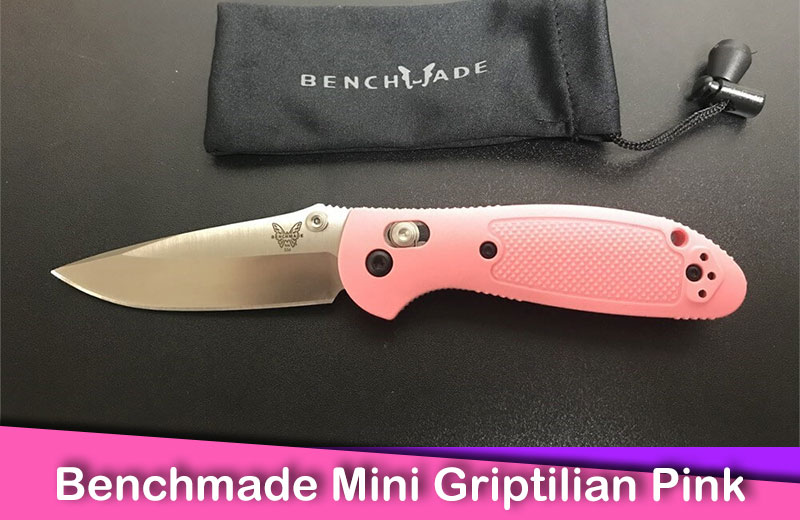 The Benchmade Mini Griptilian is an EDC all-star. There is so much to love about this lightweight design pocket knife. Made from 154CM stainless steel, the Benchmade Mini Griptilian is the best all-around choice.
There are many variations but personally, I think 555HG is the best one to get as it has a unique modified sheepsfoot blade that works great for any EDC cutting task. The 154CM steel is better than the popular AUS-8 and Rat1 and 2.
It's easy to sharpen and maintain. This is a seriously low-maintenance pocket knife that holds an edge well. Sharpen it once, and you may never need to sharpen it again which makes it a perfect EDC knife for women.
The Mini Griptilian 555HG features a cool, spring-assisted opening hole that allows you to deploy the blade with only one hand. It is the easiest way to open a knife. The Axis lock system of this knife is safe and stable and at the same time, it's easy to unlock during an emergency.
Although this Mini Griptilian is in the high price range, and $90 may seem like a lot of money to spend on EDC but to be very honest, every penny is worth it if you have this knife.
The steel is amazing, strong lock, nicely balances edge retention with corrosion resistance, and best of all, Benchmade folding knives are backed by great warranties. It comes in different colors (Black, blue, pink yellow, and orange)
2. Spyderco Dragonfly 2

Lightweight Folding Knife with Premium Steel Blade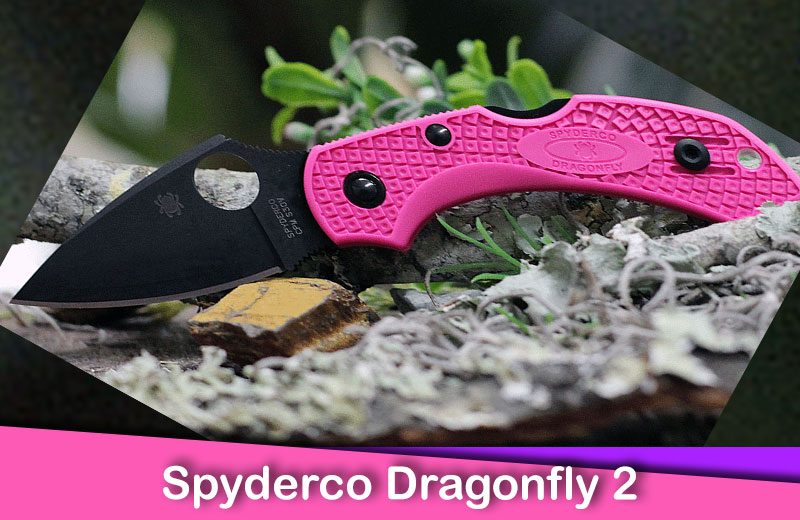 If you have read my other blogs, you might know my undying love for Spyderco knives. And a Spyderco knife that fits so perfectly to be in this list is the Dragonfly 2. And it deserves the endless praise it gets.
The Dragonfly 2 is a small knife that weighs about an ounce and measures in at 3.33" when folded. The Dragonfly 2 is pretty runty with that 2.28" blade, it handles like a much larger knife.  It's an amazing EDC knife for women. The knife features a forward finger choil and an opening hole.
The blade steel is the premium VG-10. Although the blade is small, the cutting edge runs the length of the blade that makes the DF2 incredibly efficient for any EDC task.
The handle is very lightweight, textured fiberglass that provides a firm grip and has an incredibly ergonomic design. And it also comes in a variety of colors (purple, pink, orange, black).
When you hold this ergonomic handle in your hand, it feels like a natural extension of your body. I must say the handle design is great for fine detail cutting.
Well, when I talk about this knife I always recommend getting the DF2 with ZDP -189 steel. It's a more premium model and will cost you $20 more. Love the standard version.
But personally, I am not a fan of VG-10, this stainless steel blade is a bit of a pain to sharpen. Although you might not need to sharpen it often, as it holds an edge forever.
The blade has good corrosion resistance as well. It really is incredible, and to my mind is the best steel for a light-duty EDC knife. If it ever got dull and you didn't want to sharpen it, you could send it to Spyderco and, for a nominal fee, they'll put a brand new edge on it for you. Can't recommend this knife enough.
A word of warning: The blade comes surgically sharp right out of the box, so watch those fingers!
3. Buck Knives 284 Deer Skull Pink Pocket Knife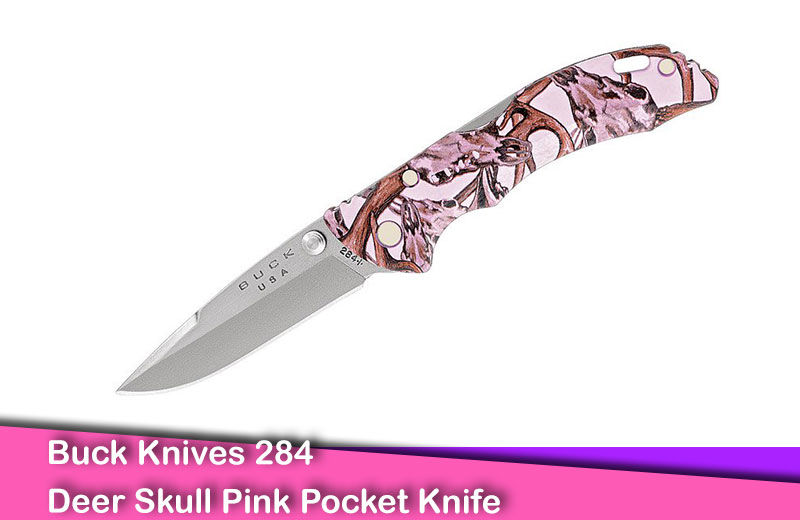 If you are looking for a knife that is durable, budget-friendly, and stylish, Buck Knives 284 Deer Skull Pink Pocket Knife is the perfect choice for you. This knife has a compact design, and it's a lightweight option that will fit nicely in your pocket.
The knife measures 3 3/4″ when closed and weighs 1.5 oz. The blade is made with 420HC rust-resistant stainless steel and has a drop point. This steel is strong and has great corrosion resistance. The knife features a lock-back mechanism.
It locks the blade in the open position, activated by opening the blade all the way. The blade is also easy to open and close. Thanks to its nail notch.
The handle of this knife features glass-reinforced textured nylon with a lavender deer skin pattern, which is so bubbly and makes it a perfect choice for women.
The handle has finger swells that make it easy to grip and this gives you good control while using the knife and increases safety. The handle also has a hole to attach the knife to a key chain or a lanyard.
One best things about Buck knives is they are leading the market with edge retention. Due to their legendary heat treatment system, each blade is put through a rigorous heat treat process and quality performs the test.
Thus blade has greater edge retention. It's easy to sharpen. Overall it will be a great purchase and the knife will not fail you.
It's unusual to get a 'forever warranty on such a low-priced knife, but Buck Knives offer it. They're a reputable brand that's been around a long time, and just so happen to offer this 284 Bantam in pink.
4. Elk Ridge Rainbow Frame with Cut out Knife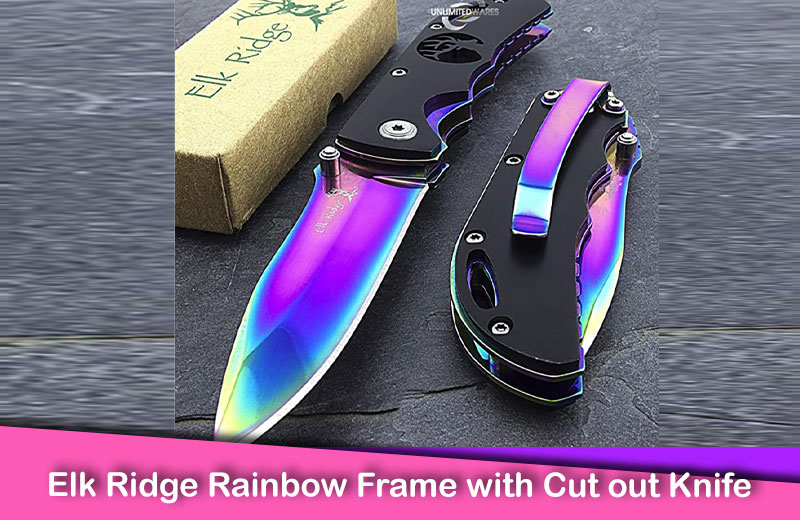 Elk Ridge Rainbow Frame with Cut out Knife is one of the most beautiful pocket knives out there. It's quite sharp and lightweight around 4 ounces. It looks gorgeous when light hits it. Which is incredibly aesthetic.
This folding blade pocket knife is three inches when it is folded. It sits in the pants pockets perfectly. The sharp blade is made from 440 strong and durable stainless steel and it's 2.5 inches.
The blade is made in a way to give a cool transparent rainbow effect across the blade. The knife handle is shaped for a nice grip. It feels very comfortable in hand and improves safety when using the knife.
The handle also features a pocket clip and lanyard hole. So you will get several attachment options. The knife also has a lock mechanism to hold the blade in place and prevents the blade from slipping out in pocket space.
This knife is so handy, comes SHARP, and is just beautiful to look at, great to hold and use. This has to be my favorite knife for women. I wish they had made it more like this.
5. The Ontario Rat 2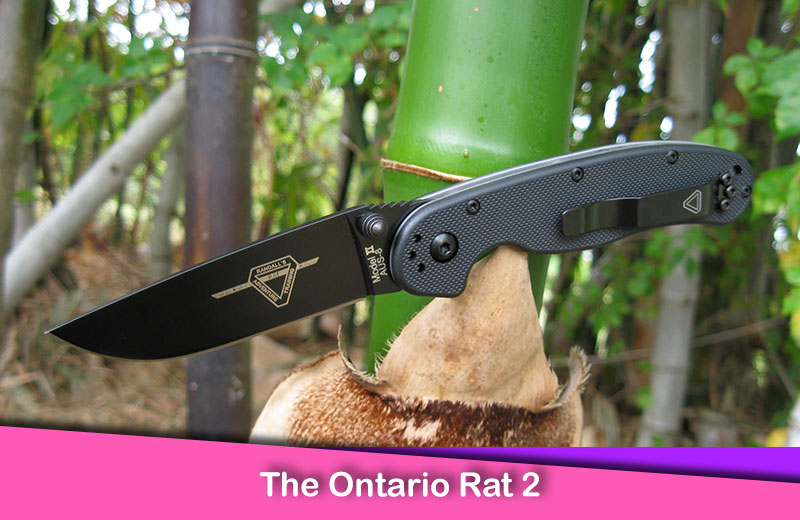 The Ratline is one of the best and at the same time most popular cheap pocket knife lines of all time. The Ontario Rat 2 is an elegant drop point knife. It is just so useful for so many different applications: breaking down boxes, opening packages, the works.
The Rat 1 is the larger knife of this series with a 3.6 inches blade which I absolutely love. You must have seen me talking a lot about this knife before. Rat 2 is my current favorite.
The blade of the knife is 3″ D2 tool steel which is one of the best steel out there. It also has a G-10 handle which gives a fantastic grip. The knife is basically made out of a plastic handle scale laid over a steel frame.
Thus it prevents any sort of damage in the pocket or purse. It is also available in a wide range of colors including pink, brown, green, black, and orange.
The brighter colors are definitely worth considering if you're going to carry it in your purse; it will stand out so you don't have to go on a hunt when you want to cut something.
This knife is pretty handy, it's only 4 inches when closed. I would definitely recommend this knife for everyday tasks. But if self-defense is a concern, I would suggest you get the Rat 1. Even though it's a larger knife, still not outrageous to carry.
6. The

Victorinox Swiss Army

Pink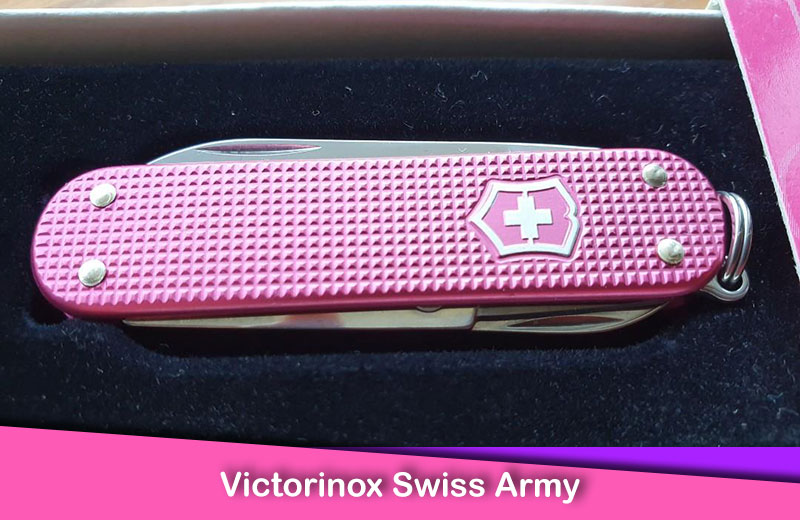 Whenever I am making a list of best knives or favorite knives, the cadet makes the shortlist. It offers everything you could ask for in an EDC knife.  The Victorinox Cadet is a Swiss Army Knife. Usually, this type of knife is larger in size but the Cadet comes in a compact package.
The knife features a large spear point blade, a bottle opener, a can opener (both with screwdriver tips on them), and a nail file tool that makes it a perfect knife of choice to keep in a purse.
The tools in this knife are built into a slim two-layer package. The knife is super lightweight- only 2 oz. The stainless steel tools of the knife are made of Victorinox's famous steel which they keep a secret.
It is rust-proof and holds an edge nicely. The maintenance of the Cadet is the lowest out of any of the knives on the list, as well.
It is also very attractive: the Alox scales are much prettier than the red celluloid you probably associate with the swiss army knife models of yore.
Convenient, friendly, and hassle-free, the Cadet comes, as it always does, with the highest recommendation.
7. The Spyderco Squeak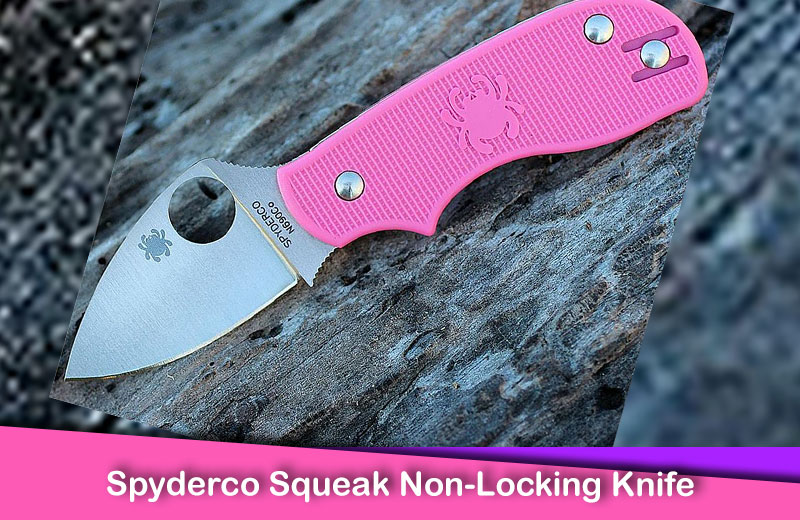 Yes, another Spyderco knife on this list. Excuse my love for this brand. The Spyderco Squeak is a small, non-locking knife with a slip joint. The Squeak is a high-quality knife that Spyderco calls a Slipit; outside of Spyderco (which loves its little trademark names).
It is one of Spyderco's SLIP lines of folders alongside the Pingo and UKPK designs. These are specially made for places where the use of a knife with a lock is prohibited.  Peeps in the UK know exactly what I am talking about.
The Spyderco Squeak is made from N690Co is European steel that never gets the praise it deserves. It's very easy to sharpen and has an amazing rust resistance. This steel is so premium that, you will see this steel on custom knives.
The 2-inch blade is actually pretty stout for its size. It has fully flat ground and a distal taper to the point. The handle of the knife features a choil on the blade which allows 4 finger grip for someone with small-sized hands.
The FRN handle is 5/8 inches thick. Oh, and listen up ladies or gents looking for gift ideas…the squeak also comes in pink! Overall I would say it's a wonderful knife.
The sharp blade, handle ergonomics, forward finger choil, and the precise control during daily tasks makes it a knife of choice for women of all age. Having held and used this knife before, I can tell you that the Squeak gives you a pride in ownership that belies its low price.
8.  Femme Fatale Ladies' Pocket Knife "Every Rose Has a Thorn"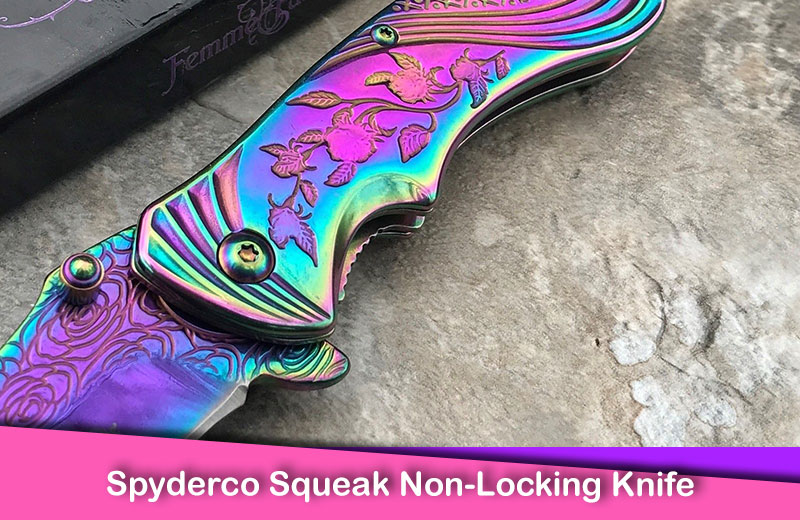 The Femme Fatale Ladies' Pocket Knife is one of the most beautiful knives you will ever see. This knife is visually stunning. It has all the features of a practical EDC knife, yet it is also very pleasing to the eyes.
The knife is made from stainless steel with a very pretty rainbow effect. The effect is done by titanium finish, giving it a look of expensive knives. The length of the knife is 7.25 -inches when open and the blade is 3.25-inches.
The knife has a comfortable handle. The shape of the handle gives a good grip. This knife's handle also features a pocket clip for attachment and a safety finger guard to protect your fingers from slipping onto the blade while using the knife.
9. Cupid Heart Ladies Rainbow Pocket Knife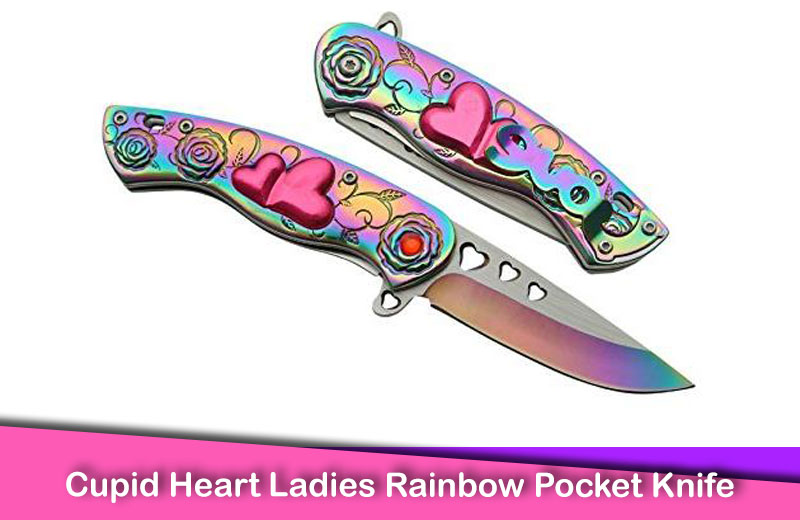 This is one of the cutest knives ever at the same time the most cheaper knife on this list. It's has a wonderful girly look. I call it a Barbie knife. The extended length of this pocket knife is seven inches.
The blade is made of stainless steel and it's 3inches. There are three hearts stamped out of the blade which is a very bubbly fun design for a women's knife.  And the three-inch blade is made from stainless steel.
The shaped handle is even more attractive as it has a colorful graffiti-style design featuring rainbow colors, hearts, and roses. The pocket clip is in the shape of the word 'LOVE', so this is a stylish attachment.
Although the handle and design of the knife are very stylish, it's no less than a practical knife. The handles give a good grip.
The safety features- the finger guide of the handle prevents fingers from sliding onto the blade and a liner lock that holds the blade secure when extended or folded away.
I wouldn't recommend this knife for heavy-duty tasks but it can be used for everyday tasks.
10. Toferner Celtic Pocket Knife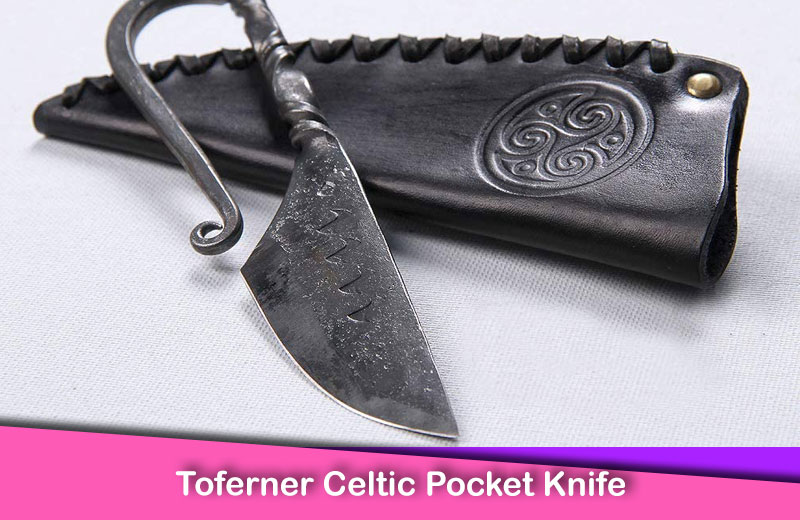 Toferner Celtic is by far the most classic-looking knife I have ever seen. This vintage style pocket knife will appeal both the knife collectors and all the classy lady out there who wants a super stylish knife to keep in the purse for practical purpose.
The knife is hand forged from a single piece of metal, hence the classic and rustic look. The blade and the handle are combined. The overall length of this pocket knife is just over three inches and the blade is just under one inch wide.
This luxury knife comes with a genuine black leather sheath. The sheath has a Celtic symbol embossed on it. This protects you from injury if you are carrying this blade when it is not in use.
The sheath has a leather cord, so you can hang your knife around your neck if you wish.
11. QSP knife Parrot QS102-C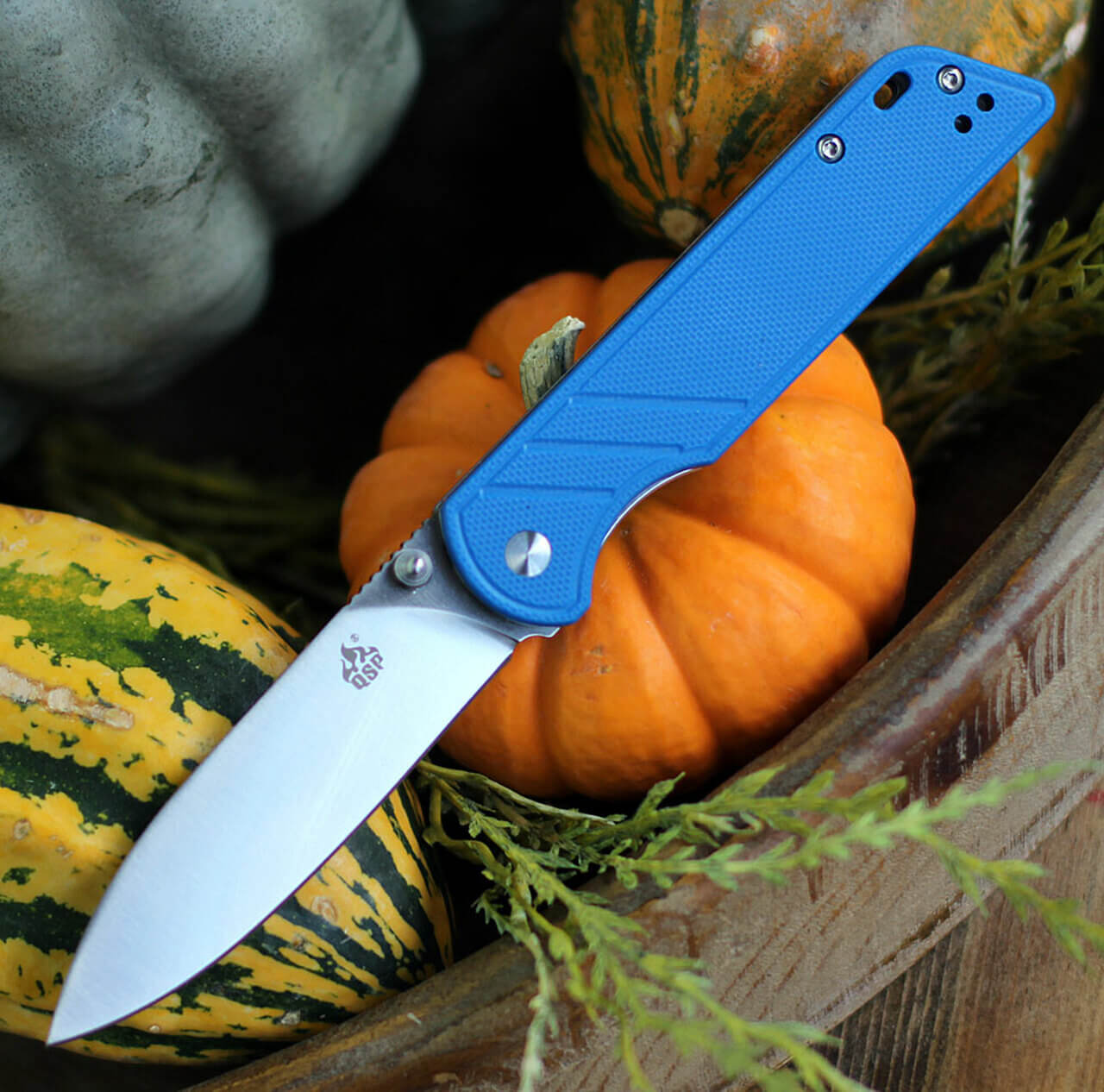 If you are a woman, who uses a knife in their daily lives either at home or work but looking for something girly this is the knife for you. It is a practical option with a pretty pink handle.
This foldable pretty knife is a good choice for women. The blade is 3.15 inches and is made from stainless steel. It's sharp and durable, perfect for EDC tasks. The blade is easily deployed using the dual thumb stud.
The key feature of the knife also involves a liner lock for safety and both left and right-hand options are available. The pink knife handle is made from G-10.
It has a thumb contour for good grip and more control and safety while using the blade. The knife has a reversible pocket clip for you to attach the knife to your pocket or belt.
12. Browning Prism II Knife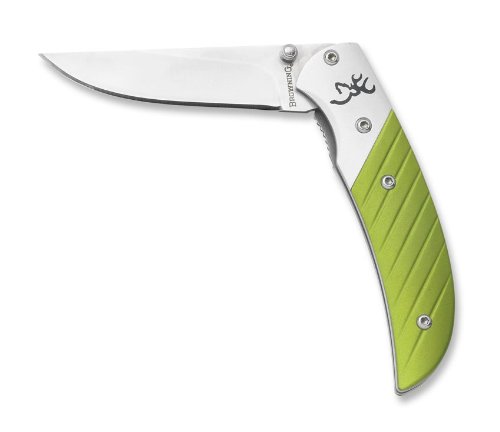 Browning Prism II Knife
Browning Prism is a very smart-looking foldable pocket knife. Made in the USA the design of this knife is pretty amazing and it's made from high-quality materials.
The blade of the knife is made from stainless steel and the blade measures 2.125-inches. The handle is shaped and has a curved thumb groove for greater control while using the knife.
The pink, metallic handles also have grooves for better grip, and this is important for safety when using this pocket knife. It has a safety lock that clicks the blade in place when deployed and holds it secure when it is folded back into the handle for safety.
13. Samior HY002 Tiny Mini Flipper EDC Folding Pocket Knife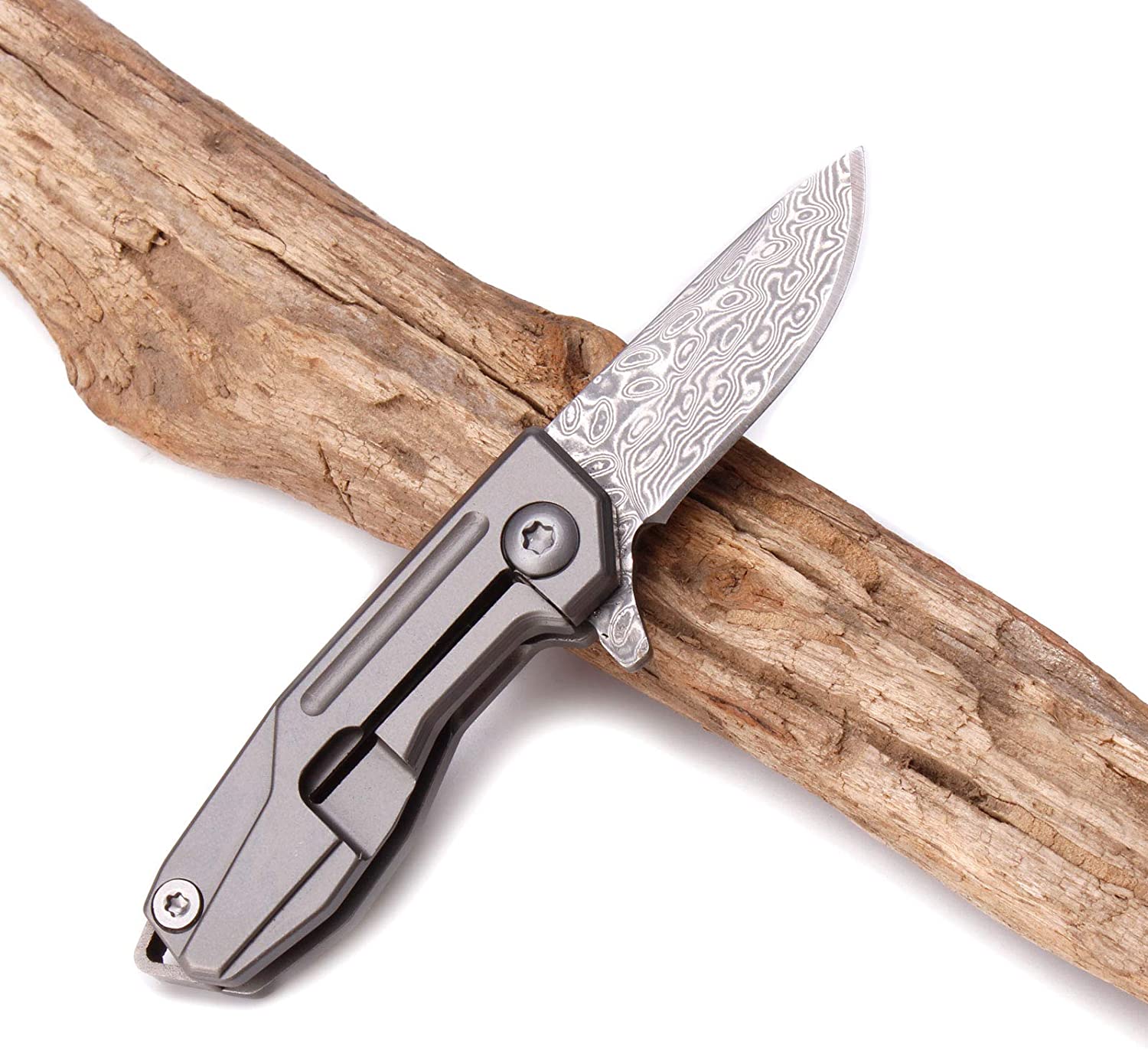 Samior HY002 Tiny Mini Flipper EDC Folding Pocket Knife
This knife has to be the most compact pocket knife for women in the market. This knife has a very smart design, it's 3.3 inches only even when it's not folded. And two inches when it's closed.
Made from authentic Damascus steel, the blade is a mere 1.5-inches long and one inch wide at its widest point. The knife is very lightweight. The handle on this folding knife is ergonomically designed and the key feature of the handle is, it's made from blue anodized titanium.
It is shaped for improved grip and control. It has a lanyard hole to give you another attachment option.
14. Pocket Elite Spring Assisted Folding Knife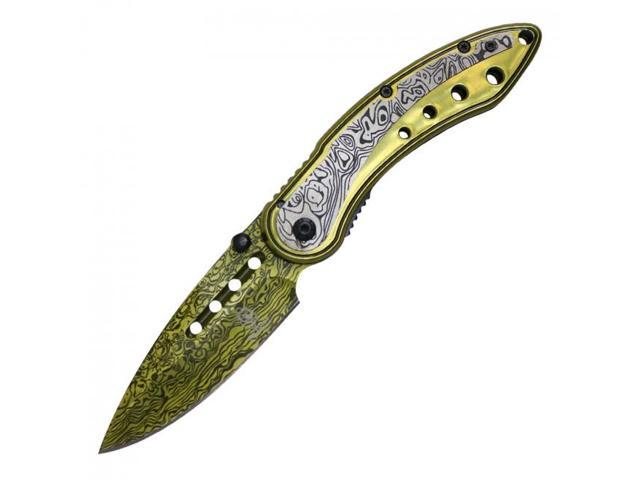 Pocket Elite Spring Assisted Folding Knife
This spring-assisted folding knife has a stylish appearance but is also very practical. The knife is made from good-quality materials. The blade is made from high carbon stainless steel that is durable, strong, and has decent corrosion resistance.
It also has excellent edge retention. It is easy to deploy and fold away again. The shaped handle has an attractive pink, black, and white pattern and is shaped for a comfortable and safe grip.
This pocket knife is ideal for those who enjoy outdoor and survival activities who also have a sense of style. It is manufactured by a reputable brand who guarantee the quality of their products.
15. Kershaw Leek Knife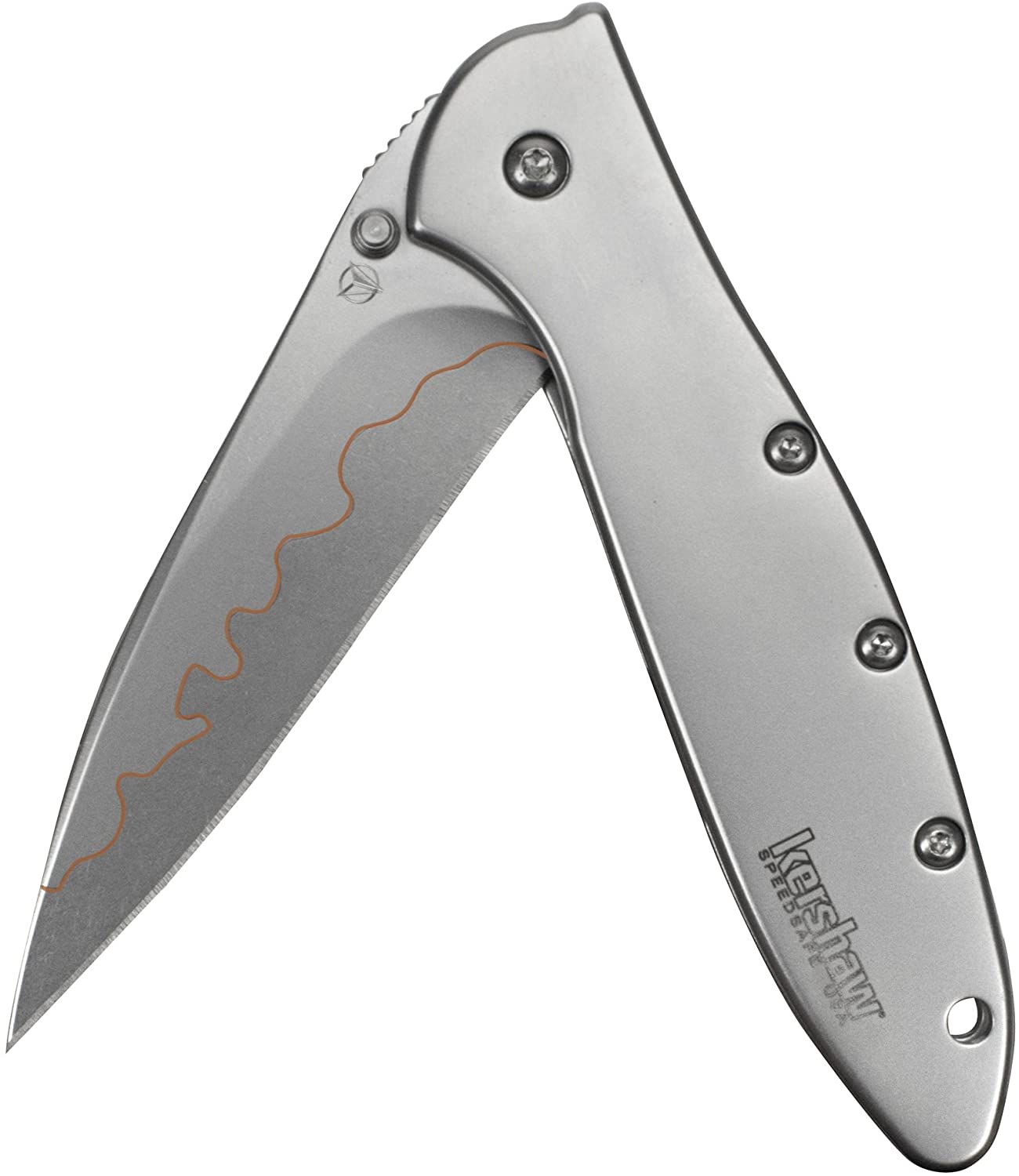 Kershaw Leek Knife
If you'd thought that I would make a list of best knives without mentioning Kershaw leek, you were wrong. Kershaw Leek has to be one of my all-time favorite knives.
The Leek Knife dons a 3″ blade made from Sandvik 14C28 N stainless steel. This steel is mostly used in high-end chef's knives. The handle measures 4" and is made from bead-blasted stainless steel. The all-metal handle blends nicely with the blade for a sleek, all-stainless look that is très chic.
However as the handle has no texture, I would say, it's not safe to use this knife for heavy-duty tasks. But it would serve you well for most EDC tasks – just be prepared for it to slip around a bit if your hands get wet.
The knife is the perfect size for a lady's pocket. Made with quality material, this knife is durable, easy to sharpen, and does a better-than-decent job of resisting corrosion.
How to Choose a Quality Pocket Knife
First, figure out how you will be using your knife. Will it be for camping? Will you be using it around the house? How are you planning to carry it? Some knives are difficult to conceal unless they are small with a short blade. What style of knife do you like? Some people prefer fixed blades while others prefer folding knives with locking blades.
Fixed blade knives almost always have better quality steel in their blades because they are stronger and thinner, making them easier to sharpen. Another thing to consider when picking your knife is how much you want to spend on it. If you want a high-quality tool, expect to spend more than if you only need something for occasional use. A good brand must be consider.
Should You Buy a Large or Small Pocket Knife?
For most people, a small knife of three inches or below is sufficient.
The more blades on the pocket knife, the more complicated it will be to use it effectively. Simplicity is key for beginners. Beginners should always purchase a fixed blade pocket knife over any other type of blade style, as fixed blades are less likely to close on your fingers or cut anything unintentionally.
Specialty knives are attractive but may not be necessary until you decide what kind of cutting needs you're going to need them for. A good starter clip point knife is between two and three inches long with one sharpened edge that tapers into a pointed tip for easy piercing work through lightweight materials like cardboard boxes and plastic wraps.
What is a Rainbow Pocket Knife?
A rainbow knife has multiple colors like a rainbow present on both its blades and handles that deliver an attractive and beautiful appearance. It also has a sharp and fine blade, and the handle is light in weight for easy carry. A rainbow knife passes through a process named Physical Vapor Disposition (PVD) coating to create coats of metal on items. It has different colors that result from different ionization processes during PVD coating.
Final Thought
The pocket knives for women discussed in this article are durable, lightweight and easy to use. They're ideal for any outdoor application area and the best knife option for a woman looking to pass down their blade or purchase one that will be versatile enough to meet her needs.
Whether you want a good companion with self-defense qualities or something more lighthearted like an adventure kit, there is one out there for you! It doesn't matter if you're just getting started as an outdoors enthusiast or have been doing it your whole life , a pocket knife is one of the most versatile tools ever.
If you're unfamiliar with pocket knives, first ask yourself what type of blade you want and why. Do you need something for everyday use or self-defense, or are you looking for adventure equipment such as an outdoor survival knife? Once you know what type of blade you want, it becomes easier to find the right pocket knife for your needs.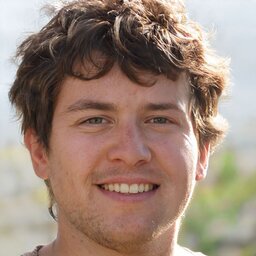 Hi, my name is Taras Kulakov and I'm a knife enthusiast. I have been collecting knives for over 30 years and I've owned literally thousands of different models over that time. My goal with this site is to share some of what I've learned about knives. You can find more info about Taras Kulakov here.