Introduction 
Welcome to Best Machetes of 2023 – the ultimate source for finding the best machetes for all your outdoor needs. Our team of experts has tested and reviewed various types of machetes from leading brands to determine which ones provide the highest quality, performance, and value.
Whether you need a machete for cutting brush or something more powerful for tough tasks like splitting logs, we've got you covered. With our comprehensive selection of the best machetes on the market, you can find the perfect tool for your specific needs.
We also provide helpful reviews and buying guides to help you make an informed decision. So let's dive in to find the best machete for your need!
Our Top Pick of Best Machetes 2023
Comparison of Best Machetes 2023 
1. Amazon's Best Choice- Gerber Gator Machete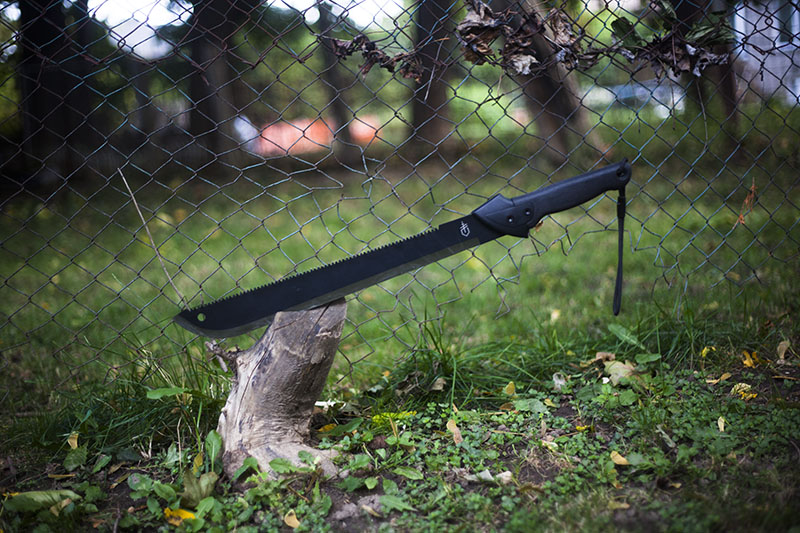 The Gerber Gator Machete Pro is a fantastic tool that I would highly recommend to anyone. It is a great combination of a machete and a saw, making it perfect for cutting through thick brush and branches.
You might have never seen a machete with such an odd shape as the Gerber Gator Machete Pro 31-000705. 
A 10.5-inch blade made with 1095 high carbon steel and a little concave bend emerges from its handle. The machete itself is made from high-quality steel, and the saw blade is made from stainless steel, making it extremely sharp and durable.
The handle is made from rubber, making it very comfortable to use. As far as performance goes, the machete is very sharp and cuts through material with ease.
The saw blade is also quite sharp and easily cuts through thicker branches.  The blade then becomes flatter at the end.
As you turn the blade around to the rear, you'll notice that it rolls into a hook with a 180-degree cutting surface that has been sharpened. 
2. Best Overall- KA-BAR Kukri Machete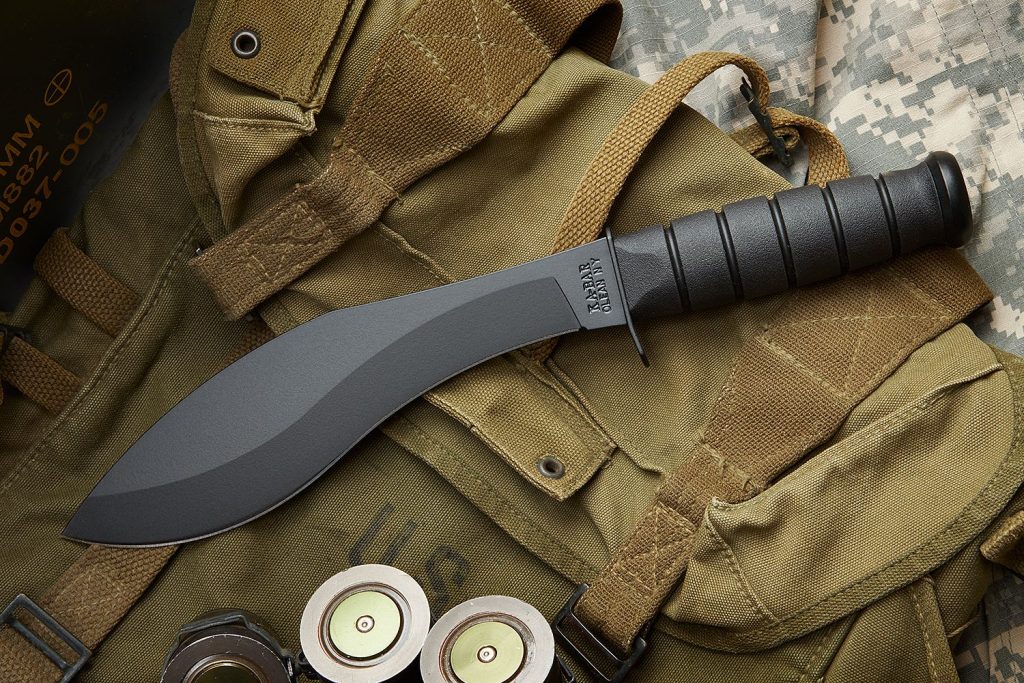 An ethnic design that has lasted the test of time is the Kukri. The kukri machete is popular and it was designed to be a fighting knife at first. These swords were carried by Nepalese military personnel, especially those in their elite Gurkha regiments. The majority of knife shops and your favorite online blade dealers now stock these, so you don't need to be an elite warrior to handle one. 
The Kabar Becker Reinhardt BK21 Kukri Machete was crafted in America by some of the country's most renowned knife makers. Some of the finest and most economical machetes available are manufactured by them. With a weight of 1.4 pounds, this knife falls in the middle of the other large knives we've examined.
The knife has a 13.25′′ blade and measures 18.5′′ overall. Similar to the jungle machete, this long blade is mostly used for cutting.
The thickness of the blade is 0.2 inches. Flat grind, 23-degree angles, and Cro-Van (plain carbon) steel make up the blade. The blade has an epoxy powder coating from the manufacturers to prevent rust. 
Particularly when compared to the length of the blade, the handle is small. This design concentrates a lot of the power up front, making it perfect for cutting kukri.
The blade of the knife is protected by a polyester scabbard with strong stitching and a lining to prevent snagging when it is sheathed and unsheathed.
The knife's tip is kept constantly sharp thanks to a plastic cup that covers the sheath's tip. The sheath contains a single belt loop and a strap with a single button that opens at the spine.
3. Best Bang for Your Buck- Cold Steel Latin Bolo Machete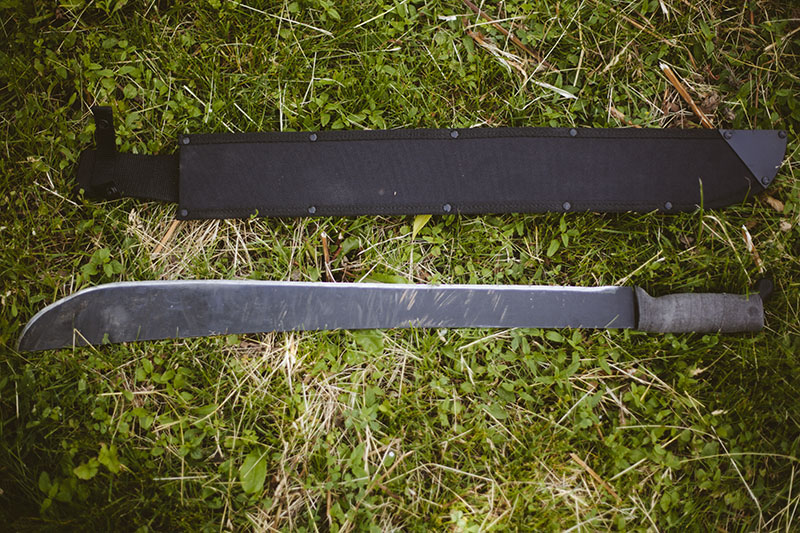 The 24″ Latin bolo machete from Cold Steel is one of their many straightforward, durable, and reasonably priced machetes. There are 18′′ and 21′′ models of their Latin-style machetes, but this one is the longest.

It's difficult to find a machete that offers more value for your money than this one, which sells for less than $15 on Amazon. All true machete enthusiasts owe it to themselves to check out these items, and I am honestly delighted with what Cold Steel is providing at this pricing point.
The 24-inch Latin machete from Cold Steel has the same anti-rust black powder coating as the rest of their products. I'm presuming it's some kind of chemical treatment because it doesn't appear to be a powder coating.
The Micarta handle is highly sturdy, has a great grip, and is quite comfortable to grasp. This item looks absolutely horrendous because of the all-black style, and I myself rather like the plain look.
4. Best for Camping- Cold Steel 97KMS Machete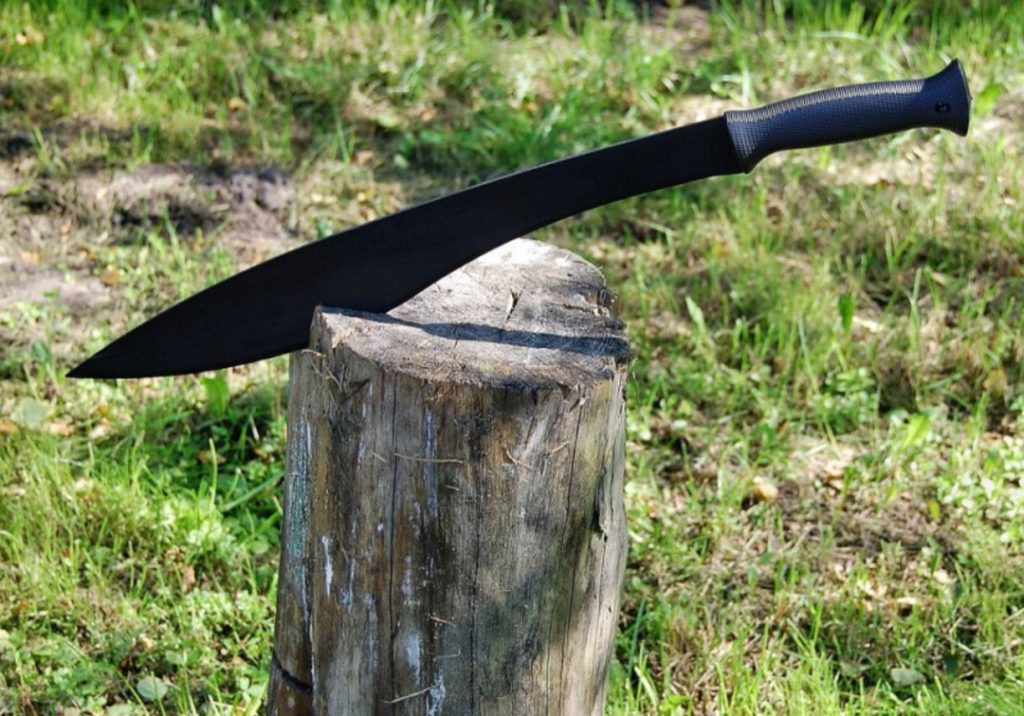 Cold steel always comes with the best design of everything and this machete is no exception. The Cold Steel 97KMS Machete has a reputation for being one of the highest-quality machetes on the market. A low-cost machete with a typical Kukri shape is the Cold Steel Kukri Machete.
This particular machete was first made for use by the Gurkhas in Nepal. A unique, well-crafted Kukri is very pricey. This is the reason Cold Steel created the Kukri Machete for anyone seeking a quality tool. powerful in every way.
 It is made from a premium grade 1055 Carbon Steel, which gives it excellent edge retention and strength. The blade also has a depth of 2.5mm, making it ideal for cutting through dense vegetation and tough materials.
The handle is made from tough Kray-Ex material, which is designed to provide maximum comfort and performance, while the full-tang construction ensures that the machete won't break during heavy use.
Additionally, the Cold Steel 97KMS Machete comes with a Cor-Ex sheath, which provides excellent protection and makes it easy to carry. All in all, the Cold Steel 97KMS Machete is an excellent choice for anyone looking for a dependable and versatile tool.
It's not too precise. It makes sense because it was designed for chopping and wasn't really intended to be sharpened, but if you want, you can use some patience to sharpen it yourself. Blackberry bushes and other crops can be skillfully pruned with this kukri.
5. Best Bush Machete- Tramontina Machete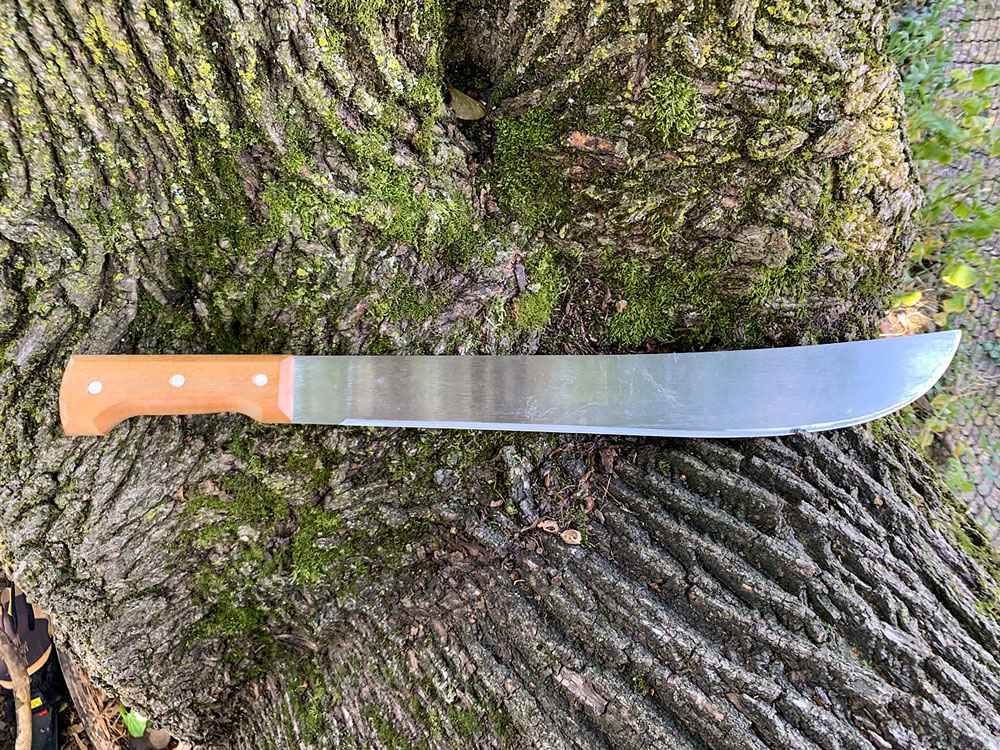 Actually based in Brazil, Tramontina produces a bewildering bush machete. The Tramontina Machete is great for chopping wood, clearing brush, and even cutting through small branches.
It features a full-tang blade made from high-carbon steel for great cutting performance, and a durable handle with a textured rubber grip for comfortable and safe use.
The Tramontina blade's initial level of sharpness isn't very remarkable. Having said that, you will able to sharpen the edge to almost shaving-sharpness with a relatively small amount of work. It looks to have decent edge retention after being sharpened and cuts through weeds and tiny branches with ease.
The blade also features a pointed blade tip for piercing and piercing tasks. This machete is easy to sharpen and maintain and comes with a sheath for easy transport.
Overall, the Tramontina Machete is a great tool for anyone who wants to be able to quickly clear out brush and chop wood.
6. Best for Hunting- MTech USA MT-20-04 Machete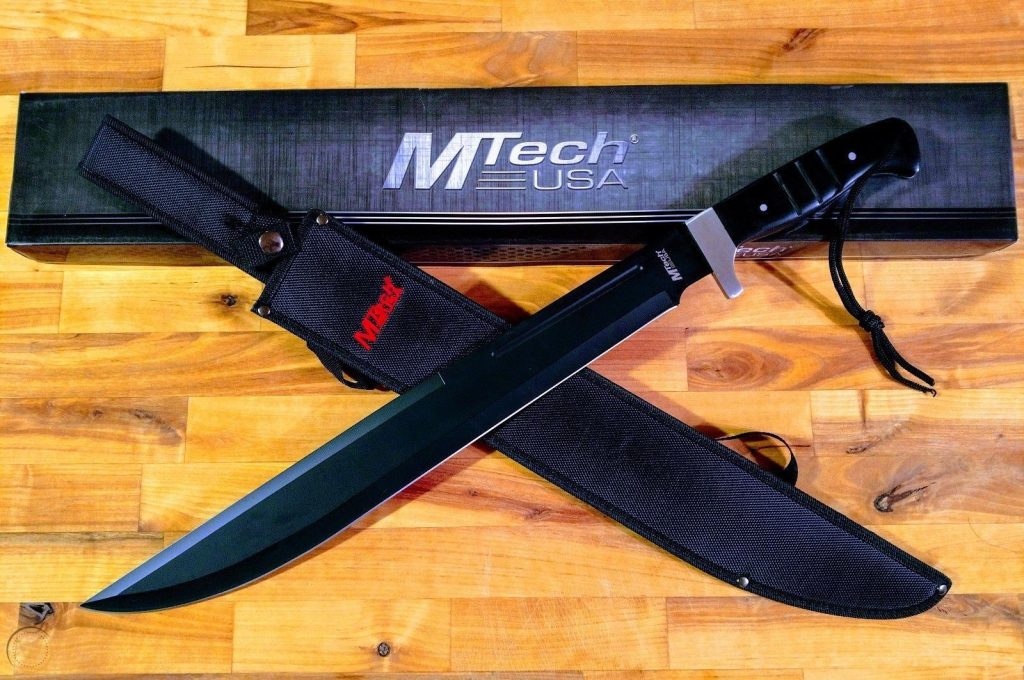 The M-Tech Combat machete is the greatest choice for camping and hiking; it's perfect for clearing routes through the forest to reach the right location.
The blade of 440 stainless steel has a blood groove and a black finish. Black Pakkawood handles surround the full tang handle, which includes a stainless steel finger guard. includes a black nylon belt sheath and a black cord lanyard.
The MTech USA MT-20-04 Machete is a good all-around machete for light to medium-duty tasks. It features a sharp, stainless steel blade with a black finish and full-tang construction.
The handle is made from durable, hardwood, and the overall design is simple and easy to use. The size and weight make it ideal for clearing brush, cutting small branches, and other light yard work tasks. It comes with a nylon sheath for easy storage and transport.
Overall, the MTech USA MT-20-04 Machete is a great machete for light to medium-duty tasks. It is well made and easy to use, and the price is more than reasonable. If you're looking for a reliable machete that won't break the bank, then this is a great option.
7. Best Machetes for Cutting Trees- Condor Tool & Knife, Golok Machete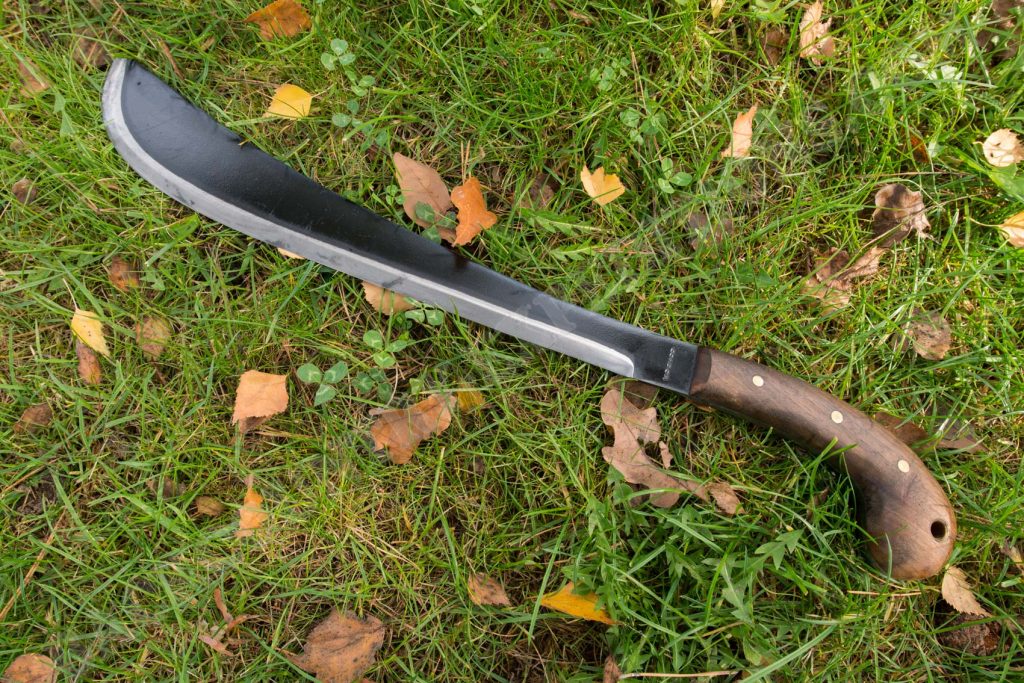 The Condor Tool & Knife Golok Machete is a great choice for outdoor activities, such as camping and bushcraft ing. This robust blade is made for outdoor use and hard chopping.
After using it for a while, I can say that it exceeded my expectations because of how well-balanced and effortlessly it cuts through wood.
It doesn't put a lot of strain on your hands and is surprisingly comfortable to hold, even for long periods of time. Our list of the Best Machetes For Clearing Brush included the Golok as well.
The blade is made from 1075 high carbon steel, which is very durable and has excellent edge retention. The handle is made from American Hickory, which is comfortable and provides a good grip.
The blade is well-balanced and has an excellent slicing and chopping action. The blade is also very sharp and can easily be cut through thick brush and small trees.
The sheath is made from heavy-duty leather and provides good protection for the blade.  
8. Best Camp Tool- SOG Machete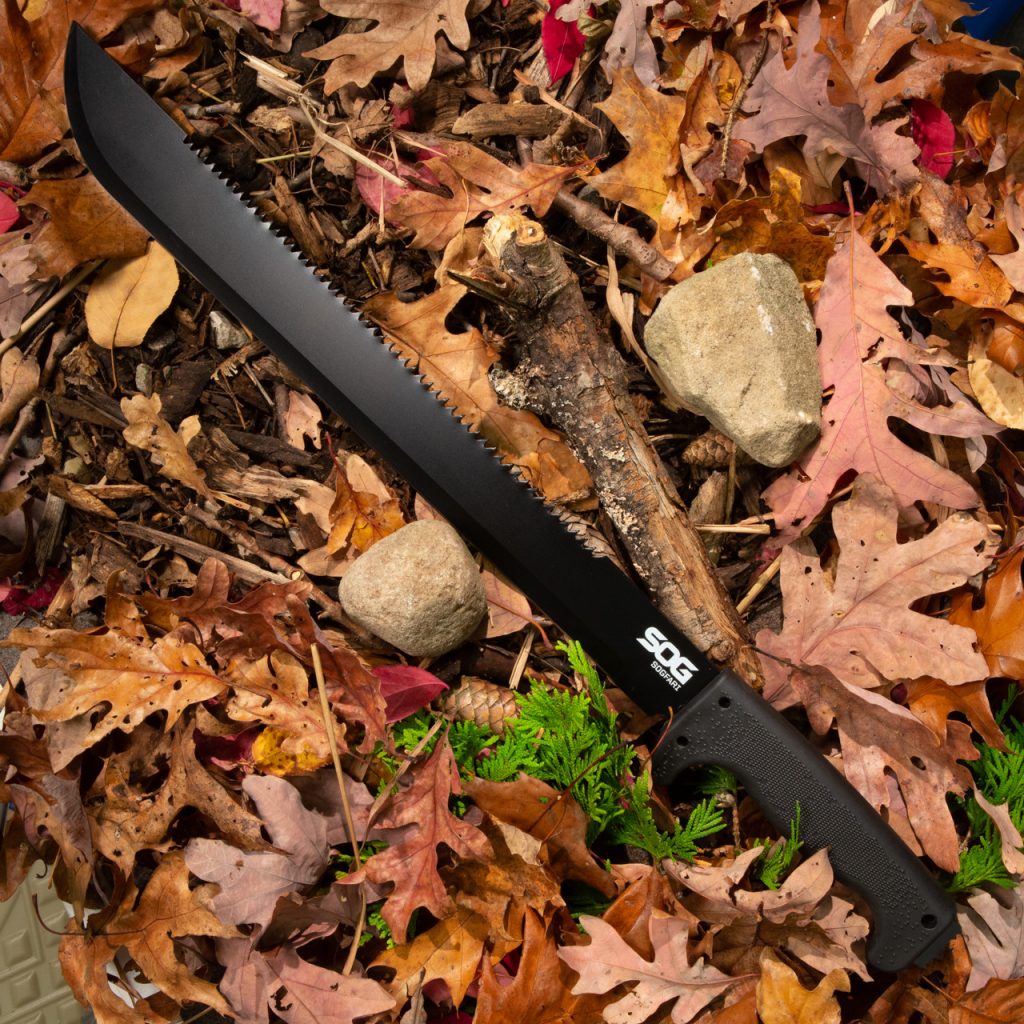 The SOG Machete is an all-purpose tool that will come in handy for a variety of tasks. It has a comfortable rubber handle, a full tang construction for extra strength, and a sharp and durable blade.
The machete is ideal for clearing brush, chopping small logs, and general camp use. It is well-balanced and easy to use. The SOG Machete is a great choice for a camp tool, and it is built to last. 
The SOG family now includes the exciting addition of machetes. The question is not whether should I own a machete, but rather which size will suit me.
One of the world's most practical edged tools is the machete. They have cut wood, built shelters, collected crops, produced meals, marked trails, cleared brush, hunted, and provided protection.
The SOGfari has undergone careful scrutiny to ensure that the weight is appropriate and the handles are cozy for prolonged usage. Hear them sing as you whip them through the air.
On the rear of the blades, we placed a real saw with cutting teeth. A spiked tang that extends from the handle's back can be used for scraping and bashing.
9. Best Survival Knife- Ontario Military Machete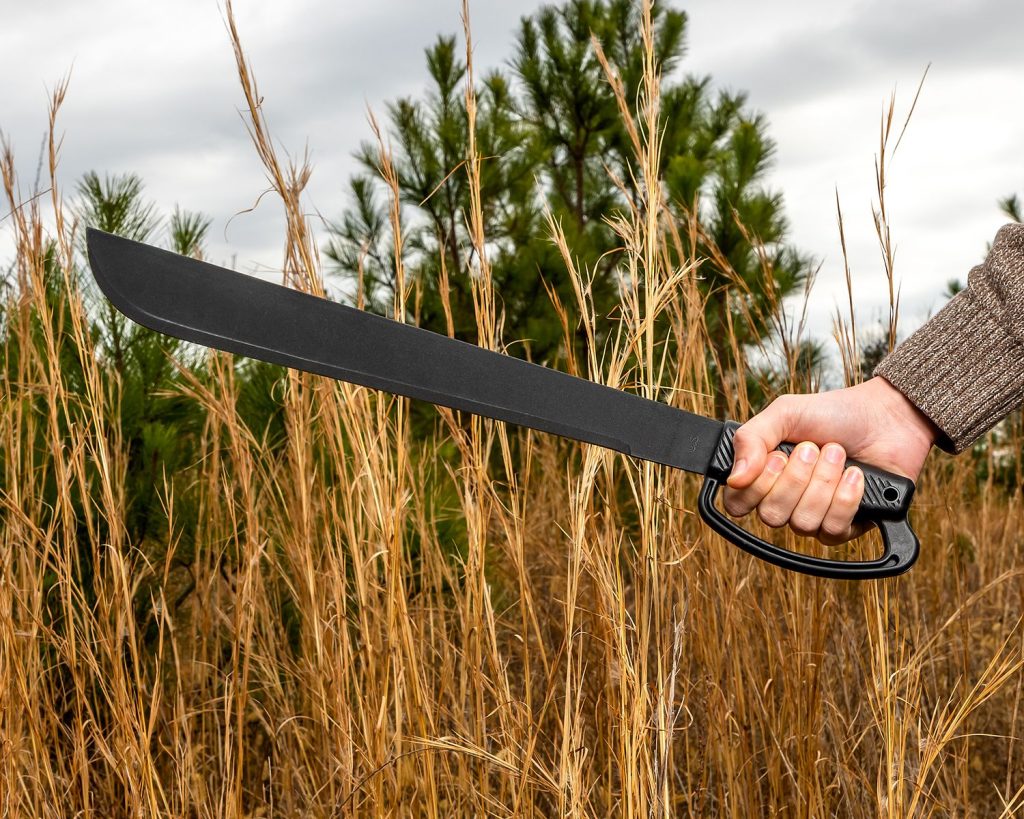 The Ontario Knife Company is renowned for its vintage military contract blades, including the 1-18 Military Machete and the PSK (Pilot Survival Knife). The Ontario Military Machete is the best survival machete.
In fact, this is the machete you want to keep with your survival gear. It is made from high-quality 1095 carbon steel, making it very strong and durable.
The blade has a sharp edge that is easy to sharpen and will hold an edge for a long time. The handle is made of Kraton polymer and is comfortable to hold. The machete also has a lanyard hole for easy carrying.
The Ontario Military Machete is great for clearing brush, chopping firewood, and even hunting. The blade is very sharp and can easily cut through branches, vines, and other vegetation.
The handle is comfortable to use for extended periods of time, and the lanyard hole makes it easy to carry.
Overall, the Ontario Military Machete is an excellent tool for anyone who needs a reliable and durable machete. It is strong, sharp, and comfortable to use, making it a great choice for outdoor activities.
If you're looking for a quality machete, the Ontario Military Machete is a great choice.
10. Best High-Quality Machete- Kershaw Camp 10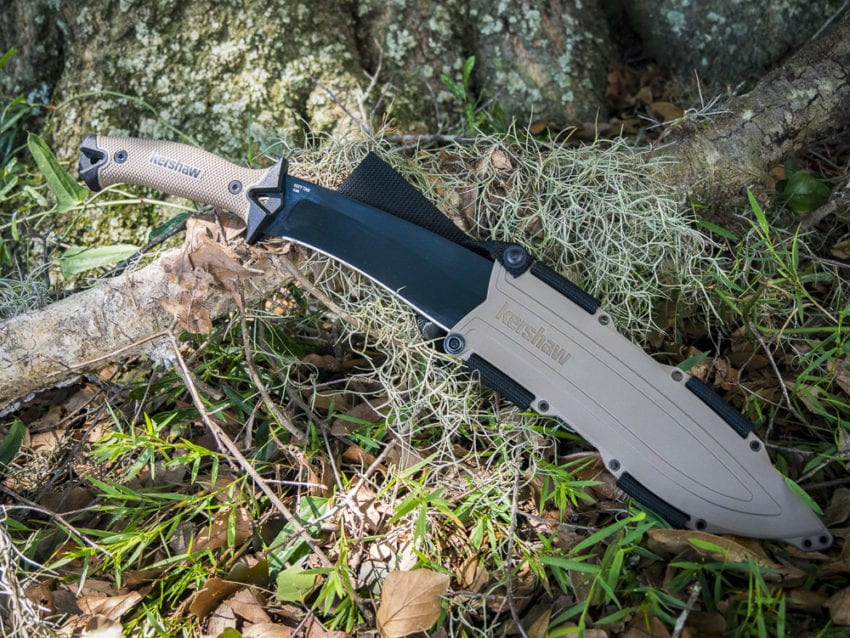 The Kershaw Camp 10 is an excellent choice for anyone looking for a durable and reliable machete. The Kershaw Dividend has aided the opening SpeedSafe technology. 
It is made of a durable 65MN carbon steel blade and has a full tang construction for added durability. It has a comfortable handle with a checkered pattern for a secure grip, and a lanyard hole for easy storage and carrying.
The Camp 10 is ideal for straightforward tasks that don't call for extended reach because it fills the space between a large knife and a small machete.
Nonetheless, there is still sufficient of weight to give your swings more strength. Also, it is a delight to use, even for prolonged periods of time, because to the excellent ergonomics of the design. It has a different type of handle but is quite similar to the Ka Bar Cutlass Machete.
The handle's rubber coating offers excellent grip. Each end of the handle has lanyard holes, enabling you to keep your hand firmly in place while working. You have a few ways to carry it thanks to the belt loop and gear straps on the glass-filled nylon sheath.
11. CRKT Kangee T-Hawk Machete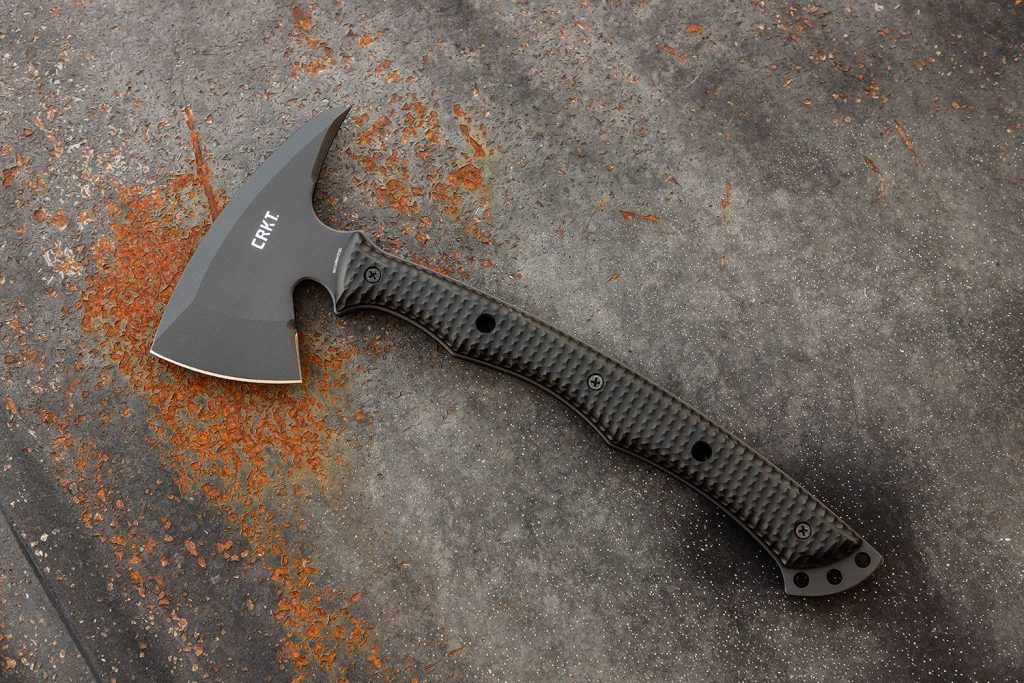 The tactical tomahawk has flourished over the past ten years. Variations of this contemporary tactical gadget range from being inexpensive and essentially useless to be highly valuable.
The Kangee T-Hawk from Columbia River Knife & Tool (CRKT) is unquestionably one of the best and most practical tactical tomahawks we've come across.
The T-Hawk by Ryan Johnson is excellent for manual utility work as well as self-defense chores. With a razor-sharp SK5 carbon steel blade on one end and a forceful spike on the other, it quickly eliminates impediments.
A single slab of high-carbon steel serves as the foundation of the Kangee T-Hawk. For effective splitting, chopping, or shaving as well as general toughness, the blade geometry includes tapered cutting edges.
As for the spike on the other end, well, let's just say you don't want to be on the receiving end of it.

The Kangee T-Hawk has a terrific design and a comfortable grip. For improved control, it has a curved handle and a finger grip choil at the front. Even in the roughest conditions, full-length handle scales are checkered for increased grip security, and they can be entirely removed for cleaning.
12. Schrade SCHKM1 Kukri Machete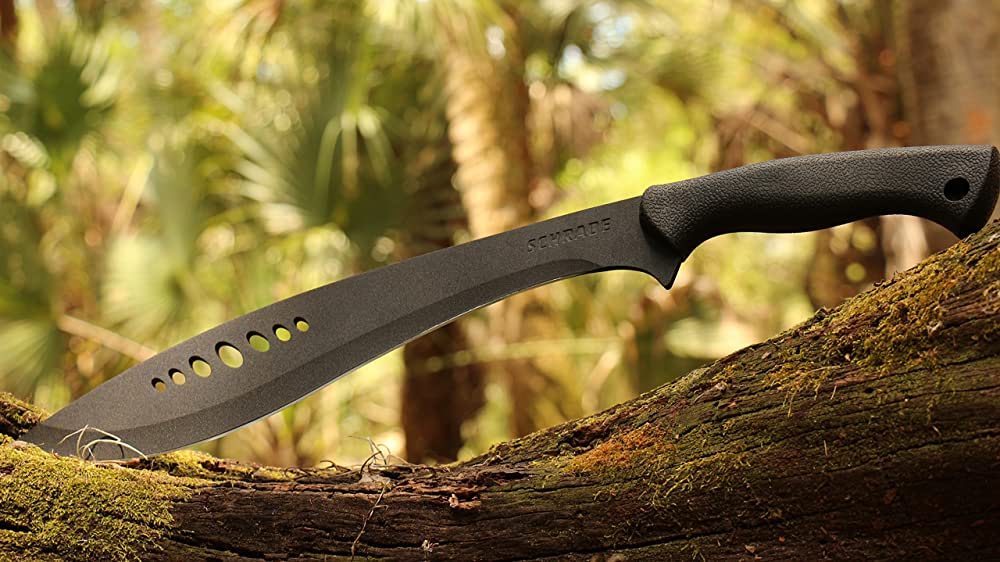 The SCHKM1, which is brimming with smart design aspects, is quickly becoming a popular Kukri Machete among devoted outdoor lovers.
The machete's blade design and balance features, which give it an overall length of about twenty inches, produce strong cutting and chopping strokes.
The 13.3-inch black powder-coated blade is paper-shaving sharp right out of the box. The blade, which is made of tough, robust 3Cr13 stainless steel, holds an edge well and is simple to resharpen. Its broad spine and contour take deep bites with each stroke.
The Safe-T-Grip handle, which has a palm-swelling ergonomic design for superior hand-gripping traction in all weather situations, has the full tang of the machete extending through it.
When applying sweeping power strokes, the handle widens and flares at the butt to promote good hand placement. A lanyard hole offers the option of tethering for further security.
13. Fiskars Machete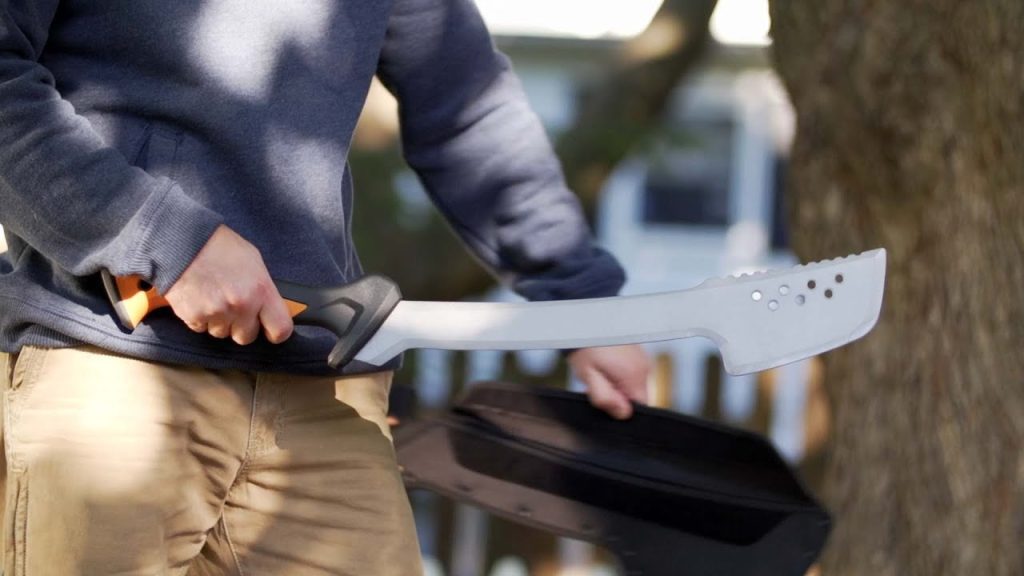 The Fiskars Machete is a great tool for clearing brush, cutting branches, and even splitting small logs. Fiskars machetes are made from high-quality materials with a rust-resistant black finish, making them incredibly durable and long-lasting.
The blade is razor-sharp and has an ergonomic handle that allows you to use it comfortably. The blade is wide enough to cut through thicker branches but also has a pointed end that allows you to get into tight spots. Fiskars machetes feature an ergonomic design that fits comfortably in your hand and provides a secure grip.
The handle is textured to provide a good grip and the sheath keeps the machete safe when it's not in use. I've used the Fiskars Machete to clear an overgrown section of my yard and I'm impressed with how well it performed.
Plus, it's easy to sharpen and maintain with a few simple steps. Fiskars machetes are lightweight, making them easier to wield, even in tight spaces.
All in all, the Fiskars Machete is a great tool for clearing brush and cutting branches. Fiskars machetes are versatile and can be used for a variety of tasks, such as clearing brush, cutting through thick vegetation, and harvesting crops. It's durable, reliable, and easy to use. Highly recommended!
14. ESEE Junglas Machete

Simply said, the ESEE Junglas Machete is a piece of art. The Junglas Machete was given its name in honor of a Colombian military task force that had to regularly cut through the forest in order to carry out its duties.
The blade can withstand any assault unless you're a member of Columbia's elite military!
The size of this knife is one of its best features. ESSE advanced a useful and fashionable design to a new level! The knife measures 16.5′′ in length overall. The blade is composed of high-carbon steel and is 10.5′′ in length.
The Junglas Machete's blade is substantial and long-lasting in addition to being large. The blade is 3/16′′ thick, has flat ground, and has a beveled edge. All blades made of non-stainless steel are susceptible to rust, including this one.
ESSE coated the blade with a thick layer of black powder to remedy this issue. Although the powder coat holds up well, you should maintain it dry and greased to prevent corrosion, just like with any knife.
Its design's wonderful feature allows you to detach the handle if necessary. Also, the handle is well-made and does not produce any hotspots even after prolonged use.
Given the superb craftsmanship of the weapon, it should come as no surprise that the sheath is just as durable and of high quality as the knife.
The blade-contouring sheath is made of Kydex and Cordura and is shaped to fit the blade's shape. This guarantees a snug fit that safeguards the blade and lets you move about without restriction.
Because the sheath opens from the spine, sheathing and unsheathing are quick and simple. While the court is in charge of the remaining portion of the sheath, which may be fastened to your belt or backpack, the Kydex covers the entire length of the blade.
15. Ontario Knife Co. SP-6 Machete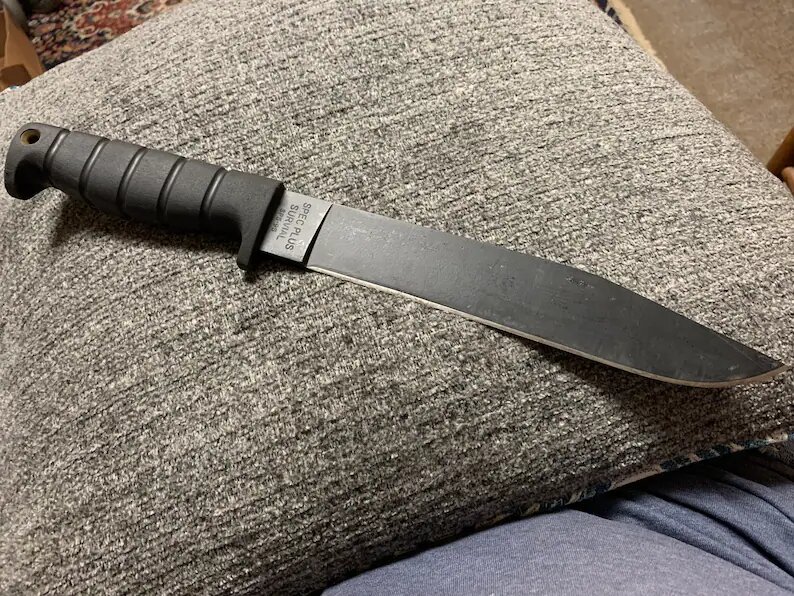 The Ontario Knife Co. SP-6 Machete is an excellent choice for anyone looking for a reliable cutting tool. This machete has a 1075 high carbon steel blade, which is heat-treated to ensure maximum durability.
The blade is just under 18 inches in length, making it perfect for clearing brush and chopping through tough materials.
The blade is also full tang, meaning it runs all the way through the handle, providing extra strength and balance. The handle is made of leather, which gives it a comfortable grip in any weather condition.
I have been using my Ontario Knife Co. SP-6 Machete for almost a year now, and I can confidently say that it is a great tool.
It is incredibly sharp and the handle provides a secure, comfortable grip. The blade is strong and reliable, and I have been able to use it for a variety of tasks. It is also fairly lightweight, making it easy to carry around.
Overall, the Ontario Knife Co. SP-6 Machete is an excellent choice for anyone looking for a reliable, durable cutting tool.
It is sharp and easy to use, and the handle is comfortable and secure. I highly recommend it to anyone looking for a quality machete.
If you're in the market for a machete, there are several important factors to consider before making a purchase. Here's a quick guide to help you find the right machete for your needs. 
Determine the purpose: Before buying a machete, you should consider what you use a machete for. Machetes come in different shapes, sizes, and weights, and are designed with different purposes in mind. Some are better for clearing the jungle, while others are better for chopping wood.
For instance, Go for a kukri or parang machete if you intend to use it to chop wood or remove thick shrubs and saplings.
Blade Length: The length of your machete's blade is the most important factor to consider. For general yard work and camping chores, a blade between 14 and 18 inches should be sufficient. For heavier-duty tasks, such as clearing brush or chopping firewood, a longer blade (20-30 inches) is recommended. 
Blade Material: Most machetes are made from either stainless steel or carbon steel. Stainless steel is more resistant to rust and corrosion, but carbon steel is usually a better choice for chopping. 
Blade Shape: Machetes come in several shapes, including straight, curved, and recurved. Straight blades are best for general-purpose use, while curved blades are better for cutting through vegetation. Recurved blades are usually used for chopping and splitting wood. 
Handle Material: Machete handles can be made of wood, plastic, or metal. Wooden handles are comfortable and durable but may require more maintenance.
Plastic handles are generally less expensive and easy to replace but can be slippery when wet. Metal handles are the most durable but can be uncomfortable to use for extended periods of time. 
Handle Length: Handle length is important for balance and control. Generally, the longer the handle, the better the balance and control. 
Weight: For cutting work, you want a machete with a heavier, thicker blade. A heavier machete will be easier to control but can be tiring to use over long periods. A lighter machete will be easier to carry but may be more difficult to control. 
Sheath: Most machetes come with a sheath for storage and transport. Look for a sheath that is made of sturdy material, such as leather or nylon, and that has a secure closure.