OTF stands for "Out Of The Front," to put it simply. However, it's unclear exactly what OTF means when it refers to knives. The term "OTF" is overly general in today's internet-based world and is therefore frequently overused. There is some education required if you're new and want to purchase a knife that is an OTF in the proper sense.
An OTF knife is what, then? Out of the front knife, in the broadest definition, are folding knives with handles that cover the blades. Here's the perplexing part that most consumers find confusing.
Does this imply that all knives with handles that encase the blade are OTFs? The answer is NO. In total, there are two.
Side Opening Folders– Folders, spring-assisted knives, and automated knives (switchblade knives) that open from the side of the handle fall under this category. The release action may vary depending on the knife, but the blade always emerges from the side and never the top. Although they are listed as OTFs on various websites, these knives are NOT OTFs.
Out-the-Front knife (OTF) – OTF knives also have handles with sheathed blades. but with a significant distinction. Here, the blades emerge directly from the top.
While the earliest OTF knives date back to the start of the American Civil War, it wasn't until the 1950s that they gained popularity in the US and began to take on their present forms.
OTF knives have a long and interesting history. They gained popularity for the same reasons we still adore them today: they are portable, quick to deploy, and exude a distinctively threatening appearance.
So if you're looking for the best otf knife, this guide will give you a tour to some of best otf knives on the market that you need to get your hands on!
Our Best Pick OTF Knives
Overall Best

Microtech ULTRATECH

The Ultratech® sets the bar for Out The Front technology.
The firing spring can be at rest in both the open and closed positions. The flat, smooth finish of the curved chassis grip makes it feel light and ergonomic.

Best Automatic OTF

The blade of a dagger with two edges and a black finish is constructed of D2.
Jimped thumb slide for automatic opening and closing.
Tip-down aluminum pocket clip for right-handed use.

Best Design

HOGUE Compound

CPM S30V stainless steel black tanto blade.
Thumb slide opener with a tritium insert for automatic double action.
Hexagonal-patterned black G-10 handle with an aluminum chassis.
Deep-carry, reversible pocket clip for daily use.
1.Best Overall- Microtech ULTRATECH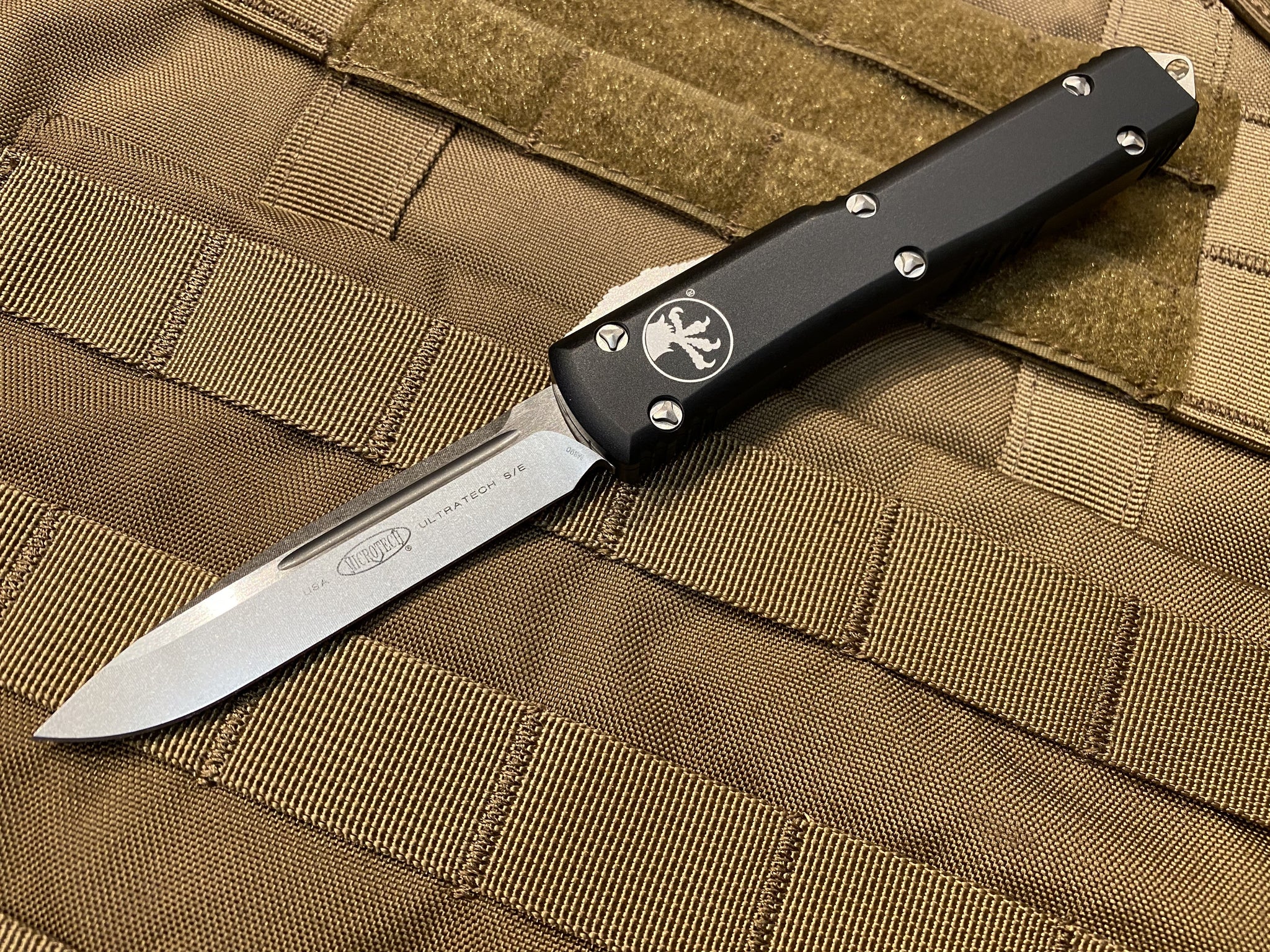 Key Specs:
Automatic Opening/Closing – Front Opener
Action: Dual Action – Auto Fire/Retract
Blade Thickness: 0.125″
Blade Length: 3.46″
Blade Style: Single Edge Tanto, Plain Edge
Handle Material: 6061-T6 Aluminum with Mil-Spec Hard Coat Anodizing
As the industry's most well-known knife manufacturer of automatic knives at the moment, Microtech doesn't let its customers down when it comes to OTFs. Its benchmark OTF knife, the Microtech Ultratech, has a superb construction and a stunning aesthetic. To put it briefly, it is all you would hope to find in a Microtech knife.
The fact that Microtech frequently creates knives in a variety of styles is a plus. In keeping with this pattern, the Ultratech offers a mind-boggling array of possibilities, including several sizes and a plethora of colors and patterns.
Perhaps the black stonewash blade or carbon fiber will catch your eye if you like a more refined appearance. However, if you don't mind taking chances, the zombie technology can be the best choice for you. Even if the price of this knife is not low, its quality is excellent.
2. Best Automatic OTF -Benchmade Infidel
Key Specs:
Double action out-the-front auto
Double edge spear-point blade with ambidextrous thumb-slide
Blade Length: 3.10″ (7.87 cm)
Blade Thickness: 0.09″ (2.28 mm)
HANDLE MATERIAL T-6 Aluminum
DEPLOYMENT MECHANISM Thumb Slide
You will have a difficult time discovering a brand that is more devoted than Benchmade when it comes to robust design and exquisite craftsmanship.
Even though the Benchmade Infidel only made its maiden appearance in the OTF community in 2006, it rapidly distinguished itself as one of the greatest.
The unusual handle design of the Infidel is what immediately catches the eye. The handle's rounded contours and ridged spine have an organic feel in your palm while being lightweight.
The thumb slide, which has been positioned on the face of the handle rather than the side, precisely where your thumb naturally likes to rest, is another distinctive element of the Infidel.
The deployment and retraction phases of its dual action are smooth and feel natural.
The noise the Infidel produces as it deploys is another one of our favorite features; it's noisy in the greatest way and is almost certain to keep you entertained for longer than you'd care to admit.
The blade is more important than the Infidel, despite how appealing and entertaining it is. The Infidel from Benchmade is one of the roughest and hardest blades available that will really hold its edge because it is made from specially treated CPM D2 steel.
3. Best Innovative Design – HOGUE KNIVES Compound OTF Automatic Knife
Key Specs:
Blade Length: 3.50″
Blade Thickness: 0.12″
Blade Style: Clip Point
Blade Grind: Flat
Finish: Stonewash
Handle Material: Aluminum
Deployment Mechanism: Thumb Slide
The Hogue Compound is primarily designed for frequent one-handed use, especially in confined spaces.
Innovative CPM-S30V stainless steel was used to construct the razor-sharp blade, which has a plain tanto edge. The tanto blade's extremely robust tip is something I enjoy because of how well it penetrates and holds up to tough materials. Sharpening the flat grind is really quick and simple.
It handle is made of textured G10 grips and an aluminum chassis made of 6061-T6. The chassis is extremely strong, while the handle scales offer great gripping ability.
The blade is fired out with great force from the ergonomically designed trigger, and the retract is no different.
Heavy-duty extension springs enable the knife's rapid and efficient deployment. Additionally, the springs have a PVD coating for better wear resistance.
You have a large, sturdy stainless steel pocket clip that fits easily in your pocket.
But the flat grind of the Hogue Compound, which tends to dull more quickly, is something I don't enjoy.
4. Best for EDC- Benchmade Phaeton 4600DLC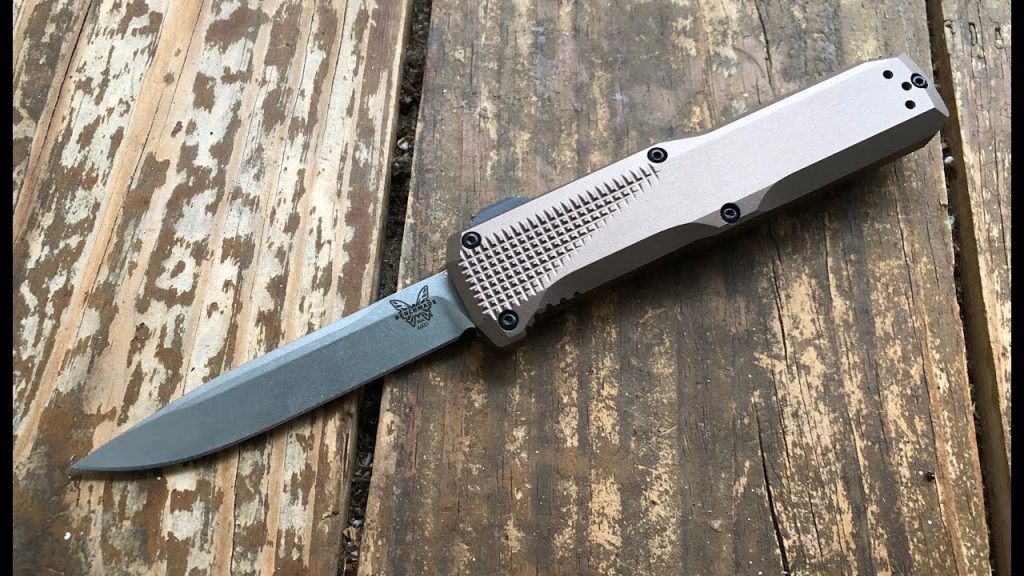 Key Specs:
Double-action out-the-front automatic
Blade Length: 3.45″
Blade Thickness: 0.112″
Blade Style: Drop point
CPM-S30V stainless steel blade (58-60HRC)
Handle Material: Black anodized, machined 6061 T-6 billet aluminum
Reversible deep-carry pocket clip
Benchmade, one of our favorite brands of everyday carry knives, is no stranger to the OTF style of the cutting tool. In reality, they create a number of products that rank among the greatest.
Consider their Phaeton family of OTF knives. Phaeton OTF knives are available with a drop point CPM-S30V steel blade that is either raw or black DLC-finished, as well as your option of a black or Dark Earth anodized aluminum handle.
They are subtle in their appearance and superb in their workmanship. Whatever option you select, your knife will also have a deep carry pocket clip, a spine-mounted double-action slider mechanism, and a distinctive handle texture that improves grip while also adding a little extra style.
5. Best Double Action OTF – AKC F-16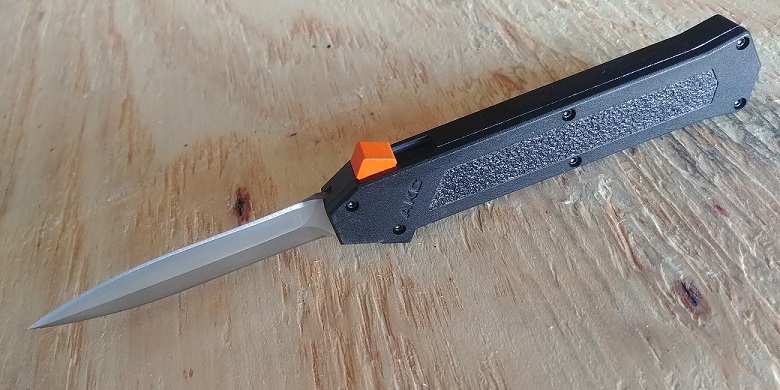 Key Specs:
Satin and black dagger blade made from 440A stainless steel.
Blade Length: 3.375″
Blade Thickness: 0.11″
Blade Style: Dagger
Handle Material: Red Coated Aluminum
Tip-down pocket clip for secure carry.
The AKC F-16 tops the list of the greatest double-action OTF knives available for purchase. Its design was influenced by the F-16 fighter and measures 8 inches long with a 3.375-inch blade.
You will be astounded by the double action knife's general excellence, just like its Italian rivals.
The thumb-slide located on the side of the black aluminum handle has an inlay for a better grip and smoothly deploys and retracts the blade.
Fortunately, you don't need to worry about durability because the 440A blade makes maintenance simple. The F-16 has very little blade play, which is to be expected.
Overall, the knife has a strong point of impact, and its fit and quality are far superior than anything else available at that price point.
We advise it to anyone looking for a reliable double action OTF for handling simple tasks.
6. Best Tactical OTF- Boker Plus Kalashnikov OTF Dagger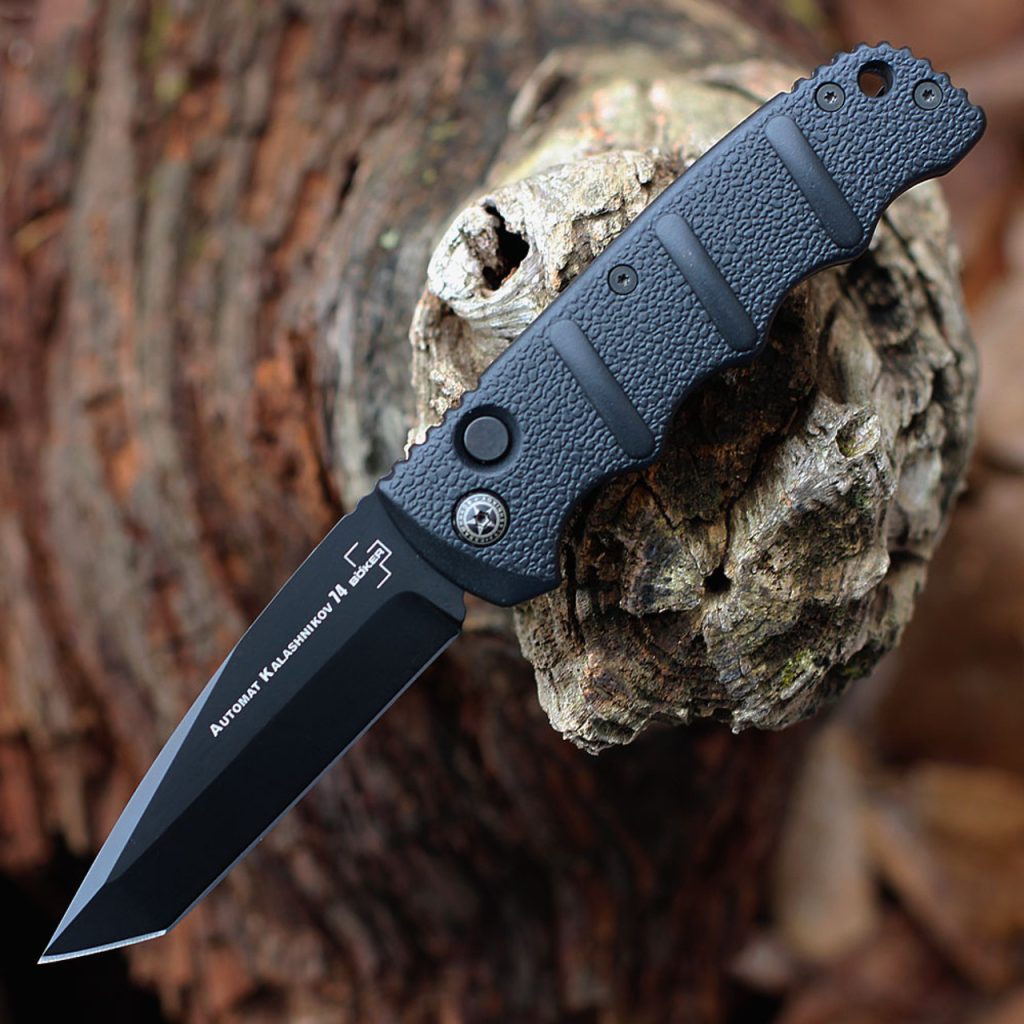 Key Specs:
Black stonewashed dagger blade made of D2 tool steel
Blade Length: 3.50″
Blade Thickness: 0.10″
Blade Style: Dagger
Handle Material: Black finished milled Aluminum
Snappy double-action out-the-front automatic mechanism.
Generous lanyard/keychain hole in the pommel.
The Kalashnikov OTF Dagger from Boker is exceptionally reliable even in the worst situations, just like the rifle it is named after. The Kalashnikov OTF Dagger combines the best aspects of Russian toughness and German engineering.
The aluminum handle, which was inspired by the bayonet on the AK-47, is more than just a throwback to the past; it's made to suit your hand firmly and pleasantly.
The Kalashnikov is a perfect match for D2 steel, a tool steel with a reputation for robust durability and edge retention.
The Kalashnikov doesn't have this issue because of its solid and reliable build, unlike many more affordable OTFs that frequently experience problems with the knife coming off track quickly.
7. Best Mini OTF- Kershaw Kapsule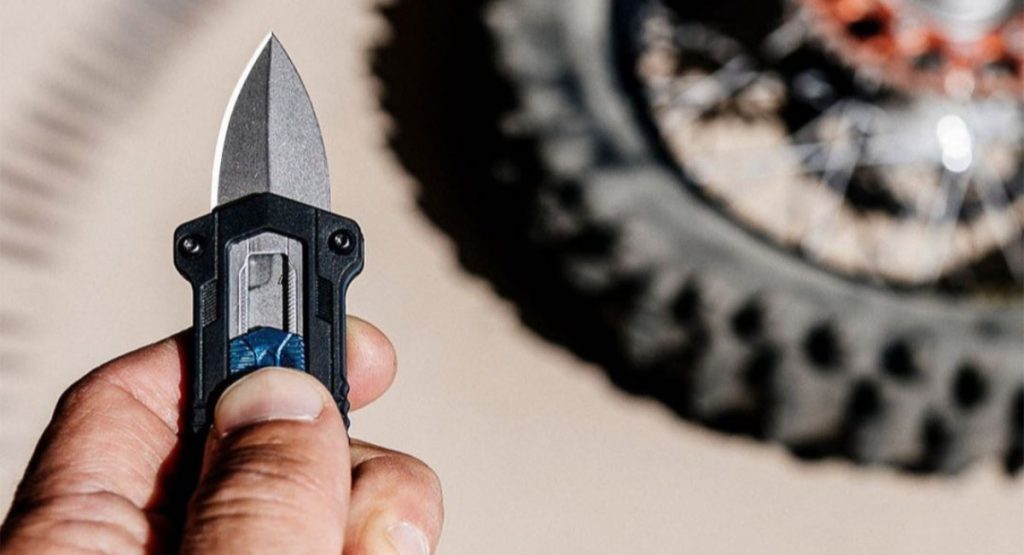 Key Specs:
Bayonet-style, single-edge blade with jimping for optimal blade management.
Blade Length:1.90″
Blade Style: Spear Point
Glass-filled nylon handle that is tough and lightweight.
Deep-carry pocket clip for subtle, secure carry.
Jens Anso came up with the idea for a highly compact, push-button EDC knife that is both convenient to carry and it is one of the best otf knives on the market. It opens with a sliding mechanism that employs a button lock and holds a blade.
This steel is well renowned for its durability, lack of corrosivity, sharpness, and edge retention.
The surprise capsule feels like a non-threatening instrument even though it doesn't appear like one. Such a plan exists.
Its PVD coating is quite aesthetically pleasing and it is very light in weight.
The butt end has a single-position clip, deep carry, and is removable. It is also very simple to carry. Overall, the best utility through a combat body is provided by this little Kershaw knife.
8. Best Self-Defense OTF- Smith and Wesson OTF Knife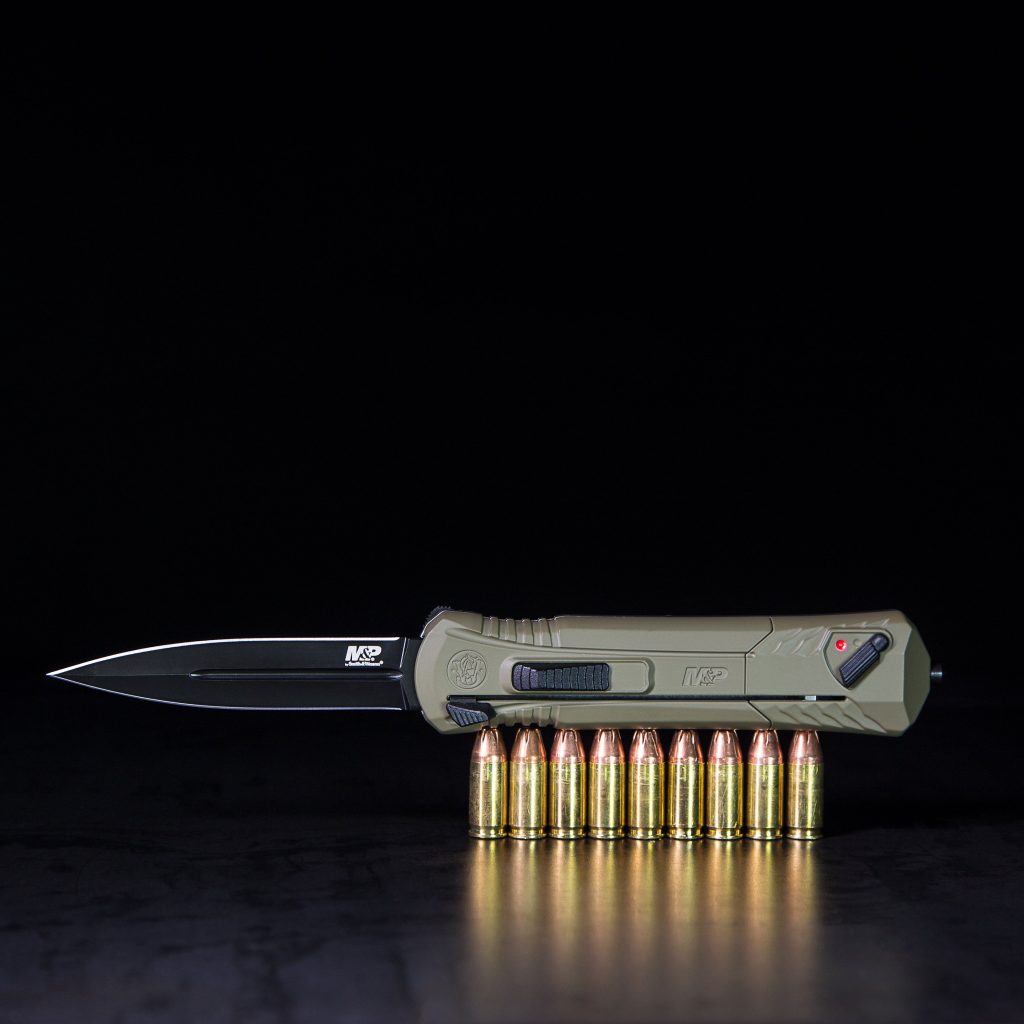 Key specs:
Black dagger blade.
Blade Length:3.50″
Blade Style:Spear Point
Single-action assisted OTF mechanism.
Gray aluminum handle.
Tip-down pocket clip.
Are you looking for an OTF switchblade made specifically for use in self-defense or in the work site?
Here, you have an OTF with spring assistance and an automatic that deploys quickly. We don't think you'll come across another model with a comparable rollout strategy.
The blade is composed of rust- and corrosion resistance and the blade is made from AUS-8 stainless steel, so you don't need to worry about its quality.
Not only that, but the spear-pointed blade enables a razor-sharp tip, and the aluminum grip is light and comfortable in the hand.
Here, you get a spring-assisted OTF with the quick deployment of an automatic. We doubt you will find another model with a similar deployment method.
To top things up, a tip-down pocket clip and a glass breaker are fitted along the handle to maximize the knife's functionality. The sliding safety that prevents accidental deployments guarantees your safety during usage.
9. Best Bang For Your Buck- G&G Hawk Deadlock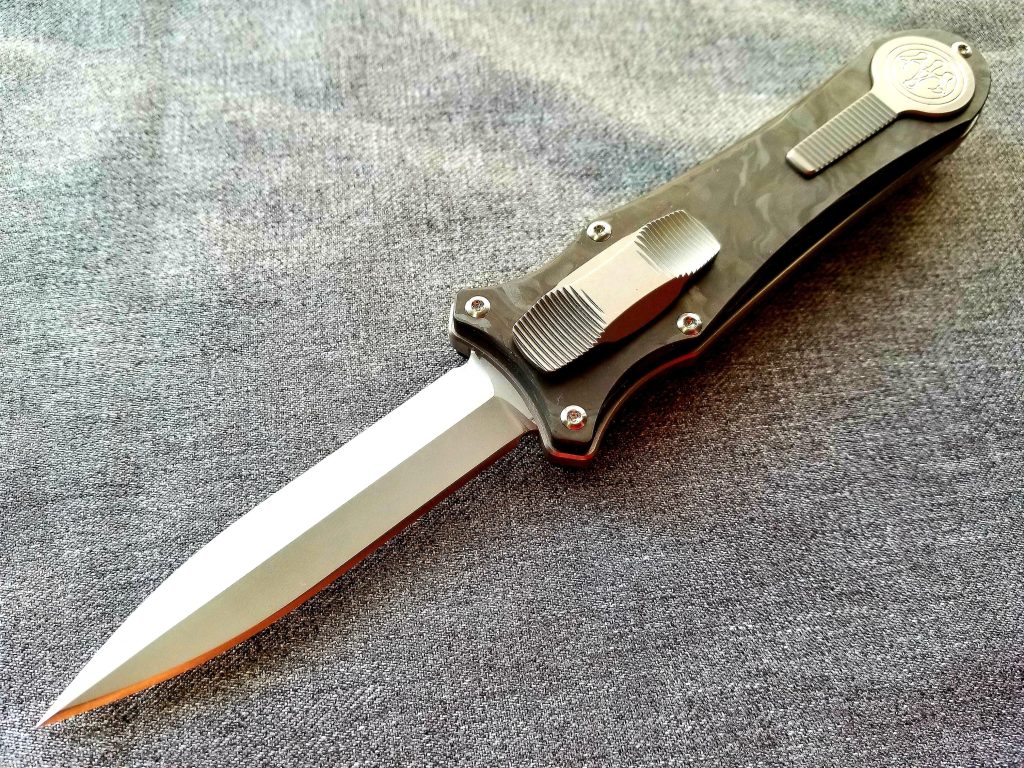 Key Specs:
A firm blade lock up with no blade play.
Blade Length: 3.75″
Blade Style: Dagger
The blade's framework is made of strong, lightweight titanium.
The knife is secured by a pivoting pocket clip.
Pocket Clip: Tip-Up
What flaw does (nearly) every OTF knife have? cutting play. Even with the strictest tolerances, OTFs need a lot of free space inside the body for the spring mechanism and the blade to move in and out.
As a result, when they're closed, the blade acts like a pendulum with the handle's end as the pivot. The Deadlock is the outcome of years of engineering work by Grant and Gavin Hawk to address this issue.
The primary lock holds it in place forward, eliminating play in all three axes, while a secondary lock mechanism integrated into the frame applies tension upward and to the side when the blade is in the open position.
This is in contrast to a traditional OTF, which only secures the blade from the back, preventing it from closing.
10. Best Lightweight OTF- PIRANHA RATED-R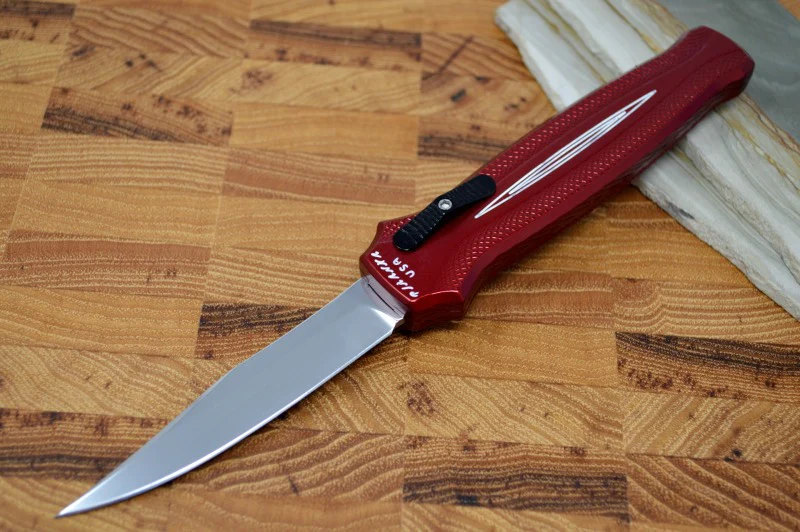 Key Specs:
Mirror polished 154CM blade.
Blade Length:3.50″
Blade Style:Clip Point
Thumb slide opener.
Handle Material:Aluminum
Tip-down carry pocket clip.
Piranha is a brand that specialized in automatic knives, so if you haven't heard of them before, it's probably because you don't know much about them. Even though they don't only produce OTF blades, they have some of the best designs available.
Consider the Rated-R, for instance. First off, the 154CM steel long-and-thin tanto-style blade and black-finished aluminum handle have a vague samurai sword-like appearance that we can't imagine was an accident.
Additionally, this particular automatic OTF knife features a slider on the upper-front quarter, making deploying it simple and ergonomic.
Finally, to ensure that you can grip it firmly in any situation, the handle is additionally textured and has chamfered edges.
With a titanium pocket clip to complete it, this quick-deploying samurai sword will serve you well every day.
How To Choose An OTF KNIFE
Whenever choosing a new OTF knife, it's important to consider the intended use before making a purchase. Will you keep it in your car's glove box for emergencies or will you add it to your collection? Will it go with you in your hunting pack or toolbox at work? Will it be utilized as a utility blade for daily tasks or for self-defense?
Before you can choose the best knife for you, you must first grasp how it works. After you've established your intended use for the OTF knife, you can consider the OTF knife's design.
Single-Action Vs. Double-Action
Double Action OTF
A spring system that is built into a double-action OTF knife enables rapid deployment and retraction with a single stroke of a thumb slider. The uniqueness of this mechanism lies in the fact that both deployment and retraction are accomplished with a single thumb slider. The blade is kept in its opening and closed positions by notches within. The thumb slider can be placed on the narrow side or parallel to the blade.
Single Action OTF
OTF knives with single actions deploy similarly to those with double actions. However, you will need to manually re-insert the blade into the handle. A single-action OTF can be a fantastic option for you if you don't mind waiting a few extra seconds for retraction.
Select the Best Blade Profile
The blade profile you select will have the biggest impact on how helpful an OTF knife is once the blade is deployed.
First, select the perfect blade length for your application. Any blade size under four inches is typically the best for EDC and indoor activities. Anything larger than four inches is ideal for demanding tasks like hunting and woodworking. However, some unusual uses, such as self-defense and law enforcement, would call for a blade size below four inches.
Second, pick the most adaptable edge and tip. The utility of the blade depends on these two characteristics. The flat, convex, hollow, and scandi edge varieties are the most often utilized in the OTF industry. The spear point, tanto, drop, sheepsfoot, and straight back are the most common knife points.
I would suggest a flat-edged spear point for close-quarters warfare. I advise a tanto point with a scandi grind for EDC. However, there are numerous combinations for the tip and edge, and they vary from brand to brand.
Third, choose between serrated and plain edges. Fully plain edge designs are common, but fully serrated OTF knives are uncommon to find. A blade with a partly serrated edge is the best compromise.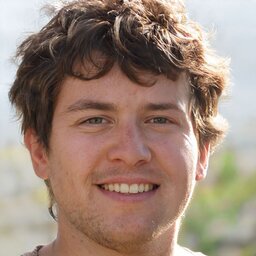 Hi, my name is Taras Kulakov and I'm a knife enthusiast. I have been collecting knives for over 30 years and I've owned literally thousands of different models over that time. My goal with this site is to share some of what I've learned about knives. You can find more info about Taras Kulakov here.