This post will cover our top picks for the best hunting headlamps. We've reviewed dozens of models and chosen our favorites for various applications.
The best headlamps for hunting should be waterproof, lightweight, and offer a red, green, or blue (RGB) light. These modes are ideal for nighttime hiking and are far less likely to turn on big game animals in the nearby field.
Our review panel has chosen the top 10 best hunting headlamps, and these choices represent the opinions of our review panel so that you may have a different opinion than us.
What is the best headlamp for hunting?
The Petzl Tactikka +RGB Headlamp is the best hunting headlamp because it provides you with 350 lumens of high-quality light, includes three light modes, and is lightweight.
Petzl Tactikka +RGB flashlight is our #1 hunting headlamp recommendation for 2023 for its high-quality blended light pattern. Not surprisingly, this model can easily be seen clearly when you're hiking over rough terrain in the dark.
Top 10 Best Headlamps for Hunting
In recent times, when manufacturers realized that they could make a lot of profits by selling headlamps since headlamps have demand among people, they started to offer headlamps with different features.
People use the best headlamps for hunting, and most of them have impressive features, but they're confused over which one is the right one to buy. So let's find out the top 10 headlamps for hunting.
Headlamps Comparison
Table could not be displayed.
1. Petzl Tactikka – Best hunting headlamp with green light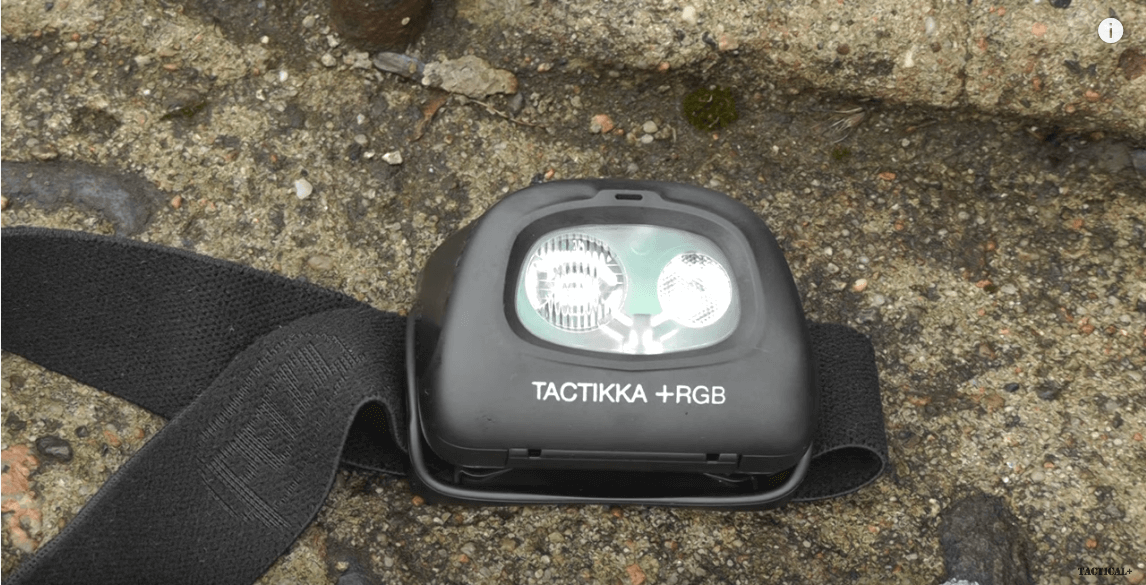 Petzl Tactikka RGB is a solid headlamp that will deliver you the light you need for the most demanding of hunting situations. With 250 lumens of clear LED light, the Tactikka RGB does not lack in power.
It has 3 white light settings and is powered by three AAA batteries. The entire unit is very comfortable to wear and sits well on the head.
For those who would like to use a more environmentally friendly product, the light supports CORE rechargeable batteries.
You will have enough lighting while setting up in the snow or to navigate the most difficult trails with that Petzl Tactikka one.
If you choose RGB colors, you'll keep your night vision intact and won't spook that 12 point buck you're chasing.
This Petzl Tactikka RGB headlamp is among the best hunting light on the market. If you enjoy simplicity, straightforwardness, and effectiveness, then this is the thing for you.
Petzl Tactikka +RGB recently upgraded with 350 lumens. In addition, the Tactikka +RGB delivers a blended beam of light that provides good close proximity light as well as distant light.
Key Features:
Available in 3 colors for hunting and fishing: features red, green, and blue light modes in three modes to preserve night vision.
It has a brightness range between 130 and 350 lumens, weighs only 85 grams, and offers three brightness levels so you can choose the right amount of light for every situation.
Due to hybrid concept design, Tactikka +Rgb may be powered by three aaa batteries (included)
Switch between light mode and colors with just one button; this comfortable but durable mask features a removable headband you can wash between adventures.
2. Black Diamond Storm Hunting Head Lamp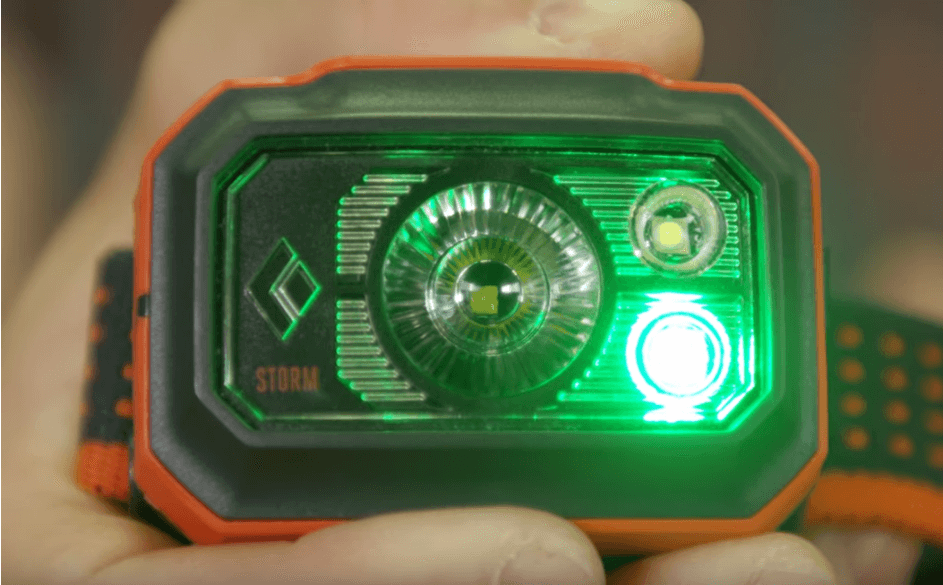 The black diamond storm headlamp is like a light of that type. No worries if you drop the light, as this headlamp will surely give you enough light. Ideal for night hikes and different light settings, this headlamp will ensure that lighting your path is always there.
You can get an idea of its power with its power meter before having it shipped out. It is one of the best headlamps for backcountry hunting if you are someone who enjoys hunting in remote places.
Furthermore, headlamps are mandatory for fishing because it's hard to hold a lighter when fishing with your hands. And many of these black diamond's features were ideal for fishing. We will talk about these features later. So, this one is best for hunting and fishing.
These are great for hunting but could also be used for any hunt at night or early in the morning, running, jogging, astronomy, and whatever else is in your works. We'd recommend them for whatever adventure you've got coming up.
It has a red light option and has an IPX8 waterproof rating. The new Black Diamond Spot 350 has an extremely high lumen rating and great optical quality. We've used two previous versions while hunting and had a chance to test them.
Black Diamond's previous generation headlamp's needed tons of button swiping to select the mode you wanted, but this new model boosts light to 350 lumens on 3 AAA batteries.
However, Black Diamond has since added a second switch that will make it easier to choose modes. Furthermore, if you've ever wondered how much battery you have left, Black Diamond has added a six-setting battery meter.
Key Features:
Two different, high-power LEDs that emit 350 lumens each are installed in the head.
Night vision LED for red, green, and blue with dimming settings and strobing capabilities.
It is not necessary to cycle through white mode in order to activate the power LEDs.
Switches between full and dimmed power can be made instantly using the power tap technology.
There are full strength and distance modes on this product and dimming, strobe, red, green, blue night vision, and lock mode.
3. Nitecore HC60 1000 Lumen USB Rechargeable LED Headlamp 3400 mAh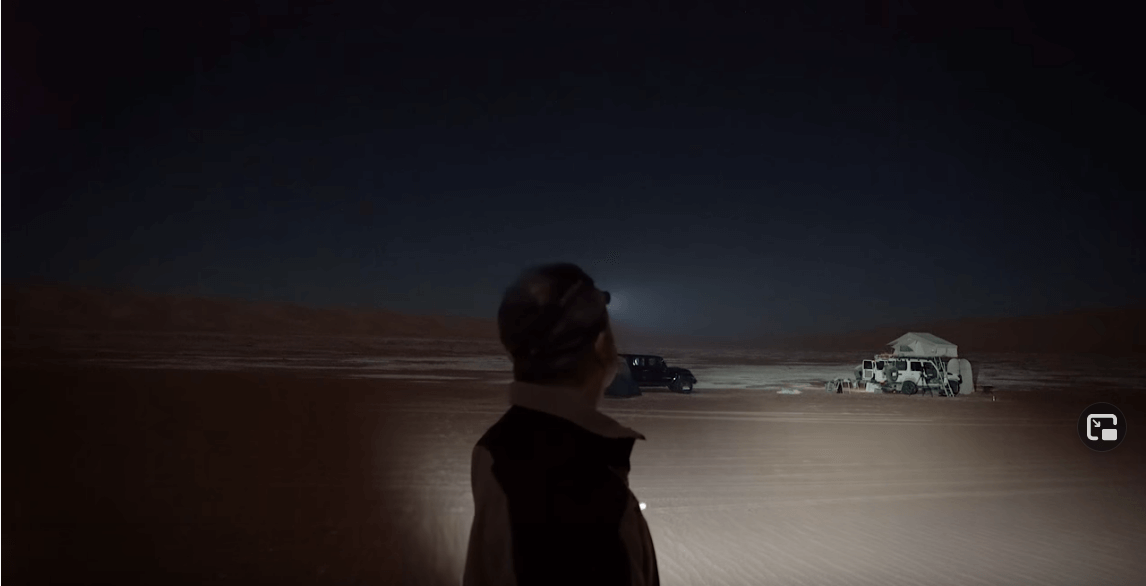 The Nitecore HC60 1000 Lumen Rechargeable LED Headlamp is a contender in our review for the best white-light-only headlamp. Its 100-degree beam provides broad illumination.
It's got five different brightness levels: turbo, high, mid, low, and ultra-low. It's easy to use and great for scanning the ground in front of you or the ceiling/tree ceiling above you.
In our experience, the beam has a maximum range of 117 meters, which is usually enough for most outdoor nighttime / early-morning activities.
The battery also comes with a lot of endurance choices. The Turbo setting is 1000 lumens and lasts up to one hour.
2.5 hours at the low setting and up to 7.25 hours at ultra-low (which is the 1-lumen setting) are possible at high (500 lumens), mid (320 lumens), and low (42 lumens).
You would wonder why you would need so much light—Sierra Trading Post says you need 35 to 60 lumens in a camping situation— but that's a nice amount to have available in case you are stuck out in the dark longer than you expected.
The Nitecore is slim and light, making it a great choice if you plan on walking for long distances since more bulky gear can strain you and your body.
While it is lighter than many models, the strap does not have the plastic reinforcement that most light straps have and so can need to be replaced over time. Overall it is a great light if you're looking for white-only light.
Key Features:
A neutral white CREE XM-L2 U2 LED, which offers a more natural colored beam and enhanced visibility in fog, produces 1000 lumens maximum.
A wide beam of 100 degrees, a 90-degree vertical rotation, and a beam distance of 128 yards allows you to keep an eye on what lies ahead.
The device features an in-built USB recharging port, and an included 3400 mAh Rechargeable battery that can run for up to an hour if run in Turbo mode and up to 680 hours in ultralow mode.
It weighs fewer than 5 oz. with its battery. It's effortless to use with its single-button operation and integrated battery indicator.
Also included are a Nitecore brand 3400mAh battery, a USB cable, and LumenTac adapter.
4. Princeton Tec Remix LED Headlamp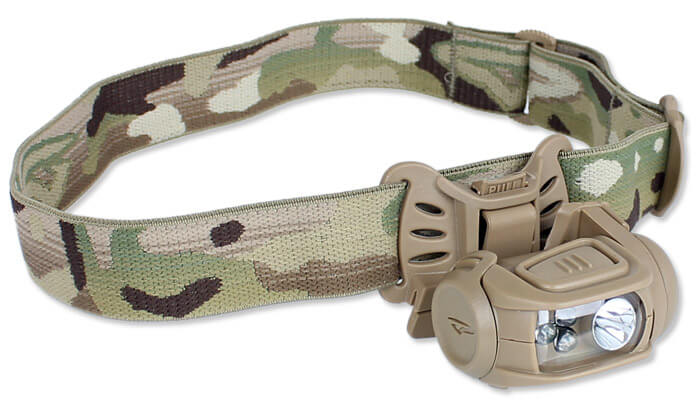 Princeton Tec is one of our favorite hunting headlamps because it is very straightforward to use. Once you push a button to activate one of the five modes, you can cycle through red, green, or blue in high or low, and, of course, all the lights are always in white.
It's also better than the red illuminates first, so you don't have to cycle through the white to get to the red, messing up your night vision. To turn on white, push and hold. It's so easy.
Aside from that, it would help if you had high expectations since the main LED lamp puts out 300 lumens, though brightness doesn't seem to last as long as advertised — more like three hours — rather than the guaranteed 28-hour run time.
In our experience, the light remains on for 4 hours on high but dims over time. So, 28-hour run time claims aren't right, but they also aren't quite right.
Its LED headlamp contains a Maxbright LED and three Ultrabright LEDs that allow you to switch between long-range viewing and close-range illumination.
The light also features a wide beam for broad spotting and a narrow beam for targeting in the dark. Powered by three AAA batteries and lasting 150 hours, the light can be used for up to 150 hours on a single charge.
For its lifetime, the performance is comparable to other lights in places with lower settings. Meanwhile, Princeton Tec is known for making great headlamps in its own right, but this Princeton branded model gets our nod because of its overall dedication to hunting and outdoor gear.
Key Features:
A 300-lumen bulb.
There is a focussed narrow beam as well as a wide beam.
The camouflage pattern.
Enclosure with the battery door.
Burn time of 150 hours.
3 AAA batteries power the device.
5. EverBrite Hunting Head Lamp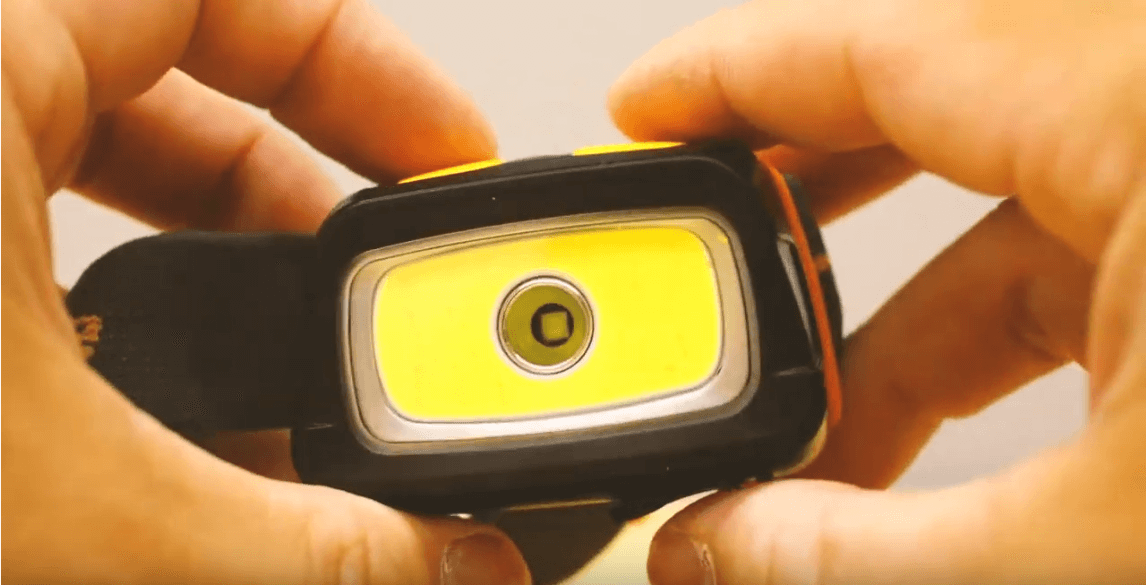 EverBrite Headlamp packs come in handy when going on joint adventures, hunting, or camping out with a partner.
We recommend this headlamp, especially if you are planning to duck hunt. Due to its 300 lumens, this will be the best headlamp for duck hunting.
A steal for two high-quality headlamps with stunning features. The lights are extremely bright with 8 LED systems that will turn any night into a sunny one. Each LED has a light output of 30 lumens and will last for over a hundred thousand hours.
You will have the option of using just two, four, or all eight bulbs based on the amount of light required at the time. Those of you who are in an emergency situation can use a strobe light in order to distract your adversaries while making a quick getaway.
Because of their adjustable design, the headlamps are extremely comfortable to wear. Additionally, the light weight makes them ideal for camping or hunting and means they don't add too much pressure to the forehead.
Key Features:
The design of the power button is simple and straightforward.
The beam distance is 20 meters.
By tilting the head 30 degrees, you are able to direct the light wherever you want.
Continuous use of a lithium battery can last as much as 5 hours.
You can use this product for water protection as well as impact resistance.
12-month warranty.
6. Coast FL75R Rechargeable Focusing LED Headlamp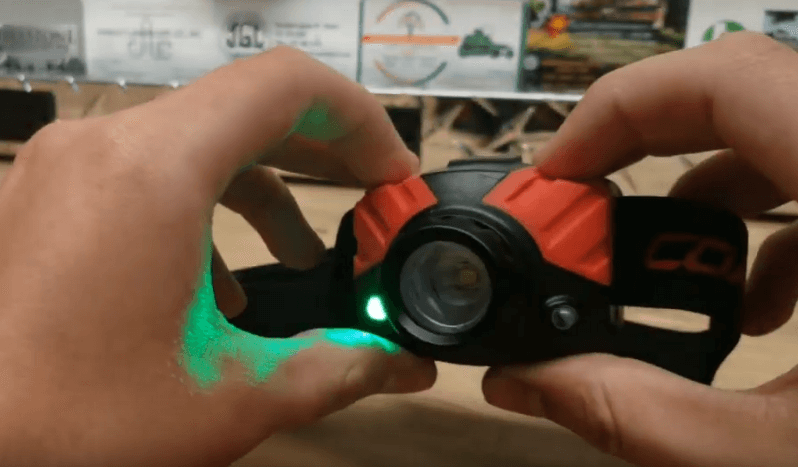 Although Coast is best known for its headlamps for industrial or work-related purposes, it has gained a following from outdoor adventurers as well.
You can switch Coast's FL75R Rechargeable Focusing led headlight headlamp's beam from its 'Ultra View Flood Beam' to its 'Bulls-Eye Spot Beam' by twisting the optics around the lens.
This model features 530 lumens on high with a maximum beam distance of 156 meters. It adds red light for hunters. It also includes a battery pack, USB charge cable, and AC and DC adapters. It's also waterproof.
Runtimes on Coast FL78Rs are tested to meet ANSI/FL1 requirements. This means you can trust the FL78R will work late into the night. A Coast Manufacturing test date of 05/19/2016, test code FL75R, was conducted to assess IPX4 and ANSI/FL1 claims.
Key Features:
Simple Straight-to-The-Focus optics go from Ultra View Flood Beams to Eye-Level Spots.
You'll never run out of power with this dual power rechargeable headlamp. It operates on two types of batteries, whether the charge occurs inside the headlamp with Flex Charge or outside.
Beam distance 156 meters (high), 54 meters (low). Runtime: 2.15 hours (high), 11 hours (low). Light Output: 530 lumens (high), 65 lumens (low).
IPX4-rated, water-resistant body for multiple drops from one meter. Backed up by the COAST Lifetime Warranty against defects in materials and workmanship.
Battery pack made of lithium-ion, three AAA lithium batteries, hard hat clips, charging cable by USB, AC, and DC adapters.
7. BioLite HeadLamp 200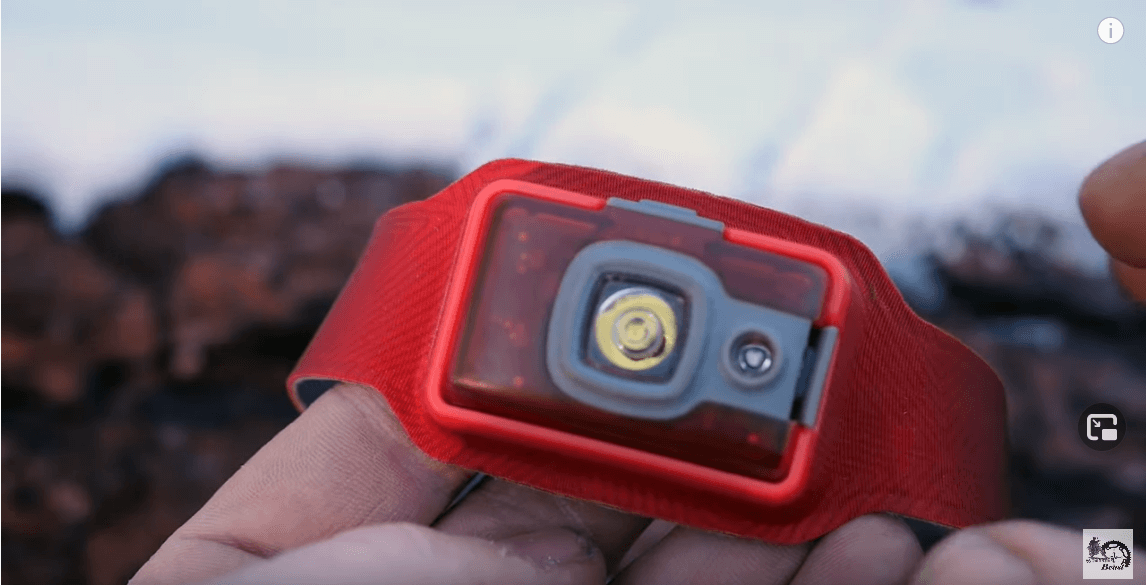 Despite it only putting out 200 lumens, it was very sharp and clear. The new BioLite HeadLamp 200 is lightweight, comfortable, and ultra rechargeable.
As a matter of fact, the beam quality compares well to higher-luminance models. During the daytime, there are a lot of shadows and lights that can be hard to see in the dark.
A wonderful feature of the Headlamp 200 is its spotlight which illuminates about 50 meters. However, it also produces a fairly wide beam which illuminates well close up as well. The result is an excellent trial experience.
How about the ultralight part? Only 1.75 ounces goes into the Headlamp 200. What's even better is that the lamp itself is in a low-profile housing and fused to the headband.
We took it out for a test drive, and it works well. It's comfortable. I also love the red light mode. Finally, how long does it last? The battery lasts for 3 hours in high mode and up to 40 hours in low mode.
Due to its lightweight and strong output, this headlamp is perfect for tossing into a backpack until you need it. Moreover, if you always have a small charge pack for your smartphone and InReach Mini, you can charge the Headlamp 200 with that.
BioLite is an excellent brand and not with purpose. I purchase their products because they are easy to use, hard-wearing, and unexpectedly durable.
However, because it stands to reason that it costs an additional 10-20% above most products of a similar nature, I think it's worth the extra money.
During Indiegogo, I bought four of these headlights at 30% off each, along with a diffuser bag. They work great with a hard hat and last longer than my coworkers' flimsy fancy lights.
Key Features:
Integrated with the fabric, the ultrathin 3-dimensional molded housing sits firmly and comfortably on your forehead. No bounce means no slip. And because it's light, the ultra-thin camera housing blends in like a contact lens.
Moisture-wicking fabric keeps you comfortable no matter how you move, and the rechargeable battery saves you from carrying alkaline batteries.
It features a maximum brightness of 330 Lumens, an adjustable front panel, infrared night vision, and 3.7-hour battery life on low and 3.7 hours on high.
It keeps you comfortable and dry while actively engaging in physical activity and – best of all – does not break apart. Its easy-adjust clips simplify the process of finding the right band size.
8. Streamlight 61070 BuckMasters Trident Headlamp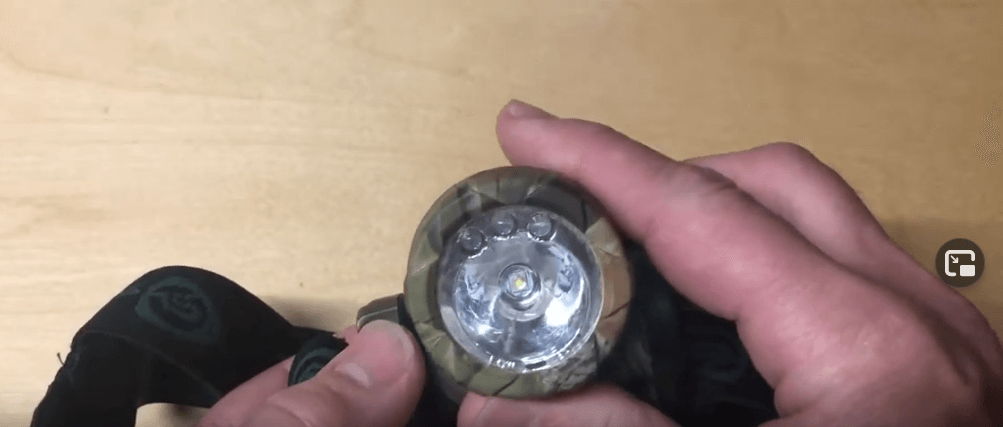 This headlamp is easily the most popular in the Streamlight range. If you want a headlamp that will survive in extreme situations, then this is the product for you.
Guys always trust Streamlight for its exceptional performance in all types of weather. People who depend on flashlights for outdoor activities need one that will work in adverse weather conditions, and this straight headlight does just that.
The lens is unbreakable and makes the clip easy on your clothing. Height: 1.75″. Width: 2.70″. Deep: 2.40″. Material: ABS thermoplastic, polycarbonate lens.
You can adjust the light beam and direct it wherever you need it. It also comes with an adjustable strap that makes it comfortable to wear on any head.
With Velcro straps, it's easy to adjust. The watertight case keeps it dry on rainy days and warm on snowy ones. Portable and adaptable, this light goes with you anywhere.
I like the on/off memory stick feature, so you don't have to click it on/off constantly. The light is backed by a lifetime limited warranty that makes it very reliable.
Key Features:
It has a low battery warning indicator. A red LED flashes when the battery density reaches a certain level.
With an IPX4 rating, you can be sure that the GPS system is waterproof.
Three-level lighting. One C4 LED that lasts 2-5 years and three UL-certified, high-brightness LEDs that are safe and long-lasting.
The battery can last 63 hours continuously.
It includes a rubber hard hat strap and an adjustable elastic head strap.
The weight is 5.5 oz (very light!)
Having its head tilted backward 90 degrees prevents neck fatigue.
A green LED of 5mm, and 3 white LEDs of 5mm, and a C4 power LED are located in the light.
Luminous intensity up to 80.
9. Energizer LED Headlamp, High-Performance Outdoor Lighting Gear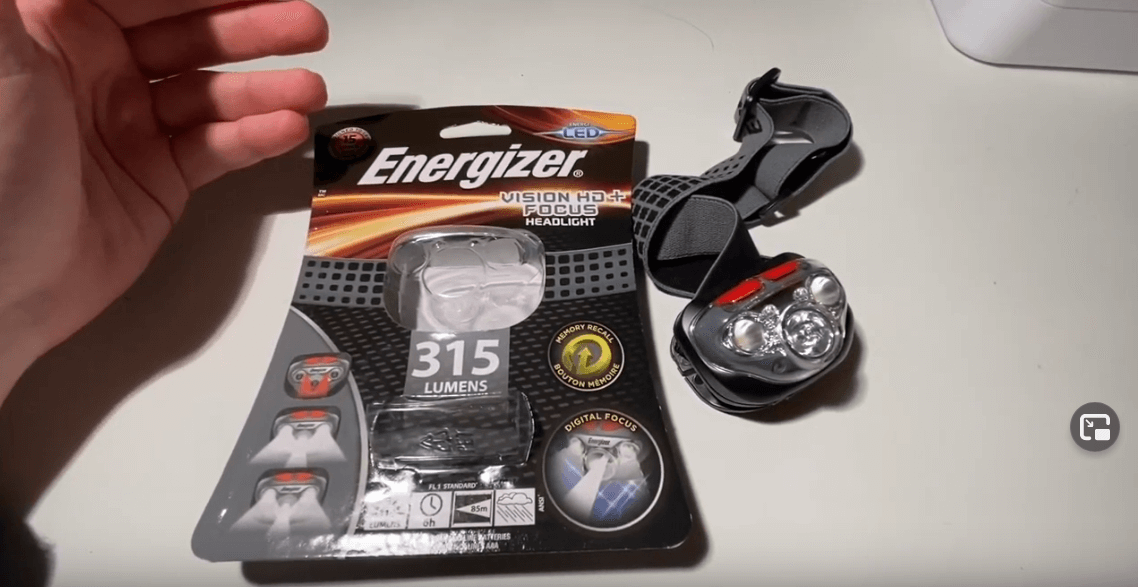 The Energizer High-Powered LED Headlamp may not be as powerful as the rest of these flashlights but it provides more than enough light. With 260 lumens of LED light, it illuminates objects up to 80 meters away, making it ideal for hunting.
It has seven different lighting modes with multiple brightness levels, such as red, high, low, spot-high, spot-low, wide-high, and wide-low. It has also been designed with the new smart-dimming technology that can adjust brightness levels in different modes.
Three AAA batteries power the light, but it only runs for 35 hours in low mode, so you should probably get some rechargeable batteries.
A huge advantage of the Energizer High-Powered LED Headlamp is it's durable. It has a shatterproof lens and a water-resistant body that will withstand a one-meter drop test.
These headlamps are among the most useful and durable ones on the market, which makes them perfect for hunting.
There are two buttons on the lamp's top that allow you to easily change the settings.
With the high setting, you get 315 lumens at an 85-meter beam distance, which is plenty bright enough for any handy person. Also suitable for camping and jogging, but it's not the brightest flood compared to others, so great value.
You don't have to scroll all the way through to find the last brightness setting since there's a memory setting feature.
It offers three different positions of tilt so you can achieve the focus you desire, and it comes with a comfortable strap band as well.
Key Features:
The headlamp can illuminate an area up to 80 meters with a 260 Lumen beam of the LED light. This light can easily light up the campsite or even the room.
The headlight offers durability, is shatterproof, and waterproof, enabling it to be used both indoors and outdoors.
With 7 lighting modes, you will never run out of light with Red, High, Low, Spot High, Spot Low, and Wide high modes; convenient Smart Dimming enhances your light experience. You'll find the perfect light setting for any occasion.
Featuring a 35-hour LED light, it is a reliable way to work in case of a power outage because it has long-lasting battery life.
10. Internova Best Ultra Bright LED Headlamp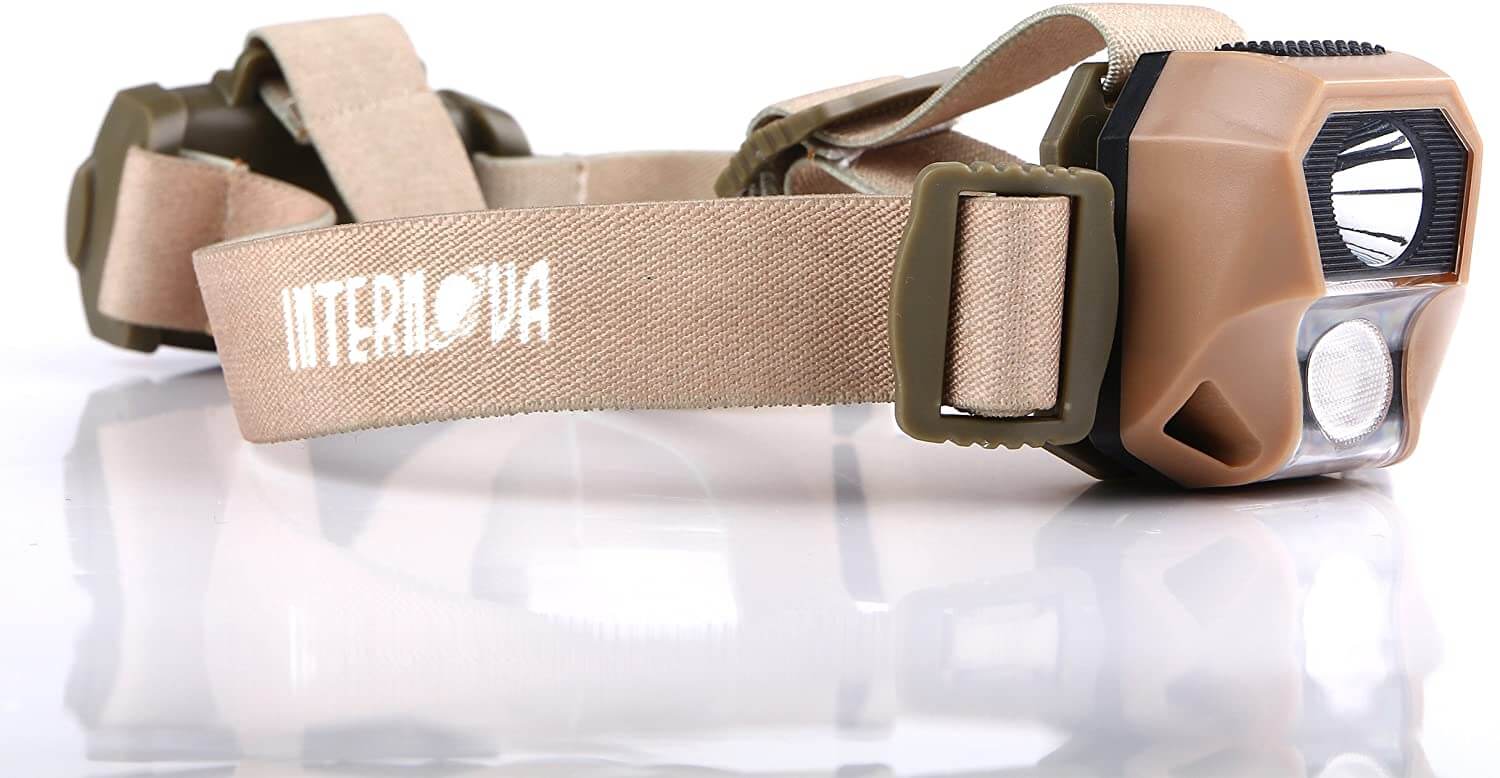 Just like the Streamlight, the Internova Ultra Bright LED hunting headlamp has a straightforward design that provides a variety of different illumination options.
Battery power comes from 3 AAA batteries that will provide the lamp with up to 16 hours of clear, efficient illumination.
It's great for hunting headlamp although the lamp's marketing makes it sound like it is all things to all people.
A good LED headlamp is that one that offers a range of settings just for when you need to set up camp in the dark.
Typically, "Low" is used when things have calmed down and you only want to see where you're going without tripping the way.
You can also adjust the light's brightness by switching settings. If you want a red light for hunts, you can, while "strobe" will inform people thousands of miles away that assistance is needed.
Key Features:
The LEDs in the star rider xl can illuminate a huge distance, enabling you to see brilliantly no matter where you are: camping, hiking, working on the house, walking jogging, or cycling.
Multiple modes for every situation – see across fields and deep forest on "High", confide your partner to your side on the "Low" setting and protect your eyes from the stars with "Red".
No matter whether it's a birthday, Christmas, or any other reason they'll appreciate the star rider xl no matter when you purchase it!
The star rider xl is built to last a lifetime and is tested to endure rain and road conditions.
Satisfaction Guarantee – Based out of the heartland of the USA, we offer the best customer service and no questions asked money back guarantee.
Hunting Head Lamp Buyers Guide
The most important factor when buying a headlamp is how many lumens do you need for a headlamp?
You should consider investing in a high-powered headlamp for most outdoor activities, especially for treks in the woods or in the trail. The light output must be strong enough to help you see bumps in the ground in the dark.
The best headlamps for hiking will illuminate rock roots, branches, and bushes that may trip you or cause you to harm in the dark. Most hikers, backpackers, campers, and hunters should use headlamps rated between 200 and 450 lumens.
What to Look for When Buying a Headlamp
Brand – Good headlamps are made from quality materials that allow them to be reliable and reliable. We ensured our list contained quality products made by trusted brands that have earned a reputation for consistently delivering outstanding and reliable products.
Price – We found that headlamps are affordable when considering their importance; however, we ensured we compiled this list with products that won't shake your budget too much.
Reviews – A thorough analysis of each product's feedback was crucial to determining which. The products listed above had many positive feed-backs that confirmed their longevity in the long run. Consumers will not be disappointed with their purchases.
Why Buy a Headlamp?
I'll provide you with some of the primary advantages headlamps have over lanterns, flashlights, or flashlight apps on your phone.
Hands-Free – Climbing can be difficult with just one hand, but by using a headlamp with one hand, you will be able to direct extra light wherever you want with just a nod of your head. This is one of the major advantages of using a headlamp at camp.
Beam Distance – It helps to find things in the dark, such as irregularly marked trails back to your car or campsite, when using headlamps, which cast a long beam.
Lightweight and Compact – With headlamps you are able to carry them easily, they are lightweight, and they are compact.
Durability – Another advantage is that most headlamps are built with very durable materials, even in tough environments. This is a real advantage.
Waterproof – The material in modern headlamps is waterproof. Therefore, even if your headlamp takes contact with water, it will not be hampered.
Final Words
We hope our reviews for hunting headlamps above can help you make your own informed decision when you are ready to purchase your own hunting headlamp and be sure to check back for more useful info from KnivesnGear.
FAQ
How many lumens do I need for a hunting headlamp?
Light output, typically 200 to 450 lumens, must be sufficient to illuminate the uneven ground and ensure safety. Headlamps with greater lumen output can expose climbing hazards such as roots, branches, and stick that could trip you or harm you.
What is the best brightest LED headlamp?
The Nitecore HC60 headlamps are top of the list as they are the brightest headlight bulbs available in the market. Their incredible performance makes them a hard model to beat. Each of these bulbs produces 1000 lumens a LOT brighter than any other headlight bulb.
Do headlamps spook deer?
I don't think they make deer spook. As someone already pointed out, you're much quieter when wearing them than without them. I'd much rather not be seen in the dark rather than deprived of the sense of being in the dark.
Why do hunters wear camouflage if deer are color blind?
The deer can see greens, yellows, and UV light, but they can't differentiate color shades the way we can. So a hunter wearing camouflage with many shades of greens and/or browns will appear just like a big blob.
Why do hunters use green lights?
The human eye perceives green light more readily than red light, so flashlights fitted with green bulbs are ideal for hunters seeking further range and a better contrast as well as those seeking deer.
Do red lights scare deer?
It is still possible for deer to see any light from a flashlight that we can see. You can use a red light, so the light doesn't hinder your night vision, but the deer can still see it.
What color headlamp for deer hunting
Deer are sensitive to light, which is why they see red, green, and orange as grey and are less startled by them. The power of their eyes means they are able to see blues, even UV light, but they are also sensitive to white and yellow light.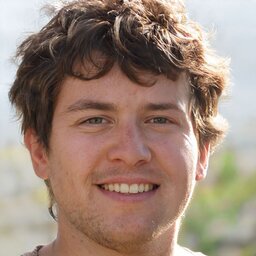 Hi, my name is Taras Kulakov and I'm a knife enthusiast. I have been collecting knives for over 30 years and I've owned literally thousands of different models over that time. My goal with this site is to share some of what I've learned about knives. You can find more info about Taras Kulakov here.
Last update on 2023-03-13 / Affiliate links / Images from Amazon Product Advertising API