Introduction:
Promaja Cleaver knife is distributed with the brand name Coolina. The brand is considered as one of the most reliable and competent kitchen tools on market. Whether you are dealing with meat or vegetables, these carbon steel knives are equally skillful in both kitchen and outdoor. The blade will not comprise with the quality of cut in slicing, and chopping.
In this article we will be reviewing Coolina PROMAJA Cleaver Knife in details. After knowing all the advantages of this knife, it's your turn to decide if you want to give it a place in your kitchen or not.
Configuration:
The knife contains 4.7 inches plastic handle. The handle is made of high quality polyester plastic material which ensures durability and comfort. It is armed with 7 inches long carbon steel blade. One of the most common and desired blade types on the knife market, contains 0.2 inches thickness.
Easy to re-sharp and the sharpness last long, depending on how often you use them. There are sharpening tools embedded, so that you can re-sharp them whenever they get dull. The knife comes with a total length of 11.7 inches and a width of 4 inches. The whole knife weights 0.66 lbs.
Pretty light compared to other knives. You can put it anywhere in the kitchen without having the fear of any sort of accident. The lightweight feature also gives you the access to carry them anywhere, if you want to take them in camping or outdoor cooking.
Specifications

Total Length: 11.7 in
Blade Length: 7.0 in
Handle Length: 4.7 in
Blade width: 4.0 in
Blade thickness: 0.2 in
Net Weight: 0.66 lb
Weight: 0.95 lb
Features: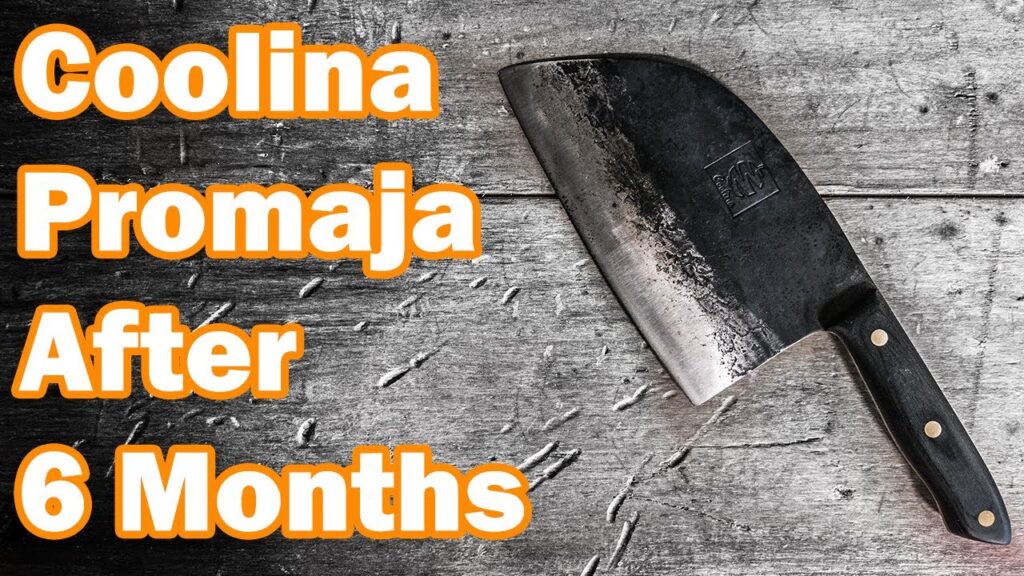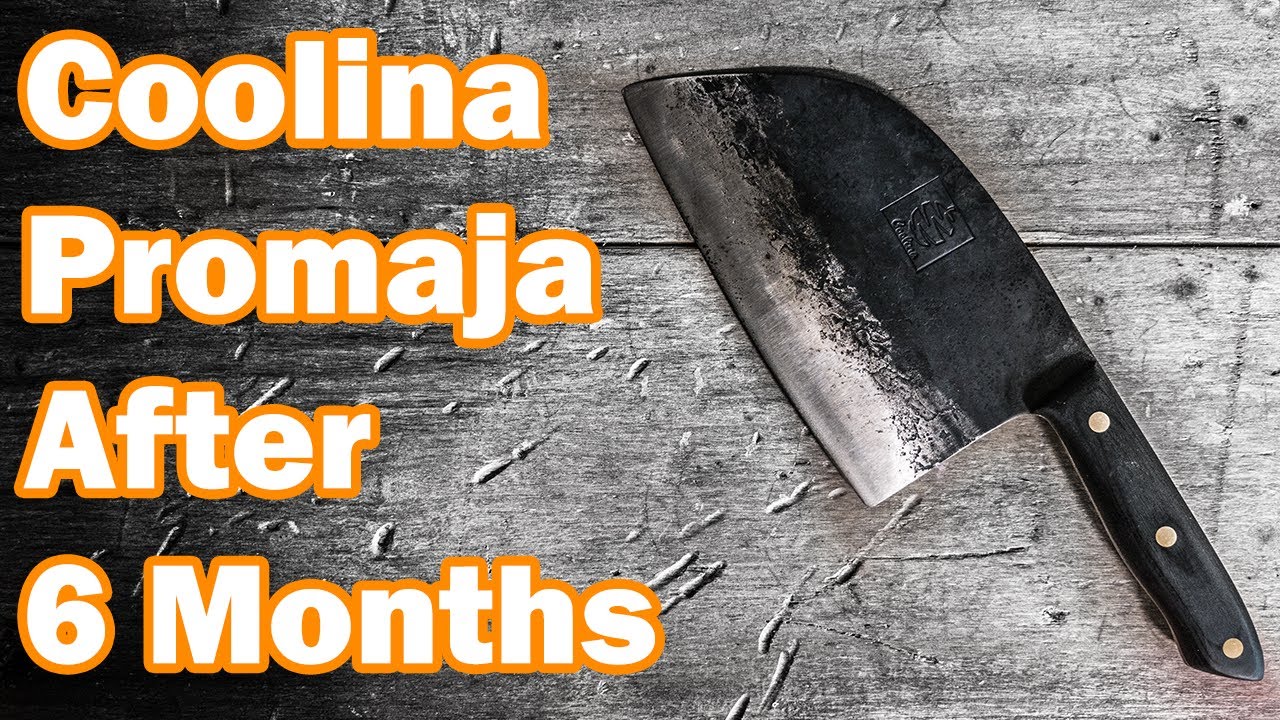 The knife comes with carious features that make it extraordinary and attractive towards the consumers to purchase it. However, we are going to mention all of them bellow.
Versatility / Multifunctionality:
As soon as you purchase Coolina PROMAJA Cleaver Knife, it will take place of almost every single knife of your kitchen. Soon this knife will become your the most reliable and dependable knife out there. Whether for chopping, slicing, or cutting, you will put this knife on the first place and the other knives will not stand a chance to compete with it. This multifunctional knife will not only get all your jobs done but also enhance your skill in the kitchen and make you a pro chef.
Sharpness:
All the Promaja Coolina knives are very carefully handmade following the ancient knife making technique. This technique ensures the knife has more powerful built and provide the maximum efficiency to the consumers in case of kitchen works. The razor-sharp carbon steel blade is so smooth that it can cut through any heavy food item easily. Just try to leant how to maintain and operate the knife properly. You will be one thankful user. The knife will make you a smooth and fast knife operator in the kitchen.
Balanced:
Coolina PROMAJA has manufactured this Cleaver Knife with an ergonomically crafted handle which makes it extremely comfortable to use and provides the finest cut. The weight of the knife is so balanced that it makes you put less effort to cut food without giving much pressure. The cut will be more accurate and perfect.
Decoration:
The decoration of the knife is the most interesting part regarding the first impression. The handle and blade are so finely attached you will decently want to purchase more than once can put them in your collection. These are not only working tools but also great pieces of beauty. Some knives comes with design on the handle that makes it more lucrative. There are also leather sheath included in some knives, but if there are not, you can always buy separately. They are very cheap and helpful. You wont regret purchasing it, we assure you.
Things You Need To Know Before Purchasing
There are some basic points you need to be aware of before you purchase Coolina PROMAJA Cleaver Knife. The first thing first, you need to know that in majority of cases Coolina produces knives with plastic handles. It is very rare to see a knife by Coolina that has been made with a wooden handle.
So if you made up your mind to purchase a wooden handle knife, then Coolina PROMAJA Cleaver Knife might not be an ideal selection for you. Moreover, your hand might get slippery after a long working session. As plastic doesn't give as much friction as wood, your grip might get slippery and cause a serious injury. So if you have a sweaty palm we won't recommend you this knife. Even though you can change the handle manually, but purchasing a wooden handle knife will be a better idea.
Most of these knives don't come with leather sheath. In case you want to secure your kitchen environment for the kids, you must purchase a leather sheath separately. These sheaths are very cheap and worthy to have one. Moreover, in case of knives, safety comes first.
Last but not least, Coolina PROMAJA Cleaver Knife is specifically made for kitchen works, so don't try to use it in other activities. You can take them to camping or outdoor cooking, but food apart, using them to cut something other than that might turn the blades dull permanently. 
Conclusion:
There are lots of kitchen knives on the market. You are free to choose your ideal pick. We just mentioned all the necessary features and advantages of Coolina PROMAJA Cleaver Knife, so that you can decide, whether this knife is perfect for you or not. If you ask me the reason why I would choose it. I would say, the versatility of the knife is the most valuable thing and enough to declare it as the most amusing knife.
Moreover, the knife also comes with some shortcomings, like not having wooden handles. Plastic handles might get slippery when your palm gets sweaty. This can a big reason of a severe accident. But even though we will suggest you to give this knife a try. You will not regret purchasing it. 
Blade

Handle

Quality

Value
Coolina Knife Review
The Coolina PROMAJA Cleaver Knife is an amazing knife for a variety of tasks, including chopping, slicing, cutting, peeling, and more. It's made of quality materials that will last for years. It has a carbon steel blade that stays razor sharp for a long time.
It features a high-quality carbon steel handle that gives you the perfect balance when using the knife. This versatile knife will quickly become your go-to tool in your kitchen and for outdoor cooking. This knife is the ultimate kitchen and outdoor cooking utensil. It also comes in a sharp, durable, and ergonomic design. It has a full tang that makes it very durable and easy to use.
It's well-balanced and provides a full tang for extra functionality. This knife is extremely versatile, as it can be used for chopping, slicing, peeling, and more. The Coolina PROMAJA Cleaver Knife is a great knife for the price. It's affordable, but it performs extremely well and comes in a well-designed package.
Pros
This knife is very versatile. You can use it to cut a wide variety of foods.
It has a large cutting surface.
It has a full tang.
It is made from high quality steel.
Cons
It is expensive.
It is a bit heavy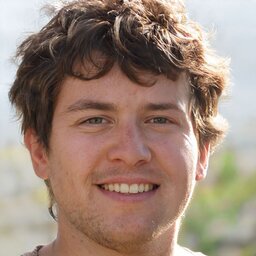 Hi, my name is Taras Kulakov and I'm a knife enthusiast. I have been collecting knives for over 30 years and I've owned literally thousands of different models over that time. My goal with this site is to share some of what I've learned about knives. You can find more info about Taras Kulakov here.